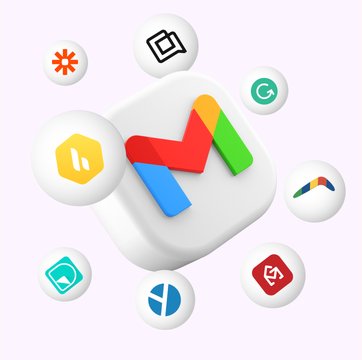 Table of contents
10,000+ teams use Hiver to delight their customers
27 Google Chrome Extensions for Managing Emails
Aug 30, 2023
|
20 min read
|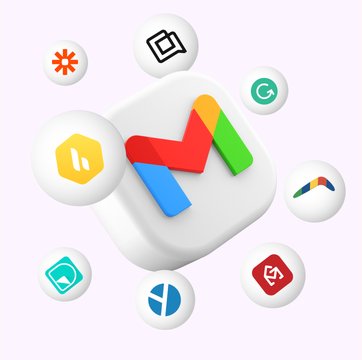 Table of contents
Gmail is an amazingly powerful email service on its own, but if you could make it faster and better, wouldn't you? I know I would.
It's sad to know that an average employee spends an astonishing 28 percent of their time managing emails. But the good thing is that it's not that difficult to bring this down, significantly.
Enhance efficiency with these 27 Google Chrome extensions for Gmail.
1. Hiver – Manage Communication Channels right from Gmail
Managing team inboxes such as support@ or sales@ from inside Gmail is not very sustainable. Things can get rather chaotic easily:
Even for simple things like sharing information with a teammate or delegating a task, you will have to rely on CC, BCC, and Forwards.

Email threads will become too long – making it hard to locate information.

It will be hard to differentiate between internal and external communication.

You will have to be logged into multiple inboxes at the same time – yours and shared accounts like marketing@, info@.
Hiver can help you solve all of these problems and significantly.
With this extension, you will be able to access any number of shared email accounts such as marketing@, help@, right from your own inbox – no more switching accounts! On top of that, you will be able to assign tasks to teammates and track their status.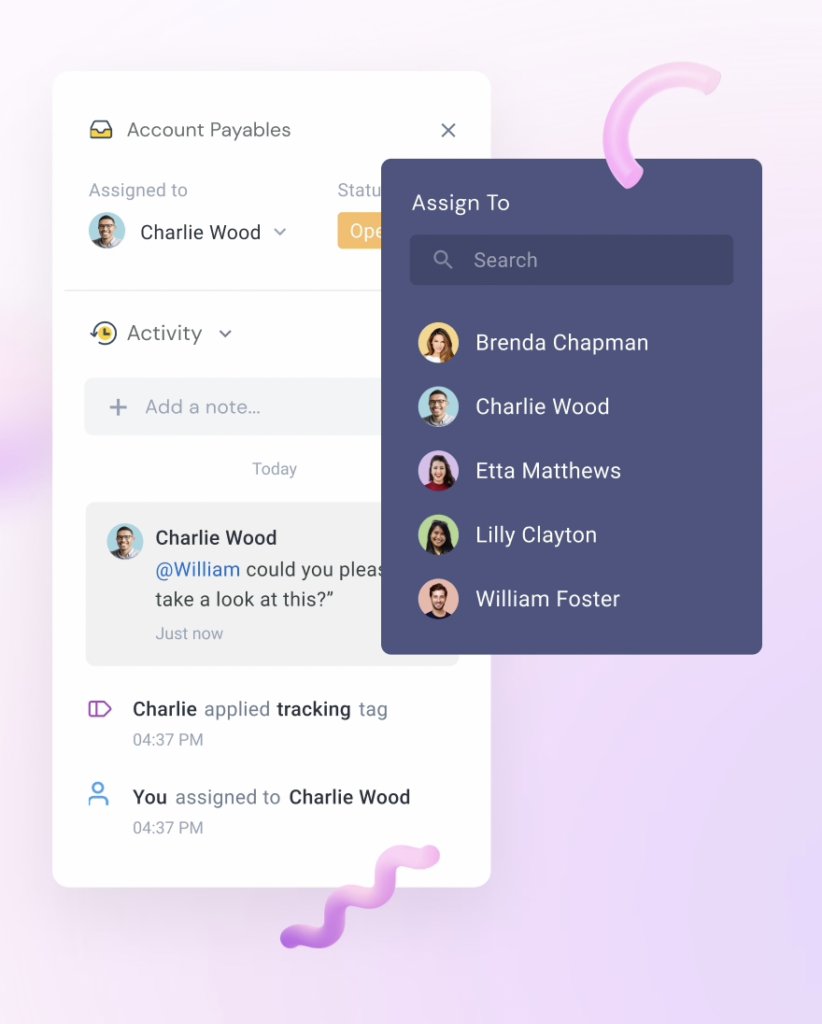 And that's not all, with Hiver, you get Email Notes which are like chat messages that appear right beside your email thread. This way teams can stop using email to communicate among themselves. No CCs, no BCCs, and no forwarding.
Say you're managing sales from Gmail, Notes can used to exchange prospect information, offer tips, or collaborate on any roadblocks without having to write a single internal email.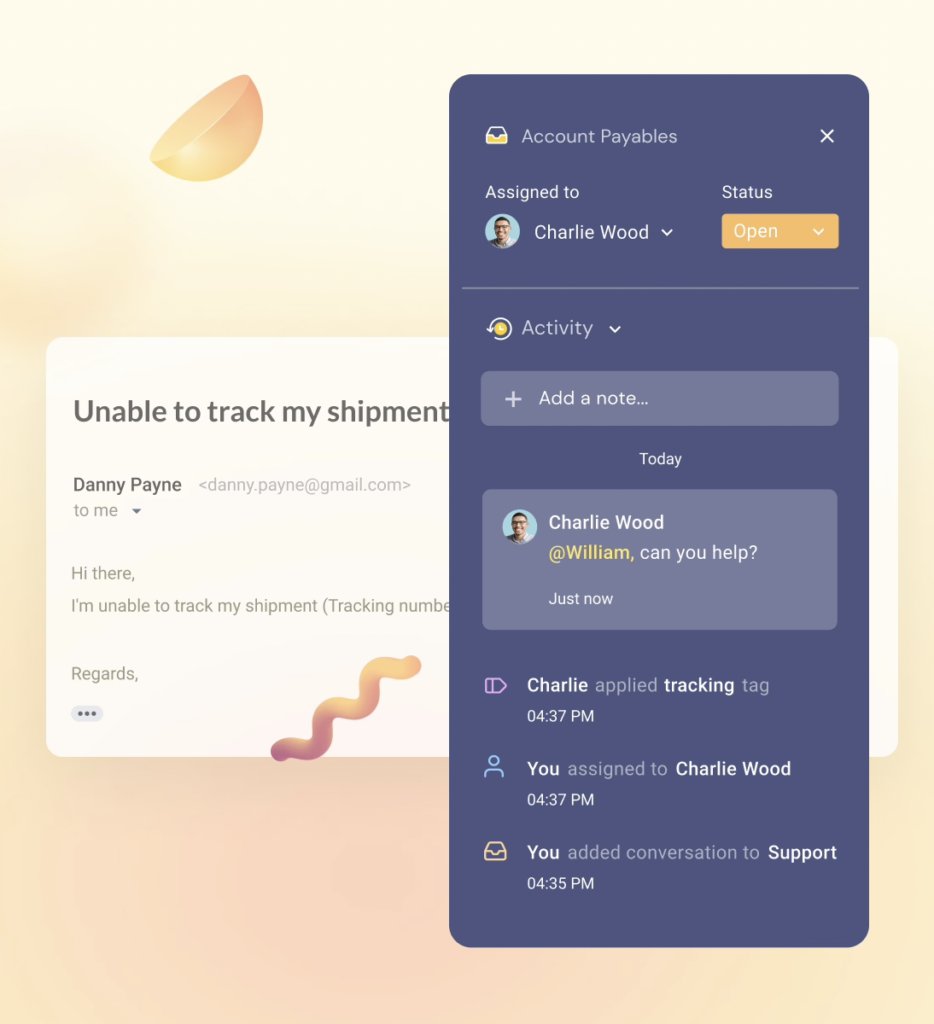 You can choose whom to notify using @mentions. Moreover, these notes stay with the email thread forever.
You'd definitely love
The ability to do all of the above right from your inbox.

The ease of getting used to it — pretty much nothing to learn.
Hiver has a free trial for 14 days. Post that, you have plans ranging from $15/month/user to $59/month/user.
2. Inbox When Ready for Gmail – Protect your focus
Every time you see a new email come in, you get a bit distracted. You get an urge to open it and see what's it about. Therein lies the problem. It might be completely unrelated to what you were doing at that moment, and it takes away your focus.
Inbox When Ready is your way out of this. It helps protect your focus by completely hiding your inbox by default. You won't be able to see any emails unless you deliberately choose to.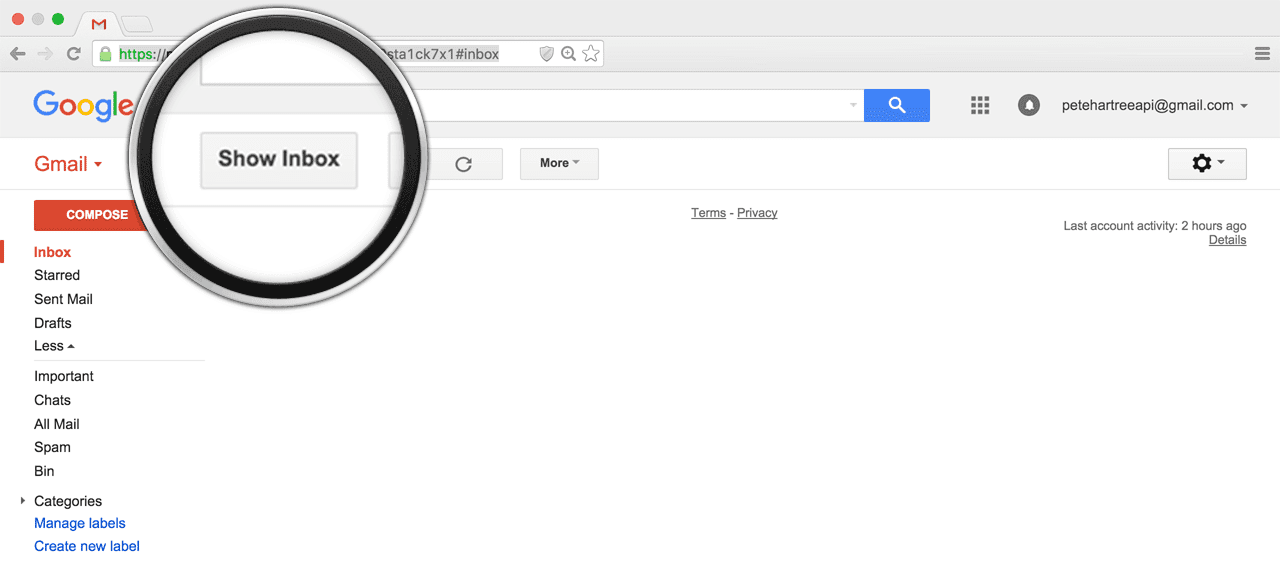 You will still be able to see starred emails or emails under a label, search your email archives and send new emails. This way, you will be able to process and send emails in a distraction-free environment.
You'd definitely love
It lets you define an inbox lockout schedule so you can process emails when you are ready.
Pricing
The free edition of Inbox When Ready adds a small message to your email signature. To remove it, you can upgrade to Inbox When Ready Pro, which is priced at $4/month, paid annually. You can download Inbox When Ready for Gmail here.
3. Dittach – effortlessly manage Gmail attachments
Have you ever gotten really pissed off trying to locate an attachment? I'm sure most of us have. It's one of those things that slow you down even on the brightest of days.
Enter Dittach. This Chrome extension lets you organize and sort all the attachments you have ever sent or received. It makes your life easier by letting you filter the files based on their type – photos, slideshows, PDFs, videos, music, and so on.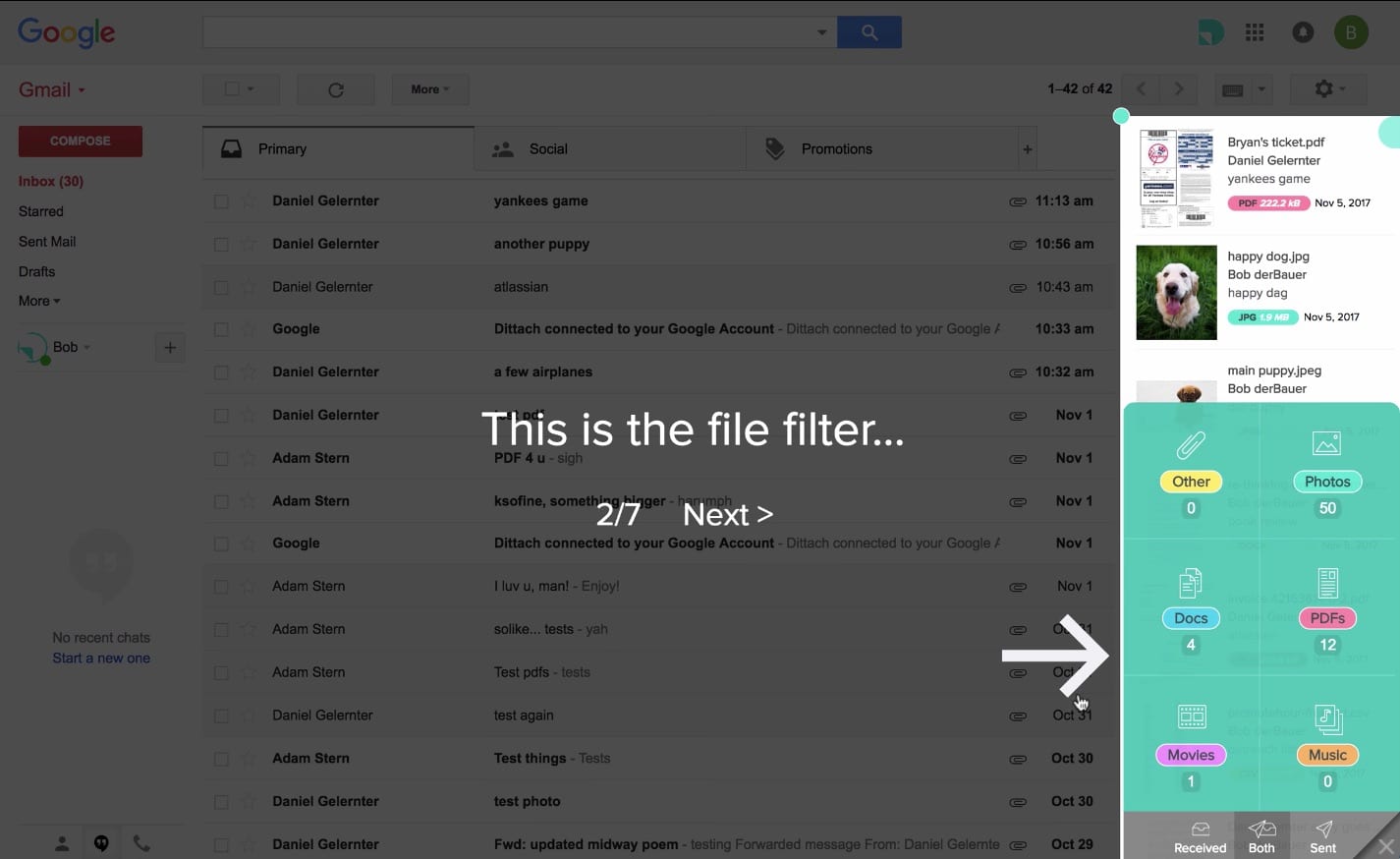 Here's everything else that can you do with Dittach:
Search directly from the Gmail search bar
See thumbnails of all the attachments
Share, forward, and print attachments directly
Delete attachments without deleting the email
You'd definitely love:
Despite the heavy lifting it does for you, it is absolutely easy to use.
Pricing:
It is free.
4. Batch Reply for Gmail – reply to multiple emails at once
Gmail, in its default form, doesn't let you reply to multiple emails at once. That's where this extension comes in. It makes it possible to reply to all the selected emails in one go.

You'd definitely love:
It is very easy to use. All you have to do is select the emails you want to reply, and click 'Reply'.
Pricing:
It is free. You can download Batch Reply for Gmail here.
5. Gorgias – reply to emails faster
According to a Canadian survey, people spend a total of 17 hours a week reading, responding and sending work emails both at work and at home.
One way to cut this down is to write emails faster. That's where Gorgias comes in. This extension increases your productivity by letting you create templates and keyboard shortcuts. Understanding HTML email development can further enhance your ability to create visually appealing and responsive email content, complementing the functionalities offered by these Chrome extensions.
You can define custom keyboard shortcuts for certain long sentences or phrases you use frequently. It will automatically expand and replaces that text as you type.
For instance, you can define a shortcut like hvg for 'Hiver lets you collaborate on shared inboxes right from Gmail'. All you have to do is type hvg and press the tab key, the full sentence will appear automatically.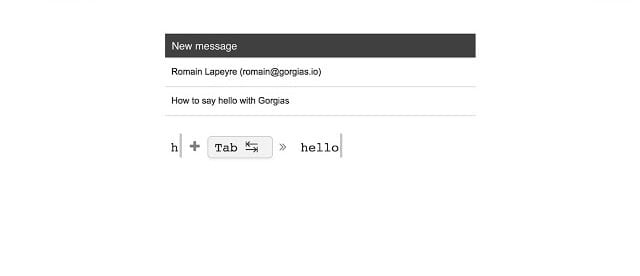 You can also create email templates that can be inserted from the compose window. This is a great way to eliminate unnecessary legwork that involves writing the same email multiple times.
It's also easy to set up email templates in Hiver. Not only does it save you time from answering repetitive queries, but it also lets you personalize them before you send them over to your customer.
And in case you've got multiple canned responses to choose from, you can always use Hiver's AI bot – Harvey to intelligently suggest templates that are most relevant to your query.
You'd definitely love:
Not having to memorize every keyboard shortcut as it lets you search from inside the Compose box.
Pricing:
It is free. You can download Gorgias here.
6. Boomerang – schedule emails to be sent later
Sending emails at the right time significantly improves the chances of getting a reply. But Gmail doesn't have a scheduled email option.
That's where Boomerang comes in. This extension lets people schedule emails to be sent at a later time.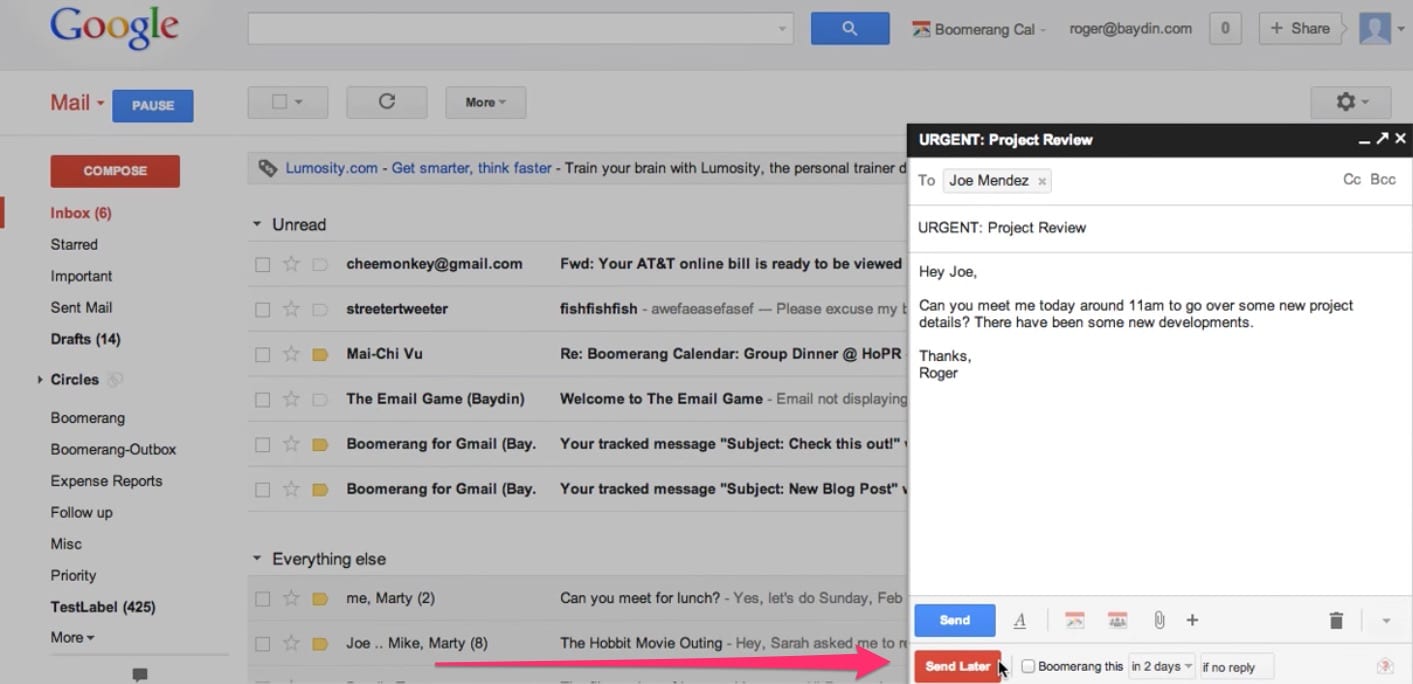 Boomerang also lets you snooze incoming emails and have them come back to your inbox at a later time. It helps you keep your Inbox clean, without losing track of important messages.
You'd definitely love:
The Inbox Pause feature. It helps you get focused by temporarily delaying the arrival of messages to your Inbox.
Pricing:
It has a free personal plan with basic features. The premium plans available are:
Personal – $4.99/Month
Pro – $14.99/Month
Premium – $49.99/Month
You can download Boomerang here.
7. Zapier – integrate Gmail with thousands of other apps
People use Gmail for a lot more than exchanging email – from filing your bills to collaborating on documents. What if you can automate all of this?
That's exactly what Zapier does. It connects Gmail to the other apps you use like Google Sheets, Facebook Lead Ads, and Typeform to automate the tedious tasks in your workflow.
It is very easy to set up. All you have to do is connect Gmail to Zapier and set up the workflows. After that, you can start the automated workflows with just 2 clicks.

Here's a list of Gmail workflows you can automate with Zapier:
Save Gmail attachments to Google Drive.

Save Gmail emails matching certain traits to a Google Spreadsheet.

Send an email via Gmail for updated spreadsheets.

Create Trello cards from new Gmail emails.

Get new Gmail emails in Slack.

Save Gmail attachments to Dropbox in the original file format.
You'd definitely love:
There are more than 100 workflows you can automate.
Pricing:
Zapier has a free version to automate personal tasks. There are two versions for business users – For Work priced at $20/month and For Teams priced at $250/month. 14-day free trials are available for both plans. You can download Zapier here.
Explore the capabilities of the Hiver x Zapier Integration
8. Crystal – customize emails based on the recipient's personality
These days people have very little tolerance for boring and generic emails. You can't expect anyone to read your emails unless they are personalized.
You can fix this problem to a large extent with the Crystal Chrome extension. It goes through public data and text and generates personality reports for your contacts. You can personalize your communication style according to the recipient's personality.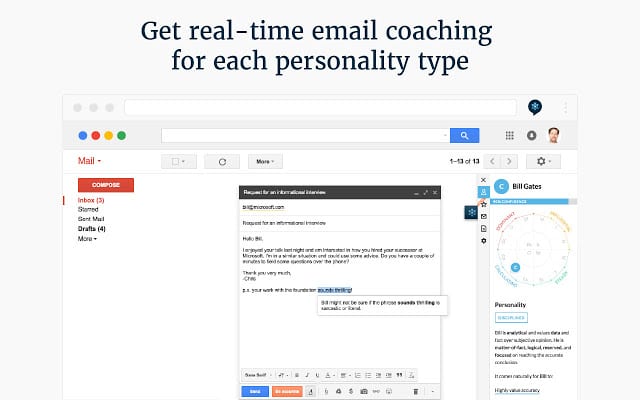 You'd definitely love:
It will give you personality insights on LinkedIn profiles too.
Pricing:
It is free. You can download Crystal here.
9. Grammarly – write mistake-free emails
In every email you send, you are representing your organization or your team. A grammatically incorrect message damages your reputation massively. Even minor typos will make you look bad.
Grammarly can stop this from happening to a large extent. Every time you write an email, this extension will check the text for grammar and spelling errors, highlight them, and suggests improvements.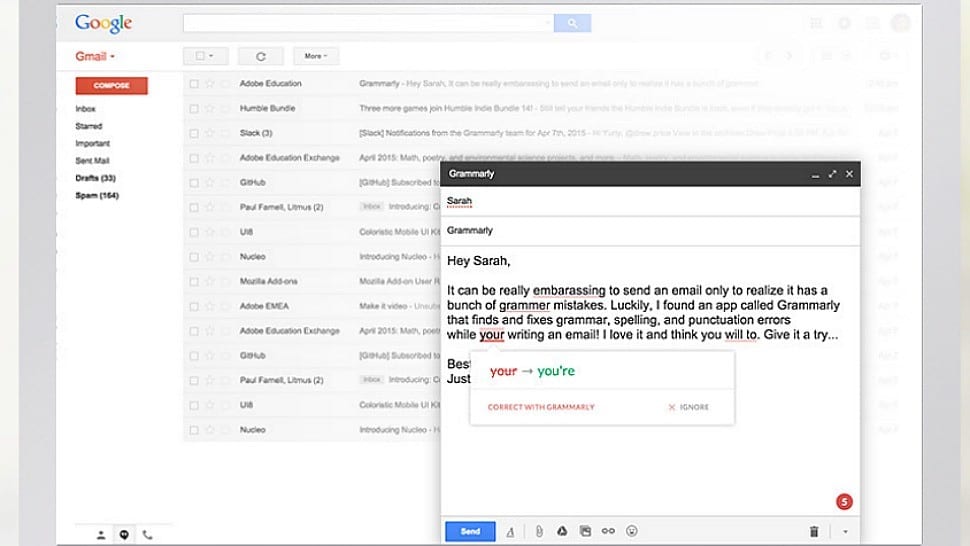 Apart from just typos, it also takes care of subject-verb agreement, article use, modifier placement, misused homophones, and more.
You'd definitely love:
This extension works almost everywhere on the web, including Facebook, Twitter, Evernote, and so on.
Pricing:
It has a free personal plan with basic features. The premium plan is priced at $29.95/ month. You can download Grammarly here.
10. Yesware – automate and track email campaigns effectively
The success of most email campaigns depends on how well you optimize the open, read, and response rates. That's why the importance of automation and tracking cannot be overstated.
Yesware does both, and at scale. It lets you set up multi-stage personalized email campaigns, track their engagement, and generate detailed reports.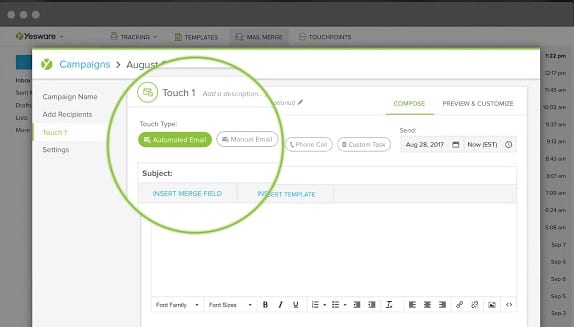 With Yesware, you can track – email opens, link clicks, where or when or on what device your email was opened, and how much time each recipient is spending on attachments.
You'd definitely love:
Yesware's email tracking feature – it works in real-time.
Pricing:
New users will get a free trial for 28 days. Post that, they have three options:
Pro – $12/user/month

Premium – $25/user

Enterprise – $55/user/month
You can download Yesware here.
11. Gmail Offline – manage Gmail without the internet
I'm sure you would have faced situations where you wanted to manage your Gmail inbox offline. Typically, an email client would have been the answer.
Now, you can do the same from your browser itself. All you have to do is install the Gmail Offline extension. It lets you read, reply, search, and archive emails without the internet.
All the emails will sync to your Chrome browser the first time you run the extension. Every action you do after that will be queued up and completed when the internet is available.
You'd definitely love:
The interface is extremely responsive and easy to use. You can get used to it quickly.
Pricing:
It is free.
12. Digify – track and unsend attachments
Organizations now are more vulnerable than ever to cybersecurity threats. Every time you share a sensitive document, there is a likelihood of it spreading online or people misusing it.
And that's where Digify comes in. This Chrome extension alerts you when your Gmail attachments have been read. You can track – who has seen them, for how long, from where, how many times, and if your documents are being forwarded or re-shared.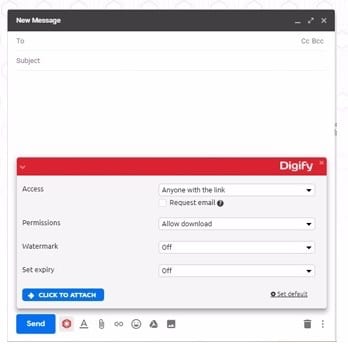 Tracking is only half of the story, you can also:
Make the attachments accessible only to a select few or to everyone.

Allow or restrict recipients from forwarding your files to someone else.

Revoke access to an attachment.

Permit recipients to print or download an attachment.

Add another layer of security by setting your own password or passkey for a document.
You'd definitely love:
The attachments can be set to self-destruct upon the expiry of a preset time or after it has been viewed by the recipient.
Pricing:
There is a 7-day free trial available. The team plan comes at $120/month ($90/month when billed annually). You can download Digify here.
13. Clearbit Connect – find anyone's email address in seconds
The success of your outbound email campaigns heavily depends on finding email addresses — an exercise that is famously frustrating.
Clearbit Connect does its bit to change that. It lets you find the email addresses of the right individuals in minutes. All you have to do is search for the company, and you get an exhaustive list consisting of the individual's designation, location, website, job titles, and social profiles.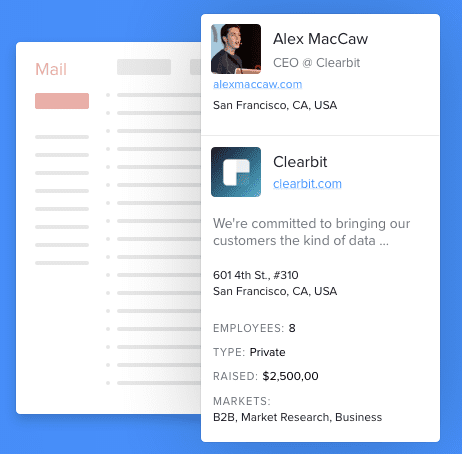 You'd definitely love:
It gives you the sender coordinates of every email you receive.
Pricing:
The free edition lets you do 100 lookups per month. You can download Clearbit Connect here.
14. BombBomb – record and send video emails in Gmail
Video in email has never really worked. People have always been apprehensive about playback issues, the clutter it causes, and of course, the inability to track what happens after you send them.
With BombBomb, you can record and send video email in Gmail. This will help you build trust and familiarity, and communicate with more clarity. Moreover, this approach saves time as it is easier to speak than type.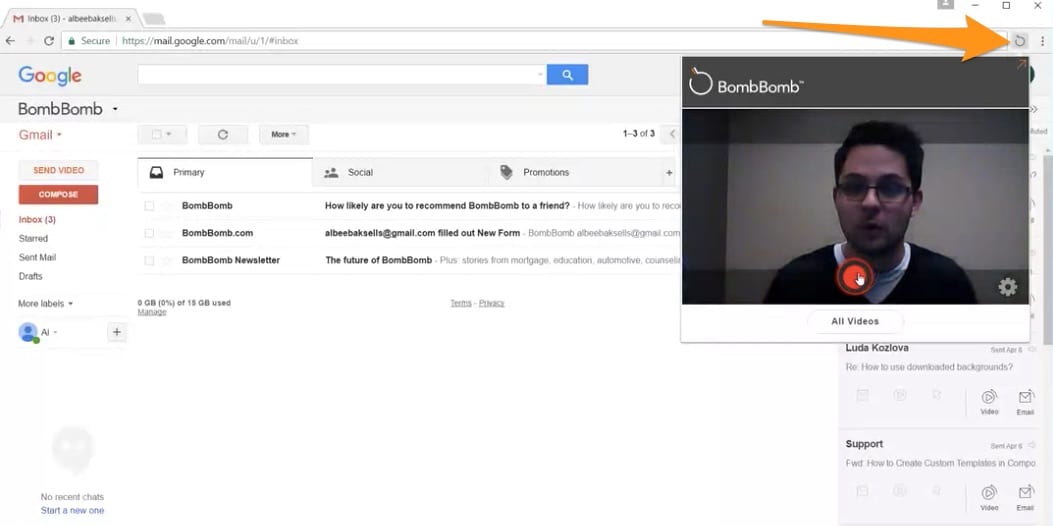 What's more:
Get live open and play notifications in Gmail, on mobile, and on your desktop

Set reminders for yourself to follow up if your email hasn't been opened
You'd definitely love:
You can add any video from your BombBomb library to an email.
Pricing:
A free trial is available for 14 days. The paid plans start at $468/year.You can download BombBomb here.
15. Block Sender – no more annoying emails
An average office worker receives 121 emails per day. A major chunk of this will be unwanted newsletters, social media updates, promotional emails, emails from strangers, or spam. We spend hours daily trying to cope with this never-ending barrage.
The Block Sender extension is your answer. It makes your life easier by giving you a choice to block any incoming email in one click. Every time you block someone, they will get a fake error message.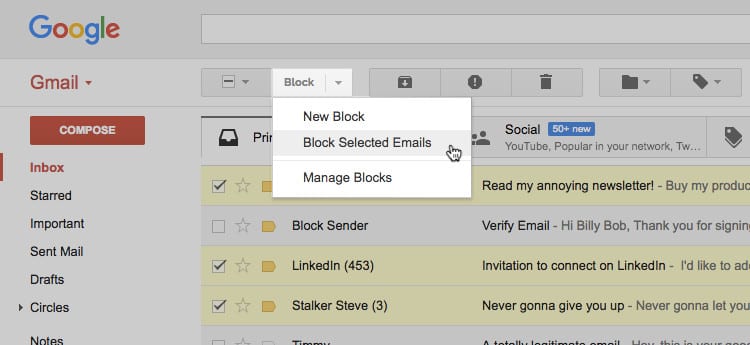 The blocked messages can be sent to the trash, permanently deleted, or made to skip the inbox and be archived.
You'd definitely love:
It lets you create email filters to block messages:
From a particular domain or a sub-domain

If the email body consists of certain phrases or commonly used spam words
Pricing:
There is a free edition that comes with limited functionalities. The paid editions are priced at:
Plus – $5/month

Pro – $9/month.
You can download Block Sender here.
Related Articles You Might Like:

1. Team inbox inside Gmail: Work together faster
2. Best practices for managing Google Workspace emails
3. 20 Chrome extensions that'll simplify your workday
16. Send Anywhere – share large files up to 50GBs on Gmail
Sharing large files in Gmail is a headache. The size limit for attachments is only 25 MB, so we end up relying on Google Drive or other cloud storage services. And that involves even more steps.
With the Send Anywhere extension installed, the entire process becomes way smoother. Large files up to the size of 50 GB can be attached straight from your Gmail compose window. It appears in the form of a clickable link in the email. The recipient can download the files by clicking on the same.

These links will be valid for 48 hours for the free plan users. While the premium users have the choice of setting an expiration date of their liking. Either way, the files will get deleted from the server upon their expiry.
You'd definitely love:
The recipient can download the files from any device they want to.
Pricing:
There is a free edition that comes with limited functionalities. The Plus plan is priced at $5.99 / month. You can download Send Anywhere here.
17. BitBounce – protect yourself from spam
BitBounce is a free email spam solution that keeps unsolicited email senders at bay by asking them to pay. Your contacts are whitelisted and unknown email senders are asked to pay a paywall price which you can set (average paywall price $0.01). If they pay, you'll receive their email, and if they don't, they'll be pushed to an 'unpaid' folder which you can access later. The big takeaway? You can focus on more urgent matters, instead of on spam management.
Bit Bounce uses its native token called Credo which, as compared to other cryptocurrencies, has a low exchange rate and trading volume. Yet, for busy business professionals who are the #1 targets of marketing companies, Bit Bounce is a boon that keeps their inbox personal and spam-free.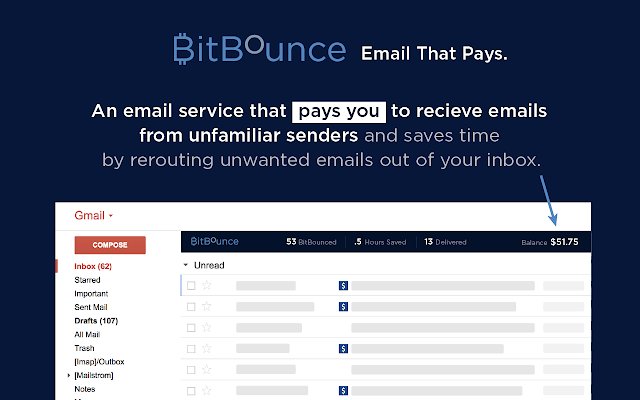 You'll definitely love:
Autopilot feature – automates payments
Runs on Credo Cryptocurrency
Operates directly from your native inbox
Pricing:
BitBounce is available for free.
18. GMass – Personalize email campaigns with ease
GMass gives mail merging a personal spin and enhances the response rate of your campaigns through timely auto-follow-ups. GMass makes mass email address search easy with a Build Email List button. Search for messages containing the email addresses of recipients you want to email and click this magic button. You'll instantly get a window that has all the email addresses mentioned in those messages!
The major gain? You can say goodbye to the tedious CSV files and work with Google Sheets. GMass does bring home a loaded inbox. However, the tool's flawless integration with Google Sheets takes customized mass emailing to a new level.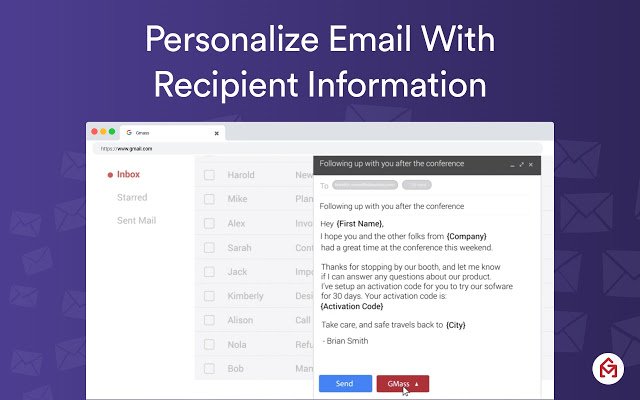 You'll definitely love:
Google Sheet integration
Behavior-based campaigns (great for link-building)
Automatic follow-up emails
The feature that sends campaigns as messages or replies
Build Email List Button
Pricing:
GMass has plans ranging from $8/month to $20/month. You can download GMass here.
19. Mailtrack – real-time updates on email behavior
An email tracking solution with over 1 million users, Mailtrack offers real-time notifications and pop-ups when your emails are opened. It's especially useful to marketers who are trying to reach out to potential or existing customers through email campaigns, and serves as an A/B testing tool for the emails; you get to know which kind of emails are more likely to be opened.
You stay stress-free and avoid any unnecessary follow-up through emails or texts. Big Plus? Free, easy, lightweight and keeps your data safe and secure.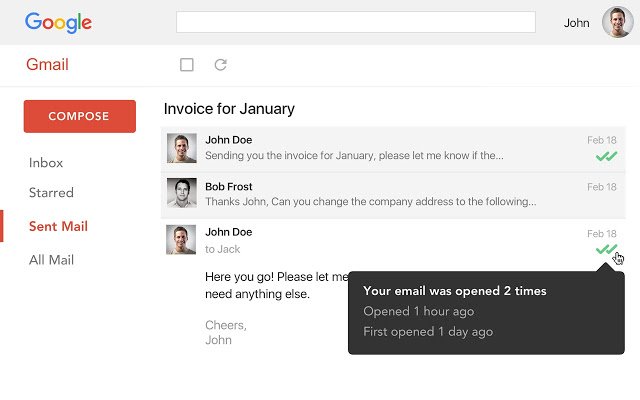 You'll definitely love:
CRM integration
Real-time, event-based notifications
Click tracking (tells you when links in your email have been clicked on)
The double checkmark against an email indicating that it's been opened; helps shape your follow-ups.
Pricing:
You can pick from any of Mailtrack's 3 plans – a monthly plan, a quarterly plan, and a yearly plan. You can download Mailtrack here.
20. WiseStamp – customize your email signature
WiseStamp is a professional email signature generator tool that helps you create your email signature within minutes. It's a free Gmail tool (unless you want to pay for more features) and works with all major email providers like Gmail, Yahoo, AOL, Outlook, and Hotmail.
The paid version gives you access to a vast library of templates to choose from and you'll be spoilt for choice, no doubt! The templates created can be updated and personalized as per your need. So if there's a sale around the corner or a special holiday greeting that's due, you can customize your signature accordingly.
One big value add? It makes branding simple and quick. You can spend your time on more urgent things rather than sit with a designer or rummage through a plethora of websites to design a signature!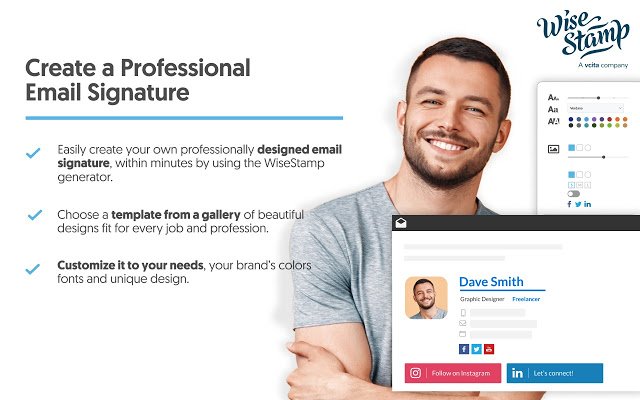 You'll definitely love:
Features for customization
Good looking templates
Random sign-off app
Pricing:
WiseStamp has one paid plan at $5/month (which is billed annually). You can download WiseStamp here.
21. Streak – track, manage and close deals effectively
The only CRM tool entirely and seamlessly integrated with Gmail, Streak provides 360-degree CRM for 7 different use cases. (Sales, PM, Business Partners, Fundraising, Support, Hiring, and Real Estate).
Email tracking, customized mail merge, email sharing with team members, and color-coordinated emails based on where they're on the sales pipeline are some of the features provided by Streak.
The biggest plus is that it's integrated with your inbox, so you can easily convert an email into a task and box it up into the Gmail sidebar; this makes email tracking easy and organized. You have a quick overview of your tasks without leaving your inbox.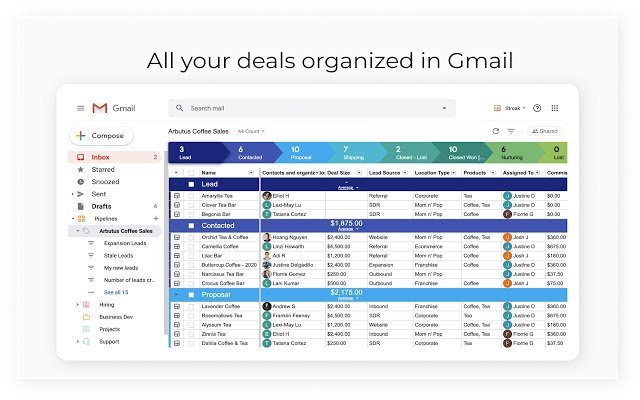 You'll definitely love:
Personalized email blast
Email sharing & tracking among team members
Track outgoing email
Predefined boxes for your contacts
Pricing:
Apart from a free plan that comes with email tracking, mail merge, and basic CRM features, Streak has different pricing plans depending on the size of your business. You can download Streak here.
22. Rename Email – search emails by subject lines easily
As the name suggests, you can rename your email subject lines using the desired keywords. This way you can search for important emails faster, give generic or vague subject lines more specificity so that you don't lose them in the crowd and you can separate long threads of an email conversation with relevant subject lines.
One big takeaway? You don't need to wade through each thread till you reach your desired one. The sender remains oblivious to the change unless you reply without changing the subject line back to the original one. The tool keeps your inbox organized and makes emailing an easy and hassle-free affair.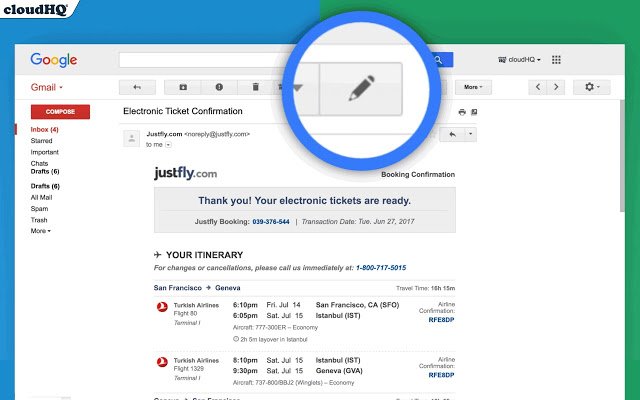 You'll definitely love:
Add subject lines to emails sent without them
Use keywords or reminders for specific clients' subject lines
Pricing:
They have a premium subscription at $4.99/month. You can download Rename Email here.
23. Right Inbox – manage all your email campaigns
It's a tool that has you covered in almost every way – scheduling, reminders, trackings, auto-follow-ups, sign-offs, and more. If you're communicating with someone overseas, with Right Inbox you can write your email and schedule it to be sent later, at the appropriate time. If you're part of the Sales or Support team, you would know how annoying it is to write the same kind of emails repetitively, Right Inbox helps you with templates you can use.
Right Inbox allows you to see who has read your emails, and when and how many times they've read them; but doesn't send you real-time notifications. One big plus is that this tool allows you to jot down notes and ideas related to an email conversation without cluttering your email.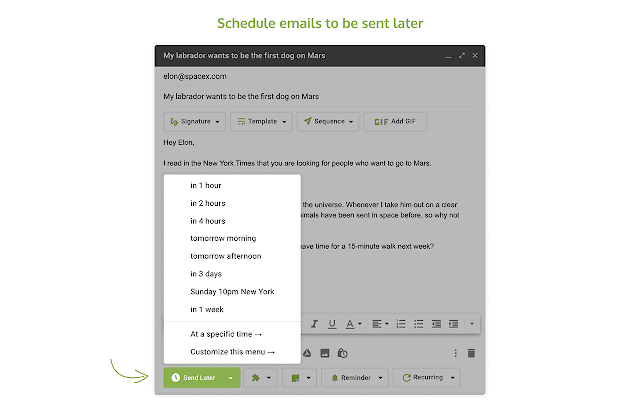 You'll definitely love:
Option to send emails later
CRM integration
Ability to create email templates and customize them as needed
Pricing:
Apart from a free plan, Right Inbox has a monthly plan priced at $7.95/month and a yearly plan priced at $5.95/month (both paid plans give you access to all features). You can download Right Inbox here.
24. Checker Plus – Inbox updates as desktop notifications
Are you someone who has one eye on your Gmail tab while working on something? Checker Plus helps you get rid of that pirate eye patch by providing inbox updates in the form of desktop notifications so that you don't need to waste precious time by opening your inbox.
Checker Plus does more than what a normal mail checker does. It allows you to archive your emails or directly open them in Gmail and much more. You get new mail alerts and pop-ups that give you basic details of the email so that you can instantly decide whether to open it right then or later.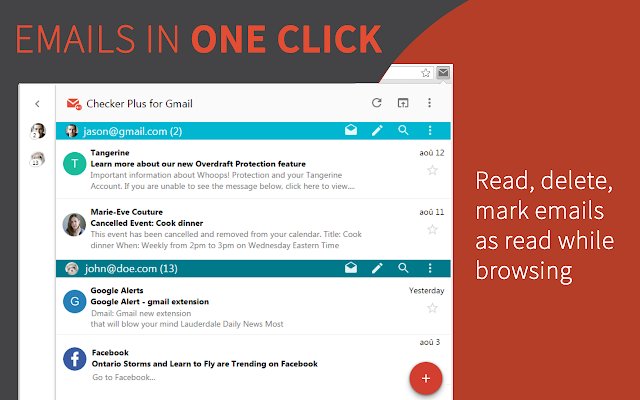 You'll definitely love:
Voice notifications/read-aloud option
Remote monitoring inbox and custom labels
Colour scheme for pop-ups
Text-to-speech translation
Option to juggle between multiple accounts without opening the inbox
Pricing:
Checker Plus is a free tool. You can download it here.
25. ActiveInbox – Turn emails into actionable tasks
Riding high on the GTD philosophy, Active Inbox was created to treat every email like an individual task. You can ace all your deadlines by setting up a due date for each of them. While you're on an email-sending spree, ActiveInbox helps you stay on the right track by giving you easy access to previous conversations, related to the email you're writing, in just a click.
It also makes the daunting task of following up quite easy by setting reminders and offers you the 'Send Later' function where you can set a time for the email to be sent; this helps especially if you're working with people in different time zones.
While some might say it's a bit heavy on the pocket for its limited yet attractive features others swear by its efficiency. Its inability to integrate with other project management tools limits its usage to small teams, yet with ActiveInbox you can glide through your day by having just one place to focus on emails and tasks and break your to-do list into digestible chunks.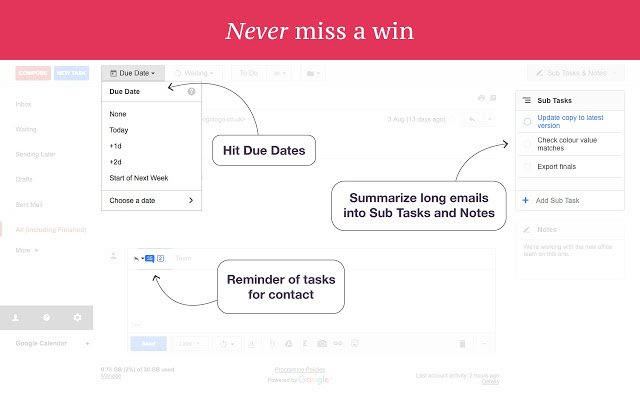 You'll definitely love:
Converts emails to actionable tasks
Setting up reminders to do follow-ups
Schedules emails to be sent later
Get a quick overview of previous conversations before sending an email
Pricing:
ActiveInbox has 3 separate plans – Personal, Team, and Enterprise. Personal is priced at $4.16/month (paid annually) while Team starts at $12.48/month (also, paid annually). For Enterprise, you have the option to get in touch with the ActiveInbox team. You can download ActiveInbox here.
26. Mailstrom – Declutter your inbox
If Inbox-Zero is one of your 2020 goals, Mailstrom may be of some interest to you. Mailstrom is an email add-on that is configured to identify patterns in your inbox to help declutter in the quickest way possible. The tool is programmed to help users bulk-delete, archive as well as move and sort emails. It works on any email service that supports IMAP.
Mailstrom equips you with a bunch of hacks, tips, and suggested best practices that will enable you to take control of your inbox, in your own way.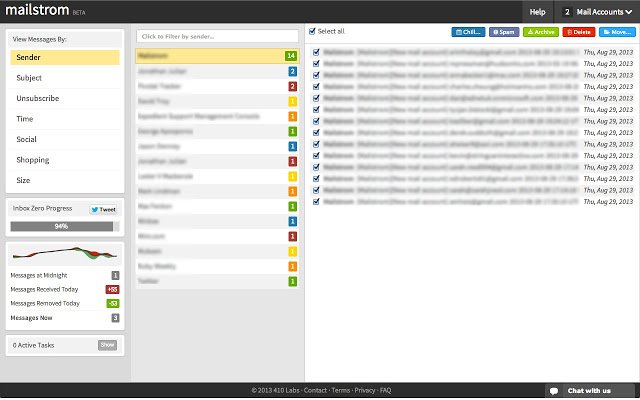 You'll definitely love:
One-click nlock function to stop clutter from unwanted senders
Unsubscribe button to opt-out of unwanted mailing lists in a click
Industry-leading encryption system that guarantees high-level spam protection
The message sorting option gives you better control to find your emails faster.
Pricing:
Mailstrom has plans ranging from $9/month to $29.95/month. You can download Mailstorm here.
27. Sortd – Prioritize your emails
A chrome extension that takes you closer to Inbox Zero, Sorted helps you sort your emails based on what you want to do with them. It's a sophisticated to-do list that lets you sort emails into different boards, especially the unread ones, based on the priority levels, like 'To-Do', 'In Progress', or 'Done'. You can even sort them based on the function or team involved. This way your inbox remains clutter-free and you get things done.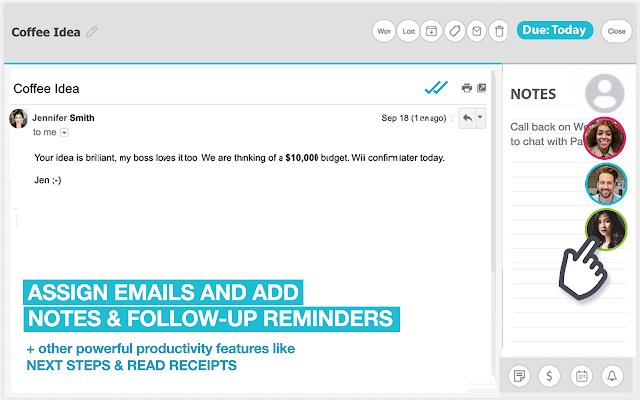 You'll definitely love:
Check emails as done
Add reminders & notes
Change subject lines to actionable task names
Group messages using different color schemes
Pricing:
Sortd offers 3 different plans – Pro, Team, and Sales. Pro is priced at $6/month/user, Team is priced at $8/month/user, and Sales costs $16/month/user. You can download Sortd here.
Wrapping up
These extensions can dramatically reduce the time you spent in your inbox. But, make sure you install only what's necessary. Adding too many extensions can take a toll on your computer's performance.
If you feel you can't live without certain extensions, use Extension switcher to quickly enable and disable extensions so that your browser performance is not affected.
A parting note – no matter what add-on you install, always make sure they are secure.