Table of contents
8000+ teams use Hiver to delight their customers!
Providing the highest levels of customer service is what all businesses strive to do. And since today's customers are increasingly communicating via various channels with businesses and expecting instant responses, businesses need all the help they can get. According to a Hiver survey, 30% of customers will not give brands a chance after a single negative experience.
The expectations are clear: You need to give your customer service team everything that they can get to satisfy customers' demands. And this includes the ability to provide customer service on-the-go from their mobile devices.
And that's why we at Hiver went back to the drawing board and gave our mobile apps for iOS and Android a massive upgrade.
The all-new Hiver mobile app is a full-featured mobile app for customer service teams to manage customer service on-the-go.
Benefits of using a mobile app for customer service
Your team can work from anywhere
As we enter a new normal caused by the Covid-19 pandemic, remote work (in some shape or form) is here to stay. Businesses have found themselves scrambling to figure out how to give employees access to the tools they need to work remotely.
This issue has been significantly easier to navigate for businesses that use tools that already offer mobile access. If you have a customer service tool that supports multiple device types, your customer service team can tap into all the information they need on whatever device they have handy.
And when the world starts to return to some semblance of normalcy, your customer service team can still use the mobile app to collaborate and solve customer problems. Whether they're in a waiting room or they're on their morning commute, helping them stay connected and productive on-the-go.
Your customer data is unified
One of the key elements of providing good customer service is ensuring that your team always has the context they need. Customer service teams need to access the entire history of a customer's communication with the company and see the notes left behind by their fellow team members to determine the course of action taken so far.
Your customer service tool should allow your team to access the most up to date information about their customers from any easily accessible device. With a single glance, anyone from your team should be able to track conversation history, assignees, and conversation status easily.
And they can also update this data in real time to ensure that everyone on the team is always on the same page.
Your team can respond faster
Your customer service team isn't always sitting in front of their computers when customer service queries come in. And yet, one of the biggest customer service trends in recent years is the expectation of faster customer service. Our research shows that 37% of customers describe a customer service experience as a good one when they are responded to on time.
When your support team can respond to customer emails from their phone, they can address the queries faster. Members of your team can get notified in real time the moment a customer needs help and respond to them even if they're at the beach or sipping a cup of coffee at the nearby cafe.
Why you'll fall in love with the all-new Hiver mobile app
Reason 1: Find all your emails in one place with Shared Inboxes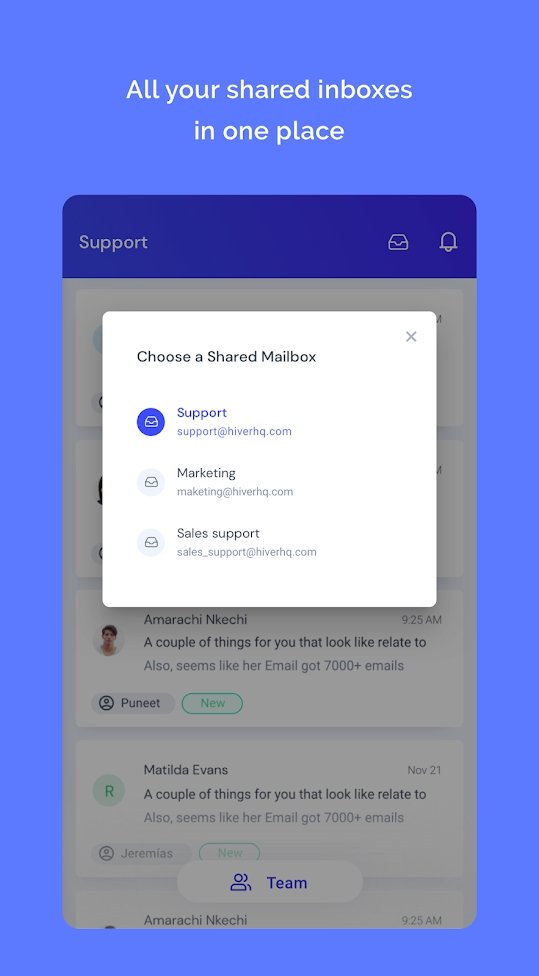 The Hiver mobile app brings all your customer service shared inboxes (support@, orders@, billing@, etc.) in one place. A single swipe lets you toggle between all your Hiver shared inboxes, ensuring that you are never too far away from any of your customers and their queries.
Reason 2: Turn emails into tasks with Email Assignment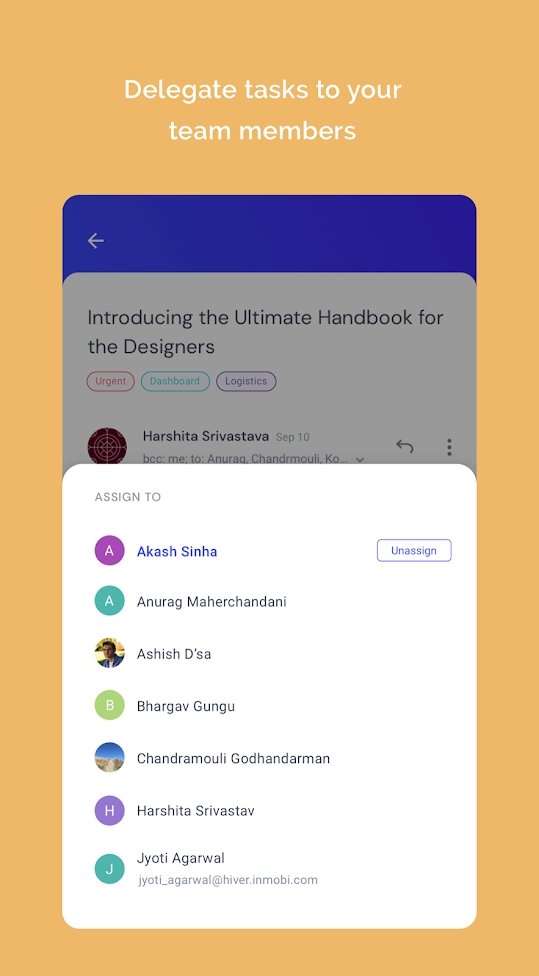 We know you love the email assignment feature on the Hiver desktop app. In fact, this feature alone received a 94% satisfaction score from our users, according to G2.
The Hiver mobile brings this functionality to the palm of your hand. The mobile app allows you to instantly turn emails into tasks and delegate them to your team members.
You can also update and track email statuses — Open/Pending/Closed – your team will always know where a customer email is along its resolution path.
Reason 3: Get instant collaboration with Email Notes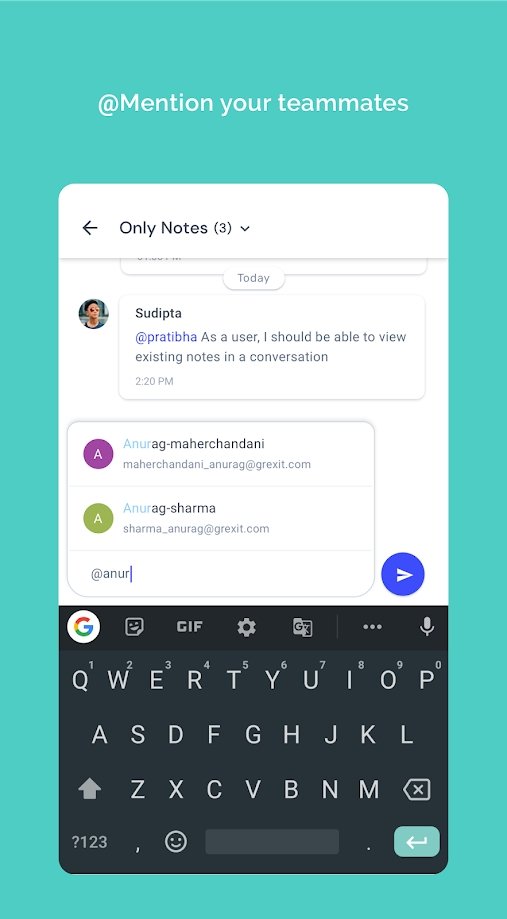 If you are reading this blog on your mobile phone, chances are you've already received a few instant messages in the background. Across the world, 41 million instant messages are sent out every minute, with most users having two or more messaging apps installed on their phones.
So it's only fair that a customer service mobile app should allow your team members to collaborate instantly.
The Hiver mobile app allows your customer service team to collaborate using Email Notes. Notes are private conversations that enable chat-style collaboration between team members and live alongside email threads.
If you want to notify a teammate in real time to alert them about a specific issue, you can even @mention them so that they receive an instant notification.
What's more? Notes live alongside email threads so that your team has all the necessary context required while replying to a customer email. While you're using the Hiver mobile app, you can simply toggle between email notes and the email conversation with a single swipe. No more hassles of switching between screens and apps.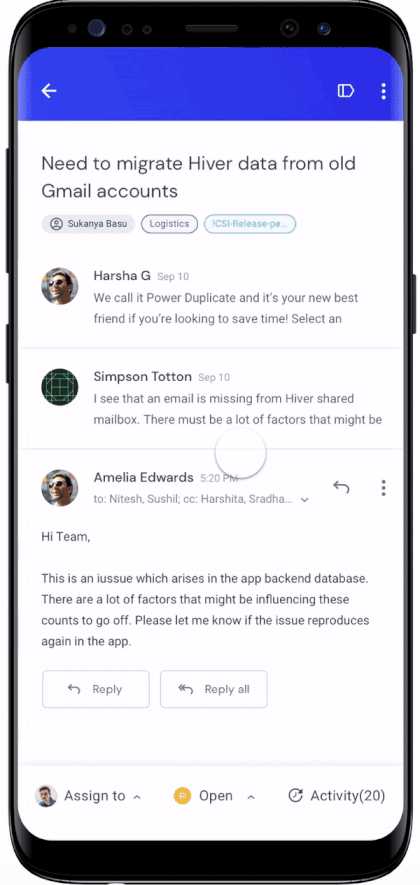 Reason 4: Find your high-priority emails faster with Views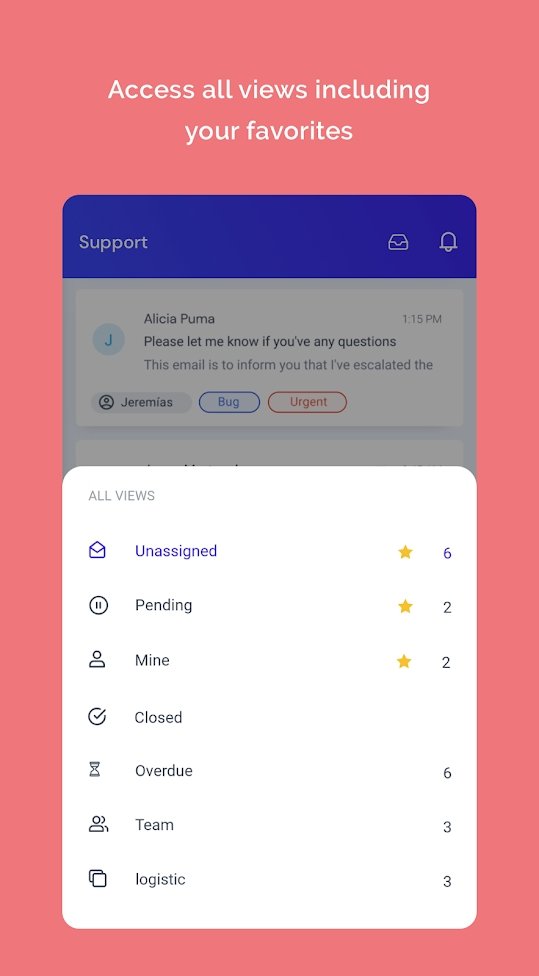 We've said this several times, but we can't help repeat ourselves. When it comes to providing good customer service, speed is key.
One nifty feature in Hiver, which helps you pull up important emails faster, is Views. Views in Hiver are like Gmail Filters but on steroids. Once you set up a View, you can easily find emails by customer, status, or issue in seconds.
With the Hiver mobile app, you can easily access all your Views (including Favorites) in a single swipe, allowing you to find and respond to critical emails faster.
Reason 5: Write better emails with Shared Drafts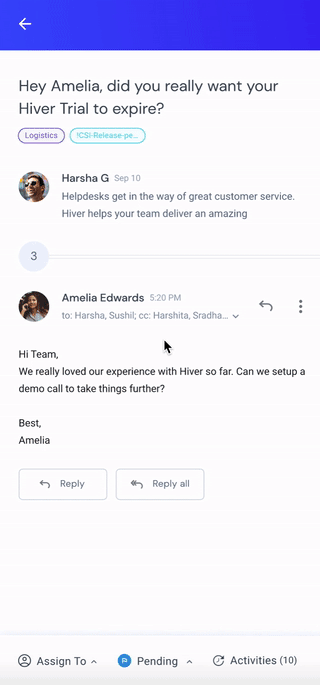 Are you struggling with responding to a customer email? Why not rope in your teammates? With Shared Drafts on the mobile app, you can rope in your teammates and collaborate with them, much like how you would use Google Docs to craft that perfect email response.
With Hiver, you can collaborate with your teammates and send the perfect email responses, no matter where you are.
Reason 6: Prevent email duplication with Collision Alerts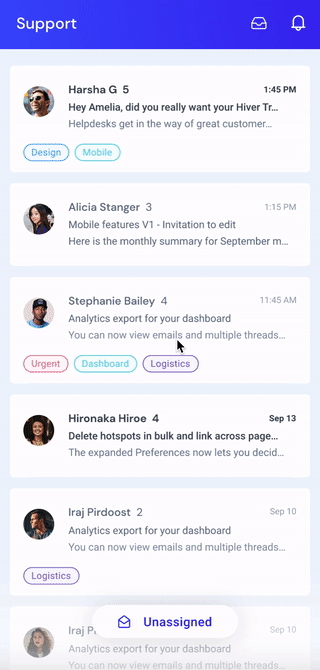 Replying to customers quickly is very important. But sometimes, in a rush to get things done, customer service reps may jump the gun and respond to an email without knowing that someone else was already working on it.
This means that your customers would end up receiving more than one response (maybe potentially conflicting even) to their queries. And this doesn't bode well both for your business and your customers.
The Hiver mobile app now has the Collision Alerts feature, which shows a large notification when two users work on the same email draft, preventing email collision and duplicate responses.
Empower your customer service team
Your customer service team is made up of rockstars. They work hard day in and day out to ensure that your customers get the best service. The intuitive, feature-packed Hiver mobile app is everything your team needs to become even more effective. And this only means that more of your customers will receive customer service faster and better.
Next steps
If you're an existing Hiver customer, get the iOS app from the App Store here. Or get the Android app from the Play Store here.
If you're new to Hiver, sign up for a free 7-day trial here.