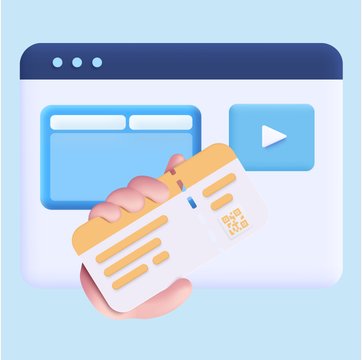 Table of contents
Turn Gmail into a collaborative hub
Choosing the Right Ticketing System: Top Requirements
Sep 04, 2023
|
6 min read
|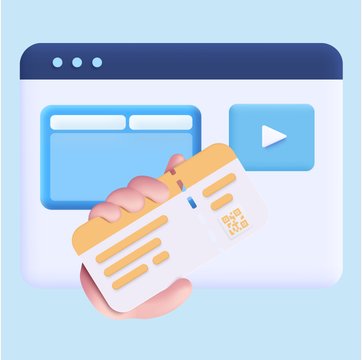 Table of contents
Today, robust ticketing system is no longer a luxury — it's a necessity. These systems act as the backbone of customer support, ensuring that every query, concern, or feedback is systematically addressed.

But here's the catch: with a sea of options out there, how do you pinpoint the one that's tailored for your team? What are the features that a ticketing system must have to make it the "right" one for your business?

Picking the right system is about more than just glossy features. It's about aligning with the specific needs of your business and capabilities that can take your customer experience to the next level.

Let's dive deep and take a look at the top requirements for choosing a ticketing system that truly fits your business needs.
Table of Contents
1. User-Friendly Interface
Think about it: your team will be using the ticketing system on a daily basis to handle customer queries. So, choosing a system that's easy to navigate is crucial.
A user-friendly interface makes life easier for your support team. It also ensures that new employees can get started quickly — without much training. Here's what a user-friendly interface should look like:
Intuitive Design: The system should be designed in such a way that even a new employee can easily understand how to use it. Essential features and functions should be evident and not hidden in the sub-menus.

Speed and Efficiency: The interface should enable users to perform their tasks quickly without unnecessary steps.

Accessibility: A ticketing software can have a lot of features — which often makes a lot of software cluttered and features quite inaccessible. A good ticketing system should have a clean, clear layout where features and options are easy to find and access.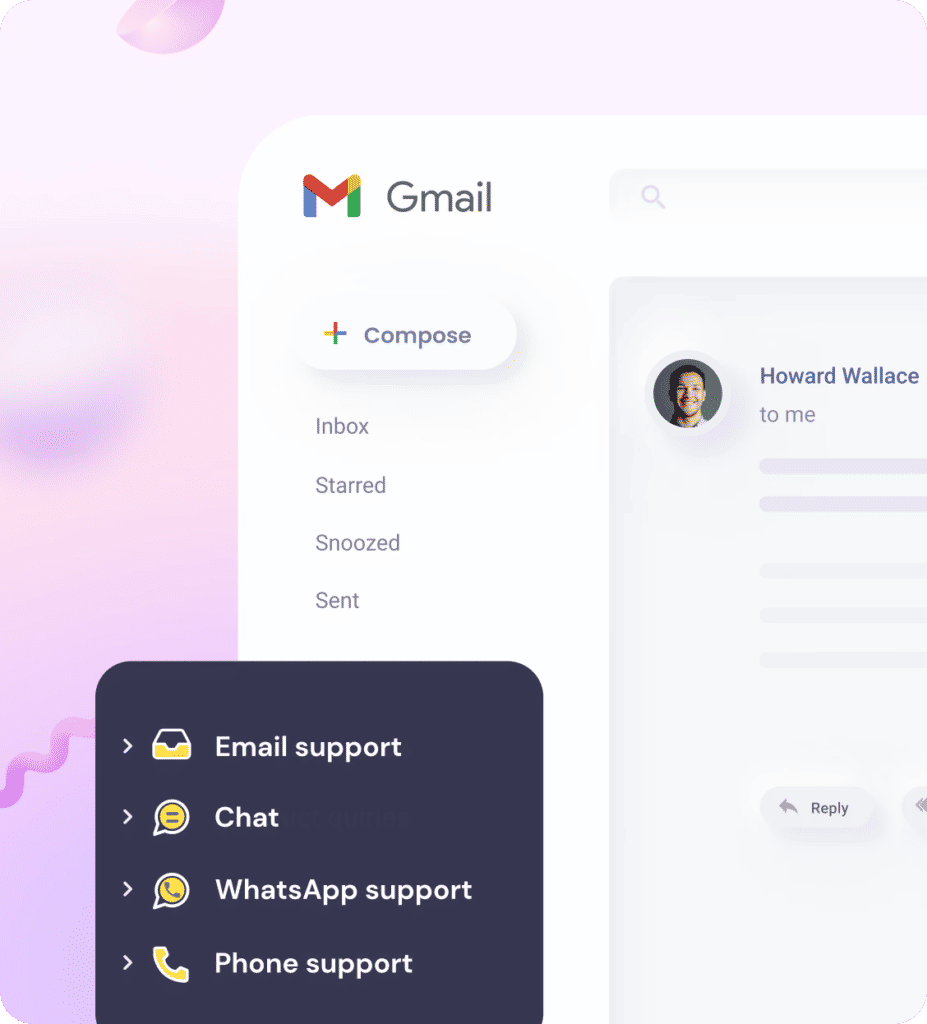 Hiver checks all these boxes since it works on top of your Gmail account. With a clean, intuitive UI, everything works seamlessly for your support team — and you can get started in less than an hour.
2. Seamless Collaboration
A ticketing system should also facilitate seamless collaboration across your organization, which is crucial for quickly resolving customer issues. Here are some must-have features when it comes to enhanced collaboration:
Ticket Assignment: The system should allow for easy assignment and reassignment of tickets among team members. This ensures that tickets are handled by the most appropriate people, leading to efficient resolution.

Shared Views: Your ticketing system should enable shared views of tickets. This feature allows all team members to see the status of tickets and reduces the chances of miscommunication or double work.

Internal Communication Tools: In-built communication tools such as internal notes or chats can help team members discuss tickets without leaving the system. It eliminates the need to switch between platforms and ensures all relevant discussions are linked to the associated ticket.

Collaboration across Departments: Often, resolving a ticket may require input from multiple departments. Your ticketing system should support cross-departmental collaboration.

For instance, if you want to some information on a customer query from the engineering department, you should be able to tag the relevant member right where the ticket is.

History Tracking: The system should keep a record of all activities and communications related to a ticket. This provides a clear timeline and helps understand the full context of a customer issue, irrespective of who previously handled it.
By enabling seamless collaboration, your ticketing system can help your support team resolve tickets more efficiently.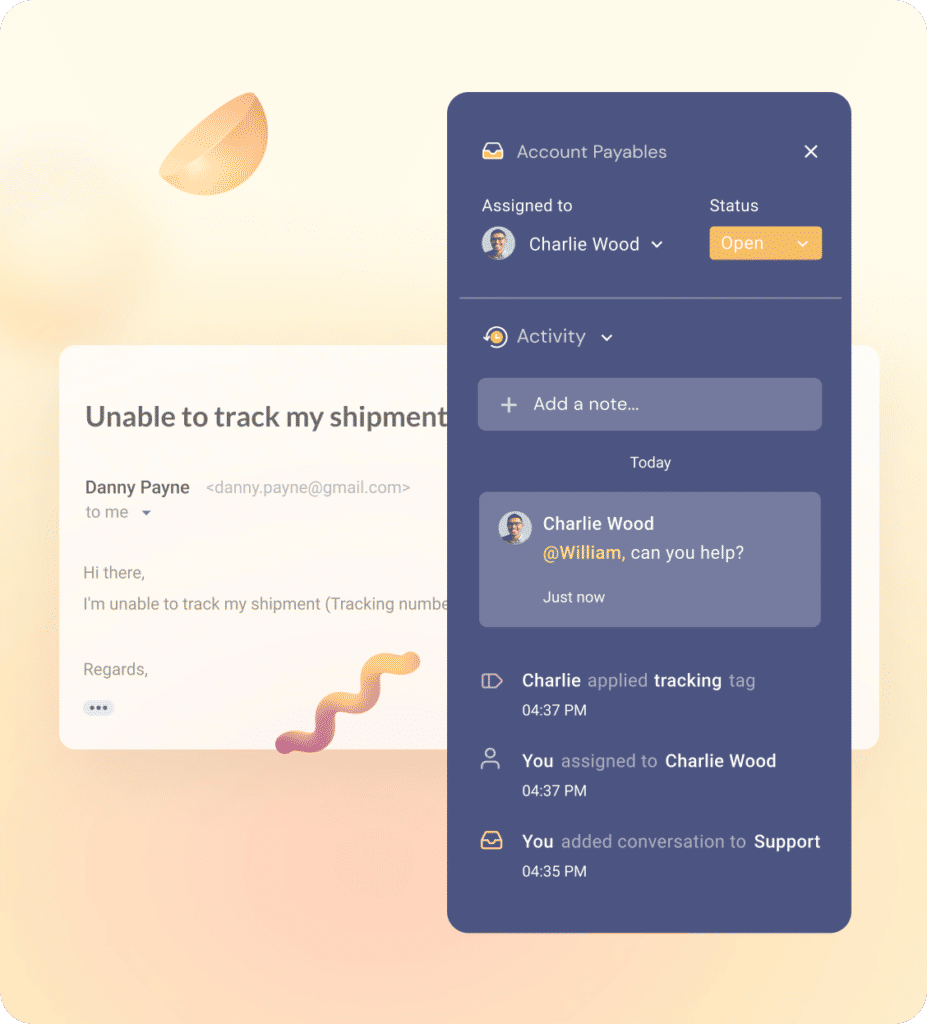 Hiver offers features such as Notes and @mentions to enable collaboration within the team and across the organization. Support agents can simply tag a colleague and leave a message. With faster internal collaboration, your agents can resolve queries much quicker — improving overall customer satisfaction.
3. Integration with Other Systems
Your ticketing system should integrate seamlessly with your other business tools. This increases efficiency and prevents data silos — creating a workspace for your agents with all the applications they need under one roof. Here are some key integrations you should have in your ticketing system:
CRM Integration: Integrating your ticketing system with your CRM (Customer Relationship Management) ensures a unified view of the customer. It allows quick access to customer history, preferences, and past interactions, enabling the team to provide personalized and informed service.

Email Integration: A ticketing system integrated with an email platform allows for automatically converting emails into tickets and vice versa. This facilitates the efficient organization and tracking of customer email communication.

Social Media Integration: In today's digital age, customers often reach out via social media. Integration with platforms like Facebook, Twitter, and Instagram can enable the creation of tickets from social media interactions, ensuring no query is overlooked.

Project Management Tools Integration: Integration with project management tools supports effective collaboration and task management. It can help track progress, assign responsibilities, and ensure timely resolution of tickets.
You can create a seamless workspace for your support team with Hiver. With integration to your favourite work applications like Asana, Jira, Zapier, Salesforce, Slack and WhatsApp, amongst many more — there's no need to switch between multiple apps to get your work done.
4. Multi-channel support
In the era of digital transformation, customers expect to be able to reach out to brands on their preferred communication channels. This is exactly why one of the requirements of a ticketing system should be that it supports multi-channel communication, allowing your team to manage all customer interactions in one place.

Here are some important considerations when evaluating multi-channel support:
Channel Diversity: The ticketing system should support a variety of communication channels such as email, phone, knowledge base, and live chat. This ensures that customers can reach out in the way that is most convenient for them.

Unified Interface: Regardless of the communication channel, all customer interactions should be collected in a unified interface. This allows support agents to have a complete history of each customer's interactions, regardless of the channel.

Channel Integration: When a customer switches from one channel to another, the ticketing system should provide a seamless transition. That means the conversation history should follow the customer, ensuring continuity in support.
Channel-Specific Features: There may be channel-specific features or requirements depending on the communication channel. For instance, live chat requires a real-time response, while managing email interactions needs clear segmentation to handle customer queries.
Hiver allows your team to set up and scale multi-channel support without ever having to leave your Gmail account. This means you can manage customer interactions across all your support channels, like email, live chat, voice calls, WhatsApp, and knowledge base, seamlessly from a familiar interface.
5. Reliable and Robust Reporting
Data is the new gold. Your ticketing system should include robust reporting that provides insights into ticket volumes, resolution time, and other performance metrics. This data can guide strategic decisions and help identify areas for improvement.
Here are some key considerations when evaluating the reporting capabilities of a ticketing system:
The Breadth of Metrics: The ticketing system should offer insights into a wide range of metrics, such as ticket resolution time, customer satisfaction scores, and agent performance. This allows for a comprehensive understanding of your support operations.

Customizable Reports: You should be able to customize reports based on specific data points, time periods, or departments. This flexibility allows you to extract the most relevant insights for your business.

Real-Time Reporting: Real-time reporting can help you spot emerging trends or issues and address them promptly. It's a crucial feature for managing high-volume support environments.

Visual Data Representation: Reports should present data visually using charts, graphs, or other visual aids. This can make it easier to understand complex data.

Export Capabilities: The system should allow you to export reports in various formats (PDF, CSV, etc.),enabling easy sharing and further analysis outside the system.
With the right data insights, you can continually improve your support operations and enhance customer satisfaction.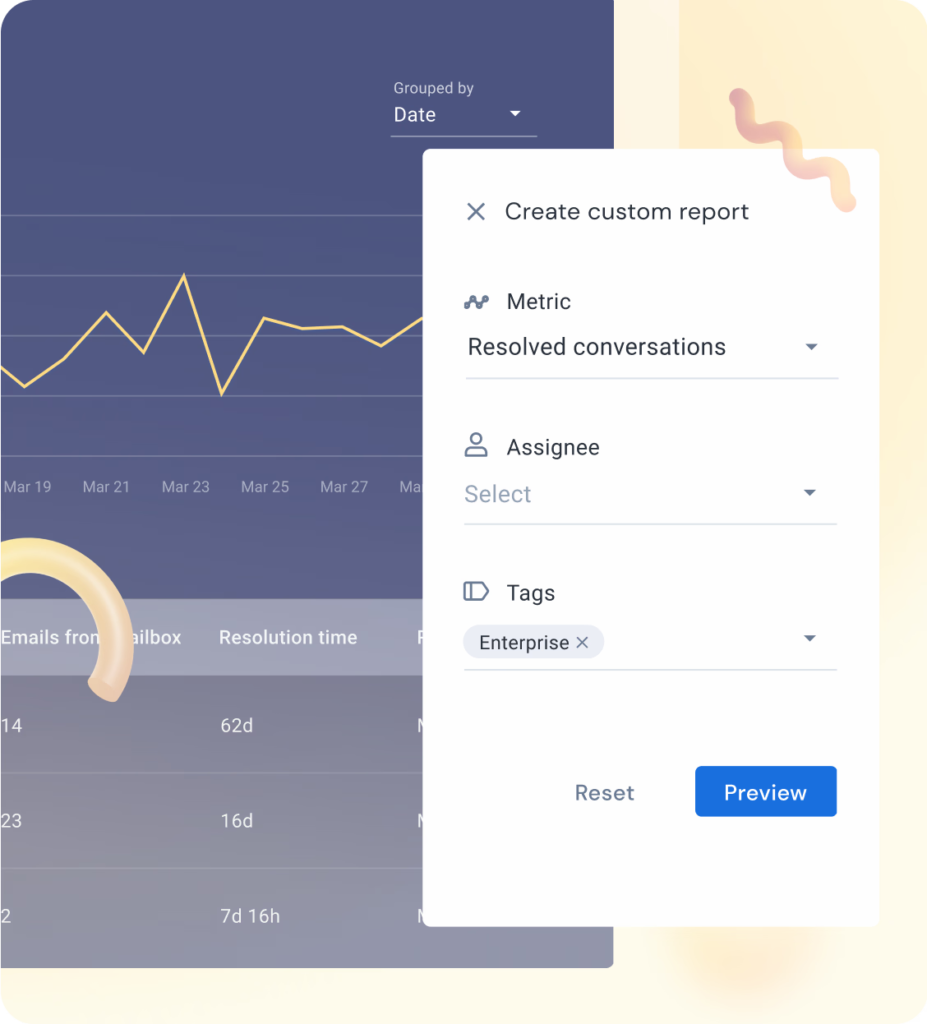 Keeping track of your metrics is a cake-walk with Hiver. With in-built visual reports on Conversations, Users, SLA and Live Chat, and Custom Reports that allow you to track the numbers that matter to your business.
6. Scalability
As your business grows, your ticketing system should be able to scale with you. This requires a system that can handle increasing ticket volumes and support additional users without compromising performance.
Here are some key factors to consider when evaluating the scalability of a ticketing system:
Volume Handling: The system should be able to handle a high volume of tickets without slowing down or causing technical issues. You do not want the system to fail during peak times.

User Capacity: As you expand, the number of support agents will likely increase. The ticketing system should support additional users without any impact on performance.

Expansion Features: Look for features that will be helpful as you grow, such as the ability to add new communication channels, set up new automation, or create detailed reporting metrics.
A scalable ticketing system will cater to your current needs and grow with your business, ensuring that you provide long-term, consistent, and efficient customer support.
7. Exceptional Customer Support
Even the best systems can encounter issues. When this happens, you need reliable support from the ticketing system provider. Look for providers that offer 24/7 support and are known for their quick response time.

But finding a ticketing system that offers around-the-clock customer service is not easy. Most ticketing software only provide 24/5 customer support — on specific channels. Even if they do offer 24/7 support, you'll be charged heavily.

With Hiver, this is never a problem. Hiver offers 24/7 customer support across all its pricing plans. Meaning that no matter when you run into a problem, you get assistance right away without having to halt your workflow. And our customers love that:
"The support that you get with Hiver is second to none. There was an incident last week in which I had a small problem with the initial setup of a second shared email address. I sent them an email at 8 AM and within 10 minutes, I had received a reply, and someone had resolved the problem!"

"With Hiver, we can have 24*7 support that helps me to get immediate resolution whenever I get any issues; that's the thing I love the most."

User Reviews on G2
Conclusion
In conclusion, choosing a ticketing system is a critical decision that can significantly impact your customer service quality and overall business operations.

By prioritizing factors such as system integration, robust reporting, scalability, and exceptional customer support, you can choose a solution that not only meets your current needs but also scales with you.

If you are looking to get started with a holistic ticketing system that checks all the above boxes, try Hiver free for 7 days and experience the difference.