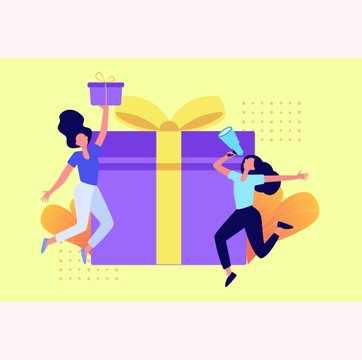 Table of contents
8000+ teams use Hiver to delight their customers!
How to Create a Successful Customer Loyalty Program
Jun 08, 2023
|
10 min read
|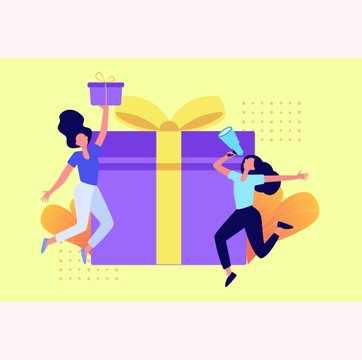 Table of contents
Building and maintaining customer loyalty is one of the greatest challenges most businesses face today.
After all, customers have more power than they've ever had before. They're a lot savvier, and have better choices at their disposal.
They're also a lot more unforgiving. Building customer relationships has become harder than ever. Even a tiny slip up from your end can make them switch to a competitor's product or service.
According to PwC's Future of CX report, 32% of customers will leave a brand after only a single bad experience. Further, 59% of U.S. consumers will leave after 2-3 bad experiences. That's how difficult it is to hold on to customers today!
And that's exactly why, investing in well-thought-out customer loyalty programs and retention strategies is critical for a business's survival, growth and success.
Loyal customers are far more likely to spend more with your brand, refer more people, and expand their purchasing into new product categories.
Research from InMoment suggests that:
61% of loyal customers will go out of their way to buy from their preferred brand.
60% of loyal customers will make more frequent purchases with a brand.
50% of loyal customers purchase more products from a brand.
75% of loyal customers will recommend a brand to friends and family.
In this post, we'll take you through the importance of a loyalty program, along with tips to help you successfully create one.
Table of Contents
What is a customer loyalty program and what are its benefits?
Before we get to the tips, let's understand what a customer loyalty program essentially is.
A loyalty program, also known as a rewards program, is a marketing strategy through which brands reward customers by offering them discounts, cashbacks, perks, and incentives to improve their overall experience and build customer loyalty.
There are different types of loyalty programs that brands can implement depending on factors like their business size, their customers' typical purchase frequency, and their average order value (AOV). Some common types include points-based loyalty programs, tiered programs, and pay-to-join programs.
One of the main benefits of a loyalty rewards program is that it increases customer lifetime value and encourages repeat purchases. According to the Loyalty Big Picture report by LoyaltyOne, 95% of companies believe that their loyalty program members spend more than their non-members, annually. Out of this, at least 60% of companies report that their loyalty members spend two to three times more than their other customers, and 23% believe that they spend over 4 times more!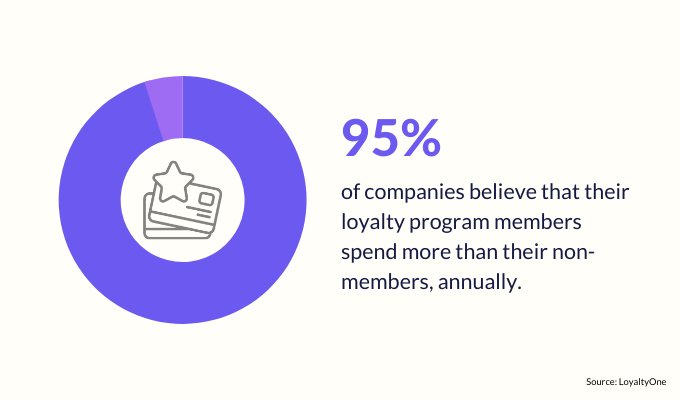 Another great benefit of loyalty programs is the crucial data it provides pertaining to customer behavior – their spending habits, their preferences, and their preference of various channels.
Companies can factor this important data into their product development efforts. Additionally, they can use it to fine-tune their customer retention strategies and customize their customer service, pricing, and promotional strategies.
LoyaltyOne's report found that 61% of companies use data from their loyalty programs across at least three different departments in their organization.
Now, let's look at how you can build a customer loyalty program that attracts, engages, and delights customers.
Five tips for creating a successful customer loyalty program (with examples)
Creating a customer loyalty program is a time and cost-intensive affair. But when done well, it can give your business an edge in today's competitive marketplace.
With so many companies mismanaging their loyalty programs — or worse, implementing poorly-designed ones — it's important that you create yours thoughtfully and systematically.
Here are five useful tips to help you create a successful customer loyalty program, along with some great examples to inspire you.
1. Define your objectives for the customer loyalty program
Before you launch a customer loyalty program, you should have a clear understanding of what you're seeking to achieve from it. 
Do you want to increase customers' purchase frequency and value? Do you want to lower churn? Or are you looking at enhancing customer engagement?
Chances are that you might want to do everything at once. But, the more targeted you keep your objectives, the higher the probability of your loyalty program becoming a success.
Recommended Reading
Let's illustrate this with an example.
Say you start an e-commerce business that sells electronic goods. You decide that your broad goal is to increase your AOV by introducing a loyalty program for your elite customers.
Now here's when you should break this goal down to make it more precise. Use the SMART(specific, measurable, achievable, relevant, and time-bound) framework to define your goals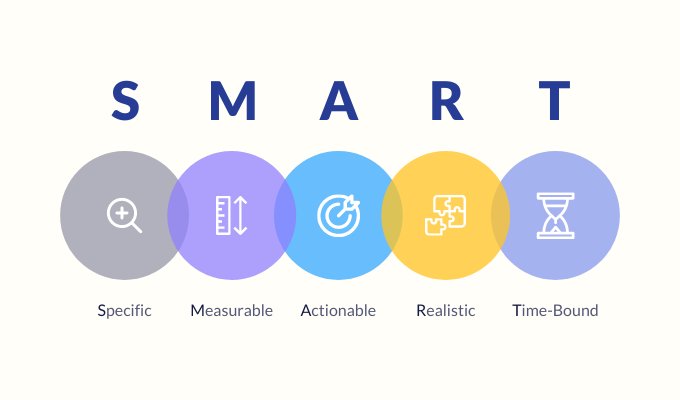 Specific – Launching a customer loyalty program that increases your AOV
Measurable – Increasing the AOV by 15%
Attainable – Ensuring that the 15% target is not unrealistic
Relevant – Ensuring that the decided goal is in tune with your business' overall strategy
Time-Bound – Achieving the goal within the first quarter after implementing the loyalty program
Let's now look at an example of a company that designed a tier-based loyalty program with a focus on increasing AOV.
In 2018, luxury retailer Nordstrom introduced an exclusive loyalty program called The Nordy Club.
The tier-based program slots members into three levels on the basis of how much they spend. Obviously, the more the customers spend, the better benefits they get. Benefits include things like exclusive invites to events, style and beauty workshops, gift cards, vouchers, and first access to products.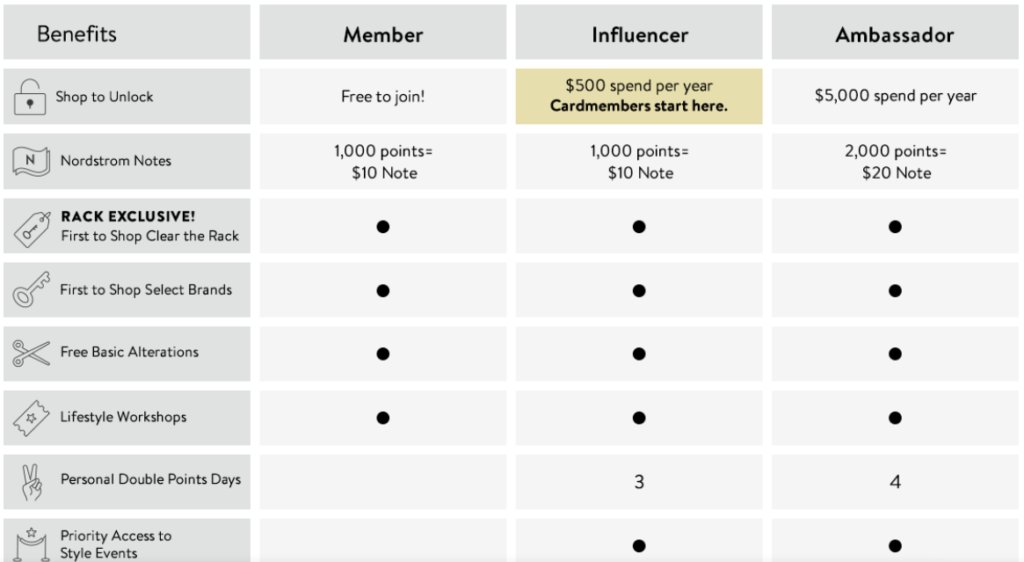 Today, the program has upwards of 13 million members who spend four times more and make three times more visits than non-members.
It's alright even if your goal isn't to increase AOV like Nordstrom's. You must still have clarity about what you want this loyalty program to help you achieve. It'll make the rest of the creation process a lot easier.
2. Use customer data to understand what they want
Once you've defined the main objective of your loyalty program, the next step is to leverage the customer data you have to craft a program that's relevant and effective both, for you and your customers.
You can use important customer service data including major milestones (birthdays, anniversaries, etc.),purchase history, social activity, purchase amount, and purchase preferences to create targeted reward programs that drive loyalty and revenue.
Following a data-driven approach to create a customer loyalty program allows you to provide different customers unique and tailored experiences with the same program. It offers them greater flexibility in how they utilize their points, and what rewards they receive.
Starbucks Rewards is a solid example of a data-driven loyalty program at play. How it works is simple. Members earn one star for every dollar they spend on purchases they make through the app. They can further redeem these stars for food, beverages, and merchandise.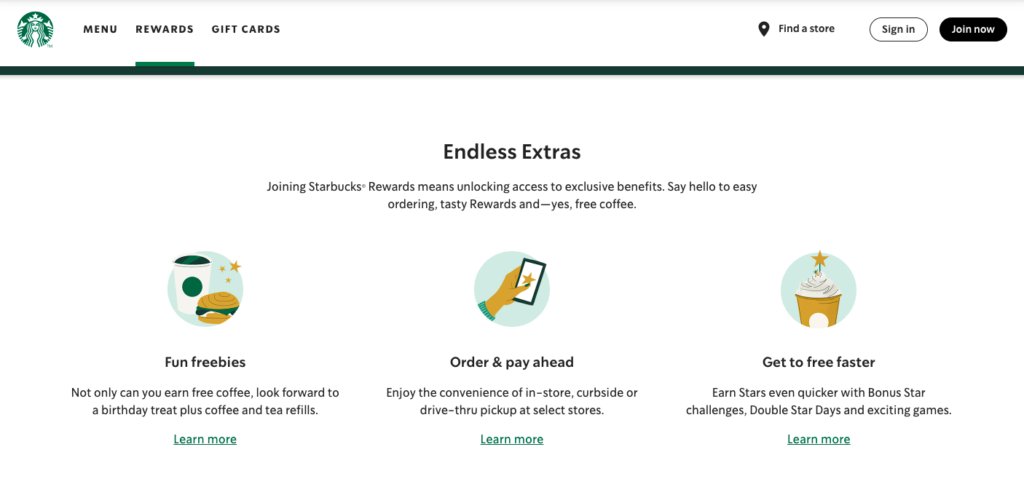 The app provides tailored suggestions to customers based on their previous orders. For example, if a customer usually orders dairy-free drinks, the app recommends vegan products from the menu. It also provides tailored offers to customers, and even sends them personalized push notifications.
As a result, Starbucks' hugely successful rewards program contributes to 40% of its total sales. It has also helped increase their same-store sales by 7%.
3. Don't overcomplicate it
One of the biggest mistakes several brands make with their loyalty programs is to overcomplicate things by trying something different or path-breaking. However, simple, but well-planned loyalty programs are the ones customers are usually drawn to.
Research suggests that "easy to use" is the main reason for 53% of U.S. consumers to participate in a loyalty program. And 37% of consumers say that they choose a loyalty program because it's "easy to understand".
Ensure that you make every aspect of your rewards system simple for customers. This includes:
The enrolment process – Make this process as seamless as possible. Allow customers the option of enrolling via the web, mobile or your physical store. Ask them to share only a few but relevant details at this point. Don't overwhelm them with too many questions.
The benefits – You should make it easy for customers to understand the benefits that come with their membership. For example, if yours is a point-based loyalty program, make sure customers have clarity on how they can earn new points, where they can access their balance, and the ways in which they can use their points.
The rewards redemption process – Finally, ensure the rewards redemption process is straightforward.
JetBlue is an excellent example of a brand using a simple point-based loyalty program.
Its frequent flyer program, TrueBlue, offers its members opportunities to earn reward points by flying with them or their partner airlines, using their co-branded credit cards and their shopping and dining programs.
TrueBlue's points don't expire. They don't have any blackout dates. Also, unlike most other frequent-flyer programs, TrueBlue keeps it simple by offering customers only one level of elite status – TrueBlue Mosaic.
Even the process of redeeming TrueBlue points is a breeze – you can redeem the points you've earned to buy flight tickets for yourself or for others. You can also pay for a flight using a combination of cash and TrueBlue points. The entire process is transparent and extremely easy to understand.
Perhaps this simplicity is what's ensured that the program launched in the year 2008 is still going strong today!
4. Market the loyalty program effectively
Let's be honest – any loyalty program, no matter how well-designed, isn't going to give you the results you desire unless your customers know about it.
The time and effort you put into crafting a solid loyalty program should be the same you put into devising a strategy to promote it to your customers and prospects. Here are a few ideas to help you with your digital marketing efforts:
The classic email announcement – Good old email is an effective (and cheap) way to reach out to your existing customer base about your loyalty program. Clearly explain details about the program including how it works, how they can enroll, and what's in it for them. You could even offer your customers first-time promotional credits. Take a look at how Headstart Shop does this.
Website banners and landing pages – When your customers or prospects visit your website, details about your loyalty program should grab their attention. You could use catchy website banners on your homepage that link customers to your loyalty program's landing page. Your loyalty program's landing page should further summarize the details of the rewards, and the redemption process. You could even include a fun video to walk customers through details of your program. Check out Nintendo's excellent rewards landing page below.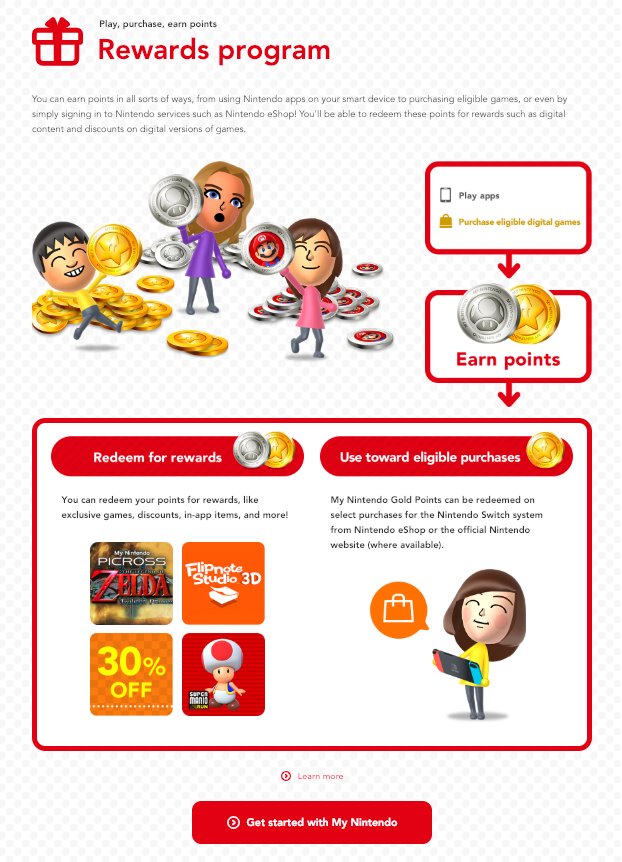 Promotions on social media – Social media is where you can garner the maximum number of eyeballs for your loyalty program. Use that to your advantage. Give your customers incentives to sign-up for your loyalty program, and to refer it to their friends and family. Check out how neatly HungryHarvest does this on Facebook.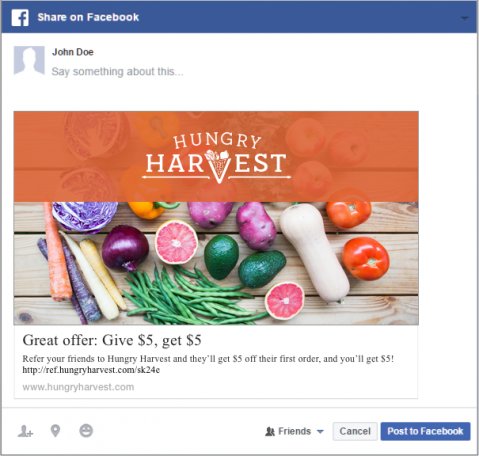 Other ways you can market your loyalty program include text messages, press releases, advertisements, influencer programs, etc. You can find influencers by scraping Google, using social media ad campaigns, and other promotional methods.
5. Keep in touch with your customers
Loyalty programs are popular with customers, but let's face it, there are tons of them in the market. It's important to constantly remind customers of the value your program offers unless you want it to get reduced to being just another loyalty card in their wallets.
Research shows that the average American is a member of seven loyalty programs, but 30% of them never redeem any of their loyalty points.
You need to build momentum among your customers by regularly sending them emails and texts that help them maximize their loyalty rewards. Make sure to talk about things like renewals or exclusive deals tailored to their level, usage patterns, and behavior.
For example, if a customer hasn't availed the benefits of your loyalty program in six months, you could send them an email offering an exclusive deal to encourage them to shop with you.
Look at this simple yet fantastic "We Miss You" email campaign that The Body Shop designed to engage and attract its inactive customers.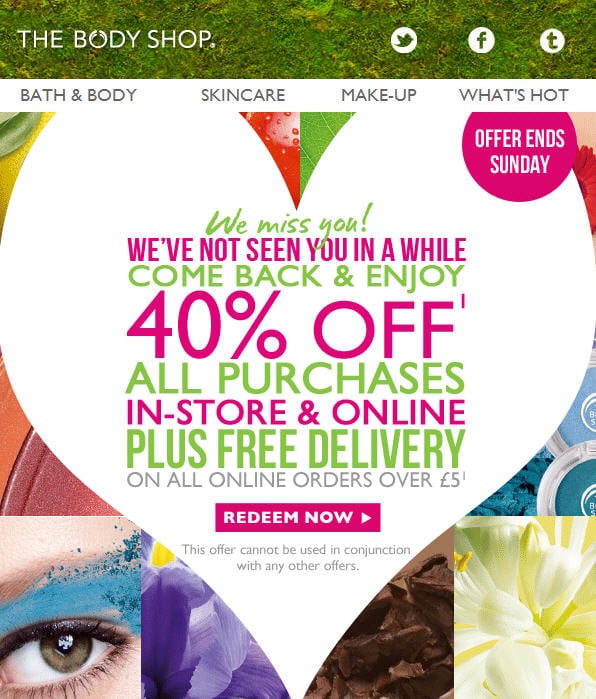 Wrapping it up
Running a customer loyalty program is an ongoing exercise. Once you implement it, you'll need to constantly review its performance on the basis of how customers are engaging with it, and how it's impacting your bottom line.
Apart from tracking certain KPIs specific to your loyalty programs, make sure you ask customers for their feedback and keep a check on your customer satisfaction scores. You could set up focus groups, send feedback surveys and conduct social polls to get customers' inputs on what they like and dislike about your loyalty program. Accordingly, you can improve your loyalty solution and also your overall customer experience.
In today's day and age, it's impossible to compete on the basis of your product or service alone. Your customers' perception of the value your product or service offers, in comparison to your competitors, matters immensely. A loyalty program is an excellent way to remind customers of that value.