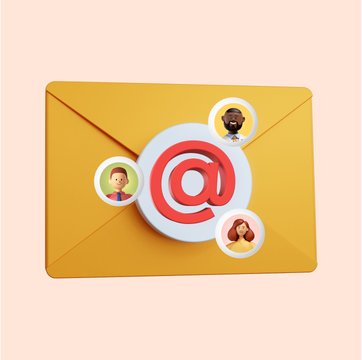 Table of contents
A shared inbox to unify all business communicaton
How to Use Group Mailbox for Efficient Team Collaboration
Nov 24, 2023
|
7 min read
|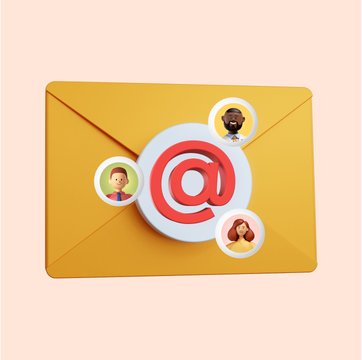 Table of contents
Effective email management is key to workplace productivity.
But the challenge often arises when you have to collaborate with your team on emails. When you have to delegate emails, loop teammates in for inputs and also keep track of the progress on these emails.
This is especially important when email serves as the primary channel for receiving important business communications as well as for team collaboration. In such cases teams often deal with a huge volume of emails on a daily basis. Keeping track of all of these incoming conversations and ensuring nothing slips through the cracks can be a daunting task.
This is where you can leverage a Group Mailbox.
Group Mailbox is a straightforward and efficient solution to simplify email management and make team collaboration smoother and more coherent.
In this article, let's explore how a group mailbox can improve team communication and how it can elevate collaboration and the productivity of your agents.
Table of Contents
What is A Group Mailbox?
A group mailbox is a shared email inbox that allows multiple people to send and receive emails from a common email address, such as [email protected] or [email protected].
This centralized communication tool helps teams to collaborate better by ensuring that everyone has access to the same information and can monitor, manage, and respond to emails efficiently.
Group mailboxes are especially useful in customer service, project management, and other collaborative environments, preventing communication silos and facilitating more streamlined and organized email management.
Here's an example:
Imagine a customer support team at an ecommerce company ABC. The team uses a shared mailbox – [email protected] to manage all customer inquiries, complaints, and feedback.
The team uses this group mailbox to achieve the following things:
Centralized Communication: All customer emails are sent to this single address instead of individual team member addresses.
Collaboration: Multiple support agents can access, view, and respond to emails from the group mailbox, ensuring no request goes unanswered.
Shared Information: All agents see the same emails, ensuring everyone is on the same page regarding customer interactions, even if team members are working across different shifts or locations.
Organization: Emails can be categorized based on type, and tracked till the point of resolution (e.g., open, pending, and resolved). This improves visibility into everyday activities.
Responsiveness: Enables the team to provide prompt and continuous support by ensuring that emails are not tied to one person's availability.
In this way, the group mailbox at ABC helps the customer support team collaborate effectively, manage workload, ensure quick response to customers, and maintain a high level of service quality. All members can track, manage, and respond to customer emails, preventing overlaps and ensuring no customer email is missed..
You Might Also Like: 14 Best Shared Inbox Tools for Businesses in 2023
Key Features of A Group Mailbox
A group mailbox should have certain features in order to enable teams to collaborate and manage email communication with ease.
Here's a list:
A single email address (e.g., [email protected]) accessible by multiple users, centralizing emails in one location. Multiple team members can access, read, and respond to emails, facilitating collaborative email management.
The capability to utilize folders, tags, or labels to categorize and prioritize emails.
Features that allow you to set up rules and filters to automatically sort and prioritize incoming emails.
A collective calendar and contact list that can be accessed and managed by all members, enhancing scheduling of events and information sharing.
Features to monitor the status of emails (e.g., unread, read, responded) and assign them to specific team members.
Permission management that allows users to control who has access to the mailbox and designate specific roles to different team members.
Ability to integrate with other tools or software (like CRM, task management tools) to enhance information flow between systems.
A log of actions taken on emails (e.g., who responded, time of response) for accountability and management review.
Ensure all communications within the group mailbox are securely accessed and managed.
Customizable notifications that enable you to set up alerts for incoming emails, mentions, or other activities within the group mailbox.
When Should You Use A Group Mailbox?
A group mailbox can be a pivotal tool across various industries and businesses, streamlining team communication and ensuring that important information is accessible to all relevant parties.
Here are several instances or departments where a group mailbox might be particularly beneficial:
1. Customer Support Teams
Why: To manage customer inquiries, complaints, and feedback collectively.
Benefits: Ensures timely responses and facilitates internal coordination on customer issues. It also makes sure that no customer query goes missing.
You Might Also Like: 14 best shared inbox tools for businesses in 2023
2. Sales Teams
Why: To handle leads and communication from prospects and customers.
Benefits: Group mailboxes offer a centralized location to store communication with prospects. Now every team member has access to the latest information and interactions related to leads. This enhances the efficiency of your sales team.
3. HR Teams
Why: To manage job applications, inquiries, and employee-related communication.
Benefits: Multiple HR team members can have access to the group mailbox, allowing for shared responsibility in managing applications. This shared ownership ensures that no application is missed, and the workload is distributed evenly. A group mailbox also enables seamless communication among team members regarding applicant progress.
4. IT Support Teams
Why: To manage technical support tickets, troubleshooting issues, and tech-related communications.
Benefits: Helps in tracking issues and providing timely IT support to employees. This in turn enables business continuity.
5. Project Management Teams
Why: To centralize communication related to specific projects or initiatives.
Benefits: Ensures all members are updated on project status and related communication.
6. Finance and Billing Teams
Why: To manage invoicing, billing inquiries, and financial communications.
Benefits: A group mailbox allows you to collaborate with teams such as legal and account management, to accelerate processes like cash collection. You can also easily address queries on invoice terms, compliance, and more. This allows you to stay on top of billing and invoice related queries and ensure that payments go out on time.
7. Legal Teams
Why: To manage legal queries, contract reviews, and compliance communications.
Benefits: Legal departments can set up filters and rules to automatically categorize and label incoming emails based on criteria such as case name, client, or urgency. This automated sorting simplifies the organization of legal correspondence.
You Might Also Like: 9 Best Email Management Software in 2023
Challenges with Conventional Ways of Managing Group Mailboxes
The most common ways to manage group mailboxes in Gmail include Google Groups and Google Collaborative Inbox. However, these have numerous disadvantages.
Drawbacks with using Google Groups for email collaboration:
Lack of Real-Time Collaboration: Google Groups are primarily designed for asynchronous communication via email. While they offer some collaboration features, they may not be as conducive to real-time discussions and brainstorming as other tools like instant messaging or chat apps.
Unfamiliar Interface: Google Groups comes with a steep learning curve and it can take some time getting used to.
Ineffective Email Management: Google Groups does not inherently have features for assigning emails or tracking the status of emails, similar to a dedicated customer support or ticketing system.
Drawbacks of using Google Collaborative Inbox for email collaboration:
Complexity: Managing and configuring a Collaborative Inbox can be complex, especially for users who are not familiar with the platform. Setting up permissions, labels, and routing rules requires careful administration.
Emails Cannot be Synced: To maintain inbox sync, your team members would have to always remember to CC the Google Collaborative inbox email ID while replying to their customers. If they skip doing this, the email will not show up in the Collab inbox
Potential for Duplicate Responses: Team members may inadvertently send duplicate responses to queries if they are unaware that others are also working on the same tasks or responding to the same inquiries.
Thread Management: Lengthy email threads can become difficult to manage and follow. Team members may lose track of the most recent information or important decisions made within a discussion.
These challenges make effective team collaboration quite challenging, creating the need for a better and more holistic solution for better email management.
Enter Hiver.
Hiver – An Elegant Solution for Team Collaboration
Hiver is a powerful group mailbox platform that is built for teams on Google Workspace. It allows you to manage inboxes like support@ and info@. And the best part? You can do it right from Gmail. Without having to learn any external software.
Here are some of Hiver's features that allow you to track every incoming customer or vendor email, build accountability, and get complete visibility into your team's workflows.
Email delegation: Hiver's Email Management functionality turns queries into actionable tasks. Team leads can assign these queries to appropriate team members, ensuring that no email slips through the cracks.
Prevent duplicate replies: Make sure that multiple users do not reply to the same email by using Hiver's Collision Alerts. For instance, say Jack is replying to a customer query. Lucy, unaware of this, also starts to reply to the email. Immediately, Lucy receives a notification that Jack is already replying to the email which prevents Lucy from sending a duplicate or conflicting response to the customer.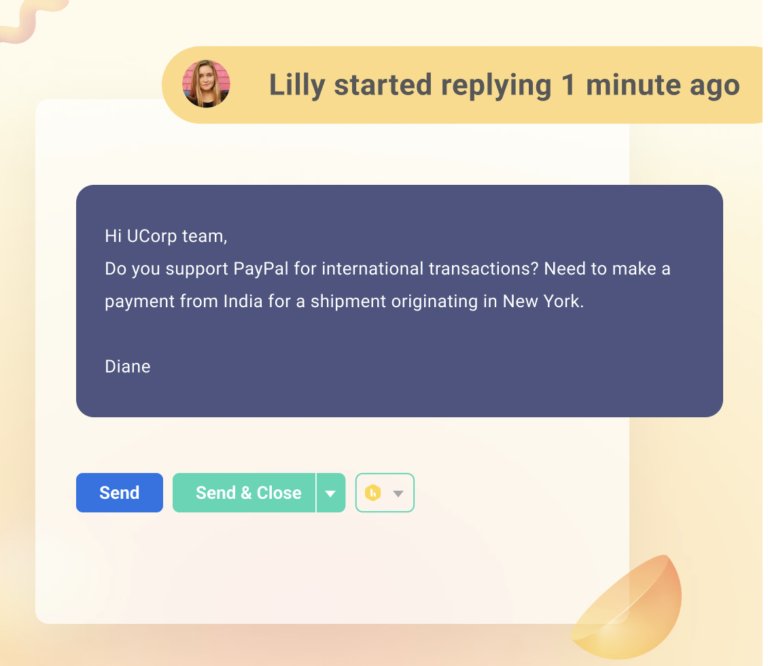 Shared drafts: You can create drafts of email replies and share them with your team. Teammates can collaborate on these email drafts in real-time without relying on CCs and Forwards.
Notes and @mentions: Hiver's Email Notes simplify team collaboration and allow you to have contextual discussions with your teammates. Notes are present right alongside emails to help you easily share the context behind conversations. You can simply @mention your teammates when you need their inputs and they will get notified instantly.
SLA management: Hiver also allows you to configure SLAs to ensure that every email is acted upon within a specific amount of time. For instance, say that every customer email has to be responded to within the first two hours. If this condition is not met, then an SLA violation is triggered and relevant stakeholders are notified.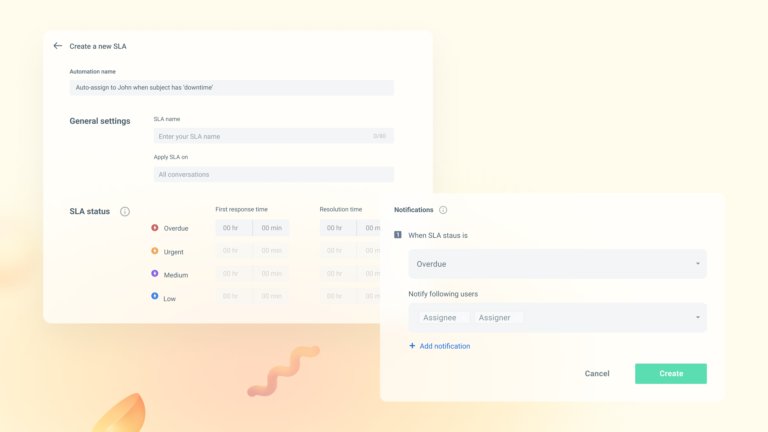 CSAT surveys: Hiver allows support teams to collect customer feedback through surveys that can be inserted into emails with a single click. You can quantify the feedback to analyze customer satisfaction, track support performance, and optimize the service experience.
Auto-assign emails: Hiver's robust automation enables you to assign incoming emails to the appropriate team members based on certain conditions. Aside from this, you can also tag incoming emails, change the status, and so much more. For instance, emails can be assigned to agents based on their availability, workload, priority level of the query, etc.
Analytics and reporting: Hiver's Analytics allows you to get clear insights into your team's performance and identify areas of improvement. You also get access to multiple pre-built reports to help you track metrics such as individual turnaround time, average resolution time, number of unique interactions, etc. Aside from this, you can also build custom reports to help you track the metrics that are relevant to you.
Try Out Hiver for Free!
If you're curious to know how Hiver can help you manage group mailboxes, you may want to sign up for the free 7 day trial and discover how your teams can benefit from the platform.