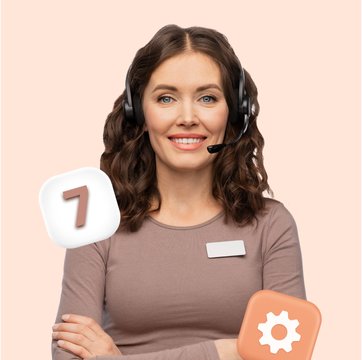 Table of contents
Turn Gmail into a collaborative hub
7 Best Free Help Desk Software in 2023
Sep 22, 2023
|
9 min read
|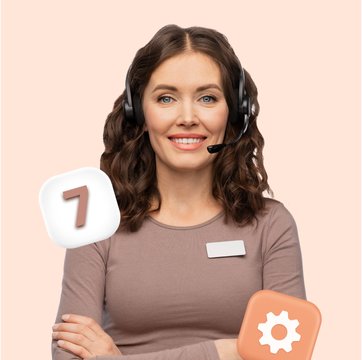 Table of contents
Imagine stepping into a bustling coffee shop on a Monday morning. The choices are plenty, and while you may be familiar with the classic latte or cappuccino, there's always that new, intriguing blend that catches your eye.
When it comes to help desk software, it's much the same.

With a plethora of options available – each with its unique blend of features – how do you find the one that's just right for your taste—a.k.a, your business needs?

We've brewed up a list of the top seven free help desk software that are making waves in 2023 and helping businesses deliver stellar customer service. But before we get into that, let's understand what makes a good help desk software.
Essential Features to Look Out for in a Free Help Desk Software
As is the case with anything you are looking to use long-term, you must first try a help desk software before you commit to it. Most help desk software in the market either offers free trials or free versions with limited features. But which features should you prioritize while choosing a free trial or version?
The list of essential help desk features may look exhaustive, and not all help desk software checks every box—so it's important to underline which features align the best with your business needs.
Here are the most essential features to look for in a free help desk software to truly enhance your customer service:
Ticketing System: The free help desk software should be able to create, track, and manage tickets efficiently. This ensures that customer queries, complaints, and feedback are organized and addressed in a timely manner.
User-Friendly Interface: A clean, intuitive interface ensures that your support team can quickly learn and navigate the system, resulting in faster response times.
Knowledge Base: An option to create a knowledge base in your free help desk software allows users to self-help by accessing frequently asked questions or guides, reducing the number of tickets raised.
Multi-Channel Support: Your free help desk software should offer support across various channels like email, chat, social media, and phone, giving customers multiple avenues to reach out.
Automation & Workflow Customization: The help desk software should automate routine tasks like ticket routing, assigning, and prioritization. Customizable workflows allow you to tailor the software according to your business processes.
Reporting and Analytics: To get insights on ticket volume, resolution time, customer satisfaction, and agent performance.
Collaboration Tools: Features like internal notes, shared views, or task assignments in a free help desk software can aid in team collaboration, ensuring that complex issues are resolved faster.
SLA Management: The capability to set and monitor Service Level Agreements (SLAs) ensures that tickets are resolved within predefined timelines, maintaining a high level of customer satisfaction.
Integration Capabilities: The help desk software should seamlessly integrate with other tools and platforms you use, such as CRM systems, email platforms, or even e-commerce systems.
Customer Feedback Tools: Collecting feedback post-resolution can offer insights into areas of improvement and agent performance.
Canned Responses: For frequent queries, having predefined responses can speed up the resolution process and ensure consistency in communication.
Best Free Help Desk Software in 2023
Whether you are looking to test the features of help desk software via a free trial or a forever-free version to run your customer operations on a budget —- we've got you covered. Here is a list of 7 free help desk software to consider in 2023:
1. Hiver
Hiver is a multi-channel help desk software that works on top of your Gmail account. It offers all the essential features, along with a clean, intuitive interface that practically needs zero extensive training to work with—meaning you can get started right away.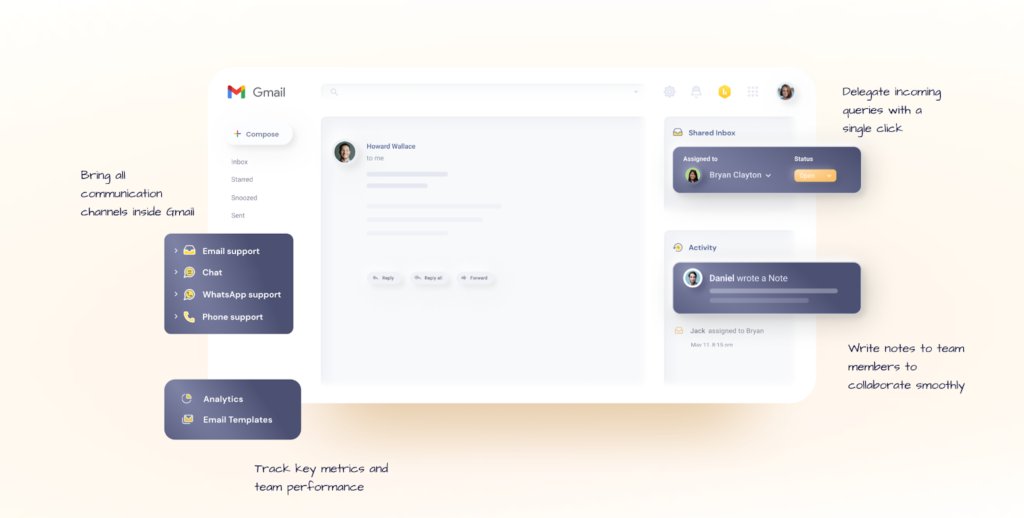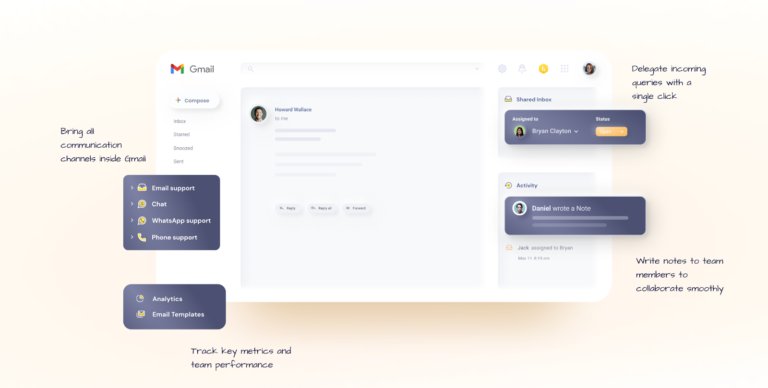 Hiver offers a free trial for 7 days. However, if you are a startup, you apply for Hiver's Startup Program. If your startup meets the criteria, you get Hiver free for 6 months, followed by a 50% discount for the next 6 months and a 15% lifetime discount.

With Hiver's Startup Program, you get access to the Pro plan, which includes the following in addition to the basic Starter plan:
24/7 chat and email support: Avail round-the-clock assistance from Hiver's support team.
Collaboration features: Involve other team members in query resolution for their insights with features like tags and notes.
Multi-channel support: Serve your customers directly via WhatsApp, voice call, email or knowledge base—all managed through Gmail via Hiver.
Onboarding assistance: Receive guidance when starting with Hiver at zero additional cost.
Live chat: Engage customers instantly through real-time chat while managing live chat from your Gmail account.
Robust reporting and analytics: Get in-built and custom visual reports on numbers that matter to you in seconds.
Shared inboxes: Collaborate on customer emails with team members using shared inboxes.
iOS and Android mobile apps: Use Hiver on the go with mobile apps.
Unlimited email templates: Streamline communication with predefined templates for recurring messages like greetings, confirmations, and canned responses for FAQs.
Collision alerts: Get alerts if another team member addresses an email you're handling.
Unlimited tags: Organize query emails using tags to differentiate by theme, task, or client.
Shared drafts: Work together with teammates on email drafts.
In addition to all these features, Hiver's startup program also offers mentors and a network of investors and other startups to help them grow. You can have up to 15 users per product under this program.
2. Help Scout
Help Scout is a multi-channel help desk software that caters to businesses of all sizes. The help desk software evolved over the years from being a shared inbox tool to a platform that now supports channels like live chat and knowledge base.

Help Scout offers a free trial for 15 days, where you can avail most of the essential features like reporting, integrations, and knowledge base. You also get your hands on 24/6 support access from their customer service team.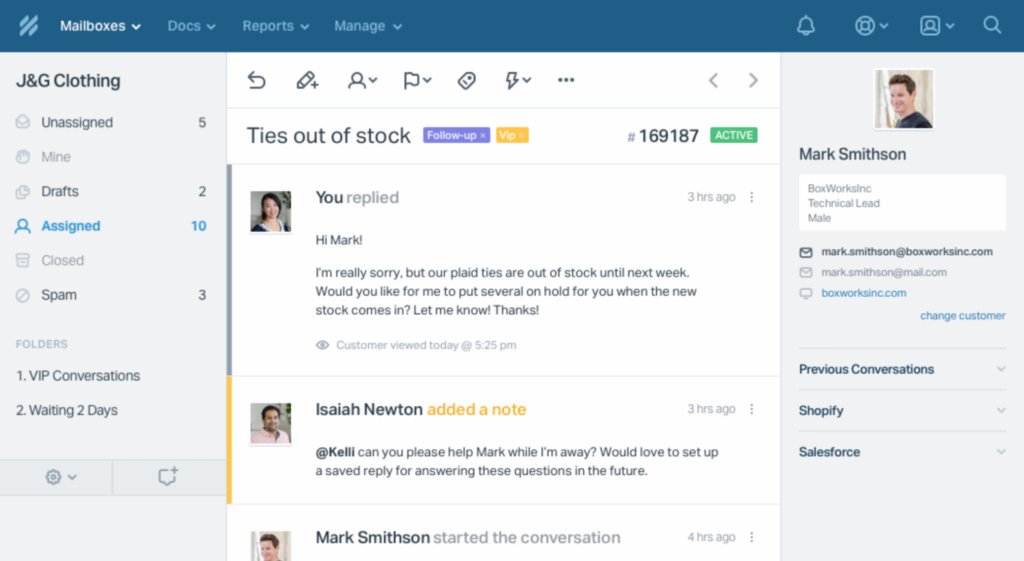 However, Help Scout does come with its own limitations:
Help Scout's interface is complex and not user-friendly. Teams often require comprehensive training to navigate it.
Even post-training, many find the interface unfamiliar and challenging.
Help Scout's interface design can cause internal and external conversation overlap, risking miscommunication.
The absence of phone support may not be very convenient for many businesses.
SLAs cannot be directly set up; integration with Super SLA is mandatory.
The reporting feature offers only limited insights.
Mailbox availability is capped across different pricing plans.
Extra mailboxes are an additional charge of $10USD per month each, unlike many competitors that offer unlimited mailboxes.
3. Freshdesk
Freshdesk is another multi-channel help desk software tailored for small to medium-sized businesses. It converts customer inquiries from various channels, such as email and social media, into tickets, which can then be assigned to support agents.

A notable advantage of Freshdesk is its forever-free plan, making it accessible for budget-conscious teams.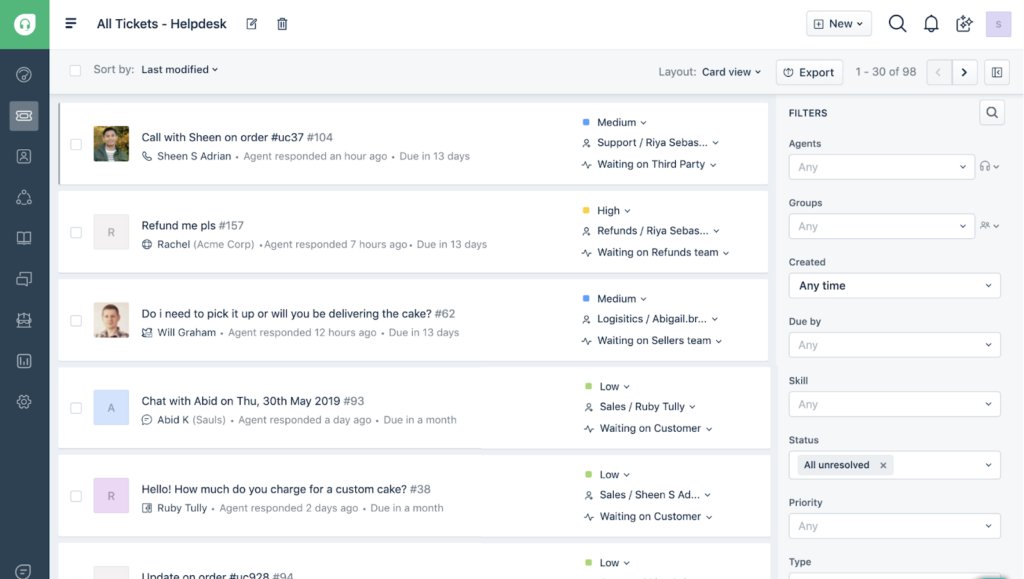 Here are some disadvantages of Freshdesk's free version as per its users:
Growing teams might find it restrictive, especially with rising ticket volumes.
Supports only up to 10 agents.
Shared inboxes are not available.
Live chat capabilities are missing.
Integration is restricted to a single Facebook channel, excluding other social media.
Team collaboration features are minimal.
No app integrations on the free version.
Support is restricted to email; lacks phone or chat support.
CSAT survey feature for feedback collection is absent.
Reporting functionalities are limited.
It doesn't monitor SLA violations.
Personal canned responses are unsupported.
4. Zendesk
Zendesk is another multi-channel help desk software that centralizes customer communications from channels such as email, chat, voice, and social apps like Facebook, WhatsApp, and Apple Business Chat.

Its Support Suite offers a unified workspace that makes it easier for agents to manage and respond efficiently.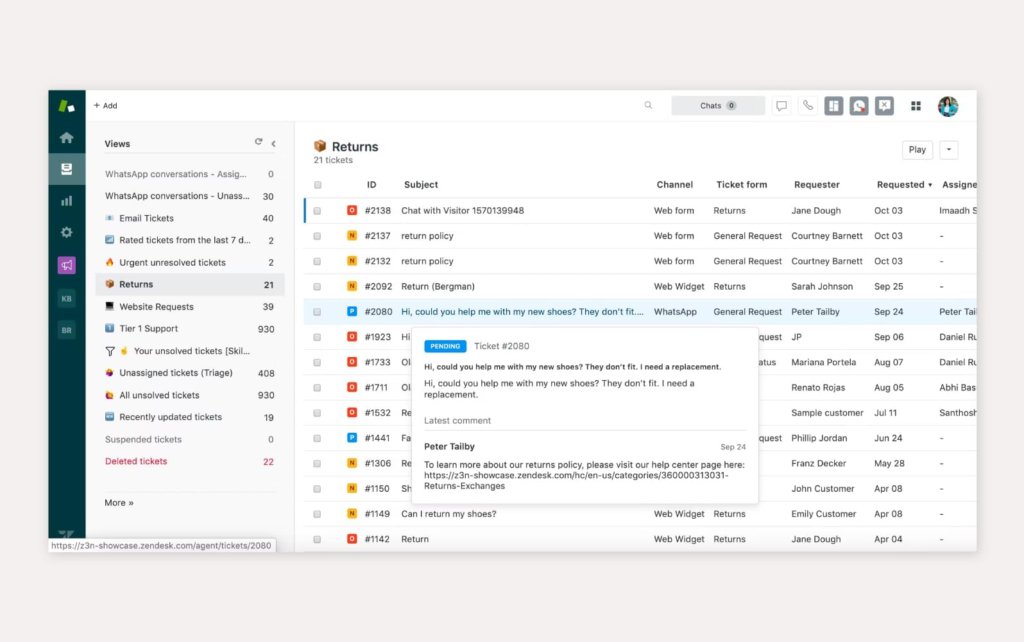 Zendesk also offers 6 months of free usage of its products if you are a startup and meet these criteria:
Must not have been a paying Zendesk customer in the past or currently.
Startup should have under 50 staff members.
Must have secured external funding, including Angel, Pre-seed, Seed, or Series A rounds.
After the 6-month period, their lowest-priced plan starts at $19 per agent monthly and comes with limited features:
Basic email ticketing system with a cluttered UI and steep learning curve.
Multi-channel support only for Twitter and Facebook.
Minimal workflow automation and team collaboration functions.
Limited reporting capabilities.
Lacks SLA violation-related features.
5. Zoho Desk
Next on the list is Zoho Desk, a cloud-based help desk solution tailored for businesses of varying sizes. It helps manage customer support tickets, knowledge base handles, and different support channels. Zoho Desk offers a free plan for up to 3 agents.

Zoho Desk is designed to consolidate interactions from channels such as email, phone, chat, social media, and self-service portals, bringing them under a single accessible hub.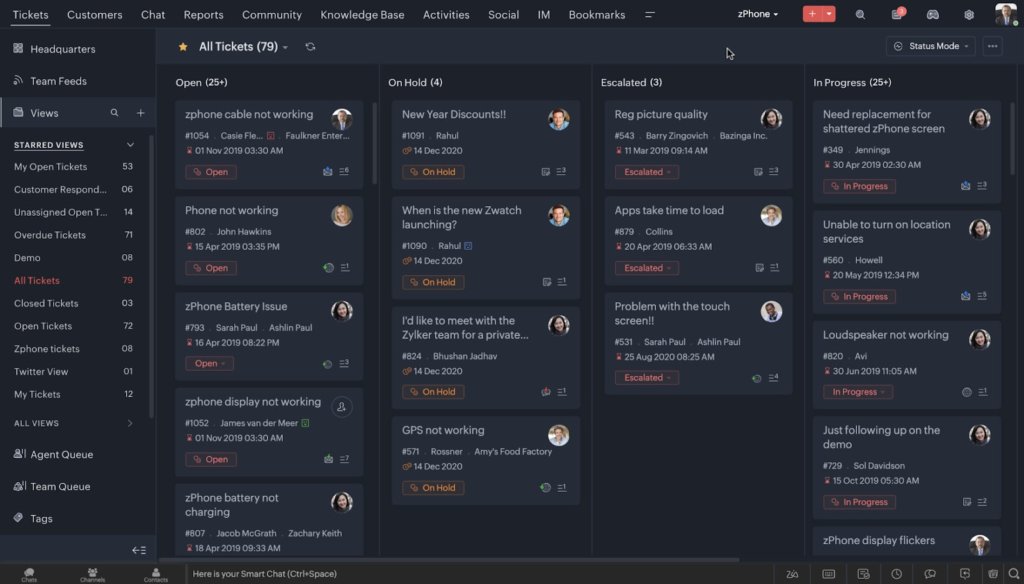 Here are the limitations of Zoho Desk's free help desk software, as reported by its users:
Limited to just one shared mailbox.
You can't scale beyond the 3-agent license in the free version.
Lacks robust team collaboration features.
Missing a CSAT survey capability.
No feature to monitor SLA violations.
Doesn't support integrations.
Customer service quality could be much better, given it runs into technical errors quite often.
6. Spiceworks
Spiceworks provides on-premise free help desk software with unlimited agents and tickets. It's both an IT network management tool and a support ticketing system designed for SMBs, startups, and IT service providers.

It equips support teams with tools to efficiently handle service requests, aiming to streamline organizational workflows while maintaining top-notch customer service.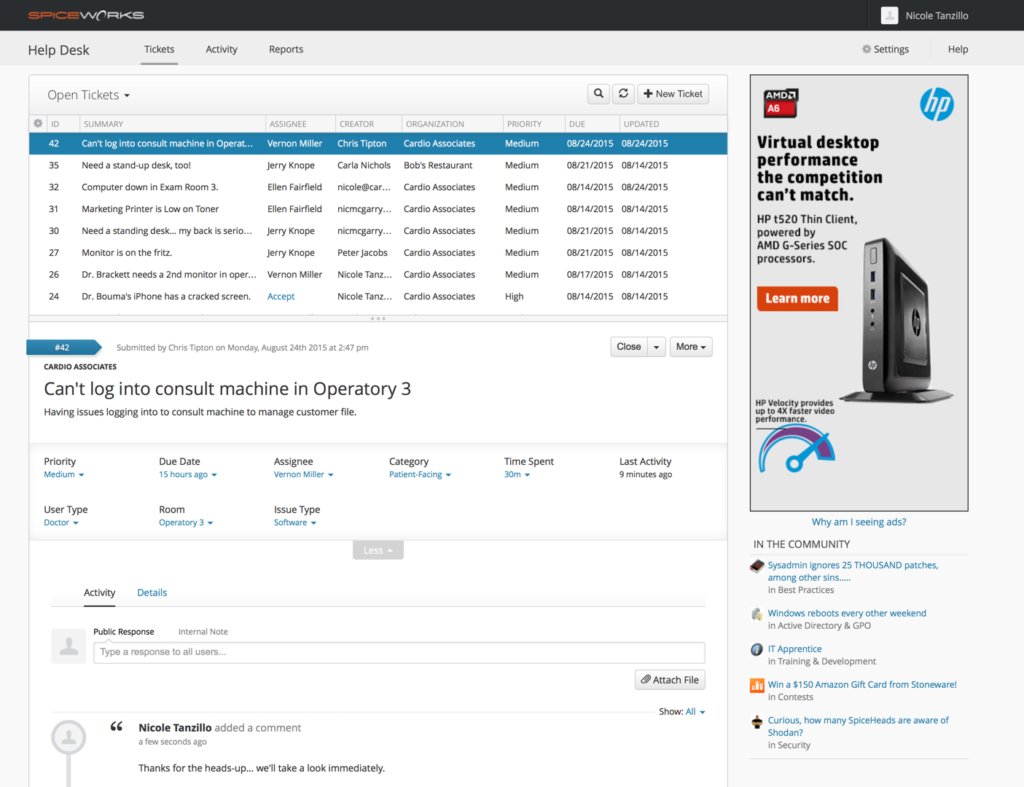 But Spiceworks also has some cons:
While Spiceworks University provides free tutorials and FAQs, support is solely available through email.
Designed with essential help desk features, it's best suited for smaller businesses or those with limited IT support requirements.
While the software's UI appears cluttered and ad-heavy. You need to pay a $45 monthly fee to clear these ads.
7. SolarWinds Service Desk
Last on the list is SolarWinds Service Desk (previously known as Samanage),a web-based IT help desk tool designed to elevate the service experience for employees globally. It aims to streamline services and offer insights into organizational tasks, enhancing processes and boosting productivity.

With its adaptability and scalability, SolarWinds ensures timely and consistent service delivery, meeting employee needs and enhancing their efficiency. The free version offers features like ticket management, knowledge base and SLA management.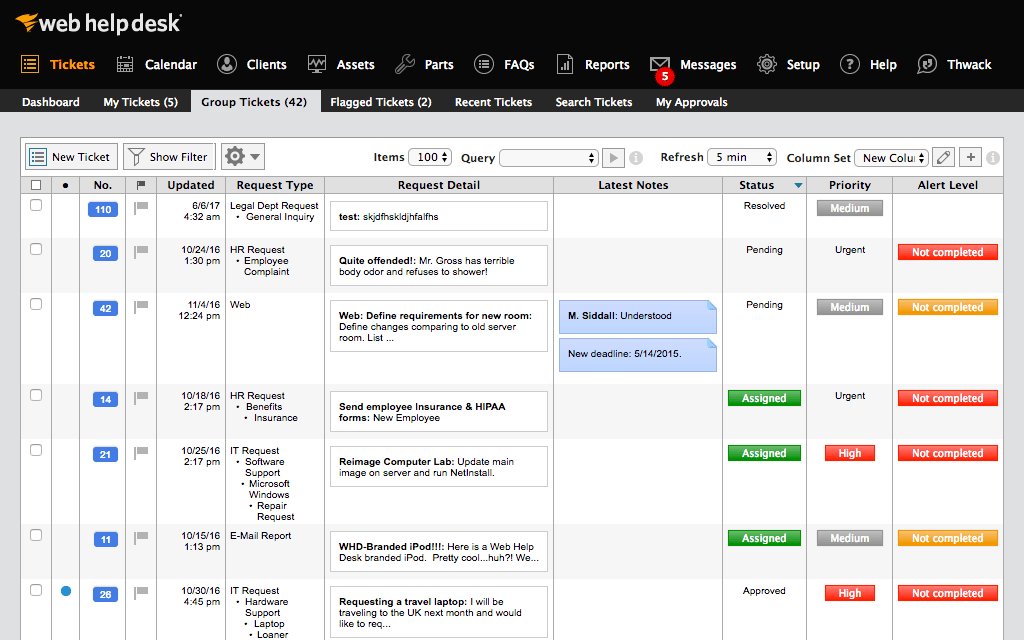 However, the free plan has its shortcomings:
The UI feels dated and old-school.
Lacks mobile optimization.
Doesn't provide team collaboration features.
Absent templates for varied use cases like those in Jira.
No features to detect agent overlaps.
Tickets can be directed to unavailable reps due to fixed agent shift hours, potentially leading to avoidable SLA breaches.
Which Free Help Desk Software Should You Choose?
Free help desk software is your beginning point when it comes to enhancing your customer service. While it's beneficial for startups or those on a tight budget, as your demands grow, what once were benefits may become restrictions.

It's essential to balance the advantages and drawbacks and assess how a free system aligns with your future objectives. We suggest taking trials of your top picks to ensure the features truly align with your team's needs.

If you are looking for free help desk tool to take your customer service to next level, try Hiver free for 7 days, or apply for Hiver's Startup Program for 6 months free usage.