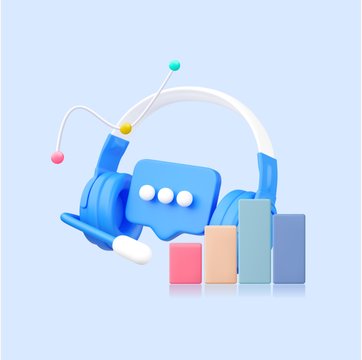 Table of contents
Turn Gmail into a collaborative hub
How Ecommerce Live Chat is Shaping Online Shopping Experiences + 5 Live Chat Tools for 2023
Nov 24, 2023
|
9 min read
|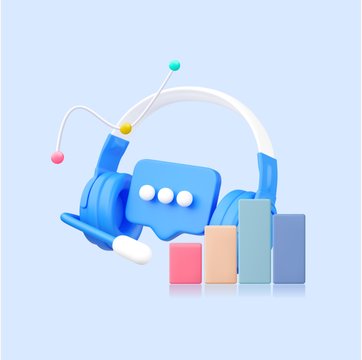 Table of contents
We're seeing more and more consumers buy things online. As the demand for online shopping is on an upward trend, so is the need to provide immediate assistance and real-time customer support. These things play an important role in improving customer experience, and are often the difference between a completed sale and an abandoned cart. 
The emphasis on real-time engagement has led ecommerce businesses to incorporate live chat as an integral communication channel in their customer support strategy.
It enables customers to interact with a brand representative while navigating a website or app. This adds a layer of confidence to the whole online shopping experience. Moreover, interactions over live chat mirrors the brick-and-mortar shopping experience where customers can ask sales representatives questions in real-time.
Aside from this, it also offers versatility. From addressing pre-sales queries and providing product recommendations to assisting with checkout issues and post-sales support, live chat has proven to be an indispensable tool in the e-commerce arsenal.
In this blog, we talk about ecommerce live chat, its importance, and how you can optimize it for your business.
What is Ecommerce Live Chat?
Ecommerce live chat is a digital communication tool that allows online retailers and businesses to interact in real-time with visitors and customers on their websites or online platforms. It's essentially a chat box that pops up on the screen, offering instant support or answers to queries that shoppers might have.
Live chat stands apart from other customer service channels because of its real-time, interactive nature. Unlike emails or support tickets where responses can be delayed, live chat provides immediate assistance to customers right on the webpage, addressing their queries or concerns in the moment. This immediacy caters to the modern customer's expectation for prompt, hassle-free support.

Aside from this, live chat adds a personal touch to digital interactions. Customers communicate with real agents in a conversational manner similar to in-store interactions.
You Might Also Like: 10 Key Live Chat Metrics to Measure in 2023
The Advantages of Ecommerce Live Chat
Incorporating live chat into an ecommerce platform can significantly elevate the level of customer service, driving satisfaction, loyalty, and growth.
Here are some of the most important advantages of implementing live chat as a communication channel for your ecommerce business:
Real-time Customer Interactions: Live chat enables instantaneous interaction with customers, reducing the waiting time associated with other channels like email or phone.
Increased Sales and Conversions: By resolving queries in real-time, live chat can help guide customers through the purchasing process, leading to higher conversion rates.
Gathers Valuable Insights: Live chat sessions can be logged and analyzed to understand common customer pain points, helping businesses improve their customer experience.
Enhances User Experience: By offering support directly on the website, live chat ensures a smooth and integrated user experience without necessitating external communication tools.
Decreases Shopping Cart Abandonment Rate: Quick answers to product or payment queries can prevent customers from leaving their carts without making a purchase.
Round-the-Clock Support: With the availability of chatbots, businesses can provide 24/7 customer support, ensuring queries are attended to even outside of business hours.
You Might Also Like: 63 Live Chat Templates for Customer Support
Key Features of An Effective Ecommerce Live Chat Tool
Ecommerce live chat tools are platforms specifically designed to facilitate real-time communication between online retailers and their customers directly on ecommerce websites.
It offers a non-intrusive way for customers to communicate with businesses and can even be used to address concerns outside of standard business hours.
A robust ecommerce live chat tool equipped can significantly enhance the shopping experience, resolve issues faster, and drive customer loyalty.
Here are some of the features you should look for when evaluating a live chat tool.
Queue Management: Informs customers about their wait time if agents are occupied, and offers options like call-backs or leaving a message.
AI-Powered Chatbots: These can handle routine questions, guide users towards knowledge bases and help centers, and escalate complex issues to human representatives.
Canned Responses: Ready-made answers for frequently asked questions that speed up response times and maintain consistency.
Visitor Tracking: Provides insights into a visitor's browsing behavior, chat history, and other vital information, helping agents offer contextual support.
Integration Capabilities: Seamless integration with CRM systems, help desks, and other tools to provide a unified view of the customer and streamline processes.
Mobile Responsiveness: Ensures that the chat interface functions smoothly on all devices, especially smartphones and tablets.
Multilingual capabilities: Ecommerce businesses often cater to a global audience. Having a live chat tool that can automatically detect and switch to the user's language broadens the potential customer base.
Analytics and Reporting: Detailed insights into chat metrics like response time, customer satisfaction, chat volume, and agent performance.
Offline Mode: Allows customers to leave messages when live support isn't available, ensuring that inquiries are captured 24/7.
Smart Routing: Directs customers to the most suitable agent based on their query type, ensuring efficient resolution.
Feedback Mechanisms: Enables customers to rate their chat experience, providing feedback for continuous improvement.
You Might Also Like: 21 Live Chat Statistics Every Business Should Know in 2023
Best Practices to Follow While Implementing An Ecommerce Live Chat Tool
Implementing an ecommerce live chat tool can significantly enhance the user experience, but to harness its full potential, certain best practices should be followed:
Choose the Right Platform: Start by selecting a live chat tool that integrates seamlessly with your ecommerce platform and other tools (CRM, email marketing, etc.) you're using.
Positioning on the Page: Place the chat icon in a noticeable yet non-intrusive location, typically the bottom right corner of the screen.
Set Clear Availability: If you're not offering 24/7 support, clearly communicate the hours when live chat support is available.
Quick Response Times: Aim for initial responses within 30 seconds to a minute. Longer wait times can deter customers.
Train Your Agents: Equip them with thorough product knowledge, problem-solving skills, and train them on the specific functionalities of the chat tool.
Personalization: Use the customer's name wherever possible. Refer to past interactions to tailor the conversation according to the individual.
Chatbots for Basic Queries: Integrate AI chatbots to handle commonly asked questions, ensuring faster responses and freeing up agents for more complex issues.
Escalation Path: Have a clear protocol for escalating complex issues, whether it's transferring to a senior agent or setting up a callback.
Security: Ensure all customer interactions and data shared over chat are encrypted and adhere to data protection regulations.
Offline Messages: When offline, allow customers to leave messages so that you can get back to them when you're back online.
You Might Also Like: Live Chat Best Practices: Ultimate List of Do's and Don'ts
5 Ecommerce Live Chat Tools for 2023
Here is a curated list of the top 10 ecommerce live chat tools that can help you improve online customer interactions and elevate shopping experiences.
1. Hiver
Hiver is a powerful multi channel help desk built specifically for teams on Google Workspace.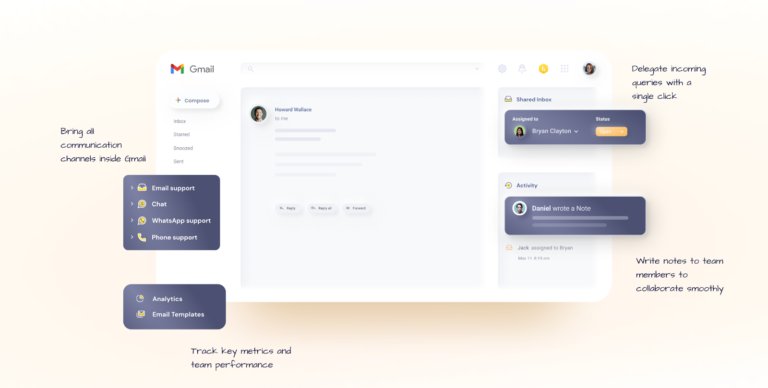 The platform enables you to offer customer support across channels like email, live chat, knowledge base, and phone.
Hiver's Live Chat allows you to respond instantly to your customers and the best part is that it can be set up with a few clicks right inside Gmail. This means your support agents can get started with using it right away without the need for extensive training.
What you'll love:
Multichannel support: Hiver combines email support and live chat within Gmail. This means your support team can offer consistent customer service across channels without having to switch between multiple tabs.
Chat templates: You can create custom chat templates for recurring customer issues to help your agents respond faster to queries.
Chat transcripts: You can pull up your chat history with any customer and share it for better context any time your support agents deal with an issue that requires inputs from another team.
Collision alerts: Your support agents get notified inside the chat box if any of their team members are already responding to a customer query. This helps avoid duplicate or conflicting responses.
Missed chat notifications: You can set up automatic notifications to alert the concerned stakeholders if a customer chat is not responded to within a specified duration.
Email capture: You can capture information such as the customer's name and email address by using the 'email capture' form which appears before the start of every chat interaction.
CSAT surveys: At the end of a live chat session, you can choose to send your customer a CSAT survey to collect their feedback. This goes a long way in improving your support experience.
Chat analytics: Hiver's chat analytics enables you to analyze the volume of chats handled by your team, view cumulative CSAT scores, and track key metrics like first response time and resolution time. All of this is key to improving the customer support experience.
Pricing:
Hiver offers three pricing plans.
Lite: $15/agent/month
Pro: $39/agent/month
Elite: $59/agent/month
Free trial: 7 days
You Might Also Like:
Top 7 Customer Service Softwares for Ecommerce Businesses
2. Intercom
Intercom is a customer engagement platform that combines the power of AI chatbots and help desk functionalities to help businesses provide consistent support to their customers.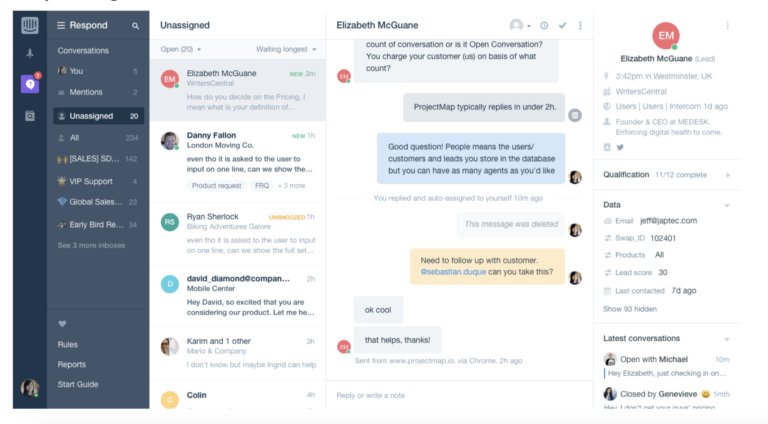 The platform allows you to offer customer support across channels such as email, SMS, WhatsApp, live chat, and more.
Intercom's live chat, also called Business Messenger, enables you to have personalized interactions with your customers with ease.
What you'll love:
In-app chat: Intercom allows businesses to integrate live chat functionality directly into their apps, helping them provide support where users are most active.
Conversation Assignment: Chats can be directed to specific team members based on different criteria, ensuring that the right person handles each conversation. For instance, all conversations initiated by customers regarding topics like upgrades or subscriptions will be routed to the customer success team.
Customizations: Intercom's Messenger can be customized to align with your brand guidelines with absolutely no code.
Saved Replies: Enables agents to use pre-written responses for commonly asked questions to improve response efficiency.
Proactive messaging: Intercom allows you to gauge important insights into customer behavior and preferences with the help of custom behavioral and event data. You can use these insights to proactively reach out to customers to address known issues even before they raise a query.
Pricing:
Intercom offers three pricing plans.
Starter: $74/month for 2 seats
Pro: Custom pricing based on business needs
Premium: Custom pricing based on business needs
Free trial: 14 days
3. LiveChat
LiveChat enables ecommerce businesses to offer personalized, multi-channel support to their customers. It offers several features including smart automations that take care of repetitive queries, allowing your agents to focus on more complex tasks.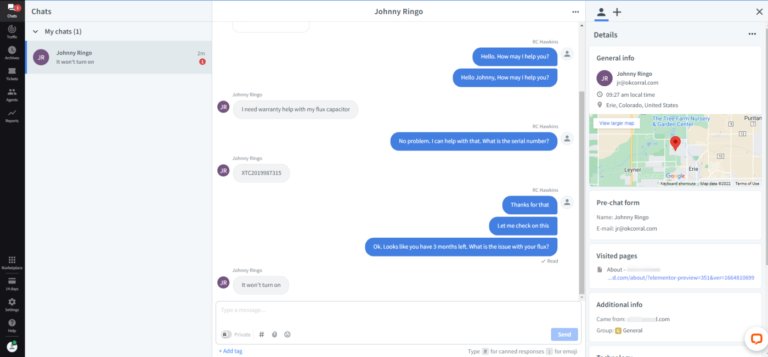 The platform offers a number of features that are especially great for small businesses with limited budgets.
What you'll love:
Message sneak-peek: You get to see what your customers are typing before they send it over. This helps you provide faster and more relevant responses.
Canned responses: You can save responses to commonly asked queries with just a few clicks. This allows your agents to respond to repetitive queries faster.
Inactivity messages: If your agents are unavailable, you can set up inactivity messages to capture important customer information. This way your support team can engage with your customers once they are back online.
Notifications: Alert your agents with the help of automated notifications if a customer chat is not responded to within a specific time.
Chat transfer: This feature allows you to route incoming customer conversations to the right agents. It is extremely handy in situations where an agent comes across a query that can only be handled by an expert.
Chat rating and post-chat survey: These features allow you to capture customer feedback after each chat in the form of ratings or surveys. It is key to improving your support team's performance.
Pricing:
LiveChat offers four pricing plans.
Starter: $20/agent/month
Team: $41/agent/month
Business: $59/agent/month
Enterprise: Custom pricing based on support requirements
Free trial: 14 days
4. Tawk.to
If you're an ecommerce business with limited budgets but still looking to implement a live chat tool, then tawk.to is a great option.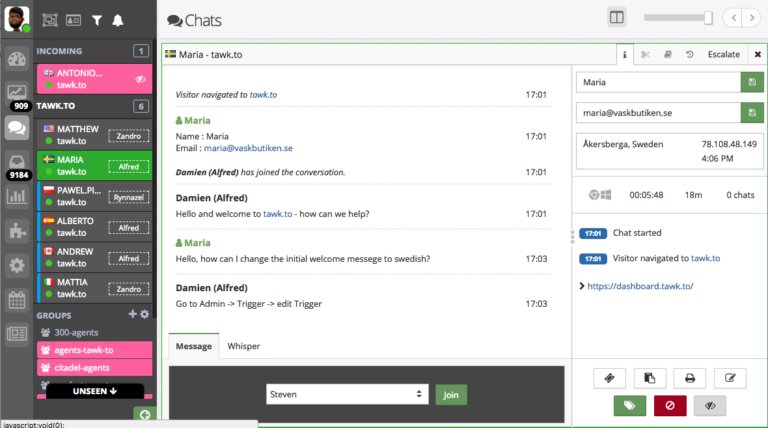 Tawk.to is a popular free live chat application that businesses and websites can integrate to provide real-time support to their visitors and customers. Tawk.to offers various features to enhance both the user experience and the efficiency of support agents.
What you'll love:
Customizable Chat Widget: Adjust the look and feel of the chat widget to match the brand's identity and website aesthetics.
Visitor Monitoring: Gain insights into active visitors, the pages they're viewing, their geographical location, and more.
Automated Messaging (Triggers): Set up automatic messages based on certain conditions like the time a visitor spends on a page.
Shortcuts: Store and utilize pre-defined responses to common questions, enabling faster replies.
File Sharing: Share documents, images, and other files directly within the chat interface.
Chat History: Retain and access logs of all past chat interactions for reference and continuity.
Multi-language Support: Cater to a diverse global audience by setting up the chat widget in multiple languages.
Dashboard & Analytics: Get an overview of chat metrics, agent performance, visitor satisfaction, and more.
Widget Scheduler: Set hours when agents are online, and automate offline messages outside those hours.
5. LiveAgent
LiveAgent is a comprehensive customer support software solution that is suitable for a wide range of industries, including ecommerce.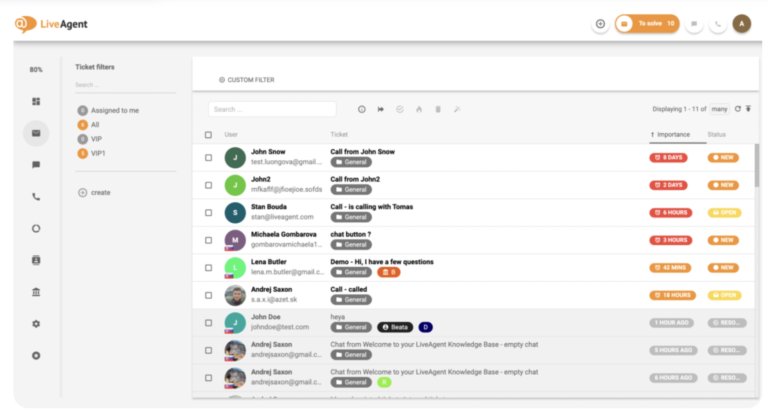 The platform has a number of robust features that make it easy to deliver streamlined customer service. Offering rapid response times and efficient problem-solving capabilities, it aids ecommerce businesses in delivering top-notch customer support, fostering loyalty, and boosting sales.
One of LiveAgent's standout features is their live chat capability that allows your teams to respond instantly to queries and improve customer engagement.
What you'll love:
Proactive chat invitations: This feature allows you to proactively reach out to customers and invite them to chat during different stages of their journey. You can send out targeted invitations to different customer groups.
Real-time typing view: You can see what your customers are typing even before they send the message. This allows your agents to anticipate queries and respond faster to customers.
Max queue length: This feature hides the live chat button from your website once the maximum queue limit has been reached. You can define the queue limit based on agent availability, workload, etc.
Chat distribution: You can route incoming customer chats to different agents based on factors like chat load, priority levels, and more.
Chat embedded tracking: You can track the number of conversions from live chat sessions through Google Analytics. This allows you to measure the impact of live chat in customer engagement and website conversions.
Pricing:
LiveAgent offers four types of pricing.
Small: $9/agent/month
Medium: $29/agent/month
Large: $49/agent/month
Enterprise: $69/agent/month
Free trial: 30 days
Wrapping Up
The value of fast and effective communication cannot be overstated in ecommerce.
This is precisely why live chat is a pivotal tool for ecommerce businesses, bridging the gap between online retailers and consumers in real-time.
By selecting the right platform, optimizing its features, and training agents proficiently, businesses can not only enhance customer satisfaction but also drive conversions and foster loyalty. Embracing live chat is a crucial tool for ecommerce businesses to stay ahead of their competition.