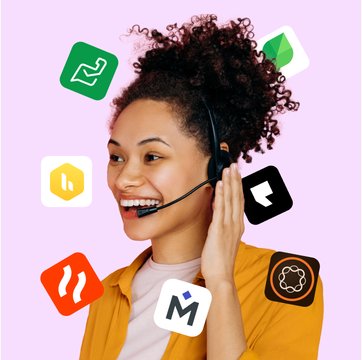 Table of contents
Join over 10,000 teams in delivering stellar customer experiences
10 Best Customer Experience Software in 2023
Nov 14, 2023
|
11 min read
|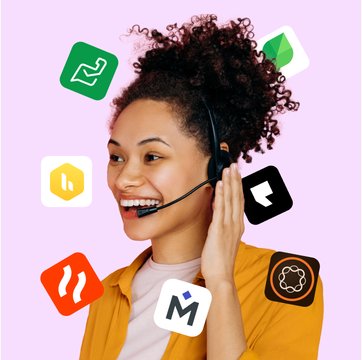 Table of contents
When you look up "How to build brand loyalty" on Google, you'll get upwards of 95 million hits. And it's all articles talking about engaging customers through social media or making sure your footer is the same color for all your emails.
But let me tell you something. None of that matters unless you're able to create great customer experiences, consistently for your users. Simply put, the happier a customer is after each interaction with your business, the likelier they are to stick around. This should be your primary focus if you want loyal customers who advocate for you.
In order to deliver great experiences consistently, even as your business scales, you'll need to invest in customer experience software. There are a number of options available in the market to choose from, depending on your specific needs. In this post, I'll cover:
What is customer experience software?
What are some features to look for in cx software?
The 10 best customer experience software options in the market
Table of Contents
What Is A Customer Experience Software?
A customer experience software is a comprehensive tool designed to assist businesses in monitoring and enhancing their customer interactions. This tool helps you analyze all customer interactions throughout the customer journey and gather valuable insights. These insights can then be leveraged to improve the overall experience of your customers. All of this takes place from one unified, workspace.
Using a customer experience software helps you track past customer inquiries and analyze customer behavior. For instance, you might find out – with the help of the software – that many customers reach out to your support team for very basic, straightforward queries.
The solution here is creating a comprehensive FAQ section on your website addressing these common queries. As a result, customers can quickly find answers on their own, reducing the number of inquiries your support team receives. This change, made possible through insights from the software, not only enhances the customer experience by providing faster answers but also frees up your support agents to focus on more complex issues.
Key Features to Look For in a Customer Experience Software
Here are some of the key features to look out for when investing in customer experience software:
Omnichannel Support – Your customer experience software must have the capability to provide omnichannel support to your customers. It should allow you to interact with customers across various communication channels like email, chat, phone, and social media from a single platform. This feature ensures a consistent and seamless customer experience, no matter how customers reach out to you. Additionally, if a conversation needs to move from one channel to another, agents can trasnfer context seamlessly.
Reporting and Analytics – Any good customer experience software should also let you track and analyze important customer experience metrics and KPIs, and consolidate these insights into digestible dashboards. This will help you make data-driven business decisions, identify trends, and continuously improve the customer experience.
Feedback Management – Customer feedback management is another vital feature to look for in customer experience software. This feature allows you to collect, organize, and analyze customer feedback, whether it's in the form of surveys, reviews, or direct comments. This feature helps in understanding customer sentiments and making improvements based on their input. When you listen to your customers and actually make improvements, your customers feel valued and appreciated.
Self-service options – Self-service features, such as a Knowledge Base (KB),enables customers to find answers to common questions and issues on their own. The KB is a library of articles, guides, and FAQs that customers can access. This feature reduces the need for direct support interactions and enhances customer autonomy. Many customers prefer to look for solutions to their problems on their own as it's faster and easier. By offering self-service options, you empower these customers and improve their support experience.
Automations – Automation and workflow management features in a customer experience software enable businesses to streamline repetitive tasks and processes. For instance, tickets can be routed to the right person in the right department based on their skill-set.. Automations reduce the workload of your agents so they can complete their tasks without feeling stressed. This directly impacts the quality of support your customers receive and the kind of experience they have.
The 10 Best Customer Experience Software 
Here's a list of the 10 best customer experience software options available in the market right now. I've included the main features they offer, their pricing, and if applicable, their free trial periods. You can go through the list and pick one that's best suited to your specific needs. 
1. Hiver
Hiver is a comprehensive help desk with all the functionalities of customer experience management built-in. Hiver works inside Gmail, which all of us are familiar with, so you don't have to worry about learning a new tool from scratch. You can get the tool up and running within an hour. The interface is extremely user-friendly, so your agents can focus on providing the best possible experience to your customers.
Here's what you can expect from Hiver:
Omnichannel support
With Hiver, you can manage all your customer interactions across channels like email, voice, live chat, and WhatsApp right from a single, unified inbox in Gmail. This is great for your customers as you'll be able to give them the option to reach out to you using whichever platform they favor. On the flip side, your agents can view, track, and manage all interactions from one place, so it's easier for them too.
Knowledge Base
Hiver also lets you build, host, and monitor a centralized library of articles, FAQs, and other resources that your customers or support agents can refer to at any time. Not only is it incredibly easy to set-up and use, but it also allows you the option to control the look and feel of your KB. You can tailor it to your brand's identity. You can go a step further and enhance user experience by adding 3rd-party apps like a chat widget.
Automations
You can take care of routine tasks that eat up agents' time such as – assigning emails or tagging messages, with Hiver's automation features. For example, you can specify conditions based on which customer queries get assigned to a specific team member. Any email with the word "Technical" in the subject line or body, can be automatically assigned to John from the IT team. By freeing up agents' time you ensure they're able to respond to queries faster and more attentively, which creates a better experience for your customers.
Reports and dashboards
With Hiver's analytics, you can create customized reports from scratch or work with Hiver's pre-built reports to analyze your team members' performance. You'll be able to keep tabs on metrics such as first response time, average resolution time, SLA compliance rate and so on. You can also set up dynamic dashboards to view real-time changes in the metrics. You can make business decisions that impact customer experience on the back of this real-time data.
Pricing:
Hiver comes with three types of pricing plans –
Lite plan: $15/per user/per month
Pro plan: $39/per user/per month
Elite plan: $59/per user/per month
Free Trial: 7 days
Try Hiver for free
2. Hotjar
Hotjar is a digital experience platform that enables businesses to gain deep insights into user behavior and feedback on their website and mobile app. It provides a holistic view of the customer journey. Hotjar's primary aim is to help businesses optimize their online presence and enhance the digital customer experience.
Hotjar's key features include:
Heatmaps: Hotjar generates heat maps that visually represent user interactions on your website, highlighting which areas receive the most attention and which ones are often ignored. Through this, you can pinpoint areas for improvement.

Surveys and Feedback: Hotjar offers tools for creating and distributing surveys and feedback forms on your website. This helps collect user opinions and preferences, providing a direct line of communication with customers. Feedback from users helps you address specific issues and concerns promptly, demonstrating your commitment to their satisfaction.

Conversion Funnel Analysis: The software allows you to set up conversion funnels to track how users move through specific processes on your site. This feature helps identify drop-off points in the customer journey and optimize conversion paths.
Pricing:
Basic plan: Free
Plus plan: $32 per month
Business plan: $80 per month
Scale plan: $171 per month
Free trial: Paid plans come with a 15 day free trial
3. Medallia
Medallia is an experience management software that's designed to help businesses capture, analyze, and act upon customer feedback and insights. It offers a comprehensive platform for understanding customer sentiment, measuring satisfaction, and driving improvements throughout the customer journey.
It's key features include:
Feedback Collection: Medallia provides various channels for collecting customer feedback, including surveys, reviews, and social media listening. This allows businesses to gather insights from diverse touchpoints.
Sentiment Analysis: The software leverages NLP to perform advanced sentiment analysis to understand customer emotions and reactions, helping businesses identify areas that require attention. It also helps you provide tailored responses leading to a more empathetic interaction and a satisfying customer experience.
Journey Mapping: Medallia helps businesses create and visualize customer journey maps to understand the end-to-end customer experience, from initial contact to post-purchase interactions. Which parts of the journey do your customers face difficulties in? Once you know this, you can optimize for a smoother experience.
Pricing:
Custom pricing. Contact the sales team to learn more.
Free trial: N/A
4. Freshdesk
Freshdesk is a help desk software that offers a range of features designed to help businesses deliver exceptional customer service, manage inquiries, and improve the overall customer experience. Its primary goal is to empower businesses to centralize their support efforts and engage with customers across many different channels.
The platform has customer experience management features built-in, such as:
Ticketing system: It provides a ticketing system to efficiently track and manage customer support requests, ensuring that no query goes unresolved. Timely, helpful responses will help you win customer trust.
Self service: With Freshdesk, you can help your customers solve their own problems by setting up a knowledge base, web widgets, or even chatbots..
Customer Feedback: The platform lets you gather customer feedback through surveys, ratings, and reviews to analyze the quality of your customer support interactions.
Community Forums: Businesses can create online community forums to encourage customers to connect, share information, and seek peer-to-peer support – which in turn boosts customer engagement.
In some aspects, particularly, customer experience management features, Freshdesk is similar to Hiver. But Hiver trumps Freshdesk in pricing. If you opt for Hiver over Freshdesk, you'll effectively bring down your annual spend by 34%.
Moreover, with Freshdesk, you'll have to spend time learning a new tool from scratch and getting accustomed to a new interface. With Hiver, you work inside Gmail so there's no learning curve.
Check out how Hiver fares against Freshdesk
Pricing:
Freshdesk offers four types of pricing plans:
Free: Starter plan for unlimited agents but with limited features
Growth: $15 per agent per month billed annually
Pro: $49 per agent per month billed annually
Enterprise: $69 per agent per month billed annually
Free trial: 21 days
5. Podium
Podium is a customer communication and reputation management platform that helps businesses interact with customers through various channels, collect and manage online reviews, and improve their online presence. It is designed to enhance customer engagement and help businesses build and maintain a positive online reputation.
It's key features include:
Messaging: Podium enables businesses to communicate with customers via text messaging, providing a convenient and preferred channel for many consumers. It also allows businesses to engage with the customer in real-time, leading to faster response and resolution times.

Review Management: The software helps manage and monitor online reviews from various platforms, allowing businesses to respond to feedback, whether positive or negative. Addressing reviews and feedback demonstrates your commitment to building customer trust . It also shows potential customers that you care about their experience.

Team Collaboration: It also supports internal collaboration, allowing team members to coordinate efforts in addressing customer issues, which then leads to faster resolutions and a smoother customer experience.
Pricing:
Essentials plan: $249 per month
Standard plan: $409 per month
Professional plan: $599 per month
Free trial: 14 days
6. Zoho Desk
Zoho Desk provides customer experience management solutions as part of its help desk software. It offers a suite of features to help businesses manage inquiries from multiple channels, drive visibility into the support team's tasks, and improve response and resolution time for queries. Zoho Desk is part of the larger Zoho suite of business applications.
It's key features include:
Multi-Channel Support: Zoho Desk enables businesses to handle customer inquiries from various communication channels, including email, live chat, social media, and phone, all from a unified dashboard. Offering different channels makes it easy for the customer to contact you on the channel they prefer.

Analytics and Reporting: Zoho Desk offers reporting and analytics features to track support team performance and customer satisfaction metrics.

Automations: The software includes automation features which help streamline routine tasks, auto-assign tickets, and categorize inquiries for quicker resolution.
Customer Feedback: Zoho Desk also allows you to gather customer feedback through surveys and ratings, enabling businesses to assess and improve support interactions.
Recommended Read: The Best Zoho Desk Alternative in 2023
Pricing:
Zoho Desk offers five types of pricing plans.
Free Plan
Express: $7 per month per user
Standard: $14 per month per user
Professional: $23 per month per user
Enterprise: $40 per month per user
Free Trial: 15 days
7. Adobe Experience Manager
Part of the Adobe Experience Cloud, the Adobe Experience Manager is a customer experience management software designed to help businesses create, manage, and deliver dynamic digital experiences across various channels and touchpoints. It empowers businesses to engage customers and drive meaningful interactions, ultimately enhancing the overall customer experience.
It's key features include:
Analytics and Reporting: The software provides analytics and reporting capabilities to measure the effectiveness of digital experiences.
Self-service: Adobe Experience Manager empowers businesses to create and manage self-service portals, knowledge bases, and help centers. This allows customers to find answers to common questions and issues on their own.
Integrations: The tool also offers integrations with various third-party softwares enabling businesses to create a more comprehensive and cohesive digital experience ecosystem.
Pricing:
Contact the sales team to learn more.
Free trial: N/A
8. Qualtrics XM
Qualtrics XM is a comprehensive customer experience management platform designed to help businesses collect, analyze, and act on customer feedback and insights. It offers a wide range of features to measure, understand, and improve the customer experience.
It's key features include:
Customer Journey Mapping: Qualtrics XM helps create customer journey maps to visualize and understand the entire customer experience, identifying pain points and opportunities for improvement.

Reporting and Analytics: The tool provides robust reporting and analytics capabilities to generate actionable insights from customer feedback data, supporting data-driven decisions.
Text and Sentiment Analysis: It uses advanced text and sentiment analysis to interpret and categorize customer feedback, extracting actionable insights.
Pricing:
Contact the sales team to learn more.
Free trial: N/A
9. Sprout Social
Sprout Social is a tool that can be used to closely monitor both favorable and unfavorable sentiments associated with your brand on various social media platforms. This includes discussions relevant to your business, the public's perception of your brand in comparison to competitors, and the broader industry landscape. The insights derived from these discussions can be used to guide well-informed marketing and customer experience strategies.
The key features of this tool are:
Social Listening: The platform offers social listening features to track mentions and conversations related to a brand, product, or industry, providing valuable insights into customer sentiment and trends.
Social Engagement: The software provides tools for monitoring and engaging with customers on social media in real-time, allowing businesses to respond to inquiries, comments, and messages promptly.
Automation: Businesses can automate certain social media tasks, such as responses to frequently asked questions, to streamline customer support and engagement.
Pricing:
Sprout Social has four pricing tiers:
Standard: $249 per month + $199 per month for each additional user
Professional: $399 per month + $299 per month for each additional user
Advanced: $499 per month + $349 per month for each additional user
Enterprise: Custom-built plans
Free trial: 30 days
10. Tealeaf by Acoustic
Tealeaf by Acoustic is a data analytics solution which helps businesses capture every customer's journey and behavior. It can help you understand the reasons behind their actions in real-time by sending you alerts. It can also generate customer reports to help businesses evaluate how much negative experiences might impact their operations. Lastly, the platform lets users prioritize issues to fix the most urgent problems first.
Key features of the platform include:
Behavioral Analytics: Analyzes user behavior, such as clicks, navigation paths, and form interactions, to identify patterns and pain points in the customer journey.
Customer Journey Mapping: Visualizes and analyzes the entire customer journey, from initial interaction to conversion or abandonment, and identifying opportunities for improvement.
Real-Time Alerts: Provides alerts and notifications for specific customer behaviors or issues, allowing businesses to take immediate action.
Pricing:
Contact the sales team to learn more.
Free trial: N/A
Final Word
Choosing the right customer experience software is important for any business. We've looked at a number of useful tools in this blog. Each one has its strengths and weaknesses. But if you're looking for something that's really easy to use and helps your team deliver excellent customer experiences consistently, Hiver might be the one for you.
Get started with Hiver today. Free for 7 days.