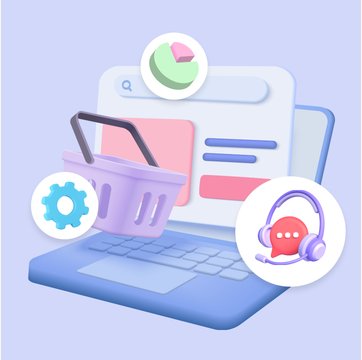 Table of contents
Turn Gmail into a collaborative hub
Top 7 Customer Service Softwares for Ecommerce Businesses
Sep 13, 2023
|
9 min read
|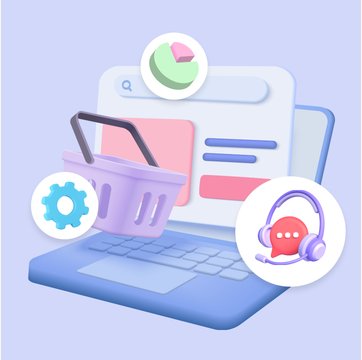 Table of contents
Delivering fast and exceptional omnichannel customer support is critical to the success of any ecommerce business.
That's because, no matter how much you plan things out, there will be instances where orders get misplaced, deliveries delayed, and items damaged. In such instances, what matters is how quickly and efficiently you're able to provide a resolution for your customers.
This is where the need for an ecommerce customer service software comes in.
What is An Ecommerce Customer Service Software?
An ecommerce customer service software refers to a suite of tools and applications designed to streamline and enhance customer service and support processes for online retailers.
A robust customer service software can help ecommerce businesses deliver proactive and personalized support to shoppers. It can help your customer service team track and manage incoming queries, offer real-time support, and also empower customers to self-serve. It ensures efficient, effective, and customer-centric support operations.
Features of An Ecommerce Customer Service Software
A customer service software for ecommerce typically includes a range of features and functionalities to address various aspects of customer support, including:
Ticket Management: Organize and prioritize customer inquiries in the form of tickets. Each ticket represents a customer issue that can be tracked, assigned, and resolved within the system.
Multi-Channel Support: Enable customer interactions through various communication channels, such as email, live chat, social media, phone, and self-service portals.
Knowledge Base: Create and maintain a database of frequently asked questions, articles, tutorials, and guides that customers can access for self-help.
Automations: Streamline workflows by automating routine tasks, such as routing tickets to the appropriate agents, sending automated responses, and escalating issues. Without any manual effort.
Analytics and Reporting: Get insights into customer service performance, including response time, resolution time, customer satisfaction scores, and other trends.
Customer Feedback Management: Collect and analyze customer feedback to identify areas for improvement and measure customer satisfaction.
SLA (Service Level Agreement) Management: Define and manage response and resolution time commitments to meet customer expectations.
How to Provide Great Ecommerce Customer Service
7 Best Customer Service Software for Ecommerce Businesses
Whether you're a startup or an established online store, this comprehensive list will help you find the perfect solution to elevate your customer service game.
1. Hiver
Hiver is a multi-channel customer service software that can help ecommerce businesses streamline their customer support operations. The platform is easy to set up and intuitive to use, since it works right out of Gmail. It is among one of the best customer service softwares for ecommerce.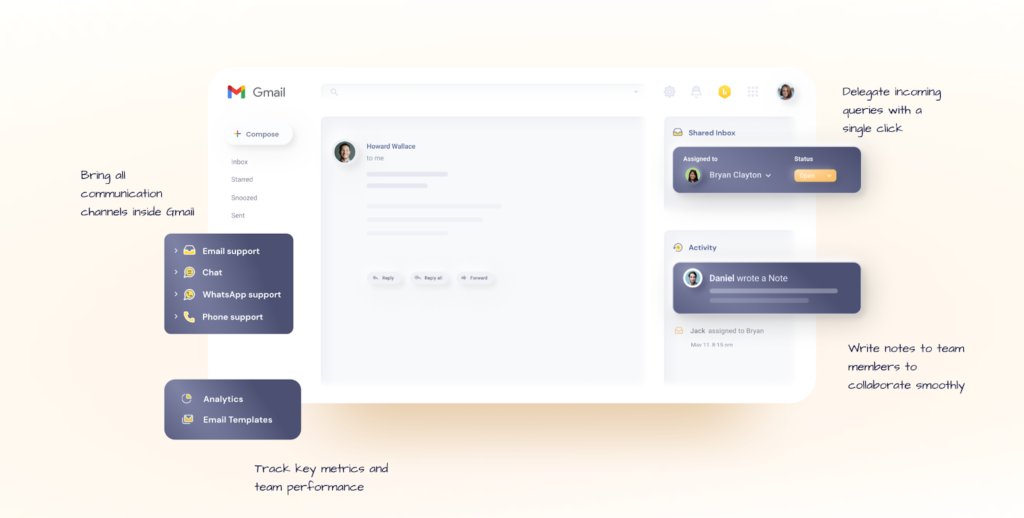 With Hiver, you can centralize your customer conversations, collaborate seamlessly with your team members, and assign all incoming queries to support agents. This ensures customer inquiries are addressed promptly and consistently, leading to improved customer satisfaction and loyalty.
Here are some features that make Hiver a great fit for ecommerce businesses:
Multichannel support across email, live chat, knowledge base, and voice to interact with customers on the channels they prefer
All incoming customer queries can be converted into actionable tasks and assigned to support agents with a few simple clicks. This is especially useful for ecommerce businesses that receive a high volume of customer inquiries.
Create templated responses to common customer queries using the Email Templates feature. This saves time and ensures consistent responses to frequently asked questions.
Smooth internal collaboration features to enable your agents to work together on customer issues and solve them effortlessly. This ensures faster resolution of tickets.
Extensive analytics to track key metrics like first response time, individual turnaround time, and CSAT rating. This helps in evaluating and improving support performance
Seamless integrations with third-party tools such as Aircall, WhatsApp, Okta, Zapier, QuickBooks, and other applications. This allows ecommerce businesses to work more efficiently without having to switch between multiple applications
Pricing:
Hiver offers three pricing plans.
Lite: $15/agent/month
Pro: $39/agent/month
Elite: $59/agent/month
Free trial: 7 days
Hiver helps New York Custom Labels Turn Leads Into Customers Faster
2. Freshdesk
Freshdesk is a popular help desk software that offers a suite of solutions for ecommerce businesses to manage and enhance their customer support operations. Features like ticket management, automations, live chat, knowledge base, and reporting makes Freshdesk a good customer service software for ecommerce.
The platform helps them to efficiently handle customer inquiries and deliver exceptional service experiences.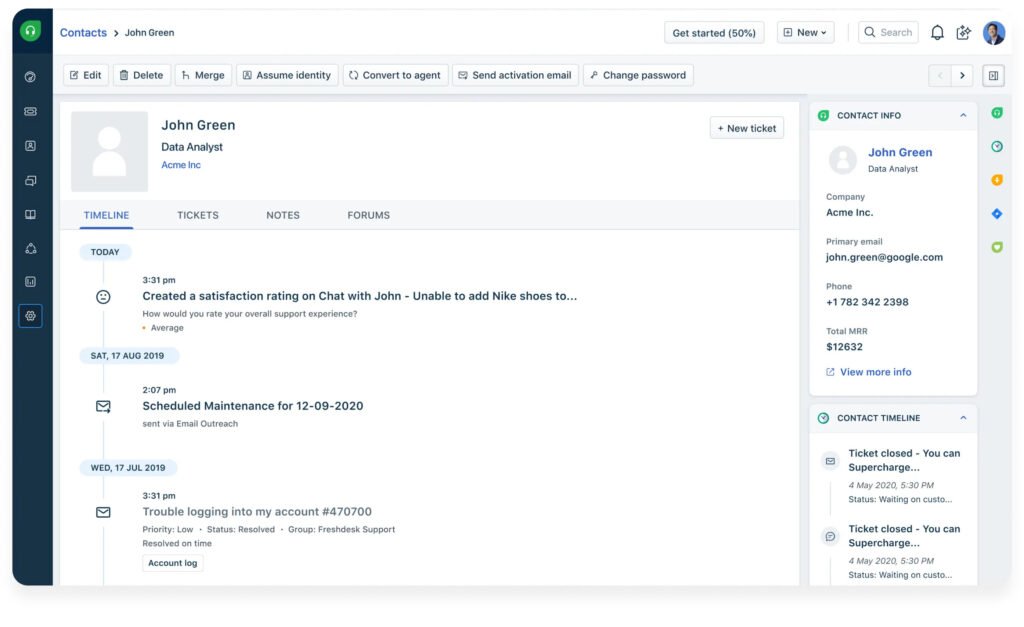 Freshdesk's customer service software for ecommerce businesses also has a free plan for teams that have limited budgets but require features like ticket management, knowledge base, and collaboration functionalities to streamline their customer support. The plan can be used by up to 10 agents.
Some of the key features that make Freshdesk a good fit for ecommerce businesses are:
Ecommerce businesses can offer multichannel support with Freshdesk across email, chat, phone, and social media.
An efficient ticketing system to help online stores track and manage customer conversations.
Automated self-service across channels that empowers customers to find solutions by themselves. This frees up your agents' time to resolve more complex issues.
Integration with ecommerce platforms like Shopify and WooCommerce
Reporting and analytics features to help ecommerce businesses track and analyze customer support metrics.
The only challenge with Freshdesk is that the interface is quite difficult to configure and use. Aside from this, Freshdesk also lacks seamless integration with Google Workspace products. This means agents will have to keep switching between applications (Gmail and Freshdesk, in this case) to do even simple tasks such as answering a customer email.
Pricing:
Freshdesk offers four pricing plans.
Free: Starter plan for unlimited agents but with limited features
Growth: $15 per agent per month billed annually
Pro: $49 per agent per month billed annually
Enterprise: $69 per agent per month billed annually
Free trial: 21 days
Freshdesk vs Hiver: A Detailed Comparison Guide
3. Gorgias
If you're an online retailer and are looking for a customer service software for your ecommerce business, check out Gorgias.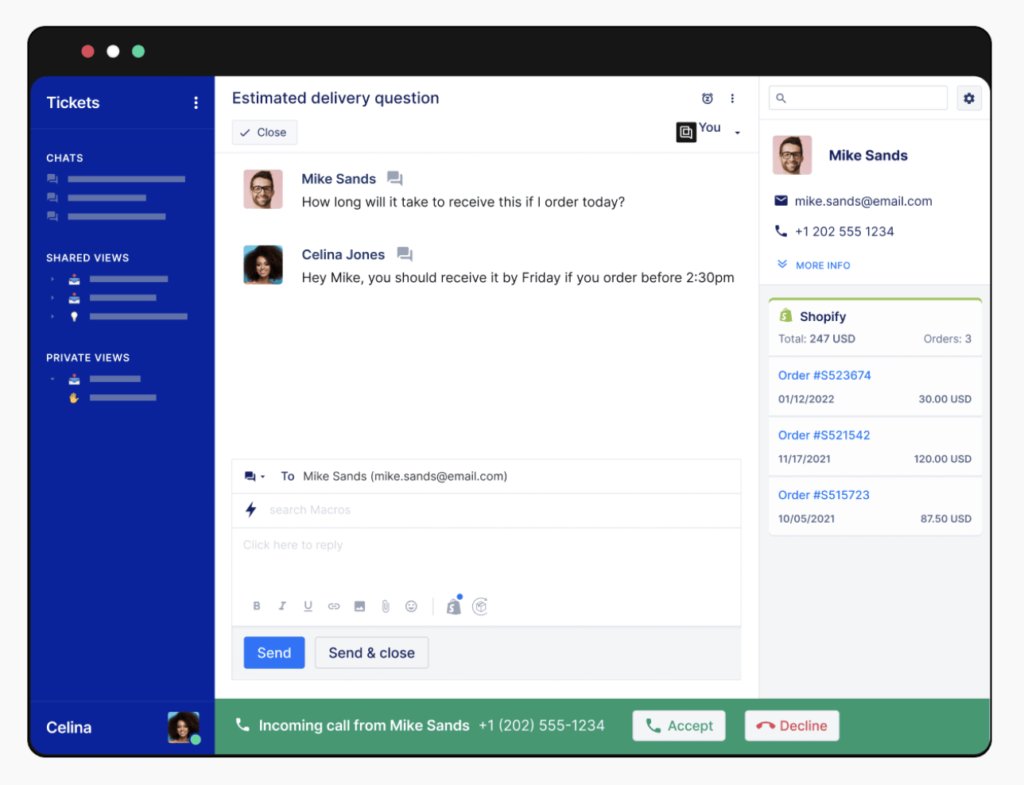 The platform focuses on enhancing customer support by providing a range of features that help overcome the challenges faced by online retailers. Some of them include:
You can offer multichannel customer support across email, social media, live chat, voice, SMS, and WhatsApp
Gorgias Macros and templated responses help agents respond faster to common customer questions
Integrations with third-party ecommerce applications such as BigCommerce, Shopify, and Magento.
View order information and your customer's shopping history right next to a ticket. This way agents can customize their responses with ease
Track customer data, support performance and revenue growth to help understand the total number of tickets that converted into sales
Despite its robust features, Gorgias does have a disadvantage when it comes to pricing.
The platform charges users based on ticket volume rather than number of users. This means that the plans support unlimited agents but have a monthly ticket limit.
While this may be alright for small businesses dealing with a relatively lower volume of tickets, it can get quite expensive for larger businesses.
Pricing:
Gorgias has five pricing tiers.
Starter: 50 tickets/month at $10/month
Basic: 300 tickets/month at $60/month
Pro: 2000 tickets/month at $360/month
Advanced: 5000 tickets/month at $900/month
Enterprise: Custom ticket volume and pricing
4. Zoho Desk
Zoho Desk allows you to manage customer inquiries and support requests from various channels such as email, live chat, social media, and phone. This is particularly valuable in ecommerce, where customers may reach out through different communication channels.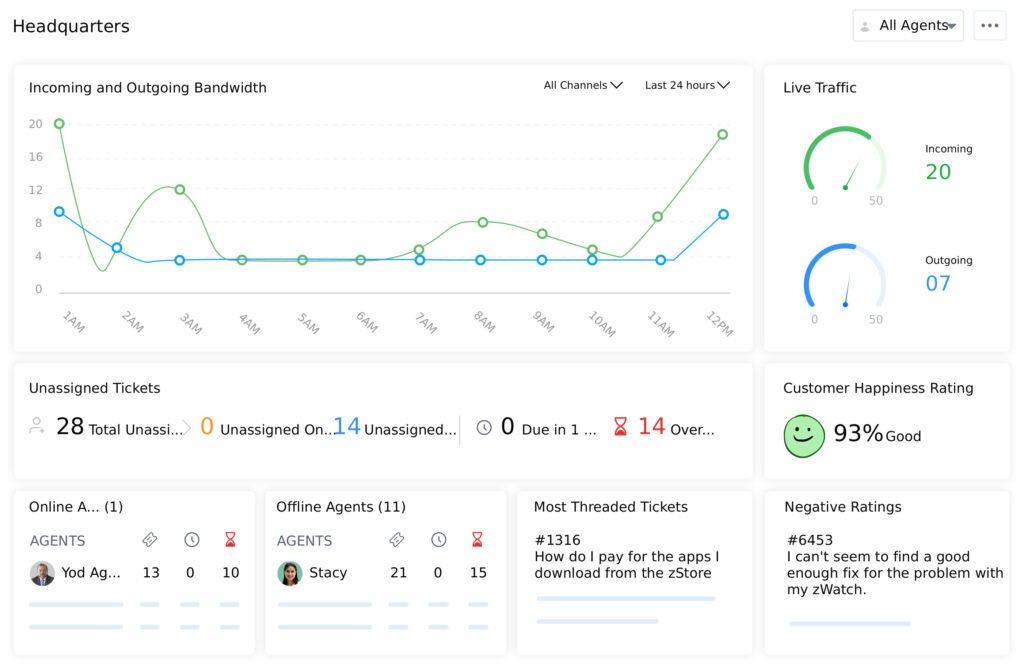 The platform also has a free plan for ecommerce businesses with minimal support needs.
Zoho Desk also has several other features that make it a good fit for ecommerce businesses.
Advanced process automation to help you design customer service workflows with ease. It automates complex, multi-step business processes and helps in improving efficiency and reducing errors. A good example is how the refund process works. When a customer initiates a refund request, the automation system triggers a review process. The validity of the request is compared against the predefined criteria of the company's refund policy. Once the criteria is met, the automation system calculates the refund amount based on certain parameters and a payment reversal process is triggered. The customer is notified of this update through an automated email or message.
Convert posts or messages sent to your company's social media handles into tickets and route them to the appropriate agents
Intuitive chatbots that analyze customer sentiment in every ticket enabling agents to prioritize and respond appropriately
One of the biggest challenges with Zoho Desk is that it is difficult to set up and use. The interface is complex and can take your agents some time to get used to.
Pricing:
Zoho Desk offers five different pricing options
Free: Up to 3 agents
Express: $7/agent/month up to 5 agents
Standard: $14/agent/month
Professional: $23/agent/month
Enterprise: $40/agent/month
Zoho Desk Pricing: Does it Offer Value for Money?
5. Zendesk
Zendesk's customer service software for ecommerce assists online retailers in cultivating strong customer relationships by enhancing every facet of the customer journey. The platform provides a comprehensive suite of solutions, that includes phone support software, email support, customer service analytics, and social media management, amongst others.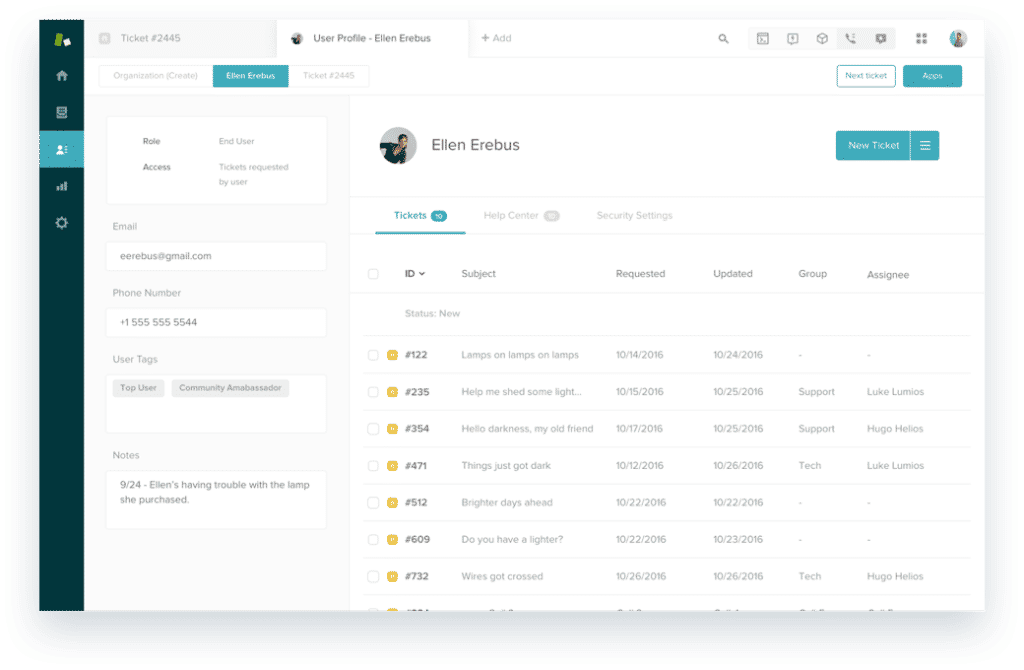 Zendesk enables retailers to seamlessly adjust to evolving consumer expectations and expand their operations as they grow.
Here's why Zendesk might be a good fit for your online retail store:
Get a complete overview of customer profiles through data gathered across inventory, billing, shopping history, and purchases. This makes it easier for you to personalize your customer interactions
Multichannel support across email, live chat, social media, and voice channels
Automations that help answer common customer queries. This ensures that your customer support team can focus on more complex tasks
Analytics to track real-time and historical data that help understand customer behavior and purchase trends.
All this being said, Zendesk does have a few drawbacks. The platform has a complex pricing plan which can be difficult to understand. Basic support features cost extra and you end up paying nearly 51% more with Zendesk as compared to a help desk like Hiver.
Aside from this, 24/7 customer support and onboarding assistance can only be availed at a premium, and even then users often complain of long wait times.
Pricing:
Zendesk has three tiers of pricing for small to large-sized businesses.
Suite Team: $49 per agent per month
Suite Growth: $79 per agent per month
Suite Professional: $99 per agent per month
For enterprise companies, Zendesk has two tiers of pricing.
Suite Enterprise: $150 per agent per month
Additional and more powerful enterprise plans start at $215 per agent per month
6. Intercom
Intercom is a customer service tool for ecommerce businesses to support and engage their customers.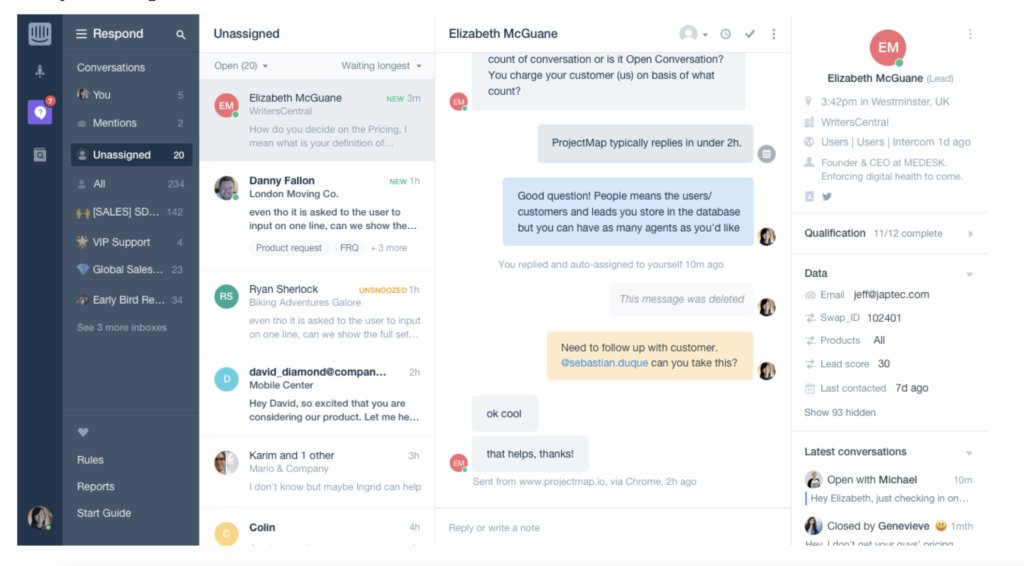 One of the key features of Intercom is the platform's AI bot Fin, powered by OpenAI. It can resolve complex issues and provide highly accurate responses to customer queries. The sophisticated AI technology is capable of addressing support requests without involving human agents and this helps drastically reduce ticket volumes.
In cases where Fin cannot resolve a query, it ropes in your support agents, ensuring a seamless experience for your customers.
Here's what makes Intercom a good customer service software for ecommerce businesses.
Multichannel support across live chat, email, SMS, and other channels to help reduce support volumes and elevate the shopping experience
Promotional and transactional messaging options to keep customers engaged and give them crucial information (ex. password changes, shipping delays, promotional offers) on time
No-code builders to help you design smart automations that can take care of repetitive tasks such as ticket prioritizing and routing, following up with inactive customers, customer feedback, and more
One of the biggest challenges with Intercom however is its steep pricing. Small businesses may find it too expensive especially if you require features such as automation, chatbots, or integrations. Vendor support is also reported to be limited and quite slow.
Pricing:
Intercom has three pricing plans.
Starter: $74/month (includes 2 seats)
Pro: Custom pricing
Premium: Custom pricing
Free trial: 14 days
7. Help Scout
Help Scout is a shared inbox tool that can help ecommerce stores grow their business through personalized support. The platform's most noteworthy feature is their AI technology that can boost the productivity of your support teams.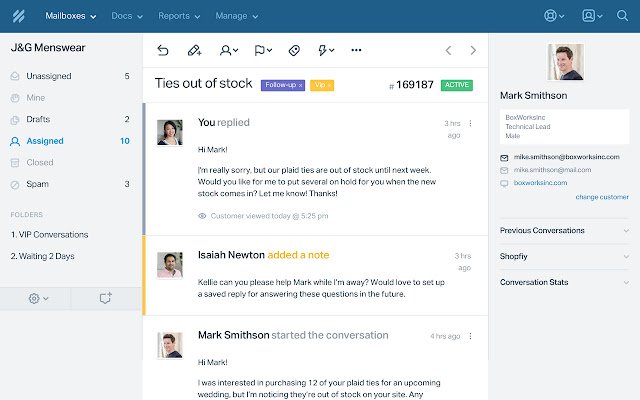 If your support agents tend to spend copious amounts of time going through long email threads to find important information such as the nature of a customer query or previous resolution paths, Help Scout's AI Summarize is exactly what you need.
The feature condenses information from emails into bullet points, giving your support agents all the context they need. This saves time, boosts productivity, and enables faster resolutions.
Here are some features that make Help Scout a good tool for your ecommerce business:
Multichannel support across email, live chat, and knowledge base
A single platform through which you can track, prioritize, and respond to customer queries
Deliver faster support by viewing all the relevant customer information alongside every support ticket
Powerful automations to take care of repetitive tasks such as sending automatic replies, escalating responses, and assigning requests to teammates.
However, users have reported certain limitations when using Help Scout. The interface is quite complex and requires extensive training to get started with. Aside from this, reporting capabilities are quite limited with Help Scout. Basic analytics such as tracking call or live chat durations are absent in Help Scout.
Pricing:
Help Scout has three pricing plans.
Standard: $20/user/month
Plus: $40/user/month
Pro: $65/user/month
Free trial: 15 days
Help Scout Pricing: Does it Offer Value for Money?
Conclusion
As technology evolves and customer expectations rise, investing in the right customer service software offers a competitive advantage for ecommerce businesses and helps them to foster a customer-centric culture.
A multichannel help desk like Hiver allows you to offer delightful customer experiences without overcomplicating things. Whether it's managing customer queries, offering multi-channel support, or leveraging automation, Hiver caters to the unique needs of online retailers
If you'd like to know more about how Hiver can help your ecommerce business, simply sign up for a free trial and learn how you can elevate customer service.