Table of contents
8000+ teams use Hiver to delight their customers!
If you're in customer service, you're probably noticing an increasing emphasis on customer engagement. There's good reason for that.
But you might not know how important customer engagement really is or realize how much of your business it touches. After all, customer engagement means much more than answering customer questions or getting loads of comments and shares on your Twitter or Instagram posts.
And even if you do understand customer engagement at a high level, you might not know exactly how improving yours can benefit your brand, your reputation, and your bottom line.
This post will help you understand the importance of customer engagement as a means to ensure long-term loyalty and maintain a strong brand reputation that attracts new leads.
Let's start with what customer engagement is all about.
Table of Contents
What is customer engagement?
If you scan the Internet, you'll likely find many definitions of customer engagement. At a high level, it means building long-term customer relationships by meeting them in the channels where they are and encouraging brand loyalty. At its core, customer engagement is a personal connection.
Gallup defines customer engagement as a consumer's psychological or emotional connection with a brand, product, or company. That attachment or loyalty matters because customers spend more with companies they like — in good times and in bad. Sounds simple enough, right?
But many companies are missing the boat when it comes to the execution of customer engagement strategies. That's because their primary focus is on getting customers to buy more, more often. But that's not the best way to build relationships and loyalty.
According to Gallup, a fully engaged customer contributes 23% more in terms of spending, profitability, revenue, and relationship growth than the average customer. An actively disengaged customer subtracts 13% from those same measures. "In short, when customers believe they are getting more from a business, they give more to it."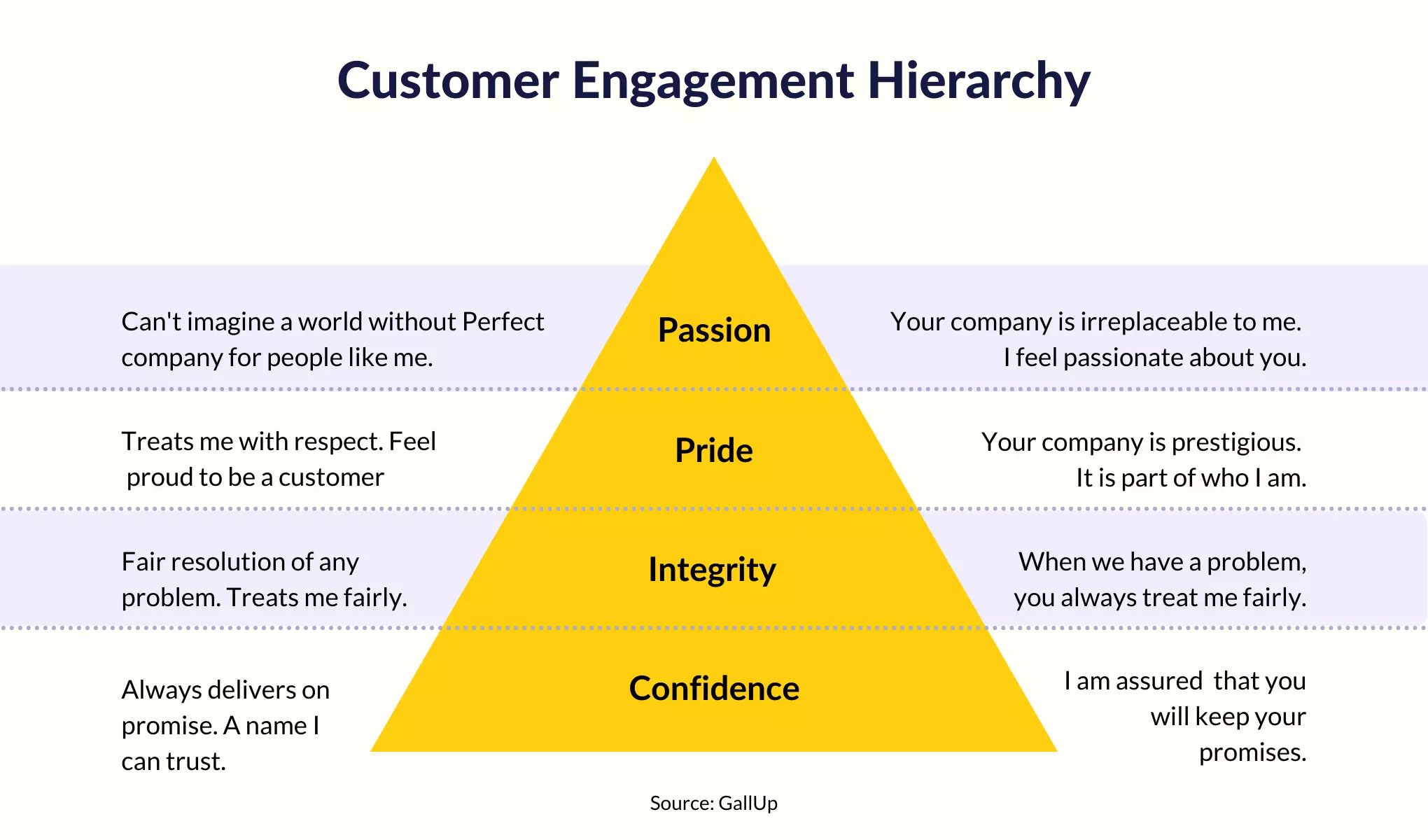 So is your company truly giving more?
According to a retailer survey, 82% of marketers think they understand the kinds of engagement their customers want — but nearly half of consumers disagree. This points to some significant gaps between what companies are offering and what customers are experiencing.
The benefits of customer engagement
The bottom-line impact of improving customer engagement at every touchpoint is significant. Constellation Research found that better engagement can increase cross-sell revenue by 22 percent, up-sell revenue by 38 percent, and order size by 5 to 85 percent.
In addition, a report by Temkin Group found that even with only modest results, companies earning $1 billion annually that invest in improving their customer engagement can increase earnings by $775 million more within three years. This is true across industries, with software companies benefiting the most ($1 billion over three years).
The top three factors that affect customer loyalty are success, effort, and emotion, and an improvement in emotion increases loyalty more than anything else. Meaningful customer engagements are the best way to create the positive emotions that keep customers coming back for.
So how exactly does improved customer engagement encourage loyalty, and eventually, customer lifetime value?
1. It enhances your brand experience
A great customer experience is unique and memorable. It leaves your customers with positive emotions that they carry along with them far into the future. Don't underestimate the power of memorable customer interactions. You can learn how to create those unforgettable customer service moments here.
2. It improves customer loyalty and lowers churn
Those positive feelings, in turn, translate into customer loyalty. That's because once you give your customers a positive experience, one that they feel good about, they will want to return just so they can feel the same way again and again. At the same time, loyalty helps build trust. Customers will be less likely to shop around or leave for a competitor, and your business will quickly become the only one they go to, or recommend, for your products or services.
3. It provides vital and actionable customer feedback
Strong customer engagement is a conversation that provides valuable, continual feedback. You'll be able to keep your finger on the pulse of your customers. When customers are happy, you can keep giving them more of what they love. You'll also know right away when things are going off track, and you'll be able to make corrections and improvements quickly.
Recommended Reading
4. It attracts new customers via positive word-of-mouth
Happy customers are more likely to become brand ambassadors, telling their friends about you and leaving good online reviews, all of which build your brand reputation further and encourage new customers to give you a try. Engaged customers can increase your customer base remarkably.
The key to all this is keeping track of what your customers are saying about you on the internet. Here's where investing in an online reputation management software can be useful as it helps you stay on top of customer reviews, identify happy customers, proactively reach out to frustrated customers, and more.
5. It helps establish a unique brand identity
Unforgettable customer experiences and strong engagement is a differentiator, no doubt about it. Once you start breaking from the pack, people will notice and the word will spread. Your company will begin to become known for having a fresh approach. People will tune in just to see what you're up to next.
Are you convinced? Great! Here's what to do next.
Six steps to an effective customer engagement strategy
Following these steps will start you on your way.
1. Define your brand language and voice
The term "voice" can be confusing, but it's really just a distinct personality that sets your brand apart. It's consistent and recognizable. According to the Sprout Social Index, what makes brand voices stand out are: memorable content (40%),a distinct personality (33%),and compelling storytelling (32%).
Your brand voice includes your tone as well as your language. Is it casual or professional? Serious or fun? Mass-market or specialist? Irreverent or authoritative? Create brand voice guidelines that spell everything out, including specific examples of messaging and suggested verbiage.
Finally, study great examples for inspiration, like Nike(powerful and inspiring),Slack(friendly and helpful),or Mailchimp(clear, genuine, with dry humor.)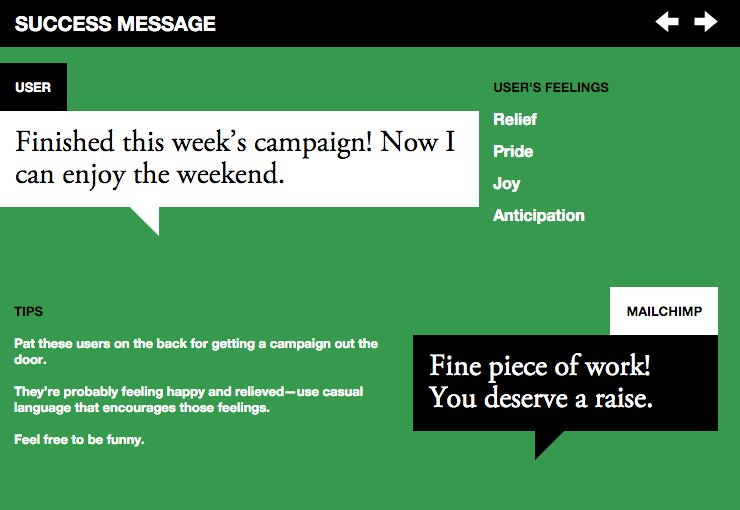 2. Identify engagement opportunities throughout all the touch points during a customer's lifecycle
Start by mapping your customers' journey. For example, one such journey for an eCommerce food business could be:
Customer receives a free sample of your amazing new product, keto granola in the mail. They try it and love it.

Next, they head to your website to order.

They place their order online using their coupon code.

They receive their shipment quickly. It's well-packed and fresh.

They receive your follow-up e-mail and leave a five-star review.

They stay on your newsletter for recipe ideas, fun stories, and exclusive discounts.
To optimize this customer journey, you would make sure:
Samples are high quality, visually appealing, and well-packaged.

You design your website such that it is clean and easy to navigate.
Use a strong command verb like 'call now' for your CTA.

Ordering is fast, straightforward, and safe.

Care is taken during order fulfillment and shipping.
Your email marketing copy is optimized and it's simple to leave feedback.
You invest in great content marketing for your customers – be it webinars, podcast marketing, guides, or whitepapers – to drive engagement.
3. Use customer data to deliver unique and personalized experiences
According toHubSpot research, personalization helps emails perform a whopping 202% better. A personalized approach can help your emails get noticed and show your customers that you genuinely care about them. Customers relate more to brands when they feel like they're being heard, and customer service automation can help you deliver this much-needed personalization at scale.
So use your customers' names — as well as other customer data like their purchase history and proven interests.
What products or services have they purchased in the past? Will they need regular follow-up or maintenance? Accessories?

What other offers are they likely to love based on what other customers also purchased?

What have they clicked on and checked out but not purchased yet?
Businesses can create more effective engagement by leveraging email hosting services, which helps to collect customer data such as email addresses, webpages visited, and items left in carts. This information can be utilized to send more tailored emails, thus encouraging them to make a purchase.
Your customers will appreciate that you noticed.
Recommended Reading
4. Create an exhaustive online resource center/learning academy for your customers
Customer expectations have changed significantly over the last few years. Today, they want to be able to resolve issues whenever and wherever they want, without having to contact someone for help. One customer support survey found that 90% of respondents expected organizations to offer a self-service online portal and 65% had a more favorable view of those that offered mobile-responsive one.
A knowledge base is a kind of virtual instruction manual for your product. It's often the first place your customers go when they have questions or issues with your product or service. And critically, it can help customers help themselves — a big plus for engagement and satisfaction.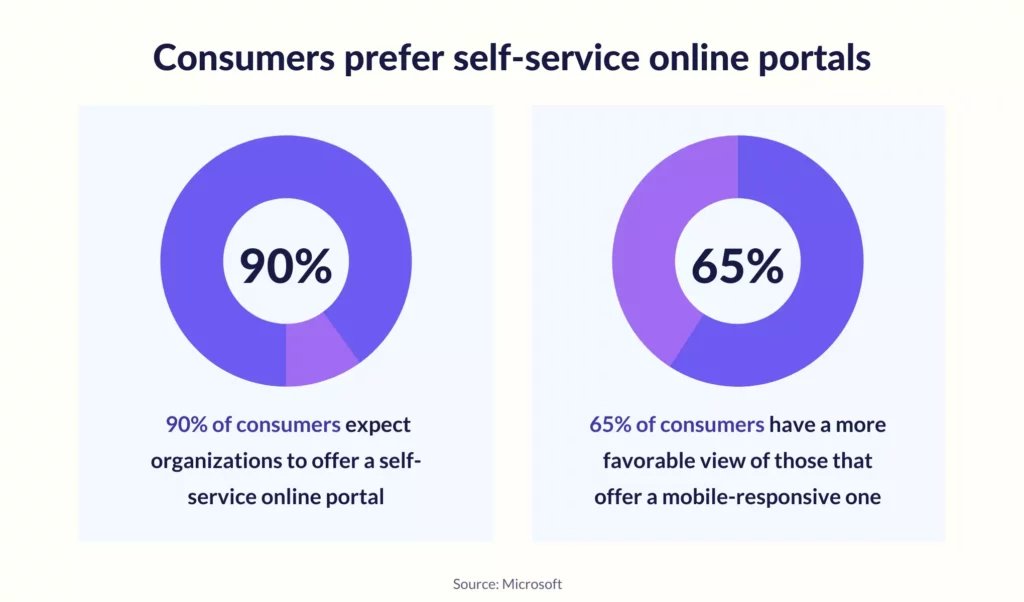 5. Build an active customer community on social media
One of the greatest things about having an active customer community on social media is that it helps you get real-time customer feedback and a good understanding of customer needs. It's important to have genuine social media engagement with your present and prospective customers.. That means encouraging conversations and discussions and responding in a timely manner — don't just post about your product or service and then leave.
You can provide an awesome customer experience with relevant and interesting stories, humor, and how-tos. You can also post on similar interests and "shoulder" industries. For example, if you're a swimming pool manufacturer, then videos of happy vacationers on floaty toys may be just the inspiration your customers are looking for.
Now, when you're creating content for your customers at scale, you might have to automate some portions of it. For instance, you can make use of Instagram tools to help schedule stories, videos, and more – ensuring you spend less time on grunt work and focus more on creating content. Apart from that, to ensure consistency, you can also make use of an image resizer tool to fit your photos and stand out on different social media platforms like Threads to get more Threads followers.
If you're a B2B SaaS company, it makes sense for you to establish a strong presence on LinkedIn.
For a distinctive, humorous community (and brand voice) check out Wendy's hamburger restaurant's Twitter account.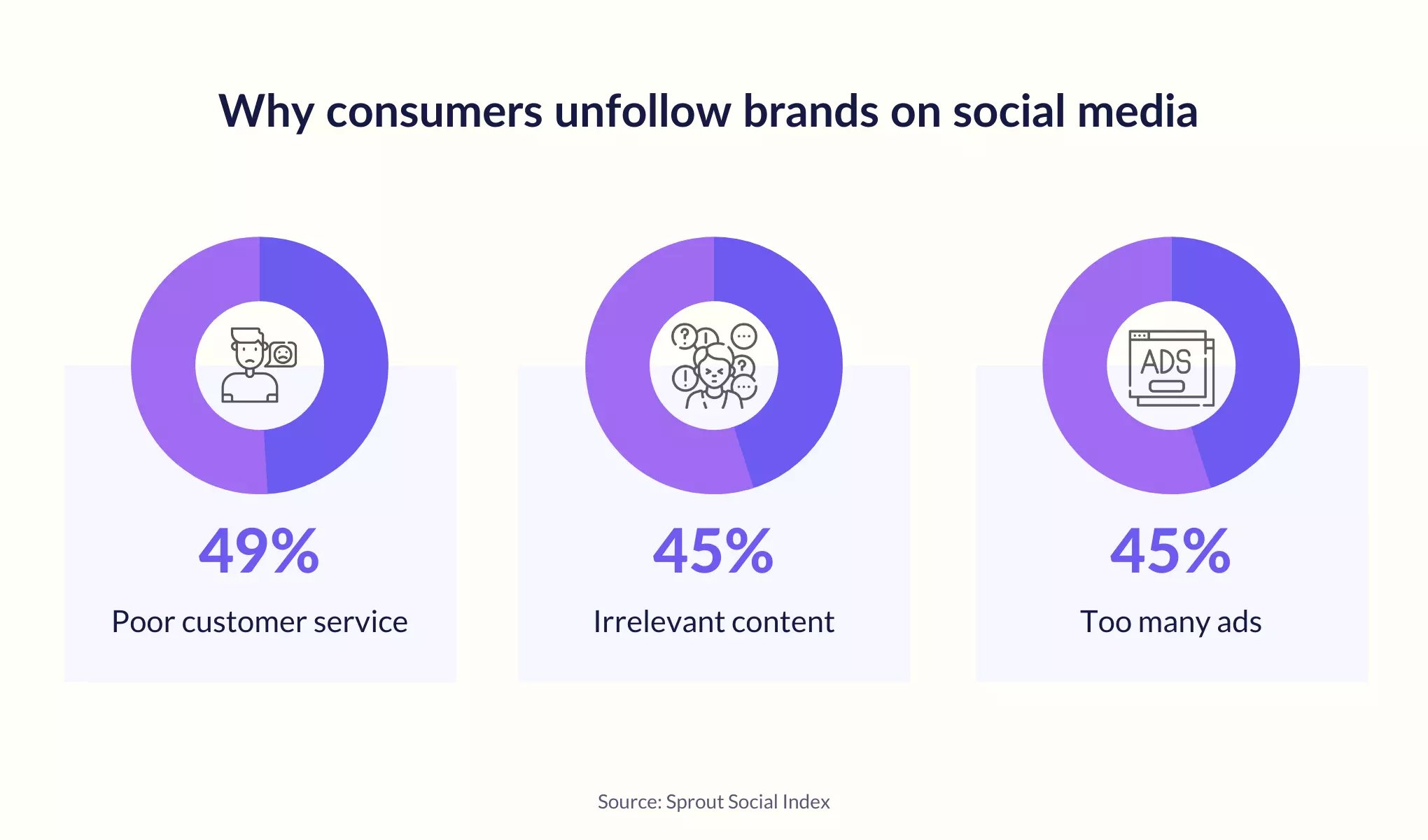 6. Reward customer feedback and participation
There are many great ways to boost engagement throughout your customer touchpoints. The only real limit is your creativity. But a few of the best ones include discounts, exclusive offers, gifts, community, exclusive experiences, special events, contests, and reward programs.
Offer any of these incentives for liking your page, commenting on your posts, or signing up for your e-mail list. Encourage your happy and loyal customers to shoot a video and post it to your social media or to the website, or to take a photo of how they use your product.
Make your customers feel like they're part of something bigger than themselves. Let them know that they are part of your story and that you appreciate them.
So once you've nailed down your customer engagement strategy, how will you know if it's working?
Measuring the success of your customer engagement strategy
No strategy is "set it and forget it." Once you have your customer engagement strategy in place, it's time to measure and continuously improve it.
Here are some KPIs and metrics you need to track:
1. Customer Engagement Score
The Customer Engagement Score (CES) is one of the best tools for measuring customer engagement. With it, you can identify who is likely to convert to a paid customer after a free trial, see who is ready to buy more products from you, and discover who will probably churn or leave for a competitor. CES is calculated based on your customers' activity.
You can measure activities like: website visits, new sessions within a certain timeframe, purchases made, resources downloaded, projects started, messages sent, number of registered users, features used, and more.
How to calculate your Customer Engagement Score:
Start out by determining which actions are the most important for your company to measure.
Next, assign a weight to each of them. Action A (a purchase) might be more valuable than action B (a click),giving it a higher value.
Then calculate your CES using this formula:
Wt – Weight of a random event.
Nt – Number of occurrences of a random event.
2. Conversion rate
While the term conversion rate can seem complicated, at its core, it's very simple. Your conversion rate is the percentage of people who take a desired action. Those actions can be many things, but some of the most common are: opening an email, clicking on a link, downloading a case study or resource, signing up for your email list, scheduling a call, or making a purchase.
Look at your customers' journey. Let's say that you know from your research that once a potential customer becomes aware of your solution, they typically look for information that helps them compare your solution with others they might be considering. That type of information could be case studies, PDF resources, checklists, testimonials, technical manuals, or a chart comparing features and benefits.
In this case, if your customers are visiting your site, downloading your resources, and then booking a call as a result of your follow-up emails, you know they are converting and your efforts are paying off. But if you are losing people at one stage or another, you can see where they are dropping off, make improvements or adjustments, and measure those results.
3. Net Promoter Score
The Net Promoter Score (NPS) is a measure of customer satisfaction that asks customers how likely they are to recommend your business to a friend. Word-of-mouth is still very powerful marketing.If your customers aren't happy enough to give you referrals, you must find out why not.
When you track your NPS consistently, you'll learn how happy your customers are right now and gain insight into evolving trends. You'll also get a measure of how long they are likely to stick with you and where you may need to improve.
You can learn how to calculate NPShere.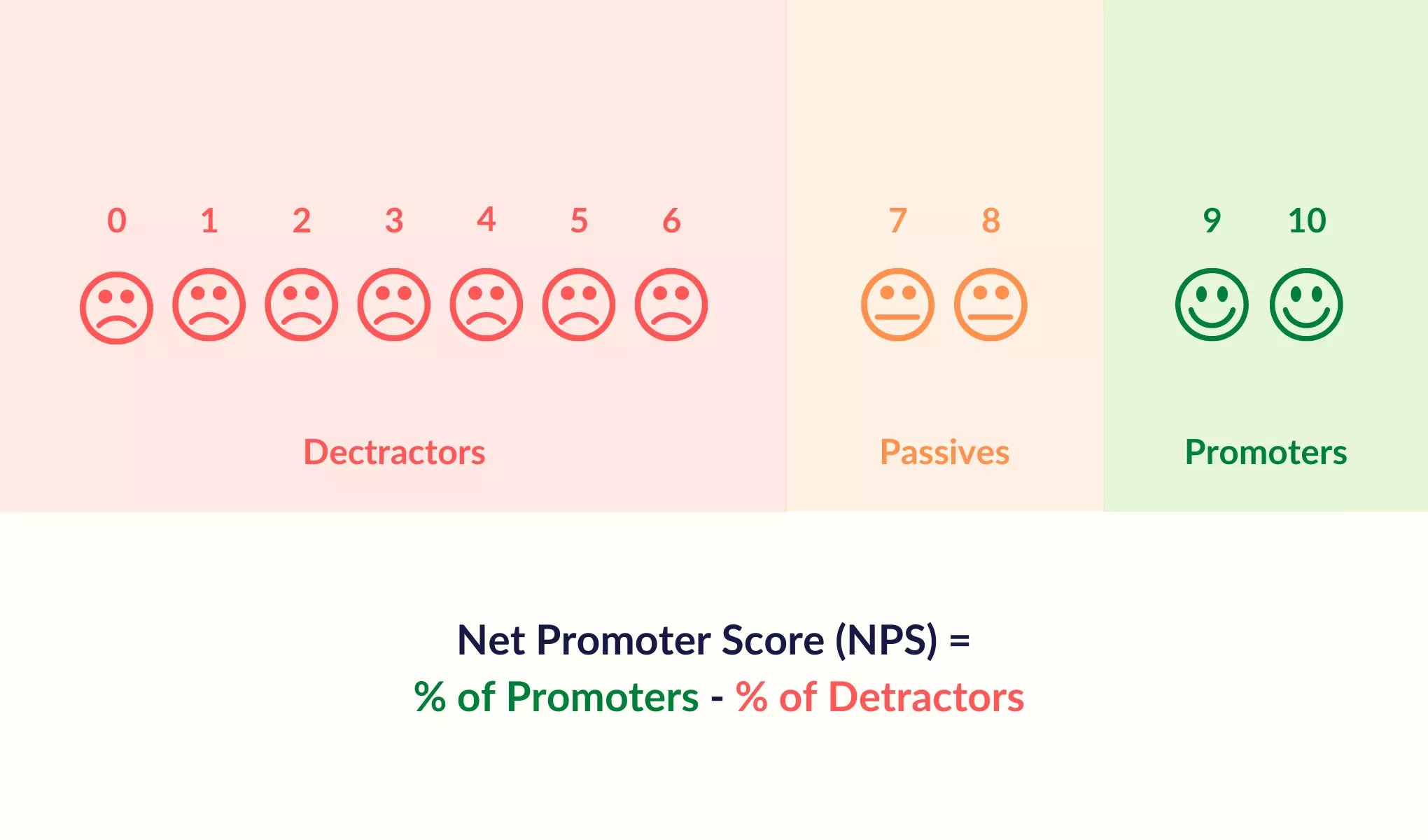 4. Social mentions, likes, comments, and shares
There are many social media metrics you should track, but social mentions, likes, comments, and shares are the more visible ones to track for customer engagement. Social media is built specifically around engagement, and the more people share, comment, and like your posts, the more visibility your brand will receive. It's a virtuous cycle.
So don't be afraid to test, measure, and then test again. Social media is constantly changing, so your approach will likely have to grow as well. But the basics always stay the same: encourage conversations and discussions, stay active, respond kindly and professionally, and genuinely aim to help and share value.
5. Online reviews of your brand, products, and service
Reputation.com has found that high customer engagement increases Reputation Score, and there are direct links between high Reputation Scores and revenue in multiple industries. So your online reviews definitely impact customers' purchase decisions.
But many companies aren't managing their online reviews closely enough. The Retail Reputation Report found that most retailers don't respond at all to online reviews — especially negative ones. That doesn't send a good message.
Monitor and respond to your reviews online on both first-party and third-party review websites. Own up when you make a mistake, work to make things right, and carefully guard your reputation.
6. Pages Per Session
Pages-per-session measures how many pages visitors load in one visit to your website. It helps show how engaged visitors are with your site. But it is only one part of the story.
Your pages should be attractive, provide value, and be easy to navigate. When they are, visitors will naturally click around out of curiosity.
But don't necessarily fear a low pages-per-session metric. Always consider your visitors' intent. If they want to place an order and can quickly and easily find the right page, then pages-per-session can and should be low. On the other hand, if they are researching an expensive product, reading posts and case studies as they make up their minds, they will naturally read more on a well-designed site.
7. Session time
Session time, or time-on-site, measures how long people spend browsing your site. In general, the more time visitors spend, the more engaged they are.
Ideally, the folks who spend a lot of time on your site are doing so to check out your amazing content. When session time trends upward, it's a strong indication that your overall engagement is increasing.
But note that just as with pages per session, user intent and conversions matter. If your visitors head directly to a landing page and buy, they're finding what they need quickly and easily, and you can safely assume they're happy.
8. Bounce rate
Bounce rate measures the percentage of people who have visited your site, looked at only one page, and immediately clicked away. However, this metric also means very little on its own.
A high bounce rate could mean that people are landing on your website, possibly not finding what they're looking for, and leaving immediately.
But let's say a customer comes to your website to locate your phone number or address. They find it immediately and then call or visit you. That's a conversion — which is a good thing. So again, always look at your bounce rate in relationship to your conversions.
9. Churn rate
Customer churn, or attrition, is the percentage of customers who stop purchasing during a certain time period, usually one year. You can find your churn rate with this formula:
Churn rate = (Customers at the beginning of the month (or year) – Customers at the end of the month (or year)) / Customers at the beginning of the month (or year)
A lower churn rate is usually better. That's because it's easier — and up to 5 times cheaper — to sell to an existing customer than to acquire a new one.
Also, a happy current customer is more likely to refer your brand to their friends and family.
Boost your business' customer engagement
Now you have a better idea of all that's involved in engaging your customers, encouraging customer retention, and building loyalty, you can look at your own business, see where you might be faltering, and use these tools and suggestions to make improvements. Work closely with your marketing team to ensure their marketing campaigns and loyalty programs are designed keeping the above pointers in mind.