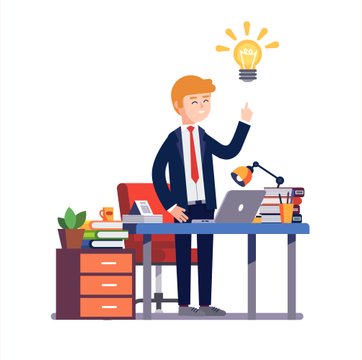 Table of contents
Deliver fast and empathetic customer service without leaving Gmail!
10 Reasons Why Traditional Help Desks Don't Make the Cut
Jun 09, 2023
|
8 min read
|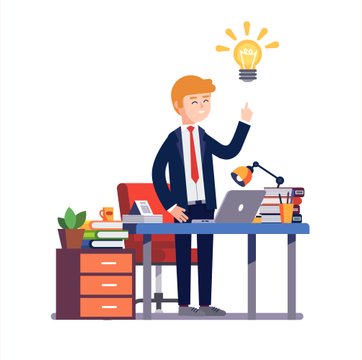 Table of contents
Excellent customer service is what tops the list of every customer looking for a solution from a business. 90% of American consumers say that customer service is a key deciding factor when it comes to buying a product. It's up to the business to get this right. If done well, it can go a long way in creating trust and brand loyalty in your customers. On the flip side, if you mess it up, then disaster is at your doorstep. With a plethora of options available to your customers, it won't be long before they ditch your brand and head to a competitor.
So, this brings us to the mammoth question – what must be done to offer exceptional customer service to win the trust of your customers? To find the answer to this question, you must think about what matters most to your customers. Is it timely service, a satisfactory experience, or both?
Are helpdesks the answer? Although they were designed to make your life easier, traditional helpdesk software has plenty of room for improvement. In this article, we will explore the disadvantages of a conventional helpdesk and why it is high time to bid them farewell. But before we tread any further, let's start with the basics.
What is a helpdesk?
A helpdesk is a solution that helps businesses streamline customer service workflows and handle customer requests quickly and efficiently. It allows you to offer the best customer experiences to your customers.
Helpdesks come packed with features to provide you with the right understanding and context into customer experiences. They also come with features that let you assess the performance of your support staff and make sure customers have a hassle-free and delightful experience with the brand.
Typically, helpdesk software allows customer service teams to manage requests through a 'ticketing system'. Tickets are assigned to specific members of the team and maintained in a centralized system. Today a lot of companies are turning to ticket management software to overcome recurring issues faced by the support teams. However, it's important to get into the nitty-gritty and evaluate its pros and cons before you set out to invest in it.
Why do businesses use a helpdesk?
Most support teams have multiple people handling customer conversations, at the same time. If this is taking place across multiple email accounts — it can get a little difficult to get complete context, know who the customer already spoke with at your organization, or keep duplicate responses at bay.
This is where helpdesks come in, they get all the customer interactions centralized to one platform, bringing clarity as different conversations can be cross-referenced for better context.
Businesses use a helpdesk for the following needs:
Creating support tickets for customer queries
Ticket routing to different agents for problem-solving
Tracking the status of a request – whether it has been responded to and how quickly it was resolved
Categorizing and prioritizing customer requests
Though help desks were meant to bring in a certain structure to the support team and help them resolve customer issues quickly, they ended up doing the opposite. Traditional bulky helpdesk systems miss the mark on several accounts. The very fact that they are designed to handle anything and everything, makes them heavy, bulky, slow, and complex. They unnecessarily complicate support delivery.
Today's customers are not just looking to get their problems resolved but they expect you to offer them delightful experiences at every touchpoint in their journey. Customers expect empathy and understanding from support agents, something that service teams have overlooked in the past. All the while, their focus was on fixing issues at the quickest possible time.
Companies that have realized this, have made amends and discarded the traditional approach to customer service that includes bulky helpdesk solutions. Others are still scrambling to find their way.
10 disadvantages of a traditional helpdesk
We have laid out the pressing issues that haunt businesses that depend on traditional helpdesk solutions:
1. Involves a steep learning curve
When a company decides to switch to a helpdesk solution, little do they know that it involves a huge learning curve. It will take the employees a good amount of time to get a grip on the software solution and its interface. What further slows down the process is the fact that most of these solutions come with overly customizable tools making it difficult for teams to master them all in a short time.
That said, it doesn't mean that you shouldn't invest in a helpdesk solution at all. Before taking the plunge, take stock of what your needs are and find a solution that matches your team's requirements and work culture.
2.Lacks the human touch
Another disadvantage of help desk tools is that they fail to understand how severe a complaint or problem is and end up treating them all the same way. Sometimes a simple and a complex issue are both met with the same response saying, "someone from our team will revert in the next 24 hours". There is nothing more annoying to a customer than having their request queued for processing.
Automated and impersonal responses that are sent out without weighing who the customer is and what is the magnitude of their problem, can do more harm than good. Quite often helpdesk solutions are only aimed at how quickly a ticket can be closed. They fail to take into account the customer's journey and have a distorted view of customer needs and pain points.
3. Complicated to use
The only saving grace of helpdesk tickets is that they set some order in an otherwise chaotic email support system. Come to think of it, tickets are just emails. With tickets, all you are doing is putting the customer requests and complaints that flow into a particular sequence that makes service delivery easy.
If you have set up a helpdesk tool to manage customer support, what you do is move the query or complaint from your email inbox to a new platform, resolve it on that platform and then get back to your email to shoot a response to your customer. Notice how complex the process is? With such a complicated and time-consuming setup, support delivery and efficiency take a hit.
4. Tough to implement
Easy implementation is the first step towards a great user experience. If a product is tough to implement, it will be harder to categorize it as 'easy to use'. When the process of setting up is tough in itself, you can imagine how putting it to use will unfold. With some helpdesk software, you have to create an auto-forwarding rule that has to be repeated for each member of your team, making the end user experience cumbersome.
5. Focuses on improving customer service efficiency over excellence
There is a world of a difference between solving problems and providing excellence — this is primarily dependent on how customer-centric your support team is. Every company that is committed to enhancing the customer experience will keep a close watch on their customers' journey at every stage of business operation and will work towards improving it.
The focus should not be on resolving 'x' number of tickets within a certain time frame but to ensure you get the context right.
Let's look at an example: When a customer contacts your business, their issue is immediately assigned a ticket. The customer then becomes a mere ticket number – a ticket that focuses on a small part of the bigger problem. This is where the meltdown begins.
From there on, the customer's issue traverses through several departments where everyone who comes across it, tries to resolve it at the fastest possible time. Let's not forget that the traditional helpdesk tucks people and channels away in silos, leaving them with an issue at hand but without adequate context.
Take a look at another example where a Twitter user was chased away by cops for drawing an illustration outside Bank of America depicting the bank in a bad light — of how the bank was taking away people's homes. The user then posted the image of the illustration on Twitter. The bank's Twitter handle jumped in to respond without any context about the tweet, giving robotic responses to those who joined in the thread.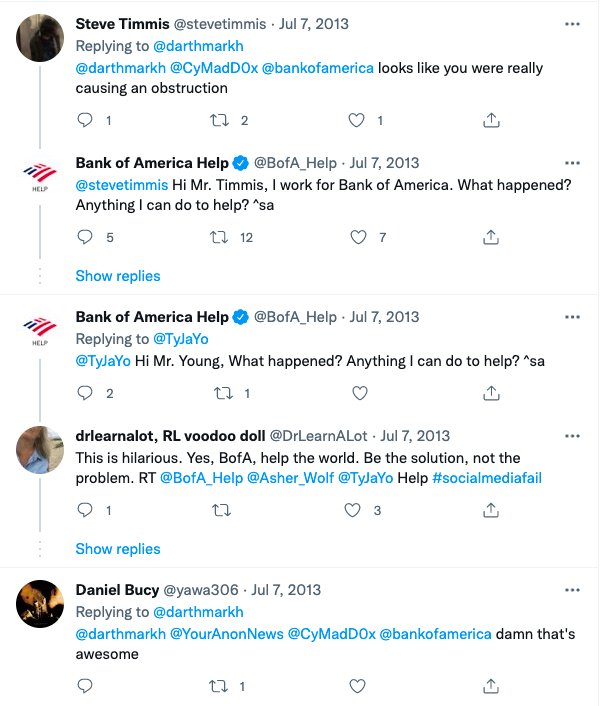 Most helpdesk solutions follow this approach. Besides being quick with your support delivery, what matters the most is getting the context right and focussing more on why a grievance has occurred in the first place.
6. Cost concerns
Businesses often opt for helpdesk solutions that are packed with too many features. However, more often than not, apart from increasing the cost and complexity of the help desk, these extra frills and features don't serve much purpose to improve the quality of support or ease the team's workload.
And if you're opting for an on-premise self-hosted help desk over a SaaS help desk, your costs are bound to soar even further.
7. Complicates Reporting
Reporting and analytics are integral to all business functions including customer support. When team members can keep a tab on their own performance, they can work at improving it. That's where support analytics come in handy. It tracks and creates reports on customer activity, agent response rate, and customer satisfaction rates.
The sooner you notice a dip in the customer satisfaction rate, the faster you can act upon it.
That said, in traditional helpdesks, the reporting process itself requires so much learning and training on your part that a lot of time gets wasted which could have been otherwise put to doing more important tasks.
A classic example of complicated reporting is Front App. Though extremely comprehensive, Front App hasn't done a great job with terminologies and parameters used in reporting. It's confusing for FrontApp users to figure out the difference between basic terminologies like Conversations, Replies, and Messages.
8. Dishevels flow of communication
With traditional helpdesk solutions, internal and external communication tends to overlap. For example, in Help Scout, incoming emails, replies, internal email notes, status, and activity log, all form part of the same thread — everything's mixed up. This is the perfect setup for chaos where internal and external messages are woven in the same thread. This being the case, there are high chances of internal communication spilling over to customer conversations. It doesn't paint a good picture of your support team, does it?
To add to the woes, traditional helpdesk solutions create silos, where people work independently, confining not just themselves but information as well. It can be quite frustrating to customers who find themselves repeating the same thing over and over again to new people, every time they connect over a new channel or are re-routed for some reason.
9. Does not focus on building long term customer relationships
We have gone over a couple of times how traditional helpdesks miss the big picture when it comes to customers and their problems. Its focus is on solving customers' immediate problems rather than studying the 'why' behind it. Customer feedback takes a back seat. Tickets are numbered complaints created for customer service agents to resolve and get done with. There is hardly any effort going into figuring out why the problem emerged in the first place. Such understanding is the need of the hour particularly if you have multiple complaints cropping up around the same issue.
A well-oiled customer support function is one that can get the big picture, and transform the process of problem-solving into an interactive and engaging experience. That's what counts in the long run.
10. Forces you to step away from a familiar interface like Gmail's
Last but not least, traditional helpdesks force you to move away from an interface that you may know like the back of your palm – Gmail – to an external and more complex tool. You leave behind all the features that you have mastered to a completely new platform where you have to pick things up from scratch.
Get past the disadvantages of a bulky helpdesk software
Taking a cue from all the points that we have laid out here, it's pretty clear that traditional helpdesk solutions don't make the cut. In today's day and age, customers are looking for quick, reliable, and personalized services and are drawn to brands that care about their buying experience.
If you have been thinking of moving out of Gmail and adopting a helpdesk solution because you think Gmail doesn't do justice to customer support, stop right there! When you manage all your work within Gmail, moving your support function to another platform would only mean more work and more stress for you. Instead, customer service software like Hiver that works right within Gmail offers you all the added functions that you need to ace customer service from a familiar interface. It has all the robust capabilities of a help desk like easy task assignment, automation, live chat for real-time support, advanced metrics reporting, Service Level Agreement (SLA) monitoring and more, sans the complexities of one.
Always stay a step ahead with Hiver
We built Hiver shared inboxes for businesses just like yours, to manage customer support with ease, right from Gmail. Always stay on top of customer emails and chats and show your customers that you care with timely and human support.
Get started with Hiver and deliver excellent support at every stage of the buyer's journey. Request a demo today.
---
Resources you'll love: