Table of contents
8000+ teams use Hiver to delight their customers!
Customer feedback can make or break your brand.
You can spend thousands of dollars on complex marketing or sales strategies, but one negative comment from your current customers can drive away any potential new ones. Research by Hiver found that as much as 89% of customers publicly talk about their poor customer support experience.
So acquiring new clients isn't enough. You also need to make sure they become loyal customers and, eventually, become brand advocates.
Of course, the only way you'll get customers to advocate for your brand is if you give them the best possible experience. After all, who would promote a product or service they don't like? In fact, they might end up bashing your brand instead if their exposure to you is truly horrible.
We need to take a look at how you can optimize the customer experience and turn customers into advocates.
First, let's discuss how to assess your customer so that you figure out what they need and what you can offer to them.
Table of Contents
Assessing Your Customer
Have you ever tried contacting customer support and got a canned response? It probably wasn't a good feeling, was it?
The most important thing to note if you want to improve the customer's experience is that everyone likes it when their specific needs and situations are taken into consideration. And that's why the first step to winning your target market over is assessing your customer.
You can use any method you want, like surveys, interviews, etc., but make sure you know the answer to these four questions at the end of the day:
Who is your customer?
What problems are they encountering?
How can you help your customer?
Where can you get in touch with them?
Let's discuss this in more detail below.
1. Figure out your buyer persona
Who is your customer?
Is it a small business owner? An executive for a large company? A student? Buyers have different motivations and considerations when making a purchase.
For example, if you're offering a VoIP solution, a small business owner would be more concerned with how it can improve their day-to-day operations. On the other hand, an IT manager for a large company would be more concerned with how quickly the transition to a new system can be implemented.
If you don't know your customer, you won't be able to address their issues adequately, leading to a poor customer experience that will discourage them from advocating for your brand.
2. Identify Customer Pain Points
What problems are your customers experiencing?
Pain points are specific issues that your customers are currently experiencing or may encounter in the future. As already discussed, every buyer has a different set of needs and problems. Identifying pain points specific to their situation will show your customer that you understand their issues and are ready to help.
3. Find Opportunities to Offer Solutions
How can you help your customer?
Once you've identified your customer's pain points, look at your own products and ask, "How can my products help the customer?" And you shouldn't limit your opportunities to the initial inquiry.
For example, a potential customer might only be interested in a company's video meeting solution during the initial inquiry stage. But if one of their pain points is poor team communication, they might also be interested in a unified communications solution in the future.
Showing that you understand your customer and are actively looking for ways to make their lives easier is a great motivator for advocacy.
Here's an example of a landing page by Eachnight that collects customer data and suggests the best product based on the customer's preference.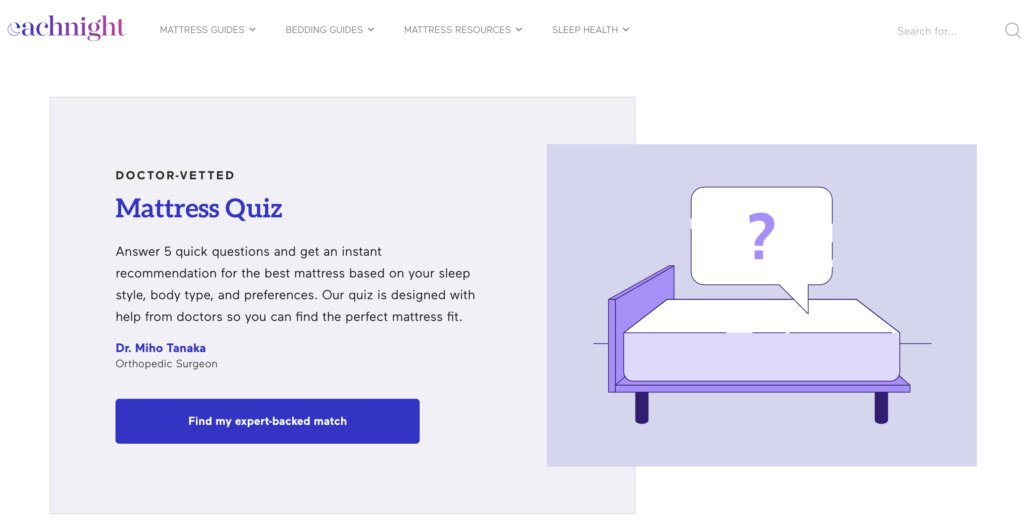 4. Determine Customer Touchpoints
Where can you get in touch with them?
A touchpoint is any place where your customer interacts with your brand. This could be anywhere—from your website, to your blog, to your support or marketing emails. Taking note of this could give you insight into your customer's behavior and preferences. Where do they interact with your brand the most? What articles are they engaging with?
Engage with your customers through multiple touchpoints, and ensure that communication between you and them is easy to understand and consistent. Not being accessible is a common detractor for customers to advocate for a brand.
For example: a QR code (generated via a QR code generator) can be pasted on the delivered package to give surprise rewards to the customer which further helps brands in delighting them.
Now let's check out how you can optimize the customer journey and provide effective solutions to your clients.
Mapping Out Your Customer Journey
As its name suggests, the customer journey is a timeline of a customer's history with a company. The road from awareness to advocacy is long and comes in several stages, each with its own unique set of challenges. This is why it's important to not only understand your customers but also to know where they are in their customer journey.
Pro tip: Using timeline software to create a quick visualization of your customer journey is a simple hack to create a timeline fast and easy.
Here is a brief explanation of each stage in the customer journey map:

1. Awareness
This stage is where your prospects become aware of your brand's existence. At this stage, they're probably seeing it in ads or promotional campaigns. If they think your product can solve an issue they're experiencing, they'll move on to the next stage.
2. Consideration
In this stage, your prospect is starting to research whether your products are a good fit for their needs. They're reading your blogs, watching reviews about your products, and assessing whether their own resources can accommodate the change. Inquiries are usually made during this stage.
3. Acquisition or Purchase
If your sales and marketing teams were successful in convincing your prospect to purchase, you'll move on to the acquisition stage. This stage is all about assisting your customer through their purchase. Help them with transitioning, installing, or setting up equipment to ensure that the purchase is as seamless as possible.
4. Implementation
This is the stage where your customer is actively using your product. In this stage, it's important to be available for any troubleshooting or support requests from your customer. The goal here is to retain the customer and prevent them from canceling a subscription or choosing another brand.
5. Advocacy
If your customer is satisfied with your services, they'll recommend and promote your brand, becoming brand advocates. At this point, it's just a matter of maintaining the quality of your service. But if you want to go above and beyond, you can also look for other opportunities for expansion by offering new products or services that can help your customers further.
The stages outlined above are the most commonly known, as they apply to most situations. But ideally, you want to create a customer journey map that's specific to your target market and brand.
From Acquisition to Advocacy
No matter where you are in the customer journey, optimizing the customer experience ultimately boils down to solving a problem your customer is facing. So if you're starting to feel like you're losing your customer, go back to your previous customer assessment and apply it to your new situation.
At the acquisition and implementation stages, what are the problems you're most likely to encounter? Probably installation and troubleshooting issues. How can you resolve this? By maintaining clear communication lines with your customers during their transition and usage period.
If you feel like a customer is getting frustrated, get in touch with them and get their feedback. Chances are, there is a particular pain point that you can address to improve their experience.
There are many factors that can affect a customer's decision to purchase your products. Sometimes, your product is just not a good fit for them. But the road from acquisition to advocacy is almost entirely in your hands.
Providing them with quality service and consistent communication, and being empathetic to their needs are the keys to turning loyal customers to brand advocates.
Resources you'll love: