Table of contents
Transform your Gmail into an intuitive helpdesk
No matter your organization's size or industry, if you want to provide impeccable customer service, your team needs the right tools for the job.
And if you're running on Google Workspace (formerly G Suite),you'll want to be sure that the tools you use not only give your reps the resources they need to help customers quickly and efficiently, but also integrate seamlessly with your current tech stack.
There are innumerable tools to choose from. Deciding among them can seem overwhelming.
But if you know the key functions at which your customer service support team must excel at, it's easier to choose the best tools to help.
This post will give customer service managers and heads of companies using Google Workspace a comprehensive guide to understanding the best customer service tools to invest in.
But before that, let's look at why Google Workspace is the right office suite for your business.
Table of Contents
Why Google Workspace is the best office suite for customer-centric companies
There are many excellent reasons for your organization to choose Google Workspace:
24/7 Accessibility — A critical consideration in our work from anywhere, at anytime environment. No connection? No problem. Users don't even need an internet connection much of the time.
Easy Admin — The Google Workspace admin console makes it easy for IT administrators and managers to monitor user activity and productivity as well as identify and mitigate potential security threats and approve trusted apps.
Intuitive Data Management — Google Workspace offers smooth, seamless migration of data between devices and servers with Vault, Google Backup, and Sync. Preserve the important data that you need for as long as you need it.
Simplicity — Google promises and delivers ease of use over fancy design, allowing your agents to work productively with less frustration.
Reliability — Documents and files are saved automatically, without having to name them first, saving users loads of headaches and frustration over lost work. In addition, Google Workspace's SLA guarantees 99.9% uptime in each calendar month.
Enterprise-level Security — Manage accounts, devices, and security access with Endpoint Management. Your devices and data are always protected, even if they're lost or stolen.
While Google Workspace may lack some of the more sophisticated (bloated?) features of other office business productivity suites, Workspace focuses on your team's core collaborative needs, and keeps things simple.
That simplicity makes a huge difference for organizations.
Google's research shows that "while both (Google Workspace and Office 365) have a positive impact in the area of collaboration, Google Workspace consistently drove bigger impacts, and sometimes by a sizable margin."
As an example, 84% of Google Workspace users edit and review with their teammates in the same document during meetings, while only 69% of Microsoft 365 users do the same.
In addition, 95% of Google Workspace users say they easily collaborate with multiple people on the same document compared to 84% of Microsoft 365 users who agree.
These benefits can translate to significant productivity and team satisfaction improvements over time.
Recommended Reading
Now let's go over the top customer service tools Google Workspace users should invest in.
Top 7 Customer Service Tools You Can Integrate with Google Workspace
Once you've decided on Google Workspace, you'll want customer service software solutions that integrate with it right out of the box.
That's because apps that are built to run on Workspace enhance your existing Google services. They make software installation, user adoption, and administration a breeze.
Your customer service support team will save on training time, become productive more quickly and easily work seamlessly across multiple platforms, all from inside Google Workspace.
Single sign-on capabilities simplify logins and increase productivity and eliminate the duplicate work and wasted time that comes with toggling back and forth between apps. Finally, integration means that data inconsistencies between apps are eliminated and you can avoid the inevitable human error from time-consuming, manual processes.
Convinced? Great!
Here are the top 7 customer service tools we recommend for Google Workspace users:
1. Help desk ticketing system — Hiver
If you're committed to being a customer-centric organization, you must invest in e-mail as a customer support channel.
That's because email is one of the most user-friendly, cost-effective, and efficient ways to deliver excellent customer support. When you invest in the right email ticketing tool, you can painlessly scale customer support as your organization grows. Your team can focus on providing memorable customer experiences while you let your tool do the heavy lifting in the background.
Your customers also expect to reach you through email.
Help desk ticketing software is an indispensable tool to help you streamline, organize and optimize workflows. Without it, you'll juggle ever-increasing numbers of customer queries with issues inevitably falling between the cracks. You'll be forced to keep track of more and more complex and confusing email threads.
Hiver is the world's first Gmail-based help desk software that lets you offer email, chat support, voice support and WhatsApp messaging support to your customers. It's been built for Google Workspace with the same familiar look and feel, assuring your team an easy learning curve and quick adoption.
Hiver offers all the features you expect — automation, tagging, tracking, customer feedback surveys, metrics reporting, notes, and analytics  knowledge base, customer contact management, Conversation ID, Approvals, live-chat and integrations with the most frequently used apps — while at the same time humanizing the customer support process.
Hiver is the best customer service software for fostering natural customer conversations and long-term, meaningful relationship building. It doesn't turn customer requests into ticket numbers.
And its usefulness isn't limited to customer service. Your finance, accounting, IT, and other teams can also rely on its shared inboxes and chat support for better collaboration and productivity, especially when working remotely.
When you add in Hiver's excellent, 24/7 customer service, it's easy to see why it's a natural choice. Hiver offers a free 7-day trial to all its users.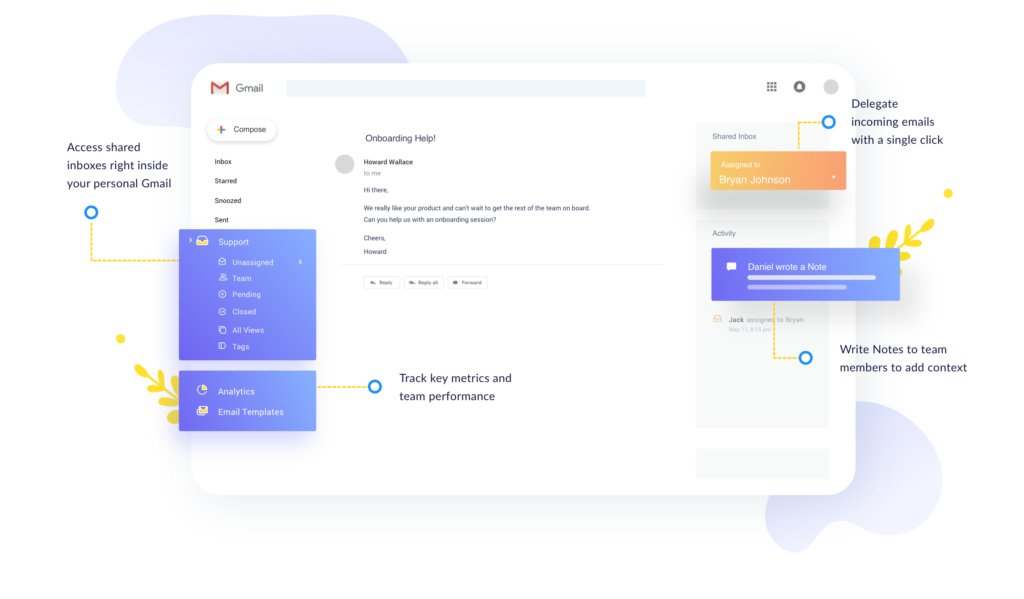 2. Customer Relationship Management (CRM) software — Copper
Copper.com is team-based relationship-building software that helps you win customers for life. It's ideal for small businesses, with subscriptions starting at 3 seats and scalable to unlimited contacts and seats. It boasts native integration with many popular business apps with the potential to build your own via Zapier, Tray.io, and open API.
Copper is perfect CRM for consultant's and also for companies transitioning from spreadsheets to their first CRM.
It lets you finally organize all of your scattered contact info, eliminating the need for manual entry. It automatically tracks emails, calls, files, and notes to build a full customer relationship history. Smart workflows let you automate administrative tasks like logging calls, meetings, tasks, and activities.
Copper lets you spend less time maintaining your CRM system and more time building relationships. You get more personalization with less effort, including follow-up emails and nurture sequences that help you check in with hot leads before they cool off. You can automate all your important customer and business communications based on fully customizable traits and behaviors that matter to your business.
Copper has a Chrome extension and a Google Workspace add-on that feature calendar management, meeting scheduling, file and email synchronization, and two-way contact syncing.
During your 14-day trial, you will have access to the full capabilities of Copper. You can experience the full power of the tool before deciding on your final plan.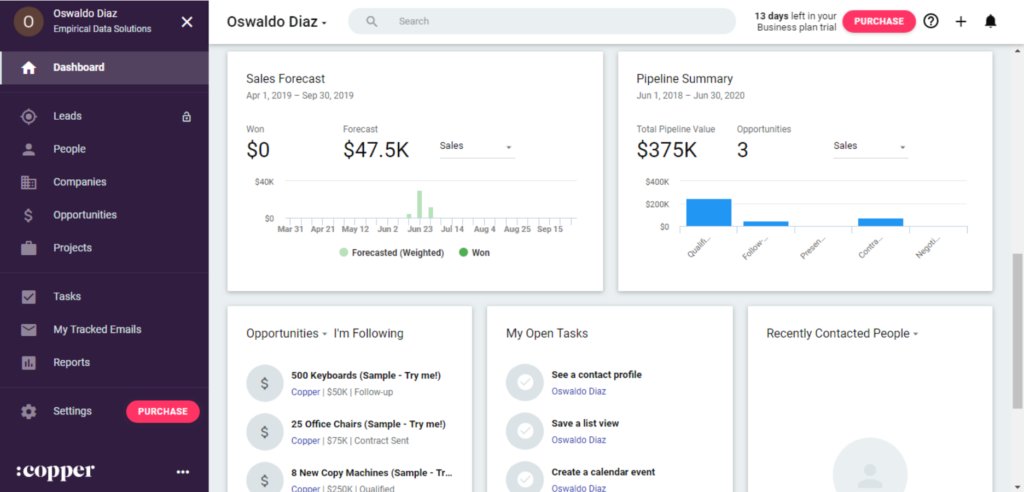 3. Knowledge base software— Document360
Knowledge bases are increasingly becoming necessities for any company offering customer support.
For one, customers prefer knowledge bases over all other self-service channels.
But knowledge bases also offer impressive benefits for team collaboration.
Knowledge bases are particularly valuable in geographically dispersed organizations that require support in different languages. It's hard for large enterprises to keep up with the massive numbers of customer questions and requests they receive every day. Multiple language knowledge bases help all customers get a personalized, localized customer service experience.
Document360 is a popular customer service knowledge base software that helps create self-service options for your customers. It allows you to scale your business by providing 24/7 customer support. You can also create an internal knowledge base for customer service executives that they can refer to at any point in time.
Document360 comes with AI-Powered real-time search, which helps your customers find solutions for their problems instantaneously. It also enables employees from multiple departments to maintain and share knowledge amongst themselves, by offering a secure cloud-based repository to upload and share files.
It supports numerous SEO functionalities to enhance the visibility of your knowledge base on search engines. Additionally, you can set up a multilingual knowledge base to support clients worldwide.
With the Document360 Chrome extension, you can access and look up content on your knowledge base from your browser, anywhere and anytime. It also offers numerous connectors with helpdesks, chatbots, and team communication tools like Zendesk, Slack, Microsoft Teams, Zapier, etc.
Document360 provides a 14-day trial where you can access the full knowledge base portal for free.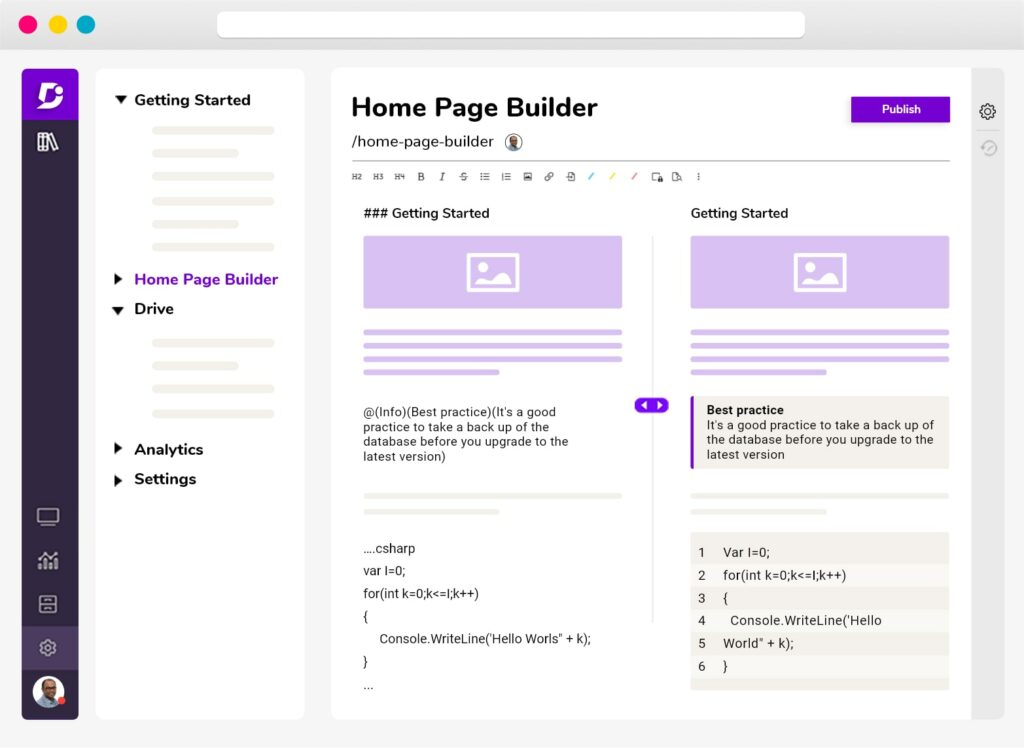 4. Project management software — Asana
Asana is a popular project and process management tool. It helps you organize, prioritize, and track tasks, hit your deadlines, and achieve your goals faster.
It lets you manage multiple teams and is scalable for any size organization.
For customer service teams, integration with Google Workspace is especially important. You can empower your team to better serve your customers. For example, when a customer's request involves an engineering issue, agents might have to update information in different tools and act as a liaison between the client and engineering. When tools don't talk to each other, team members must compensate with a lot of manual effort, status updates, added details, and feedback in multiple apps. Better integration between business tools avoids much wasted time, frustration, and duplicate efforts.
Use a widget to easily access Asana projects, add tasks, assign due dates, and see them in Hiver. Automate parts of this process by creating rules in Hiver. For example, adding a comment to an e-mail exchange any time a ticket is updated — ensuring that your customer service team always has real-time updates from Asana.
You can also add Asana tasks for new emails in Hiver shared mailboxes using Zapier for things like conversations updated, new CSAT ratings received, inbound or outbound conversations with new customers and prospects, new e-mails sent or received, or SLA violations.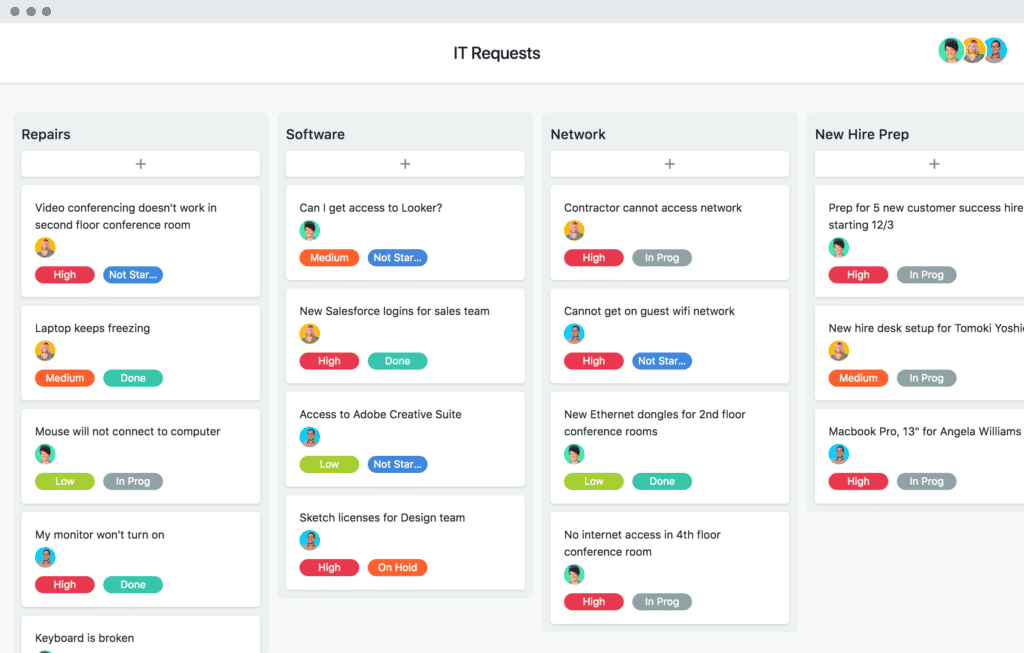 5. Live chat software — Olark
Why does your organization need to embrace live chat?
Here are just a few reasons:
And you don't need to be a big business. Any size organization, no matter where you're located or what your industry, can benefit from real-time chat.
The biggest benefit of a chat tool is that it enables you to help customers whenever and wherever they need it. It also helps you significantly lower response times.
But Olark doesn't stop there. Its customer data tools help you to learn and improve your support quality for every online customer interaction, thereby reducing repetitive requests and saving time, effort, and frustration.
Olark helps you to:
Organize and analyze customer data including notes and transcripts.
Optimize your products and services with customer service insights.
Increase conversions with improved customer service.
Jumpstart conversations by collecting basic information before chats begin.
Automatically send templated messages and special offers at exactly the right times.
You can update customer records and track visits and page views, save full conversation transcripts in searchable databases, and link your live chat data to your CRM and customer support software tools.
Plus, Olark offers comprehensive reporting with real-time dashboards, customizable email reports, and a detailed view of conversions with Google Analytics integration.
Off-line? Let customers leave a message so you can follow up later via email.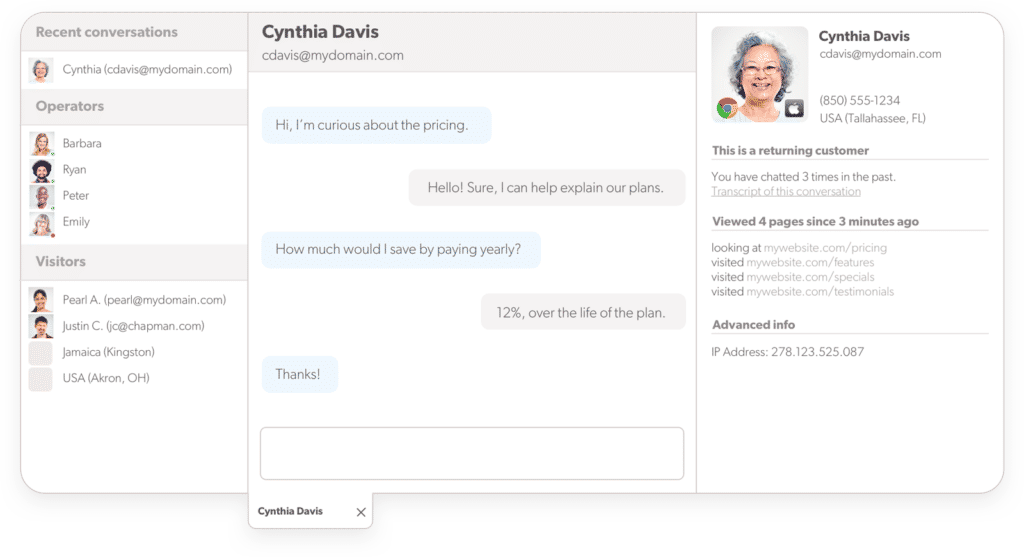 6. Internal collaboration tool — Slack
Slack offers one centralized and organized place for all your team communications. It helps keep everyone on the same page so you can make faster decisions and be more productive.
It's a welcome alternative to endless email chains, where messages can easily be missed, lost, or forgotten.
Slack lets you make real connections and have genuine conversations, which is often difficult through email. You can also share files (which is cumbersome in email) and seamlessly connect with your customer service tools (which email can't do at all.)
Slack allows for private and secure communications, organized by channel, via one-to-one or group messaging. Tag teammates when you need quick replies or wait until they're available for less urgent issues. Automate messaging with pre-scheduled posts. Members only get the messages from channels that matter to them by project, topic, or team.
Slack also lets you collaborate with external partners as easily as internal vendors, clients, or teammates.
Slack helped one customer support team achieve a 64% decrease in backlog tickets. You'll be able to resolve issues more quickly, strengthen customer relationships, and automate workflows.
Collaborate with your team no matter where you are through voice and video calls. Share links, screens, and files and instantly start meetings with your favorite software — including Zoom, Teams, and more — without ever having to leave the app.
You can access Slack with any device, anywhere your team is located. Searchable channels make sure you never lose track of conversations or files.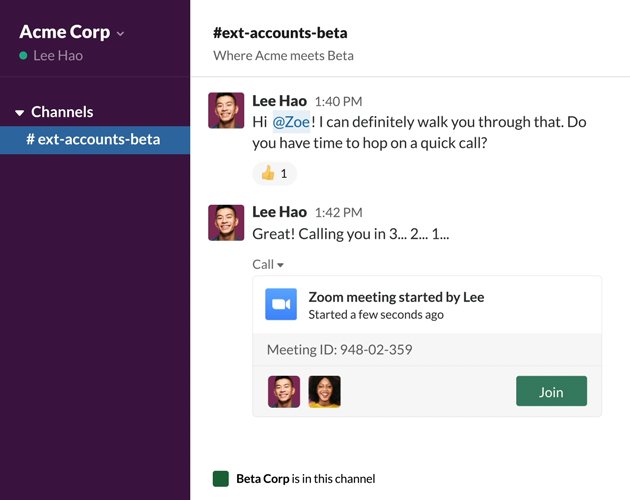 7. Phone and video communication software — Dialpad
Dialpad is not just a phone – it's the world's smartest business phone support system. It enables truly unified communication that connects you with your team or external partners across any device.
This award-winning software is revolutionizing business communication with one-on-one or group calls, chats, video meetings, texts, and file sharing on any device through Google Drive. You can do it all within one app that works on any device, including phones, tablets, or desktop computers.
Dialpad captures conversations and tracks action items, keywords, and sentiments and sends notes with call summaries right to your inbox.
Dialpad offers:
One-click phone calls.
Free unlimited video meetings on any device with no downloads. Join from your browser or calendar with one click.
Conversations organized by channels.
Scalable communications from one seat to unlimited.
Easy keyword-based search of any file or conversation.
Company directory and status updates.
Smart routing rules that automatically forward calls to the right person every time.
A promise of 100% uptime. Set your business hours and Do Not Disturb times and get transcribed messages when you return.
Customized notifications with filters for the updates that you need — but only when you need them.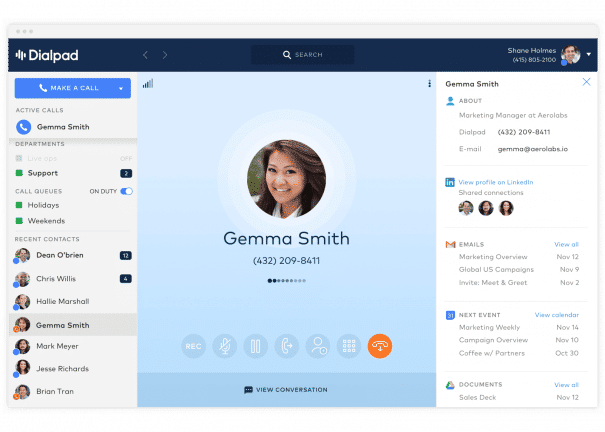 Google Workspace + Your Customer Service Tools = Memorable Customer Service
With the myriad of customer service solutions available to businesses of all sizes, it can be difficult to decide what will work best for your customer service team and business needs.
And you don't have time to waste – after all, your customer inquiries are still coming in!
If you're using Google Workspace, use this guide to make your decision process on customer service tools quicker and easier.
With Workspace integration, you can rest easy knowing installation and adoption will be a breeze.
So your team can focus on what they do best — customer retention and delight.
---
Resources you'll love: