Are you managing your customer support emails with Google Group's Collaborative Inbox? Be ready to spend time finding needles in a haystack.
How support teams arrive at the Collaborative Inbox
Email plays a crucial role in customer support. A staggering 72% of adults prefer to interact with brands and retailers through email, according to a study by the research firm Marketing Sherpa.
Naturally so, customer support teams strive to be efficient at managing support emails. But, the unfortunate truth is that you cannot solely rely on Email-in-its-original-form which lacks basic collaborative features such as assigning, delegating, or tracking the progress of tasks.
Companies that use G Suite / Gmail turn to the Collaborative Inbox when they hit this roadblock. Why? It's made by Google and people expect it to work like Gmail.
But, let me be blunt here — it is just a stop-gap arrangement.
Why Google Group's Collaborative Inbox fails at team collaboration
Google Group's Collaborative Inbox fails miserably as your support team tries to work together to solve customer problems. Let's take you through the lapses:
1. The UI is alien, nothing like the Gmail you love
The Collaborative Inbox's UI is completely different from the conventional Gmail UI. Your team will have to spend time learning how to use it.
On top of that, every time there's a new email in your support inbox, you will have to switch to the Collaborative Inbox.
It might seem like a tiny problem, but when you're handling say fifty emails a day, you've got a lot of switching to do.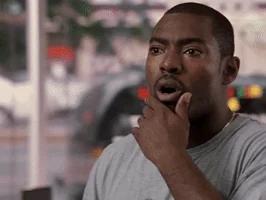 2. Google's Collaborative Inbox hinders transparency
Say an email arrives and one of your agents starts working on it. Guess what, the rest of the team does not know about it. To them, the email might still look unattended, unless the agent is announcing it out loud.
The email replies are again not visible to everyone on the team. Every time an agent replies to a customer, if they haven't CC's the group address, it skips the common inbox. What this means is: even when someone has replied to a customer email, it could still look unattended to the rest of the team.
The lack of visibility means your team will not always be on the same page. Not just that, it becomes impossible for managers to track the status of emails.
3. Fails at internal communication
Customer support is hardly ever a one-person-show. Agents collaborate with each other or with other departments to solve problems — exactly where things get messy for Google's Collaborative Inbox users:
With syncing options missing from the scene, agents will have to forward the same email to multiple email addresses.

There is no way to separate internal and external communication. For example, if you wish to pass on some information to an agent, you will have to write a reply on the same thread or create a new thread altogether. Too many emails!
4. No way to prevent overlapping
Google Group's Collaborative Inbox lacks two fundamental features that make it susceptible to overlapping:
There is no natural way to find out if someone has started working on an email.

Users won't know if a teammate has started replying to the same email.
This essentially means multiple agents can end up replying to a customer about the same issue. It does not get more embarrassing than this!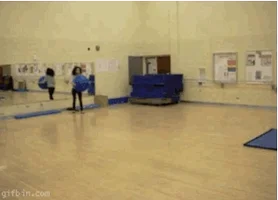 5. No way to measure the performance of your team
The Collaborative Inbox's reporting capability is limited to the number of emails sent and received. You can't do much with that, can you?
Well, great customer support teams are data-driven. You would want to find out where you are lacking, and who in your team needs coaching.
To conclude, the Google Group's Collaborative Inbox has far too many drawbacks and fallibilities. With customer support's ever-increasing profile, you just cannot afford to proceed with a stop-gap arrangement like that.
The Collaborative Inbox alternative your team will love
If you are looking for an alternative to manage your customer support emails, Hiver is the perfect solution for you, here's why:
You manage support emails right from Gmail
Hiver lets you manage your Google Group for customer support right from Gmail.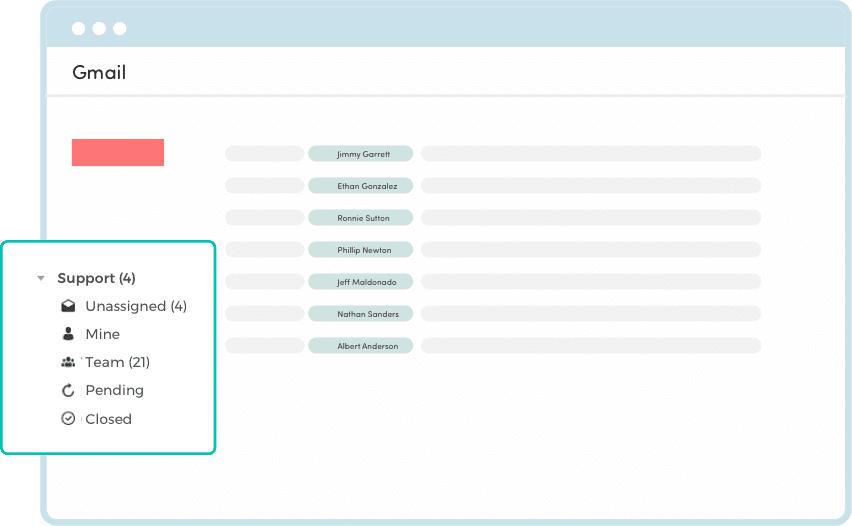 All the switching your team was doing when they were using the Collaborative Inbox — you put an end to that for good.
Want to delegate an email to your teammate? All it takes is two clicks from Gmail. There's absolutely no email forwarding involved here.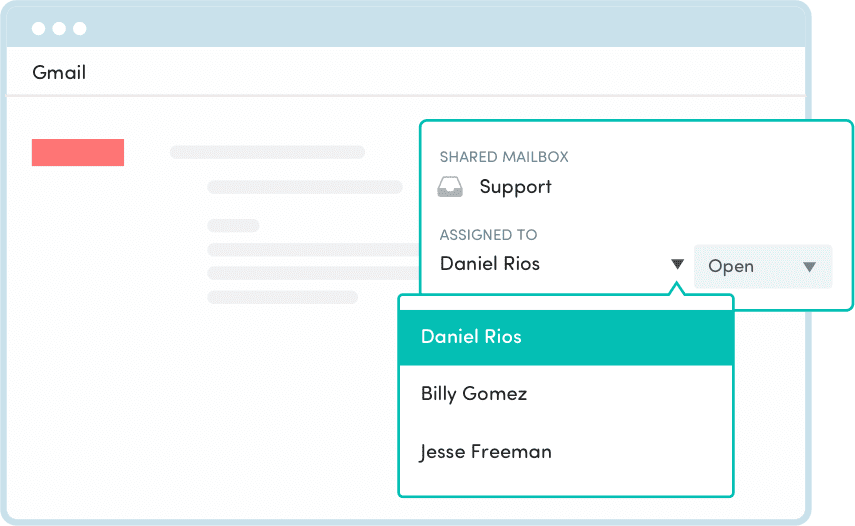 What this means for you:
Every email has a designated owner,
Your team has cleaner inboxes when you're forwarding fewer emails.
Your team always stays on the same page
When you assign an email to someone, everyone on your team knows that.
Your reps also get the ability to set a status for every email — Open, Pending, and Closed — again visible to everyone on your team.
The replies your reps make to customer emails are again visible to everyone on the team, regardless of whether they're CC'd on them.
What this means for you:
Everyone on your team knows who is working on what,
Knowing the status of tasks is instantaneous.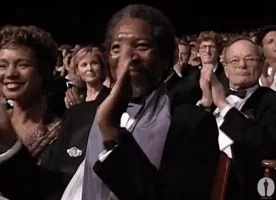 Hiver makes internal communication easier with Email Notes
When you're using the Collaborative Inbox, the only way you can communicate with your team is emails.
Agents often forward customer emails to teammates to discuss the problem and there is a good chance some of that leaks to the customer — as part of the trailing email.
Hiver solves this problem with Email Notes — it lets teams communicate without writing emails.
The really good thing is that Notes appear right next to the email thread you are discussing. You will not have to build the context for your team.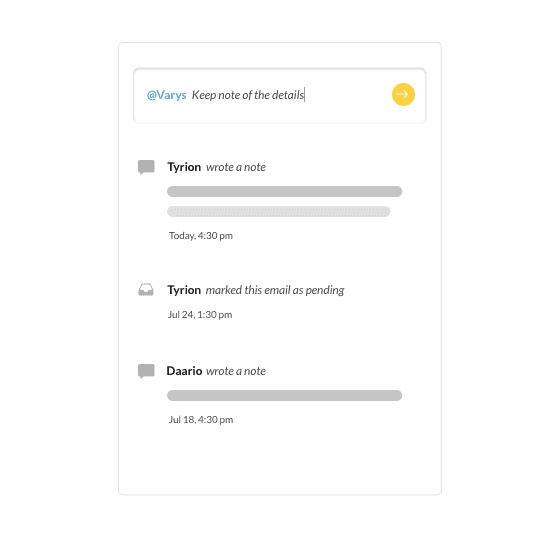 All Notes are visible to everyone who is a part of the group. You can also choose to alert a particular teammate by adding '@' along with their names. They get notified instantly.
What this means for you:
Your team will never write emails for internal conversations,
Internal chats remain neatly separated from customer emails.
Hiver contains overlaps and collisions
Customer support teams work in a fast-paced environment. Inside a Collaborative Inbox, when an email arrives, there is no way to establish who has to start working on it.
There will be times when two of your agents end up working on the same email, and both send a reply to the customer.
Hiver ensures your team knows the moment someone starts working on an email.
By some freak confusion, if two agents still end up working on the same email, the Collisions Alerts come into play. It tells you if someone else is replying to the same email, or has replied a while ago.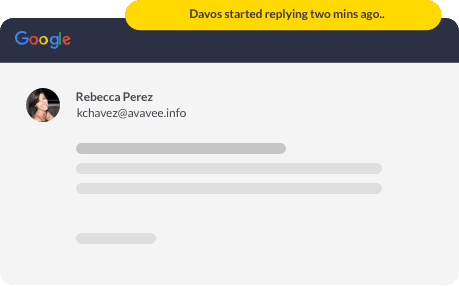 What this means for you:
Two agents never work on the same email,
Your customer never receives the same reply from two agents.
Get insights into team performance with analytics
How can you ever improve something without monitoring it?
If you are using Google's Collaborative Inbox for customer support, the only data available to you is the number of messages received or sent.
With Hiver, you'll be able to monitor all the essential support metrics right from Gmail.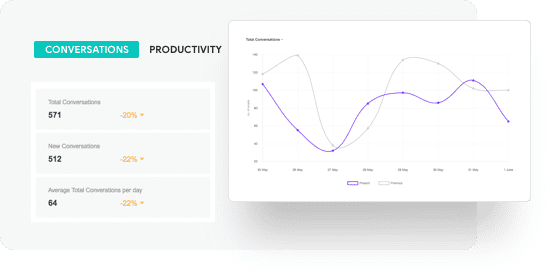 What this means for you:
You will know what's working and what's not,
You will know where to apply coaching resources.
Want to know more about how Hiver can help you manage your customer support emails?