Table of contents
8000+ teams use Hiver to delight their customers!
Why do e-commerce companies need a special focus on customer service?
While there are many similarities between brick-and-mortar and online businesses when it comes to providing a great customer experience, there are a whole lot of differences as well.
If you try to do customer service the same way it's always been done, you might find your business struggling. That's because e-commerce customers have quite different expectations. Unless you're aware of (and can meet) these rapidly-evolving expectations, your online customers won't be happy — and they will quickly desert you for more savvy competitors.
Whether you've always been in e-commerce or whether you've recently pivoted because of the pandemic, you need to be aware of the differences as well as the rapid changes that are occurring.In other words, you have to be flexible and adapt. This post is a comprehensive guide that will help e-commerce businesses excel at customer service and increase your chances of e-commerce success.
Table of Contents
The great e-commerce boom is here
E-commerce has been growing steadily for many years, but it exploded in 2020 (and since) largely due to COVID-19. Many businesses have had to adapt as a result — and quickly.
According to Digital Commerce 360, consumers spent an estimated $861.12 billion online with U.S. merchants in 2020, an increase of 44.0% year over year. That's the highest annual U.S. e-commerce growth in at least 20 years, and almost triple the 15.1% growth in 2019.
E-commerce made up approx. 21.3% percent of total U.S. retail sales in 2020, up from 15.8% in 2019 and 14.3% in 2018. E-commerce penetration gains saw their biggest year-over-year jump for U.S. retail sales ever recorded in 2020. No other year has even come close. You have an incredible opportunity to make the most of this e-commerce boom right now.
However, do remember that it's not as simplistic as taking the same old goods and services that you sold in the past, adding them to an online store, and expecting to do business as usual. In every part of the e-commerce customer journey — including product research, ordering, fulfillment, inventory management, and logistics — customer expectations are more sophisticated.
Why customer service is important for e-commerce businesses
When a customer walks into your physical store, they rarely have to worry about how much of a product you have in stock, how long it took to get there, or how they'll get it home. They can see what's on the shelf, ask questions or get help, make their decision, pay for it, and take it home.
But during online shopping, buyers may start by reading other customer reviews, comparing prices and return policies, or checking the availability of their favorite options. They'll want to know if a product is in stock, when they're likely to receive it, and whether they can get free shipping. They may have questions, and they'll expect quick answers from you through their preferred communication channels.
Once their transaction is complete, customers expect visibility into every aspect of their online purchase. They want to know when their product is shipped, where it is on its journey, and when they should expect to receive it. They also want to clearly know what they need to do in case of a problem.
And they'll want the entire experience to be quick, easy, and seamless. Thus, build a strong customer service team and collaborate with Affordable Ecommerce PPC Agency which will help you to increase sales.
This puts pressure on online retailers because if customers can buy from you at any time of the day or night, they also expect to connect with the customer support at any time, in whatever way is most convenient to them. Which is why it's important that when you tie up with a courier partner, you should not only look for the fastest or cheapest ones but ensure they offer additional services like live order tracking updates via SMS and email, real-time customer support, etc. One of the solutions that ticks these boxes is Shiprocket.
Plus, buyer-seller relationships are no longer limited to private, one-on-one interactions. New customers might want to read online reviews or check out community forum posts to know what other people think of your company, products, and services. They might want to ask questions or enter discussions on social media. Upset customers may complain with a public Tweet. And if buyers love your company, they may want to be part of a larger, engaged community, liking, sharing, and commenting on your posts.
That's quite a lot for any business to manage and track. And when compared to a brick-and-mortar business model, there are many more potential customer touchpoints — and therefore numerous potential customer service opportunities. It's up to you to discover all those touchpoints and craft a strong customer service strategy.
Having a great web design is a major advantage when it comes to promoting your website and enhancing the customer journey. However, it is important to tailor the design specifically to your niche and target audience. For instance, healthcare web design should differ significantly from e-commerce design to effectively cater to the unique needs and expectations of each industry.
E-commerce customer service best practices
Here are some of today's best practices for an excellent e-commerce customer service experience. Review this list to see where your company excels, and make the most of your strengths. At the same time, you can use this guide to identify and shore up any opportunities to improve.
1. Choose a support tool that helps your team stay organized
Employees spend up to 1/3 of their time managing emails — and customer service representatives will likely spend even more. Additionally, every time an employee stops what they're doing to check email, it takes about 23 minutes to get their focus back.
That means that whatever you can do to improve how your company handles email will improve productivity, save time, and lower costs.
For example, say you have a teammate who handles all the emails from certain vendors. With the right customer service software, you can have all those incoming emails assigned to them automatically.
Your help desk software should also enable smooth internal collaboration, and offer features like Templates and Automations, that help you resolve customers' issues swiftly and efficiently.
2. Improve your response time
E-commerce customers expect quick responses.
One recent survey found that nearly one-third of customers expect businesses to respond to emails within one hour or less.
In comparison, CRM software provider SuperOffice found that the average company takes 12 hours to respond to emails. That's quite a gap!
And response time matters. Around 35% of consumers have said that they have switched to competitors due to long wait times.
So how can you improve your response time? Here are some quick tips:
Make responding to emails a priority and dedicate time to do so
Sort and assign emails to your team automatically
Set SMART goals for customer service
Train your team to write good emails
Use a powerful customer service solution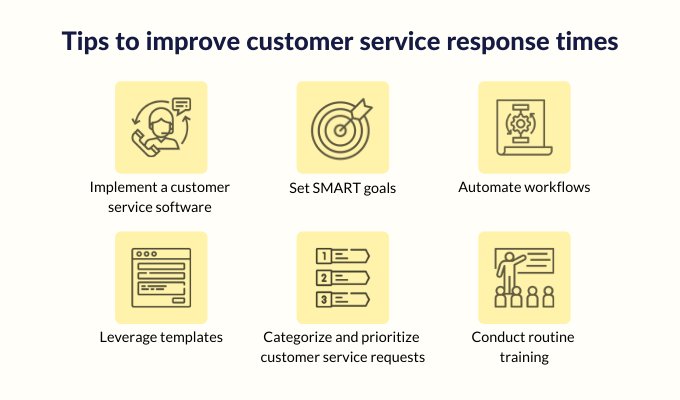 3. Meet your customers wherever they are
Earlier in this post, we saw that customer expectations for e-commerce are higher than ever. Why?
There are a few reasons. One is the example set by certain market leaders like Amazon and Apple. Consumers want the same level of service from you that they're used to getting from the big players.
At the same time, it's the nature of e-commerce itself. Since customers can buy from you anytime, 24/7, they expect to be able to reach you — and get a response — anytime as well. They also expect you to have an omnichannel support presence: e-mail, phone, social media, live chat, customer forums, and self-service. It is also important to provide exceptional customer service across all these channels if you decide to adopt an omnichannel e-commerce platform.
It's a tall order for any business. But rest assured, you don't actually have to be everywhere all the time. Instead, know the most important places for your online business to have a presence and optimize your customer service there. However, you may also utilize the power of high-quality backlinks to get potential customers to your store.
Next, focus on improving your response times and breaking down the silos between your main support channels. If a customer Tweets to ask a question and you reference that Tweet when the customer calls later in the day to follow up, you'll impress your customer with your attention to detail and prove to them that you care. And that's a major step toward building customer loyalty.
Let's take an example of great customer service by JetBlue. One of their passengers Tweeted that he couldn't grab his Starbucks coffee before boarding his flight. JetBlue swiftly responded to the Tweet promising him unlimited free Dunkin' Donuts coffee onboard. But that's not where the surprise ends. On the flight, a JetBlue attendant arrived with a Venti Mocha from Starbucks for the customer.
Now not only did JetBlue impress the customer by replying to his Tweet quickly, but they also went above and beyond to delight him with his favorite coffee on the flight. Talk about a seamless and pleasant customer experience!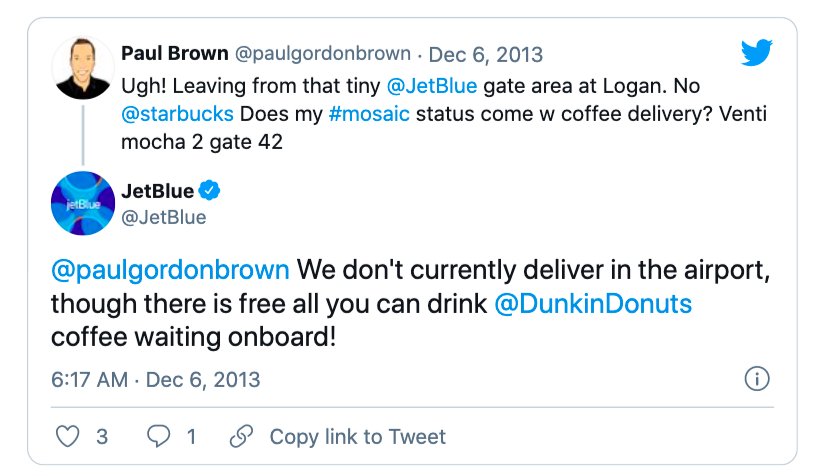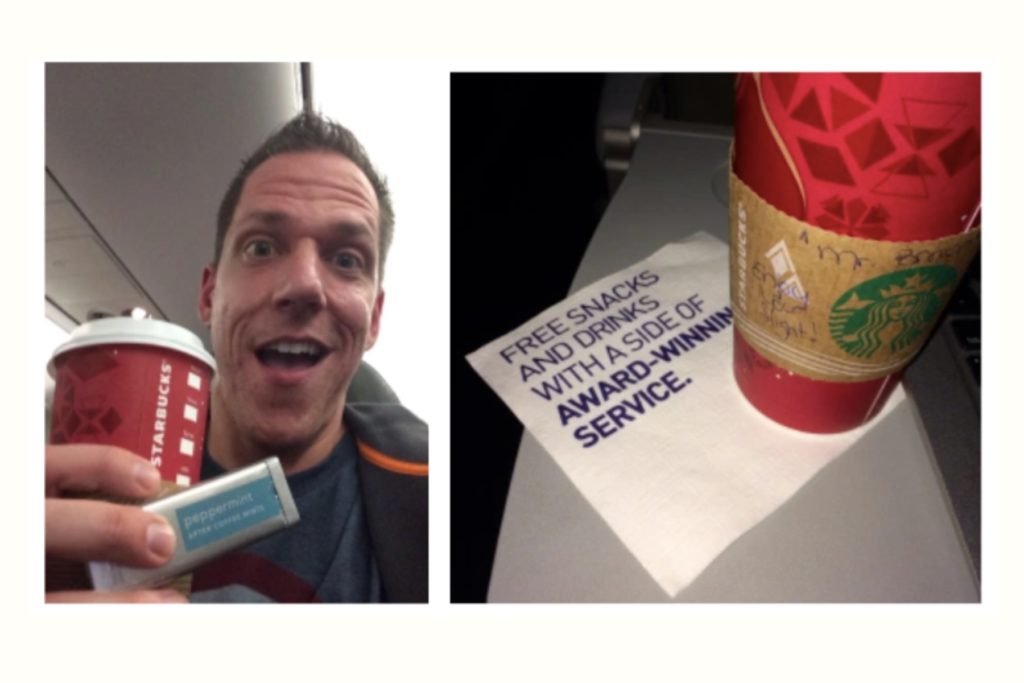 4. Leverage self-service
A whopping 81% of customers want to try to solve their problems or get their questions answered on their own before reaching out to customer support. Time and convenience matter, and well-designed self-service options are quick, convenient solutions.
The top self-service options are knowledge bases, FAQs, community forums, and chatbots. Here are some of their main advantages:
They're available 24/7/365.
They're more cost-effective than providing personal support.
They allow teams to be more productive as they can avoid answering common questions repeatedly and focus on more complex customer issues.
It's important to note that no self-service solution is "set it and forget it." FAQs, knowledge bases, and chatbot databases will grow and require frequent updating. However, the effort is well worth it. Don't forget to make all of your self-service resources easily findable on your website and mobile-friendly.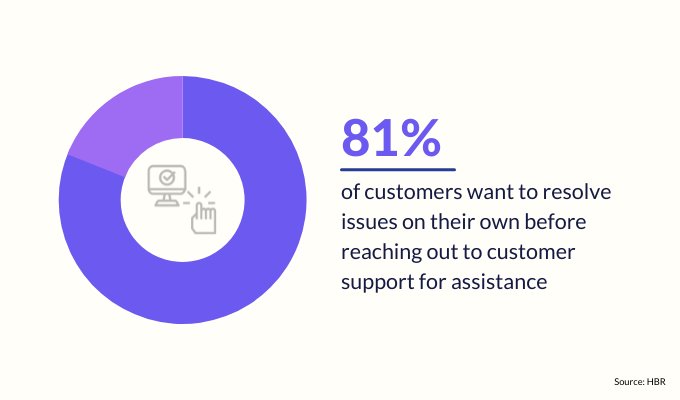 5. Use automation without losing the personal touch.
According to HubSpot research, personalization helps emails perform 202% better. Customers want to feel like they're building a relationship with you. They want to know that you care about their issues and that you're listening to them. They want conversations; not be treated like impersonal ticket numbers.
Make use of your own company data as much as possible. That includes things like name and birthday, but also shopping preferences and buying habits. Make recommendations that your customers are likely to love. You can also leverage social media with the help of various social media automation tools to make more personalized and memorable connections with your customers.
Use smart automation to streamline your workflows by using various fields, or combinations of fields to quickly assign emails to the right people.
You could assign emails to specific team members on the basis of certain words (for example, "Urgent" and "Billing") they contain in the subject line, sender's email address, recipient's email address, names in the cc: field, etc.
Finally, use email templates with the right placeholder variables to really ramp up your personalization. Placeholder variables are temporary values placed in the body of your email. These placeholders pull unique information from your contact list, such as first name, last name, email address, and more. You can easily customize emails for every contact on your list and deliver personalized emails at scale.
Know more: Everything You Need to Know About Automations in Hiver
6. Keep your finger on your customers' pulse
Whether your customers are happy or unhappy, you can bet that they'll be sharing their experiences on social media. That's why social media mentions are one of the most important metrics to track.
Mention is one helpful app that will let you track all your mentions across social networks. It can track your company name as well as specific phrases related to your products and industry.
When you analyze your mentions, you'll learn what customers think about your business and products. For example, if you notice feedback like, "The app is confusing and slows down my system",you know that at least some of your customers are likely to be dissatisfied, and you can immediately direct that feedback to your product team for a solution.
One of the biggest advantages of Mention is that it notifies you of discussions in real-time. Even if you can't fix the issue right away, it's a huge boost to your brand's trust and credibility to show that you care — that you are aware of the issues and are on your way to addressing them.
Hootsuite Insights is another helpful tool that assists you in measuring customer sentiment or the emotion behind social media posts. Are customers thrilled? Are they frustrated? A sentiment analysis tool can help your company to identify and manage potential PR disasters before they get out of hand.
To avoid this disaster, hire a B2B PR company which would not only help to increase audience engagement, trust, interaction and sales but also improve your SEO, brand awareness, and interaction online.
On the positive side, you can reward great customer feedback and loyalty with prizes, discounts, special offers, exclusive events — all of which are likely to make your biggest fans lifelong evangelists.
7. Seek out customer feedback
Gathering customer feedback is no longer simply a nice thing to do. It's essential to your company's growth. As a matter of fact, customers value sharing their experiences and opinions so much that simply asking for feedback lowers customer churn.
Of course, not all churning customers are equal. You'll get different feedback from someone who signed up but never used your app, as opposed to someone who was a longtime customer who left suddenly. But by collecting all the feedback and categorizing it, you'll find patterns. Address those patterns and your churn rate will drop.
Even simple satisfaction surveys, sent after an interaction or purchase, cater to your customers' desire to be involved, reinforcing the positive feelings they might already have about your product and making them more likely to buy from you in the future.
Of course, acting on that feedback is even more powerful than collecting it.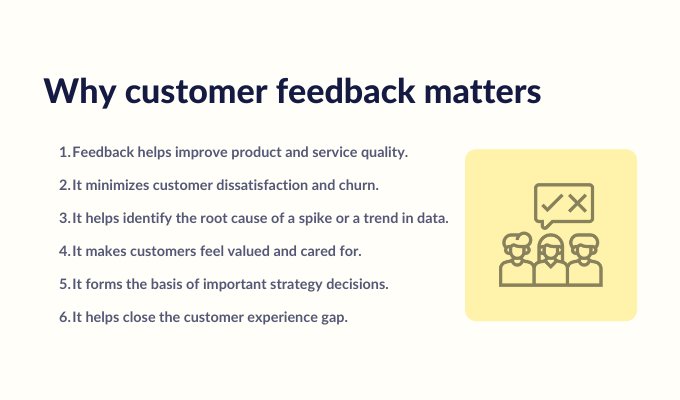 8. Measure and optimize your results
It's been proven over and over. Strong customer service reduces churn and boosts your bottom line. And your e-commerce customer service strategy will grow and evolve with your business.
That's why it's so critical to track your customer service metrics and commit to constant improvement as an organization.
So make sure that you have the tools in place that will help you collect and analyze customer experience data. Some of the most valuable metrics to track are:
NPS (Net Promoter Score) – How likely are your customers to recommend you to their friends and family?
CSAT (Customer Satisfaction score) – How happy are your customers with the support they received?
CES (Customer Effort Score) – How easy was it for your customer to have their issue resolved?
Churn rate – The percentage of customers who stopped using your product during a certain time.
Average revenue per customer – How much do customers typically spend at a time?
LTV (Lifetime Value) – How much do customers typically spend over their entire relationship with your brand?
Need help with tracking? Check out Hiver's reporting and analytics capabilities.
Recommended Reading
Take your e-commerce customer experience to the next level
If your business has been struggling with e-commerce customer service, you now have a complete guide to leveling it up.
E-commerce is growing fast — with no end in sight. Customer expectations will continue to evolve quickly. But no matter the size of your business, you can thrill your customers and thrive with the right approach. Learn to understand and embrace e-commerce customer service, and commit your organization to creating a customer-centric culture.