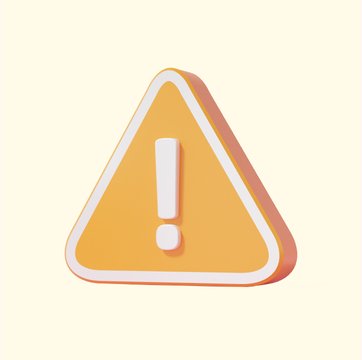 Table of contents
8000+ teams use Hiver to delight their customers!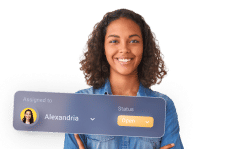 Ten Customer Service Disasters And What We Can Learn From Them
May 15, 2023
|
12 min read
|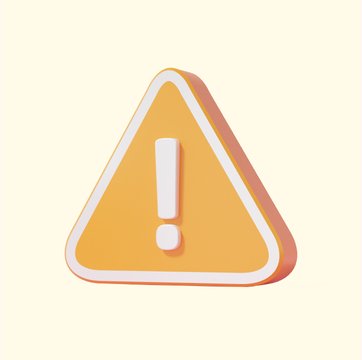 Table of contents
We've all been there at least once. Either as customers, we have had a negative experience while dealing with customer service, or as representatives, we have not been able to handle customer service in the best way.
Many of these may have been small, isolated incidents that were easily nipped in the bud. However, there are times when some customer service mistakes that either due to a brand's processes and policies, or their general outlook, snowballed into major customer service disasters.
Let us take a look at some examples of bad customer service from around the world and see what we can learn from them.
1. Marriott's Hurricane Irma disaster
Hurricane Irma was an extremely powerful hurricane that caused widespread damage across its path in September 2017. The US Virgin Islands bore the brunt of the damage from the hurricane's 185 miles per hour winds.
The hurricane meant that the airport on the mainland in Puerto Rico was shut. So Marriott got involved and chartered a ferry to rescue travelers who had been stranded on the island of Saint Thomas and bring them back to the mainland.
However, on Saint Thomas island, it was quite a different picture. Despite having room for many more passengers on the ferry, 35 people, including children and the elderly, were left behind with no food or shelter because they weren't Marriott's guests. Marriott took this insensitive call despite knowing that the threat of Hurricane Jose was also looming.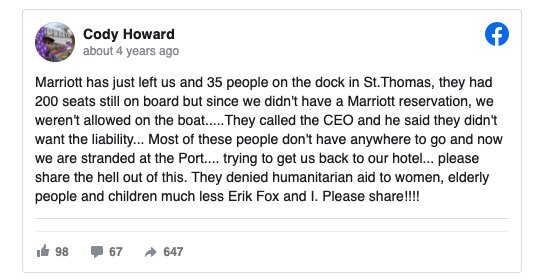 The hotel ultimately released a statement blaming the dock security, stating that Marriott could not take on passengers who were not on their manifest. The security personnel at the docks have since declined to comment on the matter.
Marriott was slammed by news channels all over the United States, and angry social media users took to criticizing the hotel for its poor handling of the situation.
The island of Saint Thomas was thankfully spared the destruction from Hurricane Jose, but Marriott's reputation did take quite a beating.
The takeaway: While it is unclear whether the blame lies with Marriott or with the dock authorities, it is clear that it was a customer service disaster for the hotel. Backlash on the internet aside, they possibly even lost out on a lot of potential customers.
So what could they have done differently and turned it into a positive experience for the people stranded on the island? For a start, they could have worked with local authorities on Saint Thomas island and the dock authorities to prepare a more inclusive manifest. This way, instead of running a partially empty charter and leaving 35 people behind, they could have onboarded everyone and generated a lot of goodwill in the bargain.
The key lesson here is always to be mindful of your current customers, future customers, and the community at large.
2. The United Airlines Flight 3411 incident
The United Express Flight 3411 incident occurred on April 9, 2017, at the Chicago O'Hare International Airport.
The incident happened when United Airlines wanted to make room for airline employees on a fully booked flight. They offered four passengers travel vouchers in exchange for their seats. When no one volunteered to give up their seats, the management decided to remove four people from the flight forcibly.
Dr. Dao, a Vietnamese-American Pulmonologist, was one of the four chosen. He refused to give up his seat because he needed to be in Louisville to see his patients immediately. Despite the urgency of the situation, the supervisors at United threatened to call the police to escort the doctor out of the aircraft. This led to an altercation, leaving the doctor with a broken nose, a concussion, and two fewer teeth.
The incident was also filmed by several passengers on the airline, which went viral on social media almost instantly.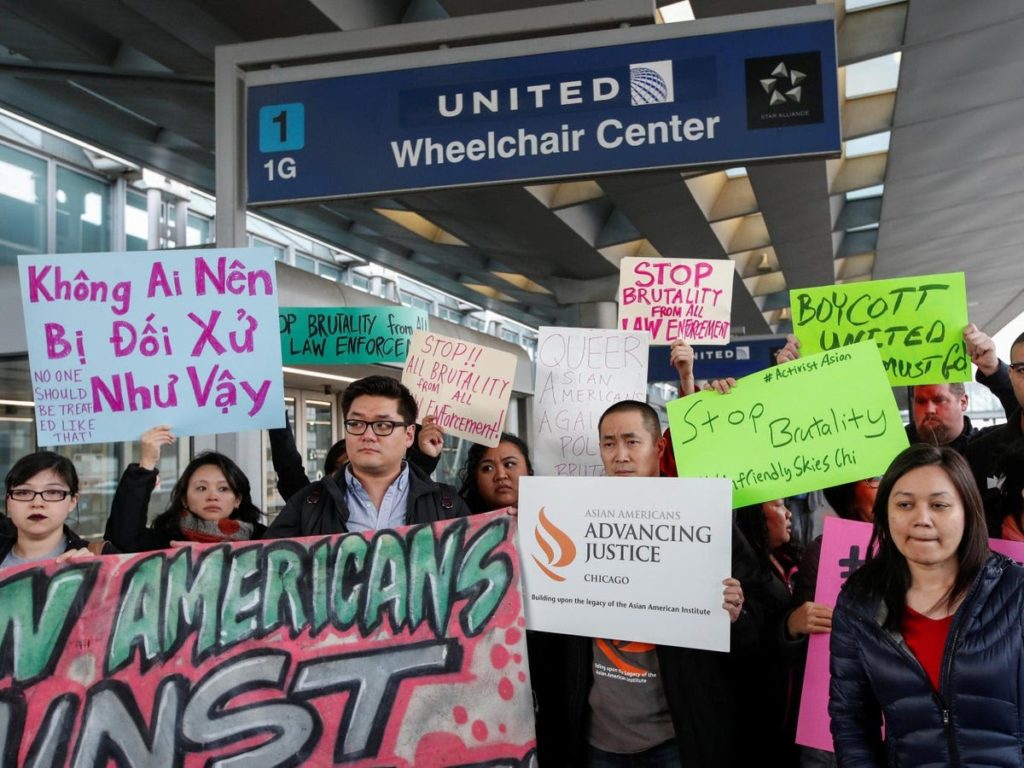 The video's virality led to multiple people in the United States, China, and Vietnam calling for a boycott of the airline and destroying their airline loyalty cards. The situation ultimately involved a settlement for an undisclosed amount.
The takeaway: There is no doubt here that what United Airlines did was wrong. What they could have done better to avoid such issues is to invest in proper customer service training. Training ALL employees across the board (not just customer service agents),sensitizing them, and teaching them to be more empathetic about customer needs could have gone a long way in preventing such a disaster.
3. Equifax's Data Leak
Equifax is one of America's three major consumer credit reporting agencies. Equifax stores information about nearly 800 million individuals and 88 million businesses. In March 2017, their database was hacked.
About 145.5 million customers were affected and had their personal information such as names, Social Security numbers, birth dates, addresses, and driver's license numbers accessed by whoever had been behind the hack.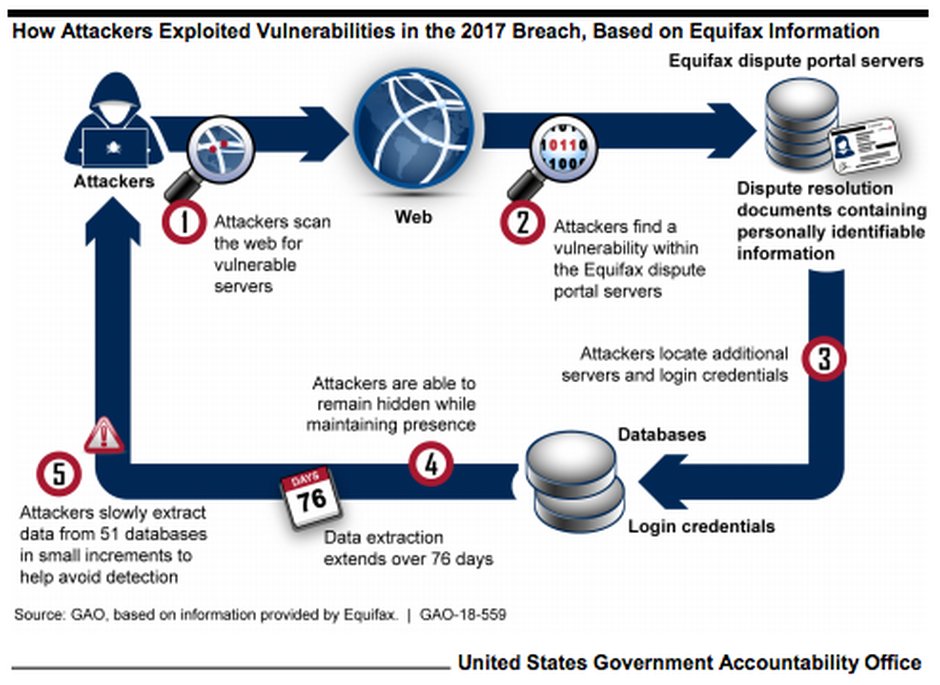 After news of the breach was made public, Equifax created a website to help their customers identify if they had been affected by the attack.
However, instead of maintaining transparency and disclosing the news of the hack to their customers immediately, it took Equifax more than two months to notify their customers. Equifax detected the hack in July, but they only made the portal available to their customers in September.
Their callous response and delay made their customers furious. And what they did after only made matters worse.
As a peace offering, they offered their customers a free one-year trial of their paid program called "TrustedID Premier." The service would grant them credit monitoring through all three bureaus, copies of Equifax credit reports, the ability to lock and unlock the reports, identity theft insurance, and internet scanning for their social security numbers.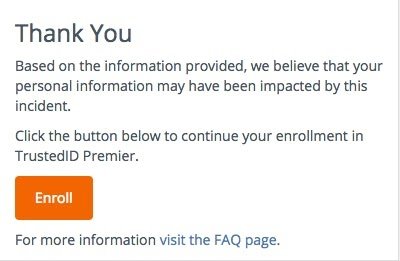 While this did seem like a reasonable response, it was riddled with problems. Many customers who tried to sign up for the plan could not and were asked to try later. Some didn't receive verification emails. And worse still, those who accepted the company's peace offering effectively signed away their rights to sue the company.
This led to obvious backlash from their customers. Further, the company faced rapid turnovers at the C-level, received a downgrading in ratings from Moody's, and had to spend upwards of $1.4 billion to upgrade its infrastructure and security.
The takeaway: While Equifax did the right thing to upgrade its network security, it could have handled some things differently from a customer service perspective. For example, they should have been upfront and transparent with their customers. Everyone makes mistakes, but it is when and how you own up to them that matters most.
Furthermore, they should have had a clear contingency plan in place. While their peace offering made a lot of sense, the shoddy rollout only led to further backlash. Expanding capacity, communicating clearly, and rolling out services in a phased manner may have resulted in a smoother rollout and lesser customer backlash.
4. Comcasts' new low
It is a known fact that Comcast is America's most hated company. But even for Comcast, this was an all-time low moment in customer service.
In 2015, when a Comcast customer, Ricardo Brown, received his monthly bill, it wasn't the dollar amount that stood out. His name on the bill, which a customer service rep had changed from "Ricardo Brown" to "A*****e Brown" because his wife refused to renew the cable contract.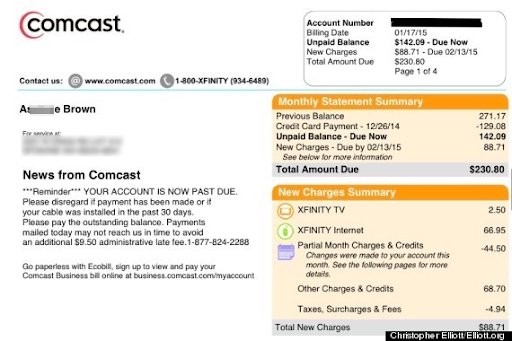 While Comcast subsequently apologized and reached out to the customer, offering them a free two-year contract, the company received significant backlash on news websites and social media.
Their already poor reputation did not help them. Millions of social media users who were already irked with Comcasts' poor customer service only amplified the Brown incident further.
The takeaway: This incident is probably the result of a toxic work environment. We've said it before, customer service is a tough job, and the stresses are unimaginable. It is difficult to fathom what could have led an employee to take such a rash step.
The only way out is to start by creating a culture of empathy and establishing a stress-free environment for your customer service team.
While Comcast subsequently apologized and reached out to the customer, offering them a free two-year contract, the company received significant backlash on news websites and social media.
Their already poor reputation did not help them. Millions of social media users who were already irked with Comcasts' poor customer service only amplified the Brown incident further.
The takeaway: This incident is probably the result of a toxic work environment. We've said it before, customer service is a tough job, and the stresses are unimaginable. It is difficult to fathom what could have led an employee to take such a rash step.
The only way out is to start by creating a culture of empathy and establishing a stress-free environment for your customer service team.
Your support team members are on the frontlines, and the impression that they create can make or break your company.
5. Bank of America's Twitter gaffe
Most brands use social media to show their human side. Some don't, and Bank of America seems like one of them.
At the peak of the Occupy Wall Street movement in July 2013, Mark Hamilton, a New Jersey resident, wrote an anti-foreclosure message in chalk on the sidewalk in front of a Manhattan Bank of America branch.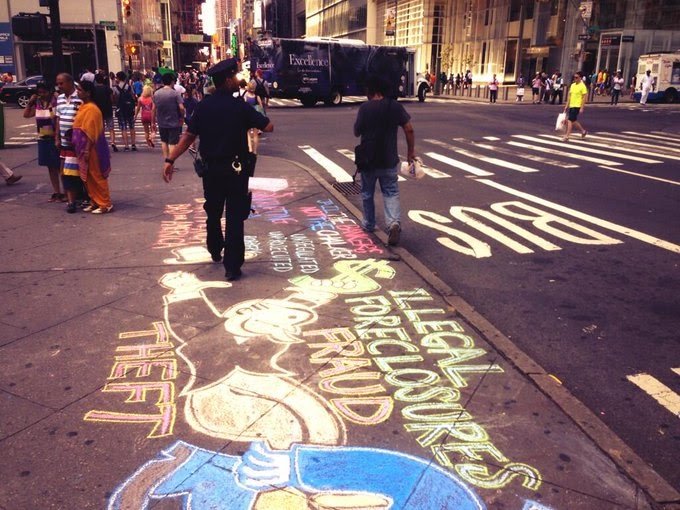 After being chased away by cops for his chalk graffiti, he tweeted at the Bank of America. However, instead of understanding the context and showing their human side, and replying to the Tweet, the customer service reps at Bank of America offered to review their accounts instead.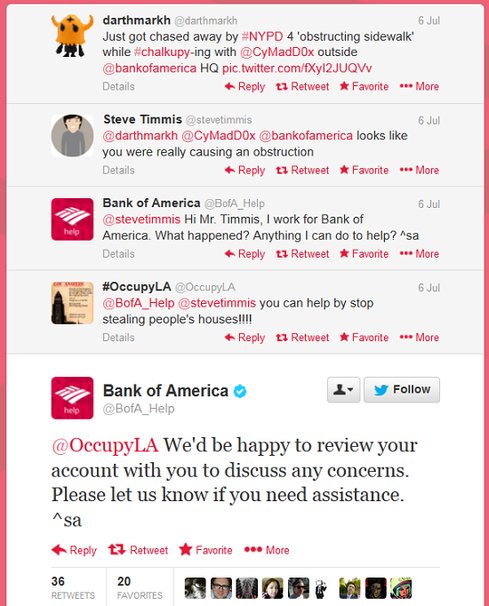 Their responses seemed almost mechanical and seemed to undermine the focus of the Occupy Wall Street Movement, i.e., banks need to treat their customers more in a more humane way.
The takeaway: Brands need to train their customer service employees to be more vigilant of issues that affect their company both directly and indirectly.
Companies need to start using better social media listening tools like Mention and set up simple web alerts using Google Alerts to stay updated on trending topics that may affect their work.
Further, employees need to be trained to understand the context and reply appropriately with empathy instead of coming across as bots.
6. Walmart's failure to match prices
When it comes to aggressive pricing, there's no better example in the US than Walmart. So when Clark Howard from Atlanta wanted to buy a Lego set for his son, he compared prices online and found the lowest price on the Walmart website.
However, because he wanted the Lego set immediately, he decided to buy it in-store from the nearest local Walmart. When he arrived there, he was in for a rude shock as the same product costed 35% more.
The local Walmart refused to match the price despite Howard's requests. So he pulled up his phone, fired up the browser, ordered the same product online, and opted for an in-store pick-up.
And since he didn't receive the confirmation email instantly, he was forced to come back the very next day to pick up the order — an inconvenience and a ruined surprise gift.
While Walmart did clarify that it doesn't need local stores to match online prices as they both maintain their inventories independently, to keep the customer happy, price-matching would have been the best solution.
The takeaway: This is a clear case of putting policies over people. Since Walmart offers store managers the flexibility to match prices, ideally to keep customers happy, this is what they should have done.
There's a simple tenet to be followed in such situations — always do what is right for the customers.
And if this isn't something that is happening naturally, it is perhaps time to introspect and redo the company's policies.
7. United Airlines' messes up (once again)
United Airlines has the dubious distinction of making it twice on this list. This is a much older incident that happened in 2008.
Country musician Dave Carroll was enraged and heartbroken when he noticed the baggage handling staff of United mishandling his guitar on the tarmac.
Since this was 2008 and smartphones and social media hadn't become as ubiquitous as they are today, Dave decided to take the conventional customer support channels and approach the airline's helpdesk to complain.
They were utterly indifferent to his complaints. Not one to back down, Dave Carroll went public with his complaint by writing a song called "United Breaks Guitars" and posted it on the internet. The song has been there since 2009 and has received over 20 million views to date.
Subsequently, Dave even went on to write a book by the same name.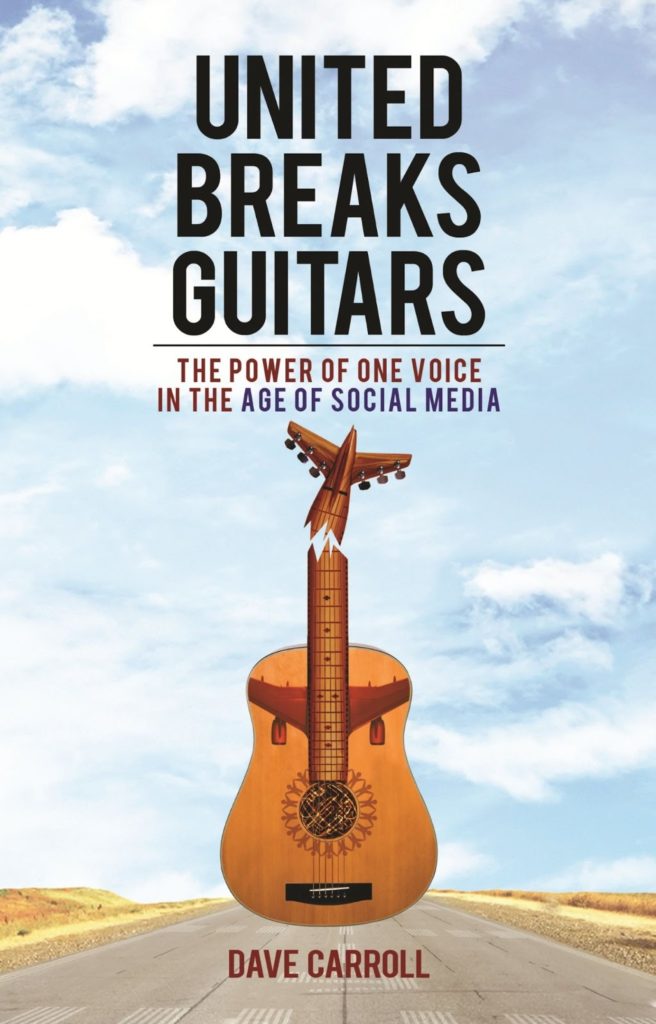 After the song and subsequent popularity of the book, United reached out to Dave and apologized. The PR nightmare for United, however, refused to die down.
The incident even came back to haunt them in 2017 when a passenger was forcibly removed from a United Airlines aircraft.
The takeaway: Empathy is one of the most important customer service skills key to a successful customer support team. We've said it before — companies need to invest in training all their employees to develop an empathic mindset.
Good customer service is about making customers feel heard, owning up to one's mistakes, and lending a helping hand to resolve customers' pain points amicably.
8. Target's fake social media agent problem
In 2015, in an attempt to create a more supportive, non-judgmental, and open environment for shopping, American retail giant Target decided to do away with gender-based signs in their kids' sections.
While this move won praise from a large section of the community, the more conservative sections of the society weren't very happy.
They saw it as a move away from societal norms for the sake of political correctness. Those unhappy customers took to social media to air their angry views.
But before Target could respond, an anonymous Facebook user created a fake profile by the name of "Ask ForHelp" and wrote sarcastic, snarky responses to these Facebook posts.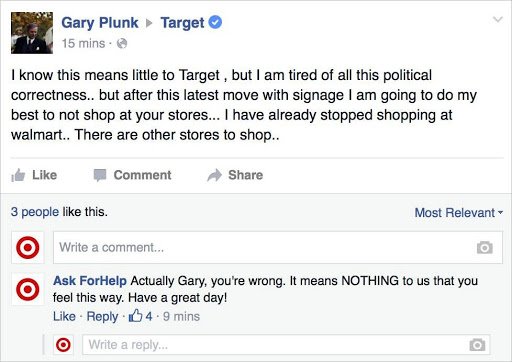 The trolling only resulted in more angry customers, prompting further backlash.
The takeaway: Let's face it, it is pretty easy to get on the internet, create a fake profile and start trolling. There's a good chance that your account may get taken down, but that depends on how quickly the impersonation gets detected.
Being vigilant and being prepared to respond to questions/complaints on social media is the only way to protect your brand.
Train your employees to monitor social media constantly. Set up a dedicated social media team if you have the resources. Train them to use social media monitoring tools.
Have a communication policy in place. Train your support agents to use the policy and help them respond appropriately in different situations.
9. Gasp's disrespectful customer outlook
In September 2011, Melbourne resident Keara O'Neil walked into an Australian fashion retail store named Gasp in search of bridesmaid dresses. The salesperson she interacted with was rude, pushy, and mean. The salesperson went so far as to say that Keara didn't have the taste to appreciate the brand's style.
Keara was naturally unhappy with the treatment meted out to her and followed up with the management of Gasp over email. Instead of apologizing to her, the management defended the salesperson.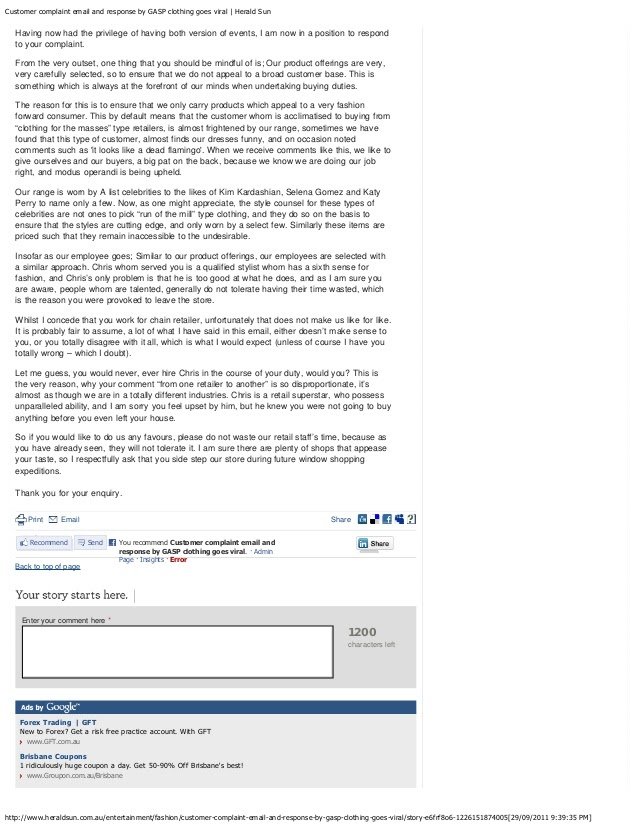 The exchange of emails between Keara and the management of Gasp was subsequently accessed by media agencies and made public. The emails showed that the management of Gasp asked Keara to "do Gasp a favor, stop wasting the store's time and shop elsewhere because she was not a 'fashion-forward consumer' who could appreciate a 'retail superstar' with 'unparalleled ability.'"
The management of Gasp believed that this incident actually helped them by helping them further propagate their message of being a "cool" and "edgy" brand for a select audience.
This outspoken attitude, combined with a few more skeletons tumbling out of their closet, ultimately led to the closure of Gasp in December 2011.
The takeaway: The management of Gasp truly took the adage "All press is good press" a little too far.
With customer service disasters, as we've also seen in the case of United Airlines and Dave Carroll, press coverage is actually a nightmare.
The management justifying the company's edgy attitude and belittling the customer further only led to more public scrutiny by the media, leading to a shutdown.
The takeaway is pretty simple. When you're in the wrong, instead of trying to justify your behavior, make a sincere apology. And once you've done that, take corrective action to undo your customers' pain and ensure that it does not happen again in the future.
10. Walgreens' dangerous error
It all started when Larina Helsom, a resident of Phoenix, Arizona, started having unbearable pain in her chest. It was so bad that she had to undergo surgery to stop the muscle spasms.
On further investigation, it was determined from the prescriptions that the nearby Walgreens Pharmacy that Larina had been visiting had been giving her 50 mcg pills instead of the prescribed 5 mcg pills for almost a whole year.
In short, the Walgreens pharmacy had been erroneously giving Larina 10 times the prescribed dosage of the medication.
Larina had been missing work and wanted to be compensated for her troubles. When she reached out to Walgreens, they referred her to a third-party organization stating that the medication was within a safe range and stopped taking her calls altogether.
Walgreens later reached out to ABC News, offering a rather meek apology in contrast to the seriousness of the incident.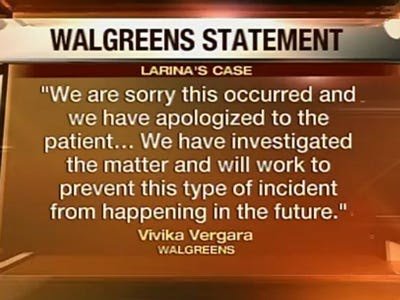 The takeaway: When you're apologizing to a customer, ensure that the depth of the apology matches the seriousness of the problem.
In the case of Walgreens here, clearly, the apology doesn't seem to be fit for what was a near-death experience for Larina Helsom.
As we've seen previously with the example of Gasp, customer service representatives who are at the frontlines, representing a brand, need to treat their customers with empathy and dignity.
The second takeaway would be to apologize immediately. Apologizing after the issue has passed is almost pointless. It can make your brand appear uncaring and callous. And this is something that your customers and prospects will immediately perceive.
Wrapping up
The truth is most people have had at least one bad customer service experience. But they may not have been as terrible as the examples that we've seen, and which is why they've never made it to the news.
But just because a customer service experience wasn't life-threatening doesn't mean that it won't do you any harm and that you can let it slip. Even a single negative review can go a long way in impacting your company's hard earned reputation and, consequently, your customer churn rate.
But then there are legendary customer-centric brands like Disney, Zappos, and Netflix that are known for their great customer service. You rarely hear any customer complaints about them, and there are good reasons for that. These brands always put the customers first. They treat them with respect, kindness, and empathy. They apologize when they're wrong and always do what is right for the customer.
And that should be the north star for preventing customer service disasters and delivering excellent customer service.