Do you know the difference between successful and unsuccessful businesses?
Successful companies understand the Voice of the Customer (VoC) and can provide them with proactive solutions to give them the most value from their products.
On the other hand, unsuccessful businesses forget that customers come first-they don't promote customer success, and end up driving their target audience away…
A critical aspect of customer success is having productive conversations, but most of these conversations with customers don't take place in person.
So how do you ensure you're connecting with your target audience in the best possible way?
By sending well-crafted emails that resonate with your recipients.
While multi-channel support is a norm today, 77% of customer teams still use email to build and nurture customer relationships. Sending contextual and relevant emails at the right touchpoints in the customer's journey improves customer retention.
But sending emails with the appropriate intent at the right time can be a bit tricky.
In such cases, it is quite helpful to have a few customer success email templates ready to be used.
In this article, we've listed 13 amazing customer success email templates to help you improve your customer experience. But, before we jump into it, let's first understand the importance of customer success emails.
Table of Contents
Why are customer success emails important?
An important aspect of building lasting customer relationships is engaging your customers in meaningful conversations. And effective, well-timed customer success emails are an integral part of these conversations. Emails can be used to educate and update your customers, improve product adoption, upsell, and even prevent churn. All of which, ultimately impact the revenue.
How will these customer success email templates help?
We've compiled a few different email templates below, each of which is suited to various situations that customer success managers often come across.
We recommend entering these templates into your CRM first so that whenever you want to send an email, you can simply click on the title of the email template, customize it based on what you want to say, also Include a professional email signature template in your email to establish a positive association between yourself and the company you represent. and press 'Send.'
This is, of course, in addition to the email copy basics like high-quality email copy, a customer-centric approach, and correct grammar. At some point later you can even have professionals do your email design to make it look more in line with your brand and your social media as well.
With these templates, you do not need to worry about what to say or what information to include. It's smart and time-saving.
13 customer success email templates to engage with customers
Now, let's get down to business!
Here are a few email templates that your CSMs can use to have meaningful conversations with customers and make your customer relationships stronger.
1. Onboarding email template
Successful onboarding is a crucial part of the customer experience. In fact, a well-planned customer onboarding strategy helps customers realize the value of your product, thereby improving customer retention.
When drafting a customer onboarding email, you need to ensure that you are hitting three important components:
A clear value proposition that reminds people why they chose your product over the competition
Positive affirmations to deepen engagement and motivate them to take the next steps to get more value
Behavior-based/context triggers that relate to a user's specific progress and avoid repeating information they already know.
Gmail's onboarding email does an excellent job at checking off the above pointers.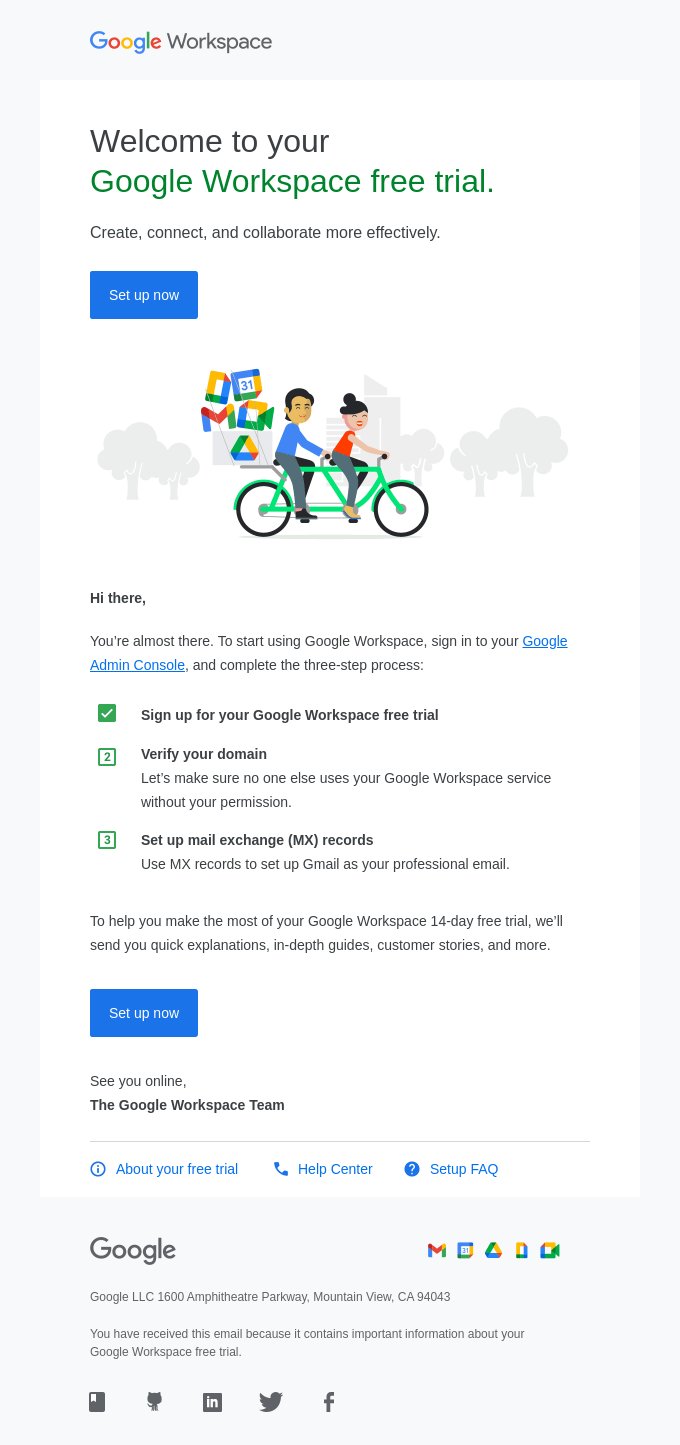 Here is why it works:
Reminds customers Gmail's free trial will help them create, connect, and collaborate more effectively
Has well-placed and clear CTAs
Clearly illustrates the next steps to begin using Google Workspace
Reassures them of a smooth customer onboarding experience by promising to stay in touch
Includes properly labeled and helpful links towards the end
2. Welcome/Introduction email template
The welcome email is your first contact with customers after they sign up for your product. Naturally, you want to keep your email information light at this stage and use friendly language to establish quick rapport without distractions.
Highlight your product's value proposition and keep things super simple and straightforward while guiding your user to their first Aha! moment. Use branded color schemes and include images and logo designs showing your product in action. 
Take a few pointers from Playbuzz:

Here's why it works:
Builds momentum and motivates users to take the next steps
Uses brand colors and experiments with font styles for a unique look
Friendly language creates familiarity and eases anxiety
Highlights value proposition to reinforce its leverage over the competition
Well-placed CTAs at the beginning and end of the email provides users with the next steps removing any confusion
3. Product set up email template
At this stage, the user has taken their first steps and used your product. But there may be times when they feel lost or overwhelmed with your product features, especially if you have a slightly more complicated product or service.
In such cases, it is a great idea to send users product setup emails to proactively help move them past friction points and provide them with relevant suggestions that help them get more value from your product, increase customer satisfaction, and prevent customer churn. Slido's product setup email does an excellent job encouraging users to take the next steps and provides subtle help and suggestions.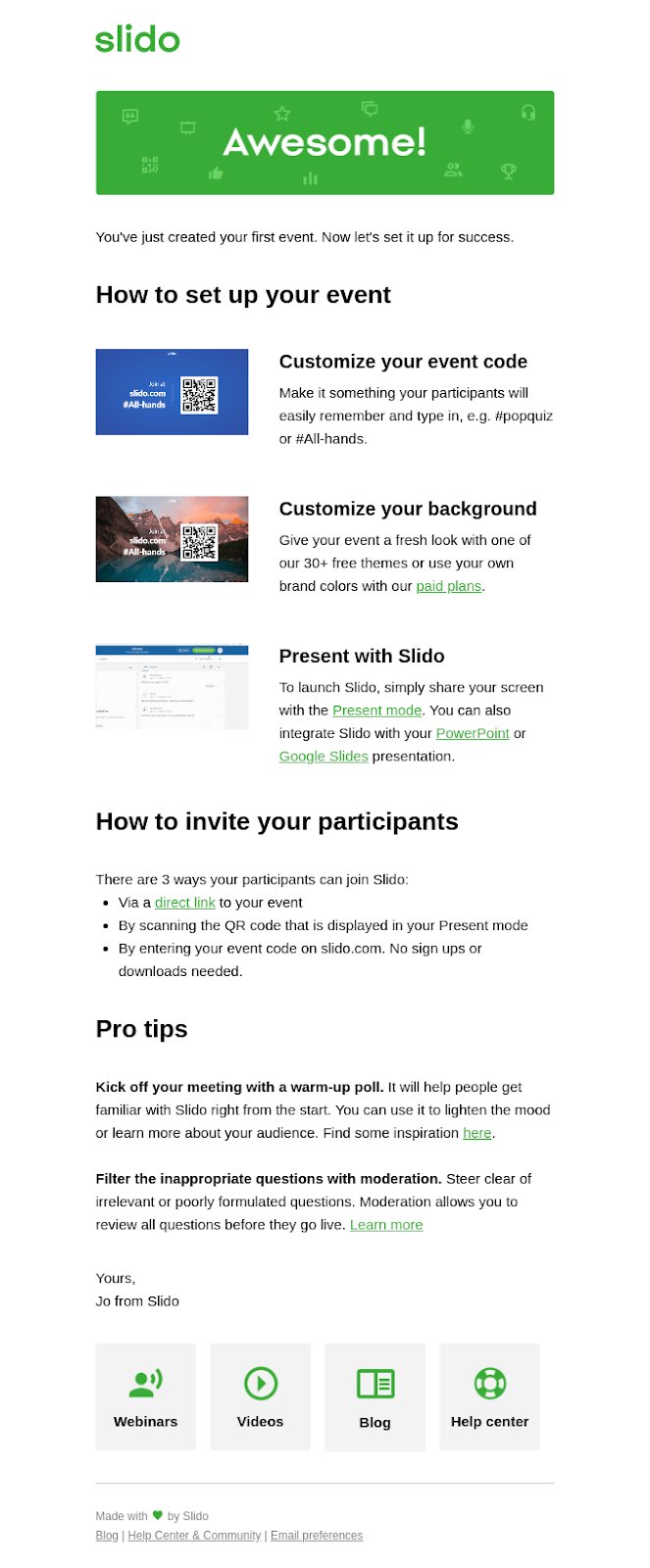 Here's why it works:
Breaks down email into different sections that cover everything the user needs to know to get full value from Slido
Extends a super-short yet warm welcome and explains the next steps in a way that highlights the benefits
Hyper-linked texts direct users to specific pages and links
A short tips section towards the end helps users avoid common mistakes, ensuring smoother onboarding
4. Upgrade email template
Customer success teams use upgrade emails to drive free trial and premium models. When done right, these emails convince prospects to convert into paying customers—or upgrade from a free plan to a paid one.
To write an effective update email template, you need to:
Personalize it by including the customer's name and other details (how much time is left in their trial period, user activity)
Add a clear CTA that links directly to the actual upgrade web page
Briefly explain the benefits of upgrading to your paid plans
You can also provide your customer support email address or link for the user in case they have any additional questions about upgrading.
Take this email from Zapier, for example.

Here's why it works:
Includes a timer to create a sense of urgency
Offers users an exclusive discount as a further incentive
Explains why upgrading to a Zapier plan makes sense
Well-placed, self-explanatory CTA buttons and 'Contact us' link provide users clear directions
Uses attractive symbols and icons to add more interest to email copy
5. Book a Call Email Template
SaaS businesses use these emails with the intention of converting non-paying customers to paying ones. Successful book-a-call templates usually play on high personalization and humanization of the brand. It's important to have this email written on behalf of a direct representative, for example from your customer success managers or a subject matter expert.
Of course, you need to also add a clear CTA that links directly to a booking page so that it's easy for customers to get the support they need.
Take this email from Shipyard.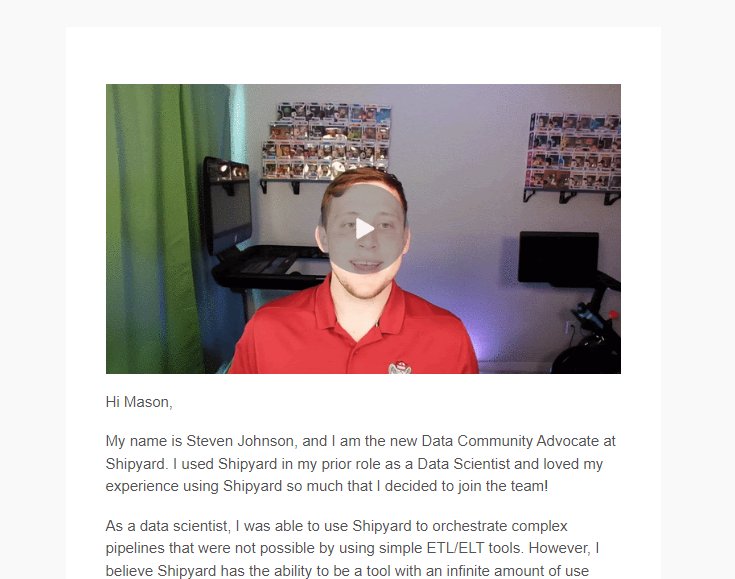 Here's why it works:
Real motion video in the email catches attention
The customer is compelled to click on the video to watch
Speaker is a data scientist (Shipyard's target market),building trust and establishing a connection with the target audience
Personal story helps build credibility and the use of industry jargon (such as ETL/ELT tools) helps establish authority.
6. Promotional email template
Brands have the superpower to create a sense of suspense and intrigue whenever a new product or service is just about to be launched.
You can always announce such launches, run a good advertising campaign for them, and finally, as soon as the intrigue reaches its peak, send out effective emails announcing the come out of the promised product or service.
This strategy is perfectly integrated into one of the most popular streaming services – Netflix's email marketing. A seemingly casual, simple promotional email has an attachment of a poster of the TV series, the second season of which was eagerly awaited by thousands of people.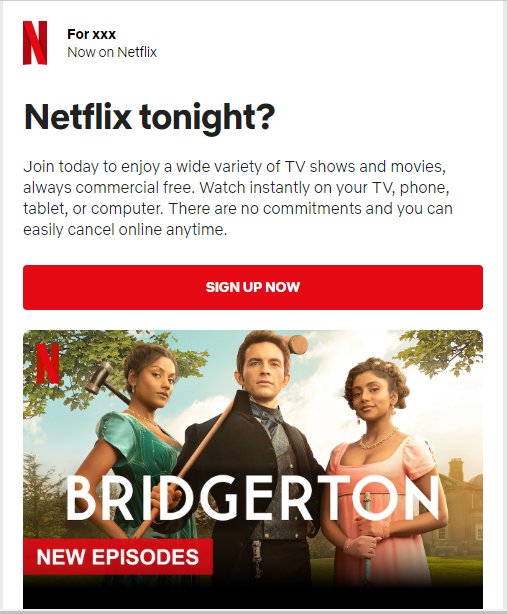 Here's why it works:
Immediately attracts attention.
Evokes a feeling of joy in customers.
Allows the reader to understand the main message themselves, instead of telling it directly to them.
7. Case study email template
93% of consumers say online reviews influenced their purchase decisions.
You can leverage this behavior by using case studies to convince potential customers that your company can solve their problems. Think of it as a detailed social proof that showcases how your current customers use your products or services and the results they achieve through them.
How to write a case study email template?
To start, make the case study the entire focus of the email. Write a short copy highlighting the results of using the product or service and what insights the recipient can hope to get after reading it.
Niice is one of the few brands that do case study emails really well.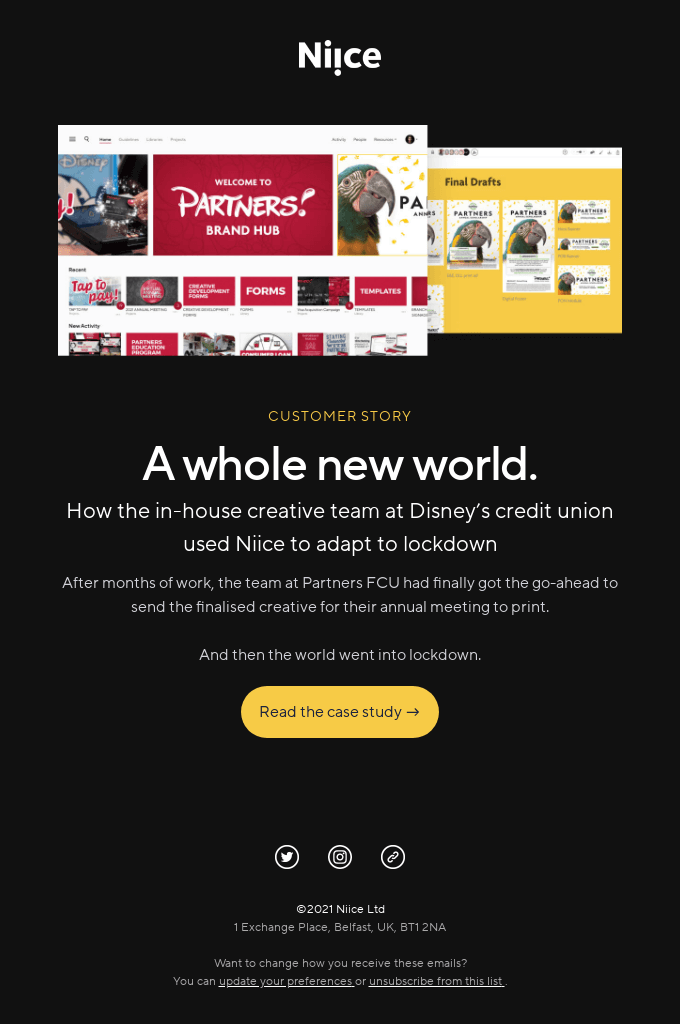 Here's why it works:
Short, succinct email copy
Bold graphic image that immediately grabs attention
Excellent email copy that creates a sense of mystery
Eye-catching CTA button that takes the user directly to the case study
8. Follow-up email template
Did you know follow-up emails typically get a better response rate than the first email? But this only works when you have a good follow-up email template.
A good rule of thumb is to lead with value. Inform customers how your business can help them and improve their existing routine. Speeding things up, automating processes and tasks, and giving free limited-time access to your product are common value-driven benefits.
Another approach to customer follow-up is giving users a gentle reminder about what they can do with your product à la Miro.

Here's why it works:
Provides users with ideas to use Miro
Succinctly highlights feature benefits and use cases
The listicle-style format makes email copy easy to understand
Has supporting images to provide greater relevance
Includes a survey link to better understand customer requirements
9. Customer feedback email template
Businesses constantly talk about offering personalized customer experiences. One of the facets of offering a personalized experience is to listen to your customers. Customer feedback allows you to identify your customer's challenges, what they like about your product, what they'd like to improve, and more.
A great way to collect feedback is by sending out well-designed customer feedback emails from time to time.
While designing a customer feedback email, it is good to keep these pointers in mind.
Keep your feedback surveys or emails crisp and short. You don't want to take too much of your customer's time
Offering incentives such as gift vouchers is a great way to nudge your customers to give their feedback
Including visual elements can go a long way
Take this example from Algolia.

Here's why it works:
Starts with customer appreciation. Clever move especially considering that the email was sent on Thanksgiving Day.
Feedback request is highlighted so that the reader's eyes immediately fall on the purpose of the email.
Offers Amazon gift cards as an incentive
10. New feature email template
Users receive tons of emails every day. If you want to get customers excited about your latest feature, you need emails that successfully pique your customers' interest and get them excited about what you're offering.
While the general idea is to make the new feature email template a concise reflection of your brand and its offering, here are a few additional pointers to keep in mind:
Add product images or videos to catch the recipient's attention
Include links to more information, such as a product demo or blog post
Include multiple CTA so that it's easier for the recipient to take the next step
This email from Yoto is an excellent example of how to do a product feature launch right.

Here's why it works:
Adopts a personal, and not promotional, approach
Puts the spotlight on the customers and their needs, making them feel heard and special
Displays each new feature with an informative illustration
Divides the email into different sections so that it's easier to follow
Prominent CTA towards the end improves email flow
11. Webinar invite template
Sending out thoughtfully-crafted webinar invites will help you maximize attendees while simultaneously promoting your business and image authenticity. This strategy is both helpful for email marketing as well as customer success.
When drafting a webinar invite, ensure it answers the classic Ws and H (Who, What, When, Why, and How). This includes:
A brief introduction to your company and attending speakers
Webinar topic
Date and time of the webinar
What recipients will learn by attending the webinar
Registration details
Take some pointers from this webinar invite from Teachable.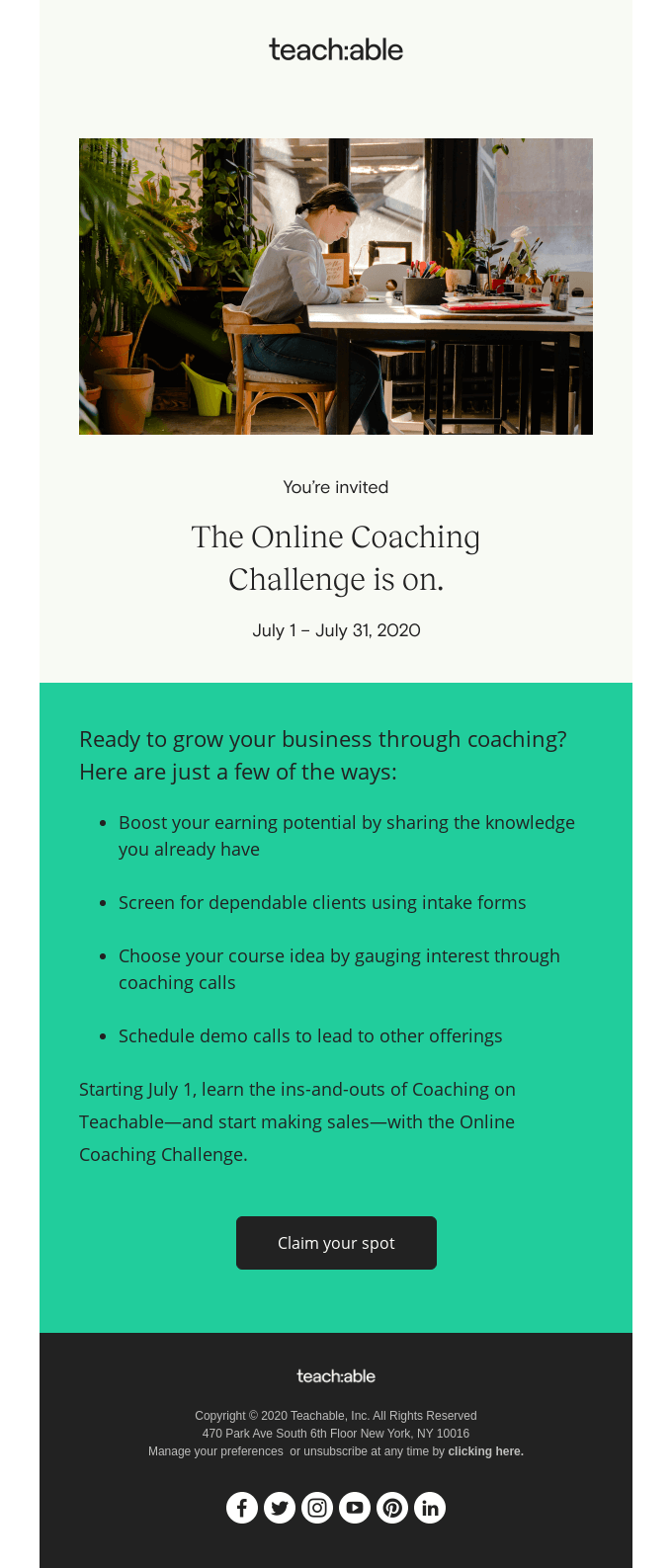 Here's why it works:
Direct, to-the-point email copy
Benefit-focused subject line to grab the recipient's attention ("Unlock step-by-step guidance to launch online coaching.")
Educational and concise pointers to give the recipient a glimpse of what to expect
Covers all the necessary information regarding the webinar
'Claim your spot' CTA clearly indicates the next steps
12. Win-back email template
Win-back emails let you re-engage with inactive contacts who have made purchases or signed up for your email list but have stopped opening your emails. They get people to interact with your emails and CTAs again, which, considering it's five times more costly to get a new customer than to retain a loyal customer, is a significant advantage.
A great win-back email can work on its own, but we recommend building a strategically-timed sequence that includes targeted messages for best results.
Look at how Teespring absolutely nails win-back emails.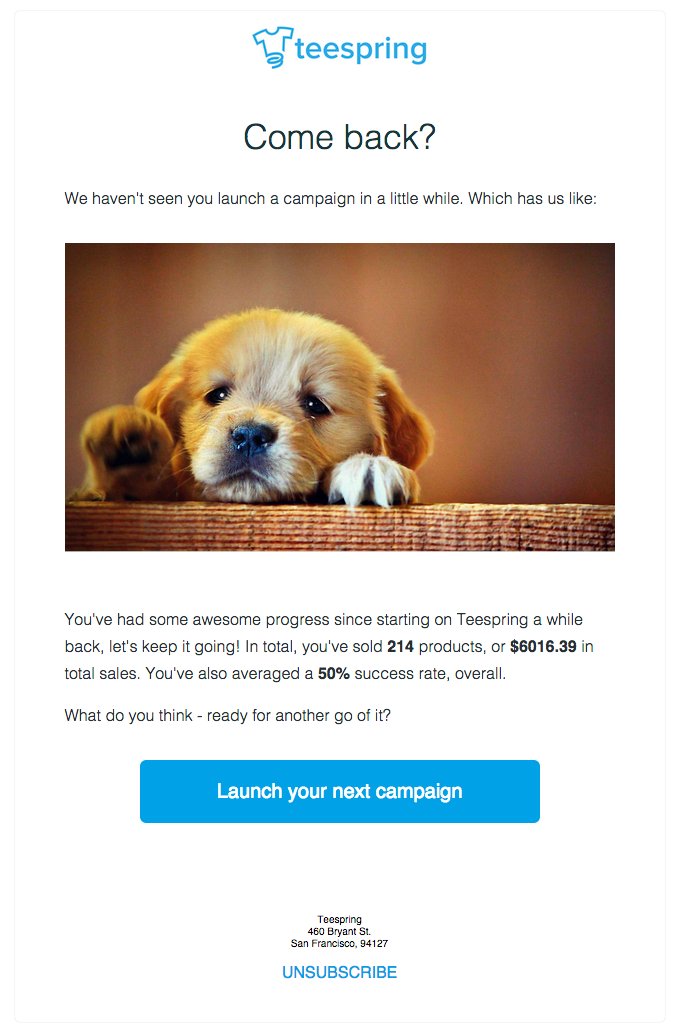 Here's why it works:
Short, simple email copy that keeps things brisk and to the point
Uses customer progress to add a touch of personalization and motivation
Includes a low-friction CTA
Makes the recipient feel recognized and appreciated
13. Affiliate email template
Though it's arguable whether affiliate program announcements count as "customer success", it can no doubt be part of your customer success strategy.
Offering an affiliate program can incentivize your most loyal customers to continue spreading the word about your SaaS tool, and may even convince skeptical/non-buyers to continue exploring your tool.
This win-win situation will also ensure that your customers have a longer lifetime value, as they explore different use cases of your tool. People in your affiliate program will also be actively involved in offering feedback and ways to improve your tool, creating a customer feedback cycle that allows you to align customer success with product development.
Ranktracker offers a very generous lifetime 20% affiliate commission and this is their email:
Here's why it works:
Highlights the affiliate commission loyal customers can make
CTA link brings the user to a case study of affiliates' income
Includes an overview of features of the tool in case customers were not aware of the full suite of functions
Level up your customer success emails with Hiver
Sending well-timed, thoughtful, and engaging customer success emails is a tried-and-tested way to make customers feel respected and cared for. Not only does it help you win their trust, but it also paves the way for building long-term relationships with your customers that will ultimately improve your business's bottom line.
Hiver allows you to craft personalized emails and save them as templates with a single click. You can organize different email templates into folders and easily share them with your team. What's more, you can make your emails visually appealing by embedding relevant images into your email templates. And without having to write a single line of code! Hiver's email templates are a great way to save repetitive work, improve turnaround time, and elevate your customer success emails.