Saved 658 hours in a month
208 hours
through Automations
76 hours
through Assignments
254 hours
through Email Status
Arrive Logistics is a technology-powered freight brokerage company. It was co-founded by Matt Pyatt and Eric Dunigan in 2014. They are headquartered in Austin, Texas. As of 2018, they have moved over 250k loads, are $370 million in revenue, and employ over 700 people.
The addition of Hiver helped free up an employee's entire workday and actually get them to focus on more important tasks. With Hiver, I was effectively able to get back an employee into my team.

Arrive thrives on a robust carrier side, best-in-class proprietary technology, and a passion for customer service delivered by the industry's top talent. They believe in engineered solutions for their customers, not a one-size-fits-all model. Superior customer support to both shippers and carriers is at the forefront of this endeavor.

The Arrive Logistics team uses email extensively for communicating with its customers and partner carriers. For them, managing email requests in a timely fashion is a crucial step in fulfilling the promise of superior customer support.

But, there was a hurdle.
The Challenge
Meet Christina O'Connor. She joined Arrive as the Accounts Payable/Accounts Receivable (AP/AR) Manager a little over a year ago.

The Accounts team has a major role to play in maintaining partner relations. They strive to approve and process payments as efficiently as possible. Their goal is to never leave a shipping partner waiting (or wondering when their payment would come).

But the process of managing emails was becoming a bit of a hassle:
The team supervisor spent a large chunk of her day manually sorting through incoming emails, and forwarding them to specific team members.
It was tough to tell who was working on an email—the team sent duplicate replies sometimes. Even worse: some emails went unattended.
There was no way to know which emails had been resolved and which ones were awaiting a response.
They did not have a way to measure how efficient their team was, and how the workload was distributed among the team members.
The Solution
Christina began looking for a shared inbox management solution to contain the chaos — and chose Hiver.
Why Hiver?
Because it worked on top of Gmail. Being existing G Suite users meant that the team wouldn't have to go through the ordeal of adapting to a whole new user interface.
And she loved the fact that Hiver came with powerful analytics.
---
Hiver checked all of the right boxes, but what really helped us become successful with Hiver was the ability to measure analytics right out-of-the-box.
---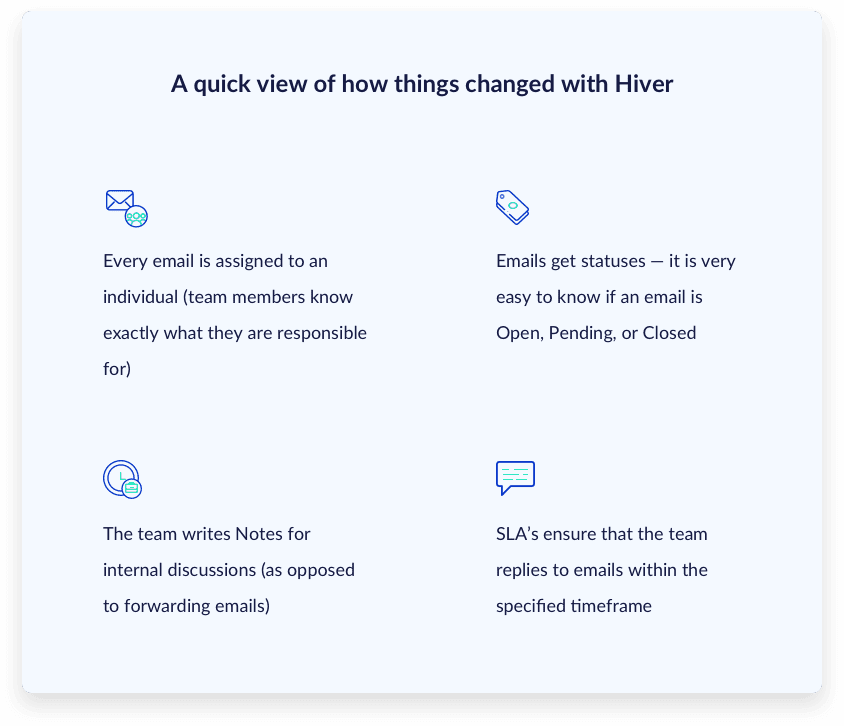 Automated routing for faster email handling
The team uses email assignment automation to route emails from select carriers to specific team members. The elimination of manual work distribution helps the team handle emails in 40% less time than before. It also ensures there are no email misses.
Christina says:
---
The addition of Hiver helped free up an employees' entire workday and actually get them to focus on more important tasks. With Hiver, I was effectively able to get back an employee into my team.
---
Easy behind-the-scenes team collaboration
Christina's team uses Notes in Hiver to collaborate within the team and resolve issues being faced by their carriers—effectively eliminating email forwards, and Ccs and reducing the reliance on external collaboration tools.
Christina and her team write about 18 Notes every day. Our research shows that syncing up on an email takes a minimum of 2 minutes of a team's time (switching apps and building context). Christina's team easily saves about 35 minutes every day with Notes in Hiver.
Useful insights on team performance
With Analytics, the team analyzes their turnaround times and identifies areas for improvement.
Christian adds:
---
Hiver has helped redefine our hiring structure. Knowing the volume of emails coming in on a daily basis, and the turnaround time to get those responded to have played a key role in making sure we're staffing appropriately.
---
Being able to analyze the volume of incoming emails as well as the response times has helped the team accurately determine the workload that every employee carries.
This has helped them identify employees who are likely to be overworked and take proactive action by either rotating employees between time slots or adding additional staff members to offset the increased workload.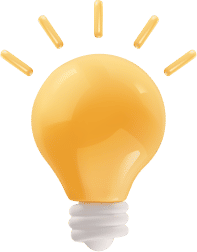 The Hiver advantage
There are no missed emails, no more duplicate responses, and they've been able to free up their employees' time which was otherwise spent in mundane tasks.
Favourite features
Closing note
With Hiver, the AP/AR team at Arrive Logistics was able to ensure that there were no longer any missed emails, and no more duplicate responses, but most importantly they were able to free up their employees' time which was otherwise spent on mundane tasks.
Christina's final thoughts on Hiver were:
---
I love the fact that Hiver is extremely intuitive. If I was looking at Hiver as a person, this person would be very well organized, very process-oriented. Hiver is basically everything that I would look for in a new hire for my team.
---
Location
Austin, Texas
Industry
Logistics
Goals
Manage emails better and improve workload visIbility