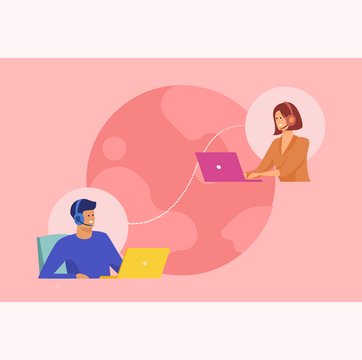 Table of contents
8000+ teams use Hiver to delight their customers!
Outsourcing Customer Service: A complete guide
Jun 16, 2023
|
11 min read
|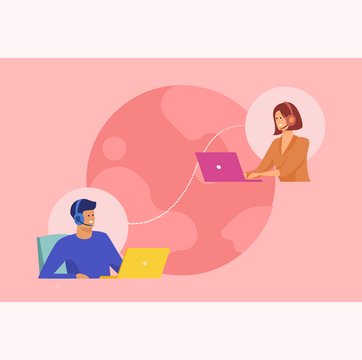 Table of contents
What do you picture when you think of outsourcing customer service?
Perhaps a tremendously large office space with a horde of headset-donning employees, mouthing the same well-rehearsed script into their mics over and over:
"Thank you for calling ABC.
You're speaking to XYZ today, how may I help you?"
Andperhaps you're right in a way. But over the past decade, customer service has evolved significantly – and needless to say, outsourcing practices have followed suit.
Today, outsourcing is about much more than just reducing your work burden and helping you scale faster. It's also about enhancing the customer experience.
Having said that, deciding whether you should outsource customer service or not is still a very hard decision to make. After all, you have a lot more to lose than gain, if it doesn't work out the way you'd envisioned.
In this post, we'll help you understand what outsourcing customer service entails, the different types of outsourcing service providers, the benefits and drawbacks of outsourcing, and how you can best implement it, should you choose to.
Table of Contents
Why do companies outsource their customer service?
Today, shifting customer service to a third-party service provider is a common move. Over 68% of companies in the United States, including small businesses, outsource services to other countries.
A company's decision to outsource its customer care could be a function of multiple factors. Maybe you're a new business with limited staff and budget; maybe you want to focus on the core areas of your business and your current work arrangement isn't letting you do so; or maybe, you want to give your support offering a professional overhaul. Whatever your reason, outsourcing customer support can be a highly flexible proposition that you can tweak depending on your unique support requirements and strategy.
You can choose to outsource your entire customer success operations or only certain aspects of it like your call center, chat support inquiries, peak time support inquiries, technical support inquiries, consumer PR, PR services, etc.
What are the different types of customer service outsourcing?
The first thing to understand while deciding to outsource your customer service is the plethora of options available. You need to carefully consider the following choices and what best suits your needs.
Multi-channel vs. Omnichannel Support
Multi-channel support means providing customer support services across two or more channels like email, live chat, or phone calls. Omnichannel support allows you to deliver seamless and integrated customer service across all customer touchpoints.
When you have few channels to cater to and a low volume of customer requests to manage, multichannel outsourcing can be a good choice for you. But if customers interact with your company through multiple devices, touchpoints, and channels, it is important to provide them with a consistent experience. Omnichannel customer service helps enhance the customer experience and increases satisfaction.
Onshore vs. Offshore Service providers
While outsourcing customer service, one important factor to consider is whether you want to hire onshore or offshore call center services. Typically this will depend on where your customers are located. Some factors you should consider while deciding this are language, cultural differences, technological infrastructure, and time zones. Some popular countries you can consider outsourcing your customer service to are India, the United States, the Philippines, and South Africa.
Shared vs. Dedicated customer support agents
In shared customer service, customer support agents handle multiple companies at once. If your customer service doesn't need much personalization and is fairly easy to understand, shared outsourced customer service is the most suitable for you.
In contrast, if your customer interactions are complex and need an in-depth understanding of your products, services, and brand knowledge, you should consider a dedicated outsourced customer service provider. They work solely for your business and would be able to tailor their services according to your company's needs. This will make your customers happy and increase customer retention.
What are the pros and cons of customer service outsourcing?
Now that you're clear about what outsourcing customer service entails, let's unpack its advantages and disadvantages. This will help you make a calculated decision about whether customer support outsourcing is in line with your strategy, vision, and goals.
The pros
First, let's look at a few merits of hiring a third party to handle customer service for your business:
Cost-Savings
One of the most compelling advantages of outsourcing customer service is its cost-effectiveness. According to Deloitte's recent global outsourcing report, 70% of companies consider cost reduction as the primary objective when it comes to outsourcing services.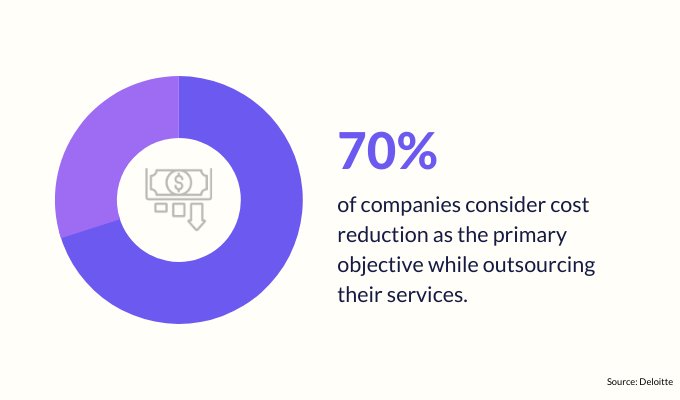 By outsourcing your customer service, you can cut down costs on hiring, onboarding, training, quality assurance, infrastructure, fixed salaries and benefits, and save your business a lot of money. In fact, outsourcing helped IBM reduce their cost of customer contact by 97%!
You could outsource your customer service to a top-tier business process outsourcing (BPO) contact center offshore, where the cost of living, wages, and operational expenses are significantly lower than your home country.

But, do bear in mind to pay your outsourcing partner fairly for their services.To find the right wage for your outsourcing partner, consider factors like minimum wage laws in their country, currency difference, experience, etc.
Reduced workload
Customer service can be very high-pressure. It's also a very time-intensive endeavor that requires you to work consistently on building and maintaining a meaningful relationship with your customers.
If you're a business with limited resources, and are looking to scale quickly, managing customer service in-house could overwhelm you. You might find it difficult to focus on your most critical business functions.
In such cases, outsourcing your customer service can take a giant load off your back, and leave you with more time and resources to invest in the core aspects of your growth strategy.
Flexible coverage
When you outsource your customer service, you have the option of providing your customers with quality support even on weekends and holidays – even 24×7, if you wish to. In fact, Hiver's latest Customer Service Benchmark Survey found that 76% of companies are offering support outside of traditional business hours – 34% of companies are even offering 24×7 support. So outsourcing your customer service might be a good option if you're short-staffed but want to be available for your customers beyond your working hours.
Alternatively, if your business sees an uptick in customer service requests during specific times of the year, say, during the holiday season, outsourcing is especially helpful. It allows you the flexibility of scaling up your customer service during peak times and scaling it down when the inflow of customer requests drops – all without any hassle.

You can also outsource your customer service for specific channels like email, voice, live chat support, and social media depending on what your customers prefer most.
More efficient customer service management
Building a customer service team from scratch is a Herculean task – not to forget, an expensive one at that! It can take several months to hire the right talent, train them, establish clear processes and workflows. To add to that, the investment required for customer service software can be huge!
A top-tier customer support outsourcing provider will have all the necessary resources as well as well-defined processes in place to manage customer requests of varying levels of complexity. That, in turn, makes their operations more efficient, and their turnaround time to customers, significantly faster!
The cons
Outsourcing customer service isn't free of limitations. Here are some of the risks you must be cognizant of before making a decision to outsource:
Limited knowledge of your product and customers
No matter how great your outsourcing partner is, it's unlikely that the call center agents will have the same level of understanding and knowledge of your brand and customers as you.
Since they aren't going to be privy to the day-to-day functioning of your business, they'll lack the depth, context and nuance that can make the customer experience truly delightful.
A recent study shows that almost 36% of global customers and 40% of US customers find customer service agents' lack of knowledge to resolve their issues the most frustrating aspect of customer service.
Unless you closely monitor each customer interaction – which beats the purpose of outsourcing customer service, to begin with – you can never be sure if agents are following your company's protocol, or are sharing the right information with your customers.
Instances of poor customer service can result in reduced customer satisfaction and even churn. And, if such issues recur, your company's reputation and customer base are bound to suffer a huge blow!
Lack of personal attention
Building a business is a work of passion and dedication – you'd want to ensure everything that you do, and everything that carries your brand name, is of impeccable quality.
Unfortunately, outsourcing customer service can't guarantee that quality (nor passion) as more often than not, your outsourcing partner will be servicing multiple clients at once – and your business may not be their top priority.
While you do have the option of hiring an outsourcing partner that provides a dedicated team of agents to handle customer service for your business, it's not going to come cheap.
Poor collaboration and information silos
When you outsource your customer service, you have little control over how effectively that team of agents collaborates and exchanges information.
And when agents don't collaborate well, the customer experience suffers considerably. It can create inconsistencies and discrepancies in the service your customers receive.
If customers get a different response every time they contact your outsourced service department, or worse, their request keeps getting transferred over and over, not only does it make your brand look unprofessional, it also wastes customers' time and adds to their frustration.
Recommended Reading
Data security concerns
Many companies have to work with sensitive customer data that poses serious risks of being misused, lost, or breached, especially when a third-party agency is involved. And any tampering of customer data can cost your business both reputation and money.
Outsourcing service providers usually have robust protocols and security systems in place to ensure the security of sensitive data. However, a data breach is still a huge concern when you decide to outsource your customer support. Further, even the process of data transfer to your outsourcing partner poses a high security risk, as it increases the likelihood of systems getting hacked.
Even when companies decide to bring their customer support operations back in-house to mitigate data security risks, they may still face challenges in managing their data. This is where Reverse ETL (Extract, Transform, Load) tools can be helpful, as they enable companies to transfer their data from various third-party sources, such as call center software, back to their own internal systems for better control and analysis. However, companies must still ensure proper security measures are in place when using such tools to prevent potential breaches or data leaks.
According to a survey by PwC, 81% of companies worldwide are concerned about the mismanagement of critical data by their outsourced call center agents. The same survey reported that at least 18% of third-party suppliers have breached and exposed companies' vital data by accident.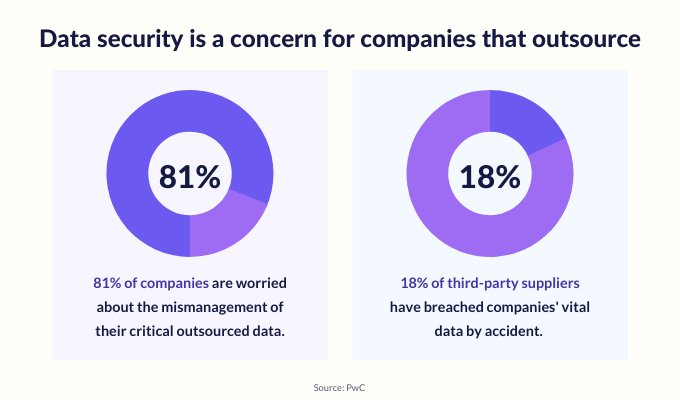 Five best practices to follow when outsourcing customers service
Customer service is a critical aspect of your brand – it can make or break your business. So, after having weighed the pros and cons of outsourcing, if you do decide it's the right option for your company, ensure you do a good job at it by keeping these five best practices in mind:
Set clear goals for your customer service
Before you can pass the baton of your company's customer service operations to your outsourcing partner, ensure you set very specific goals for it.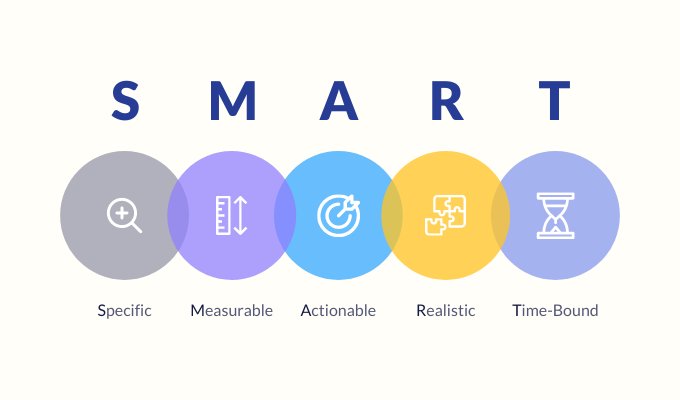 Effective goal setting isn't something you can depend on a third party to do well. You understand your business' vision, and how customer service ties into your brand's overall strategy, more than anyone else.
Whatever the primary focus of your customer service may be – whether it is to cut down on costs, increase the coverage of service you offer, lower response time, or improve customer service quality, make sure you spell them out and communicate them with your outsourcing partner clearly.
Let them know what all you expect of them. Then ask them to share a plan on how they're going to help meet those expectations.
Choose your customer service outsourcing partner carefully
In customer service, there's no one-size-fits-all formula that applies to all companies. How you should deliver support depends on several factors like your brand's strategy, the goals you define, the industry you operate in, and the type of customer requests you usually receive. That's why, it's very important that you choose an outsourcing partner who understands your business, your customers, and your vision well.
There are a ton of outsourcing partners with different strengths. Some are good at handling high-volume but simple customer requests, while some are more skilled at managing unique, tailored, and complex customer queries. Depending on your individual requirements and budget considerations, you can narrow down your options of potential partners.
Other factors you should keep in mind before zeroing in on an outsourcing partner are – time zones, language requirements, ease of collaboration, legal or regulatory obstacles, data security, etc.
Take complete charge of training and quality
If your outsourcing partner has a large client portfolio, their staff most likely handles customer service for multiple clients at the same time. If you're an insurance company, your brand voice and language can't be the same as a women's apparel brand. Nor should the kind of service your customers receive be.
It's therefore absolutely important that you personally take control of training your outsourced team. Ensure they know and understand everything about your business – right from your brand's vision and mission, down to the very detailed technical aspects of your product or service. Ensure they know what are the most commonly asked customer questions, and how they should go about answering them.
If your outsourcing partner is based offshore, you also have to take into consideration the differences in language and culture, and their implications on your brand communication. Although most outsourcing companies already train their agents on these aspects, there may be certain specifics pertaining to your brand voice that you'd need to train them on.
Finally, make sure you regularly monitor the conversations outsourced reps have with your customers so you can keep a close check on its quality, iron out issues, if any, and make necessary improvements along the way.
Hold regular meetings and review discussions
Your customer service function can very easily go south if you don't regularly connect with your outsourcing partner. It is important to get updates on what's going right, what issues are cropping up, and how they can be dealt with quickly.
These discussions can also help you understand if there's a spike in certain trends in customer queries. For example, if there are a number of customers requesting the same feature in your product, you can let your product development team know to add that in their feature pipeline.
Recommended Reading
Measure the success of your customer service strategy
Finally, it's important that you routinely monitor the outcomes of outsourcing customer service, and whether they're in line with the goals and strategy you had set.
Analytics are an integral part of the success of every company's customer service function – whether in-house or outsourced. They tell you how well you're controlling your costs, what your average response and resolution times are, how satisfied your customers are with your service and how easy it is for them to have their issues resolved with you.
Other qualitative aspects of customer service such as agents' level of empathy, ability to communicate effectively and knowledge levels are although harder to quantify, they can be gauged by the routine conversation monitoring that you do.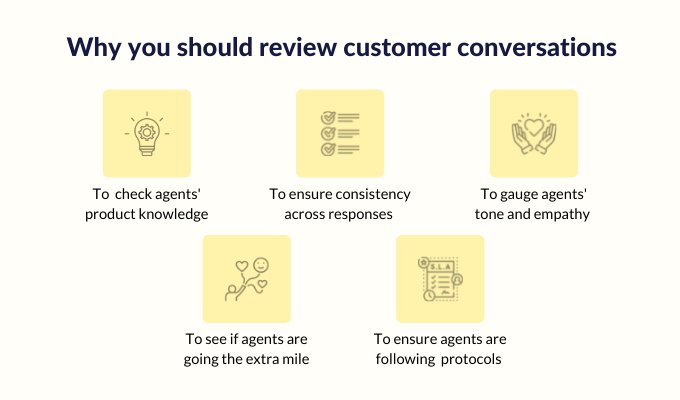 Make sure your outsourcing service provider tracks all the metrics that are important to your business and customer service strategy, and include them in the Service Level Agreement (SLA).
Outsourcing customer service can be rewarding, but don't let it dampen the customer experience
Customers' expectations from brands are far higher than what they used to be. Customers are also a lot more empowered than they were, even until a few years ago.
A happy customer is bound to stay loyal to your brand – they'll reward you with positive reviews, recommendations and repeat purchases. And, an unhappy customer will do just the opposite – and that may cost your brand a lot more than the money you saved on outsourcing.
And that's why, your customer service piece needs a lot of care and personal attention. You can't simply hand it over to a third-party and expect magical results. While outsourcing can be a very compelling option, do understand that when it comes to giving your customers an experience above and beyond what they want, nobody can do a better job at it than yourself.