Table of contents
Email communication getting chaotic for your team? Try Hiver today!
Gone are the times when you could sit in an empty room and indulge in deep work. Most jobs these days require you to collaborate with the people around you.
The other side of the story is that there are way too many meetings. In the US alone, $37 Billion is wasted every year on excessive meetings, according to a University of Nebraska study.
So ideally, you'd want people to collaborate but not waste time in meetings. And that is why you need to pay attention to internal communication.
As our inboxes become more cluttered with every passing day, using email for internal communication is not a great idea, not one bit.
In this post, I will run you through the best tools your teams can use to communicate internally — let's dive right in.
9 tools to simplify your team's internal communication
1. Hiver – No more FWDs, CCs, BCCs
Email forms a critical role in most teams' internal communication. Teams all across the world use it to collaborate with peers, delegate tasks to teammates and keep everyone in the loop.
But, email was not designed to function as an internal communication tool for teams. Things can get rather chaotic rather easily, because:
Even for simple things like sharing information with a teammate or delegating a task, we will have to rely on CC, BCC, and Forwards.

Email threads will become too long – making it hard to locate information.

Increases chance of miscommunication – might end up replying to the wrong person.

You will find it hard to differentiate between internal and external communication.

You will have to be logged into multiple inboxes at the same time –

yours

and

shared accounts

like marketing@, info@.
Hiver can help you solve all of these problems and significantly reduce internal email exchanges. Teammates will be able to access any number of shared email accounts such as marketing@, help@, right from their own inbox – no more switching accounts! Moreover, you will be able to assign tasks to teammates and track their status.

Hiver also lets you share your Gmail labels with teammates. This comes in really handy if you want to share multiple Gmail threads at once.
And that's not all, with Hiver, you get Email Notes which are like chat messages that appear right beside your email thread. You'll not have to write emails to your teammates and keep waiting for an answer.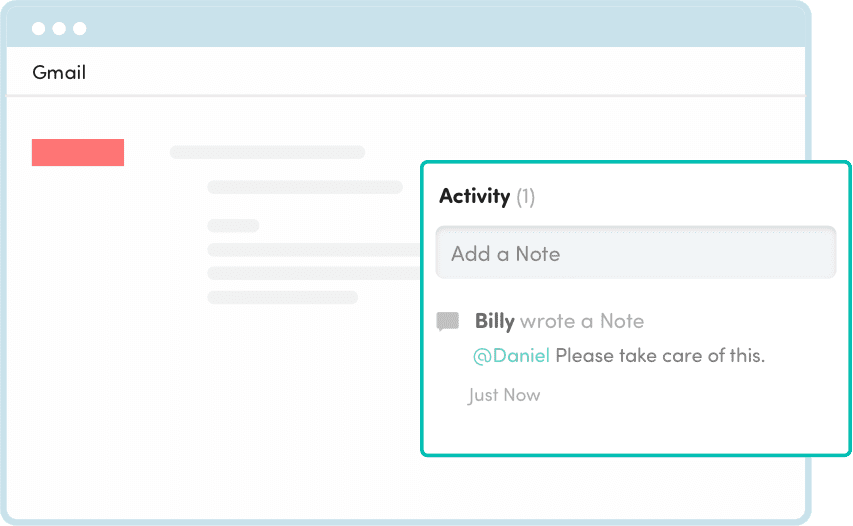 You can choose whom to notify using @mentions. The Notes stay right where you wrote them, in case you'd like to refer to the conversation in the future. With Notes, internal and external client communication remain neatly separated.
You'd definitely love
The ability to do all of the above right from your inbox.

The ease of getting used to it — pretty much nothing to learn.
Pricing:
Hiver has a free trial for 14 days. Post that, you have plans at $12, $24, $37, and $57 per user per month charged annually.
2. Slack – real-time messaging through calls and chat
Imagine you want your team's input on planning a team outing or analyzing a landing page design. How would you do it? A chat app is the most logical solution, isn't it?
But, in a professional set-up, a regular chat app just won't cut it, you need something more powerful – where you can chat in groups, comment/quote on replies, send files, schedule meetings, and more.
This is where Slack comes in. It is one of the most popular chat apps for teams. It lets you have one-to-one chats (Direct Messages) as well as group chats (Channels) with your teammates.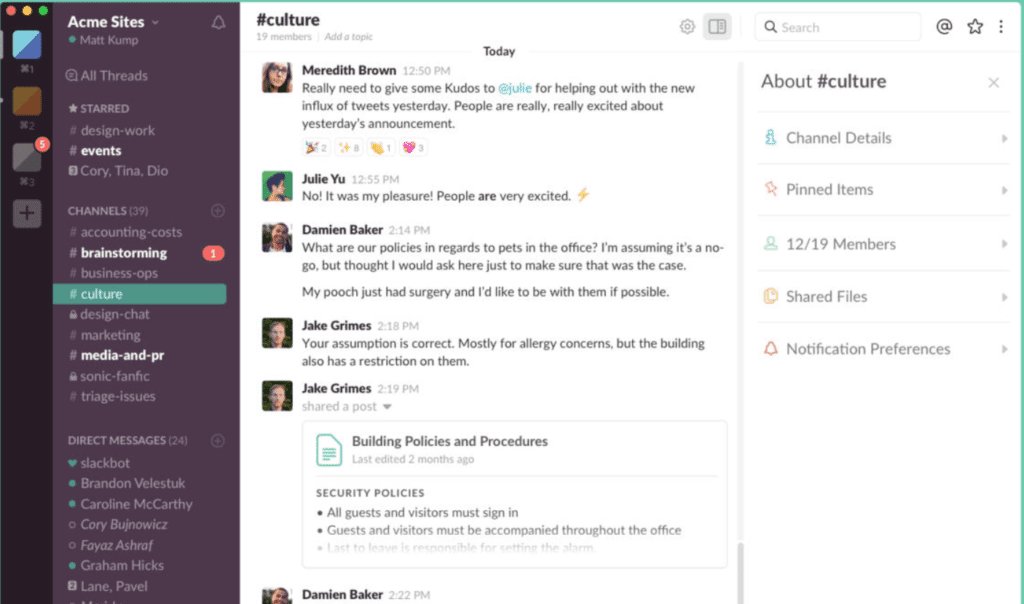 Besides that, Slack allows you to:
Share files with your teammates, both individually and in a group.

Add comments to the files shared with you.

Turn any chat message into a mini-channel about that one topic.

Add Facebook-like reaction to chat messages.

Get on video calls with your teammates.

Keep your group chats organized by creating separate Channels for specific projects, specific teams, general announcements, and so on.

Set reminders and schedule meetings using the Slackbot tool.
You'd definitely love
No more waiting for meetings to get updates – you can get all the details as it happens.
Pricing:
Free for unlimited users with 1-on-1 calls, and 10k message history. The paid plans start from $8/month per user with features like unlimited history, screen sharing, team video calls, and more.
You can download Slack here.
3. 15Five – give your team a platform to be heard
Don't take your employees for granted, they are not robots. You will never unlock their true potential if you treat them like that. You have to listen to them and understand their sentiments. Otherwise, all the targets and numbers you set may end up a long way off the mark.
15Five is a great tool to fix this gap and give your employees a chance to be heard. It lets you collect employee feedback, conduct pulse surveys, and encourage peer recognition. As everything is stored in a central hub, you can view, sort, respond to, and analyze everything from one place.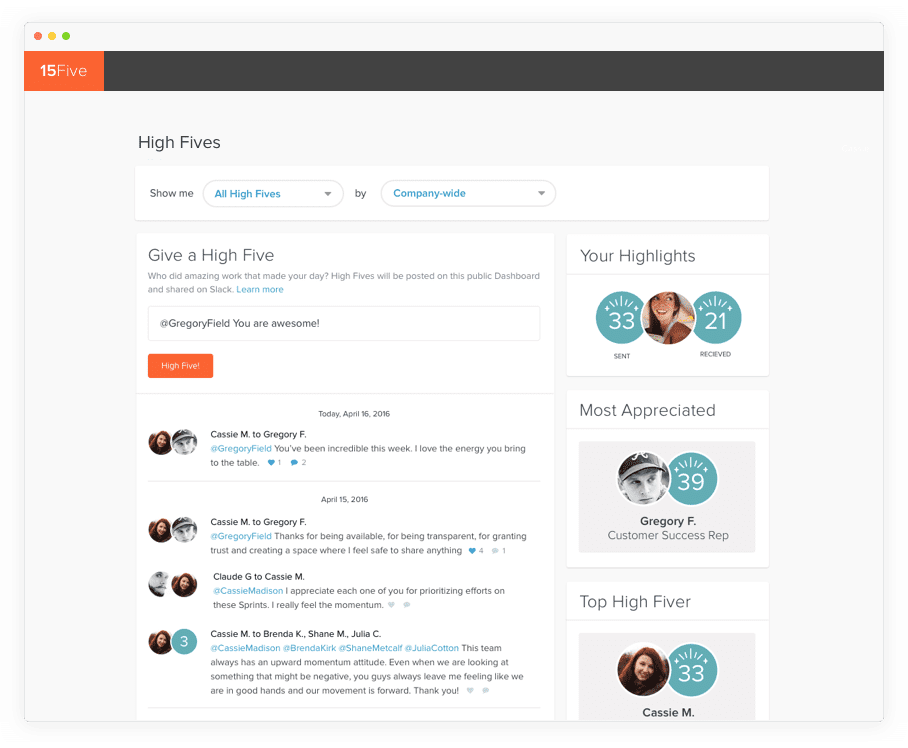 It also lets you do the following:
Create custom survey questions (15Five provides a library of valuable question prompts).

Set different reviewers for different employees.

Collect company-wide as well as team-specific feedback.

Share the feedback with other people in the organization who need to see it or are supposed to act on it.

Improve accountability by making employees list out their goals and accomplishments.
You'd definitely love
How extremely simple and easy-to-use this tool is.
Pricing
Their basic plan is priced at $7 per person per month and the plus plan is priced at $14.
You can download 15Five here.
4. Zoom – make video and web conferencing frictionless
Although there are a lot of simple video conferencing tools out there, most of them are not good enough to support the demands of a full-fledged team. They may lack recording capabilities, have time limits, insufficient seats, and so on.
This is why you should go for a solution such as Zoom. It has a fairly low learning curve – you can set up and join a call in a couple of clicks. With the paid plans, you can even add up to 500 people at once.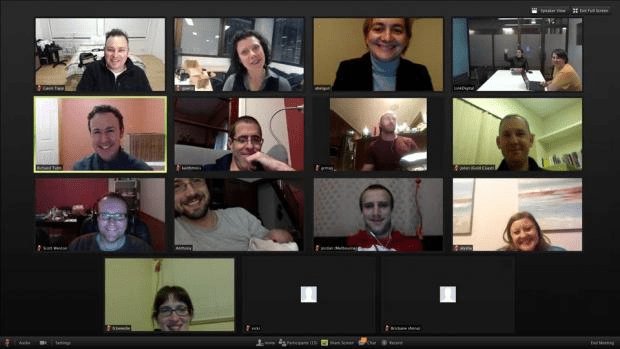 Here are some of the features that make Zoom stand out:
Record any call with a full-length video, or keep a sub-conversation going in the text chat.

Allow people to join as a view-only attendee, this useful in case of webinars.

Share your screen, choosing to either show your whole screen or just one of the apps you're running.

Share whiteboards that you and other participants (if allowed) can annotate on.

Schedule calls in advance, chat anytime with any of your contacts, or connect to room conferencing hardware.

It has Secure Socket Layer (SSL) encryption, AES 256-bits encryption, role-based access controls, and admin feature controls.
You'd definitely love
It's doesn't consume a lot of power – with only moderate battery drain and CPU usage during most calls.

Even when your internet connection isn't the best, Zoom typically will keep your video going — though sometimes at a reduced quality level.
Pricing
Zoom is free up to 50 participants for 40 minute long meetings. The Pro plan is priced $14.99/mo/host. This has a limit of 100 participants, unlimited meeting duration for all meeting sizes, 1GB of MP4 or M4A cloud recording, and more. The Business and Enterprise plans are both priced at $19.99/mo/host.
You can download Zoom here.
5. Document360 – an online self-service knowledge base for your customer and employees
Poor communication is a major source of workplace demotivation and employee disengagement. Consider how much time employees spend interrupting their job to respond to inquiries from co-workers. You're presumably talking to new staff frequently, explaining things you've already covered.
While many firms understand the benefits of a customer-service knowledge base and how much it can help support, it is less well recognized that an internal knowledge base may greatly improve your operations.
Any organization with a hybrid work environment can benefit from Document360's internal knowledge base. It's a holistic platform where internal documentation can be stored and accessed by all teams in your organization.
This presents a chance to promote internal workplace collaboration, which bridges the information sharing divide within the firm. An internal knowledge base also serves as a resource for support agents when determining how to fix difficulties. It's a little like a company handbook here, because it should include policies and processes for dealing with consumers who have queries about products/services.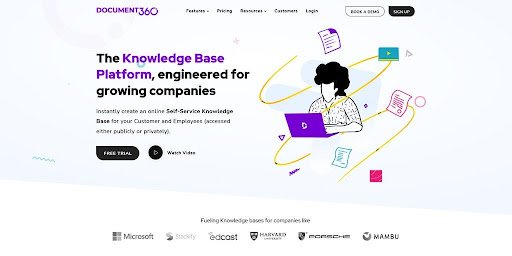 Here are some of Document360's stand out features:
Stop worrying about missing or deleted articles. Utilize automatic scheduled backups and/or manual backups.
Create numerous knowledge bases that are accessible both privately and publicly.
You can restrict access to your documents to people inside a specific IP range. This is useful for businesses that want to restrict access to their documentation for increased security.
A search engine driven by AI that provides context-sensitive results in milliseconds.
Administrators can define and allocate permission sets to team members who perform the same tasks or jobs.
You may easily export your articles and import them into the new project with a single click.
It provides detailed reporting with a focus on team analytics.
You can Integrate with Slack, Microsoft Teams, and many more.
You'd definitely love:
How intuitive and user-friendly the tool is.
The ease with which Document360 can interact with your existing tools as well as any popular third-party apps on the market.
Pricing:
Document360 offers a variety of price levels, beginning at $99 per month for two team accounts and going up to $499 a month for 10 team accounts making it suitable for large enterprises.
You can download Document360 here.
6. Helpjuice – help your team help themselves
Even in this day and age, many companies rely on individual employees gathering knowledge for themselves. This approach has two fundamental flaws:
Employees may fail to file the information.

Employees may not share the expertise or the information they collected with them when they leave.
Besides this, having specialized teams and departments often leads to the creation of data silos. This causes confusion – teams may be ignorant of the fact that they are not pulling in the same direction.
Helpjuice fixes these problems to a large extent with its cloud-based internal knowledge base platform. It allows organizations to compile all the information in one place and let employees access it whenever they want. This way, every time someone has a doubt, they can visit the knowledge base, and clarify it in minutes. Eliminating the need to rely on anyone.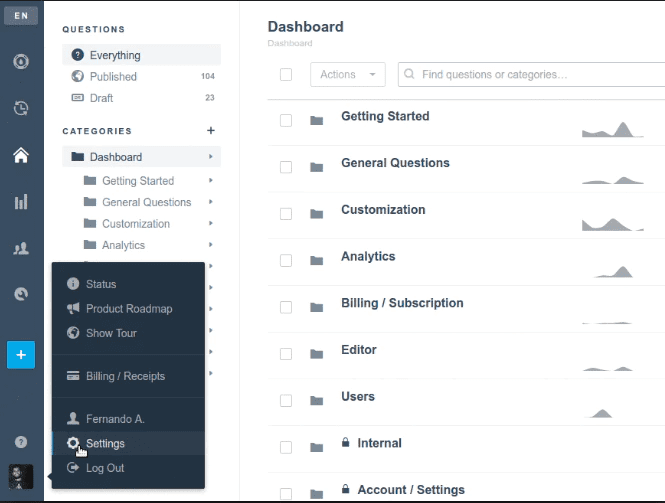 Here are some of Helpjuice's stand out features:
It includes a content management system for writing and editing knowledge base articles.

Administrators can give role-based permissions and monitor the performance of leading contributors to the knowledge base.

Powerful customization and styling tools enable you to create visually appealing content easily.

You can display a question in multiple categories and set tags to improve their findability.

Learn what people are searching for, what results are they getting, and more.

Its powerful search engine enables employees to find what they are looking for quickly.

It's flexible and customizable, so it's easy to design a knowledge base specific to your company and its needs.
You'd definitely love
It's very easy to use and navigate.

The content can be edited and submitted for review quickly.
Pricing
They have a 7-day free trial. Post that, you having pricing plans that starting at $199/mo. This includes 30 collaborators/ users.
You can download Helpjuice here.
7. ProofHub – stay in ultimate control of your teams, tasks, and projects
Your team members waste a lot of time juggling between different apps for carrying out their daily work activities. Imagine the hassle they have to go through while managing their tasks on one app, track time on another, communicate and collaborate using a different app and use another app for sharing data, and so on.
ProofHub eliminates this hassle by providing a single software to replace the various apps that you and your team use for managing your daily activities. It helps teams stay in ultimate control by bringing together everything they need to plan their tasks, collaborate in real-time, and keep work organized.
Here's a look at some of the things that you can do with ProofHub:
Create custom workflows for agile task management.
Use Gantt charts for better project planning.
Collaborate in real-time.
Communicate using an in-built chat app.
Share files, review design files, annotate using markup tools, proof, and approve them.
Create custom reports with parameters of your choice for better project and resource management.
Track time and use timesheets for invoicing and billing.
Integrate the apps you are already using like Google Drive, OneDrive, Dropbox, and Box to bring everything in one place.
You'll definitely love:
The easy-to-use interface makes onboarding effortlessly easy.
Powerful collaboration features that help teams stay connected no matter they are working under the same roof or remotely.
Simple, no per user pricing.
Pricing:
The basic plan is available at $45 per month, while the ultimate control plan with unlimited users and projects is available at $89 per month.
8. Chanty – easy-to-use, intuitive solution that helps teams communicate and collaborate efficiently
Although there are a lot of team communication tools, they all offer different functionalities beyond communication. For those teams that don't want to limit their collaboration to just exchanging messages, Chanty offers audio calling and video conferencing functionality with screen sharing.
Chanty is also good for managing projects, as it has a built-in task manager with a Kanban board that allows you to turn messages into tasks, assign a teammate to perform the task, set a due date and priority. Chanty voice messaging lets you instantly communicate with your team in voice.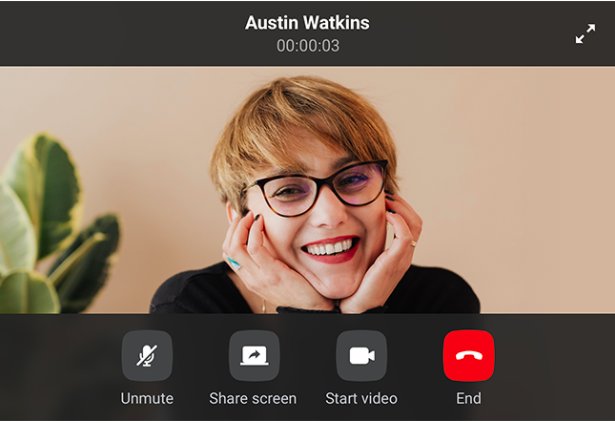 Chanty also offers these features:
Unlimited message history
Private, public, group and one-on-one conversations
Integrations
Audio/video calls
Voice messaging
Built-in task management
Kanban board
You'll definitely love:
The simple interface and the range of features Chanty offers.
Pricing:
You can check out Chanty's pricing plans here.
9. Narrato – an all-in-one content workflow platform
Toggling between different tools for content ideation, planning, creation, and collaboration can severely impact your content team's efficiency. Not to mention, the chaos of a scattered content process that ensues. Most project management tools are generic and one-size-fits-all which don't really help content teams with their unique requirements.
This is where a platform like Narrato comes in handy. Narrato is a complete content workflow platform and marketing solution with advanced content planning, creation, and collaboration features. The platform brings your entire content process, team, and tools under one roof.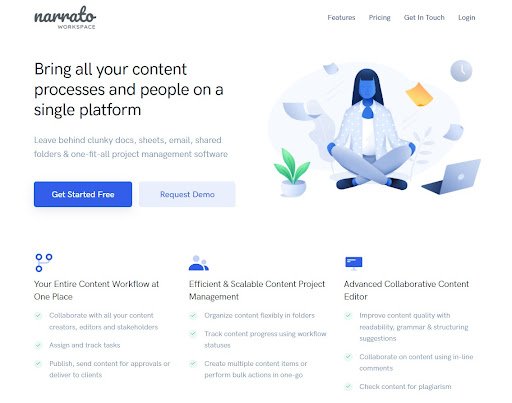 Some of the key features of Narrato include:
A powerful content editor with AI-powered content optimization capabilities.
Custom workflows and workflow automation.
AI-powered content writing assistant and content ideation tool.
SEO content briefs with keywords, questions, and other parameters.
Content planning tools like content calendars, Kanban boards, and templates & style guides library.
Content collaboration features like messages, on-content comments, and @mentions.
Custom user roles and access that include client (guest) roles and freelancer payment management.
WordPress publishing support and easy public link sharing.
You'd definitely love:
The intuitive and user-friendly interface
The AI-powered capabilities of the platform
The ease with which you can collaborate with your colleagues on a content piece
Pricing:
Narrato has a free plan for individuals and teams that are just getting started. The Pro plan is priced at $8 per user per month and the Business plan for larger teams is $18 per user per month. You can also build your own customized plan to suit your needs.
Wrapping up
Every company needs to consider improving internal communication as a top priority. If not, silos and information gaps will start appearing. Eventually, people will find it hard to collaborate or pull together in the same direction, dragging down the organization's productivity.
These eight tools will help you get started. They cover almost all of your internal communication and employee engagement requirements.
Loved this article? Here are three helpful posts for you: