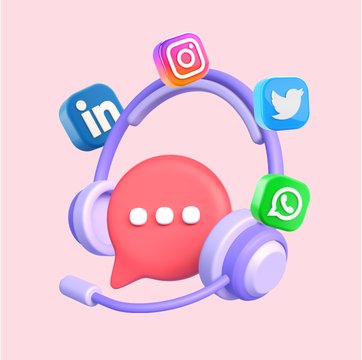 Table of contents
Transform your Gmail into a Helpdesk
7 Best Social Media Customer Service Software [2023]
Aug 28, 2023
|
9 min read
|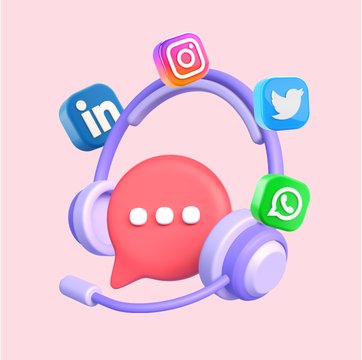 Table of contents
Social media platforms are no longer just for connecting with friends and family. They're becoming increasingly popular amongst businesses for providing real-time customer support.
There are a number of reasons why social media is a good platform for customer service.
Your customers are already there. It's easy for them to reach out to you, and vice versa.
It allows you to provide quick and efficient responses to inquiries.
It displays a brand's dedication to solving problems and creating positive interactions on social media. This boosts the brand's reputation among the public.
Now, as a company grows, so does its customer base. In this scenario, managing customer service manually on social media can become overwhelming.
That's where a dedicated social media customer service software can help streamline the process. In this article, we explore the 7 best tools that can help with assigning, categorizing, and collaborating on social media customer queries.
We will discuss their features, pricing, and pros and cons, so you can choose the right software for your business.
Table of Contents
What is a Social Media Customer Service Software?
A Social Media Customer Service Software, often referred to as Social CRM (Customer Relationship Management) software, is a specialized tool designed to help businesses manage and enhance customer interactions on various social media platforms.
Let's say a customer posts a complaint about a defect in your product on Twitter. If your company has a social media customer service tool, it immediately detects the negative sentiment associated with this tweet, alerts the support team, and triggers an automated response or escalation process.
Key Features of a Social Media Customer Service Software
Social media customer service software offers a range of features, such as:
Unified Inbox: It provides a unified inbox that aggregates messages and notifications from various social media platforms, allowing customer service teams to manage interactions from a single interface.
Real-Time Monitoring: The software enables businesses to monitor social media platforms in real-time, helping them stay updated on customer conversations, mentions, and comments as they happen.
Routing and Assigning: The software often includes routing and assigning capabilities, allowing customer inquiries to be directed to the appropriate agent or team based on predefined rules or tags.
Tagging and Categorization: Agents can tag and categorize incoming messages, making it easier to track trends, prioritize tasks, and identify recurring issues.
Collaboration: The software facilitates collaboration among customer service agents, allowing them to internally discuss and resolve complex customer issues.
Sentiment Analysis: Some tools incorporate sentiment analysis to gauge customer sentiments in conversations, helping agents respond with more empathy.
7 Best Social Media Customer Service Software
Let's explore the 7 best Social Media Customer Service Software options available, each designed to streamline communication and enhance customer satisfaction.
| Tool | Starting Price | Free Trial | G2 Rating |
| --- | --- | --- | --- |
| Hiver | $15/month per user | 7 days | 4.6⭐ |
| Sprout Social | $249 per month | 30 days | 4.4⭐ |
| Sparkcentral by Hootsuite | NA | NA | 4.3⭐ |
| Live Agent | $9 per month | 7 or 30 days | 4.5⭐ |
| Zoho Desk | $20/user/per month | 15 days | 4.4⭐ |
| Sprinklr Social | $299/seat per month | 90 days | 4.0⭐ |
| Zendesk | $49/agent per month | 14 days | 4.4⭐ |
1. Hiver
Hiver is a multi-channel customer service software that works inside Gmail. The best part about Hiver is that it's super easy to setup and get started with. The interface is intuitive, and the features are very easy to grasp.
One of Hiver's core features is helping manage customer communication from social media channels, such as WhatsApp. Teams using Hiver can access and manage all customer interactions that happen on WhatsApp – right from Gmail.
Why use Hiver?
Keep all your WhatsApp conversations organized within Gmail. No need to switch between multiple tools.
Allow multiple team members to manage a WhatsApp group collectively, making collaboration easy.
Stay updated with real-time notifications for new WhatsApp messages, ensuring prompt responses.
Maintain a clear record of every customer conversation for accountability purposes.
Setting up the Hiver-WhatsApp integration is straightforward:

– Access Hiver Admin Panel: Go to the Hiver Admin Panel. Click "Create Shared Inbox" to start.

– Choose WhatsApp Channel: While creating the shared inbox, pick 'WhatsApp' as the channel to link Gmail and WhatsApp.

– Follow Regulations: On the 'Getting Started' screen, be sure to comply with Facebook's WhatsApp business regulations.

– Enter Info: Move to the General Information page. Enter inbox name and names of Hiver users (agents) for WhatsApp responses.

– Connect Your Number: Visit your Facebook developer account for necessary info. Follow the guide to complete this step accurately.

– Provide Webhook Details: After the previous step, copy-paste webhook URL and token. Subscribe to webhook events on the Facebook developer account as detailed in the guide.

– Complete Setup: Tick 'I have completed the above steps', and click 'Create Inbox'. Your WhatsApp inbox is ready in Gmail's left panel with other Hiver inboxes.

– Test the Setup: Send a test WhatsApp chat to check if everything works. For issues, contact Hiver support at [email protected].
Pricing Plans
Hiver offers three pricing options.
Lite: $15/user per month
Pro: $39/user per month
Elite: $59/user per month
2. SproutSocial
Sprout Social is a user-friendly and intuitive platform that helps manage social media and customer service all in one place.
Sprout Social can be easily integrated with social media platforms, including Facebook, LinkedIn, Twitter, Instagram, YouTube, Pinterest, TikTok, and WhatsApp.
Besides, it also supports multiple languages such as English, French, Italian, Portuguese, and Spanish.
Why use Sprout Social?
It helps provide relevant context to resolve support issues and nurture potential leads. For instance, when you link a Twitter profile, Sprout Social remembers past conversations, ensuring your team has easy access to this history within the platform.
The shared contact view in Sprout Social ensures that everyone on your team can access customer conversation history, contact info, and any internal notes.
Whether it's managing communities or assisting customers, Sprout provides AI automation for quicker responses and personalized interactions.
Limitations
The cost of upgrading to premium analytics is quite high.
Users encounter limitations with the API, and some find it frustrating that they frequently need to reconnect different social media accounts.
Key features like in-depth social listening are only accessible through a paid subscription.
Pricing Plans
Sprout Social has 4 types of pricing options:
Standard: $249 per month. Includes 5 social profiles. Each additional user +$199/mo.
Professional: $399 per month. Unlimited social profiles. Each additional user +$299/mo.
Advanced: $499 per month. Unlimited social profiles. Each additional user +$349/mo.
Enterprise: Contact for pricing.
3. Sparkcentral by Hootsuite
Sparkcentral is a cloud-based customer service platform that helps you handle and optimize customer conversations. It uses AI to connect with platforms like WhatsApp, Facebook Messenger, and Twitter, as well as your own company's website and apps.
This way, you can manage all customer communications in one place, irrespective of the channel.
Why use Sparkcentral?
Bring customer information from chatbots, CRMs, and other tools under one roof. This helps gain context about customers faster and resolve their issues efficiently.
After every customer interaction on social, you can send out surveys and collect feedback. This gives clear insight on the quality of resolution.
Use chatbots to have personalized conversations with customers on social media. Also, make use of smart automations to manage higher volumes of queries – without burdening your support team.
Limitations
It is sometimes complicated to set up automation workflows.
Reporting options are quite limited.
4. LiveAgent
LiveAgent is a powerful ticketing software that's also great for handling social media interactions. It works with a total of 11 social media platforms including Facebook, Twitter, and Instagram. You can link your social media accounts with LiveAgent to manage all customer service messages in one place.
Why use LiveAgent?
All your private messages from social media are neatly organized in one inbox, making it easy to manage.
Use automation rules to speed up responses to customer inquiries and to handle repetitive tasks.

Use canned responses (templates) to answer the most common customer queries on social media. Also, leverage internal notes to collaborate with team members on customer queries.
Limitations:
Ticket merging can make the merged ticket unsearchable.
Limited option to customize the interface
Pricing Plans:
LiveAgent has 4 types of pricing options:
Free plan
Small business: $9 per month
Medium business: $29 per month
Large business: $49 per month
5. ZohoDesk
Zoho Desk helps businesses manage customer support and communication across multiple channels.
The platform allows businesses to monitor and respond to customer inquiries on various social media platforms, such as Facebook, Twitter, Instagram, and more.
It also allows you to track mentions, comments, and messages related to the business on social media, helping companies stay engaged with their customers.
Why use ZohoDesk?
Manage multiple social media accounts using Zoho. You can like, comment, and post on platforms like Facebook, Twitter, and Instagram – all from Zoho's interface. Turn posts and comments into support tickets and reply directly from the help desk.
Customize settings to convert only specific keyword-related posts or messages into tickets. This optimization saves time and lets agents focus on delivering quick responses.
Monitor incoming tickets from social media with a custom view. Set unique response time goals and track them through the SLA dashboard for improved social customer service.
Limitations:
Limited customization options within the platform
Steep learning curve owing to the complicated interface.
Pricing Plans:
ZohoDesk has 4 types of pricing options:
Free plan
Standard: $20/user per month
Professional: $35/user per month
Enterprise: $50/user per month
6. Sprinklr Social
Sprinklr Social is a customer experience management platform that focuses on driving social media engagement, marketing, and customer service. It allows businesses to manage their interactions and relationships with customers across various social media channels in a unified and streamlined manner.
With Sprinklr Social, you can bring up to 23 social channels, 11 messaging apps, and many online forums and review sites into one easy-to-use platform.
Why use Sprinklr?
Engage with customers across a wide range of social media platforms and messaging channels. This enables you to reach your customers at their convenience.
Sprinklr's social listening capabilities allow you to monitor and analyze conversations related to your brand, products, and industry across social media platforms. This helps you stay informed about customer sentiment, emerging trends, and potential issues, allowing you to address them proactively.

You can set up automated workflows in Sprinklr to route customer inquiries to the appropriate team or agent based on predefined rules. This helps streamline the customer service process and ensures that inquiries are handled by the most qualified individuals.
Limitations:
Relatively expensive for smaller businesses and startups.
Learning the platform isn't a breeze. It requires time and work to get the hang of it and set it up to suit your needs.
Pricing Plans:
Sprinklr Social offers two types of pricing options:
Advanced (Self-service only): $299/seat per month
Enterprise: Request quote
7. Zendesk
Zendesk is a well-known multi-channel customer service software. One of Zendesk's core solutions is that it centralizes customer interactions from different social media platforms (such as Facebook, Twitter, and Instagram) into a single, easy-to-use dashboard.
Why use Zendesk?
Each social media interaction is turned into a ticket within Zendesk. This enables agents to track the status of each inquiry, ensuring that no customer query goes unanswered or unresolved.
Agents can switch from public conversations, like tweets, to private ones (DMs) with customers. This way, private information stays private. Everything happens in one place, making it easy for agents to give personalized help to customers.
Zendesk allows you to set up automation rules based on specific keywords, hashtags, or other triggers. This can help you route the right social media queries to the right agents.
Limitations
While Zendesk does offer some social listening capabilities, it might not be as advanced as dedicated social media monitoring tools.
Zendesk's interface and setup process is complex.
The tool is also not very affordable for smaller businesses with limited budgets.
Pricing Plans
Zendesk has three tiers of pricing for small to large-sized businesses.
Suite Team: $49 per agent per month
Suite Growth: $79 per agent per month
Suite Professional: $99 per agent per month
For enterprise companies, Zendesk has two tiers of pricing:
Suite Enterprise: $150 per agent per month
Additional and more powerful enterprise plans start at $215 per agent per month
10 Ways to Master Social Media as a Customer Service Tool
Here are some tips and best practices to master social media as an efficient customer service tool:
Choose the Right Platforms: Focus on the social media platforms that your target audience frequents the most. For instance, if you're targeting a younger demographic, platforms like Instagram and TikTok might be more effective.
Monitor Mentions and Keywords: Keep a close eye on mentions of your brand, products, and relevant keywords. A social listening software can help you stay on top of conversations related to your business. This allows you to respond promptly to both positive and negative comments.
Provide Quick Responses: Social media users expect swift responses. Aim to reply to inquiries, complaints, or feedback within a few hours at most. Even if you can't resolve the issue immediately, acknowledging the concern and indicating that you're working on it can go a long way.

Personalize Your Responses: Address customers by their names and use a friendly, conversational tone. For example, instead of a generic response like "Thank you for reaching out," say "Hi Sarah! We're sorry to hear about the issue you're facing. We're here to help!"
Empathy and Understanding: Show genuine empathy when addressing customer concerns. Acknowledge their feelings and let them know you understand their frustration. Say, for instance, a customer complains about a faulty product. Respond with empathy: "We're sorry the product didn't meet your expectations. We'll work to make things right."
Provide Solutions, Not Excuses: Instead of making excuses, focus on finding solutions to customers' problems. Offer step-by-step instructions, troubleshooting guides, or direct them to relevant resources.
Use Visuals to Enhance Support: Sometimes, visuals can be more effective in explaining solutions. Use images, GIFs, or short videos to guide customers through troubleshooting steps. For example: If a customer asks how to assemble a complex product, respond with a short video tutorial demonstrating the assembly process.
Take Conversations Private: When dealing with sensitive or complex issues, offer to move the conversation to direct messages or email. This protects the customer's privacy and allows for a more detailed discussion. For instance, a customer complains about a billing discrepancy. Respond publicly acknowledging the concern, and then request to continue the conversation via private message to gather more details.
Feedback and Improvement: Encourage customers to provide feedback on their experience with your customer service team. Use this feedback to continuously improve your processes.

Track and Analyze Performance: Regularly review metrics like response times, customer satisfaction ratings, and the volume of inquiries. Use these insights to refine your social media customer service strategy.
Hiver: Bridging the Gap Between Social Media and Stellar Support
Customers are increasingly using social media to interact with businesses, and businesses need to be prepared to provide timely and effective customer service across every social channel.
If you're looking for a powerful and affordable social media customer service solution, Hiver is the perfect choice for you. With Hiver, you can provide excellent customer service on social media and build strong relationships with your customers.