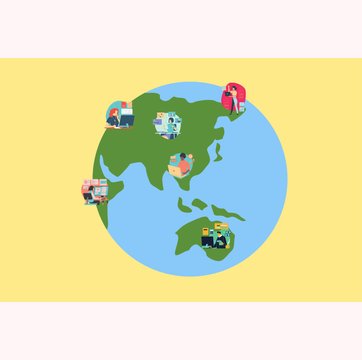 Table of contents
8000+ teams use Hiver to delight their customers!
How Hiver helps remote teams stay connected
Dec 15, 2022
|
4 min read
|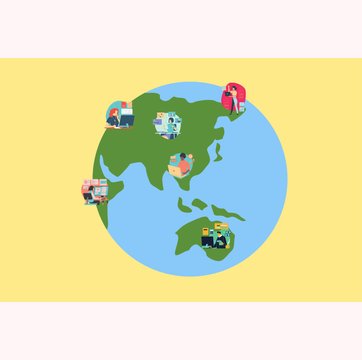 Table of contents
Until recently, remote work has largely been associated with freelancers, digital nomads, and some new-age companies. But this isn't the case anymore. The COVID-19 pandemic has proven that it's the natural fallback option for companies in trying circumstances.
Many companies across the world have overnight gone remote in an effort to slow down the spread of the Coronavirus.
This sudden change creates a new set of challenges for teams to stay connected and collaborate with one another. Few things motivate an employee more than a strong connection to other people on their team. Closeness creates a culture of collaboration and trust and helps employees work effectively together.
Being an email collaboration platform, Hiver's all about bringing teams closer. Whether you're a team of 5 located in the same city or a team of 200 based all around the world, we're here to make it easy for your remote teams to collaborate and work together easily and efficiently.
Here are some ways in which you can use Hiver to work better as a remote team and stand by your customers during these difficult times.
Have quick discussions with Email Notes
When you work together as a co-located team and you have an email that you want to discuss, you would probably walk over to a co-worker's desk, have a quick discussion, and send out a reply to the email.
But when you work as a remote team and you can't walk up to your co-worker's desk, Hiver's Email Notes make it easy for you to bring these discussions right into your Gmail inbox. Hiver's notes live alongside your email threads and thus make it easy for you to retain context and keep the conversation going without switching tabs or apps.
Want to bring the entire team together to weigh in on something? Simply write a Note with the prefix @all. If you want to start a one-on-one conversation, use an @mention.
Working in a remote team often involves a lot of back-and-forth communication over chat and email for team members to get clarity. Sometimes this may inadvertently lead to internal communication leaking outside your company. Hiver's notes are completely private and let you have discussions without exchanging emails or switching between tools ensuring that internal and external conversations never overlap.
You'll collaborate better than ever before with your remote team. The one conversation Hiver can't replace? Probably the water cooler.
Put your best foot forward with shared drafts and templates
When you're working together as a co-located team, it is easy for your team members to get inputs from each other on their email responses simply by asking around. Sometimes they may even need to get a manager's approval prior to sending out an email to a customer, which is best done in person.
This can be difficult when you go remote. You may need to go back and forth over chats on Slack or you may need to forward email drafts to one another, which let's face it, will cost you a lot of time and may cause a lot of confusion.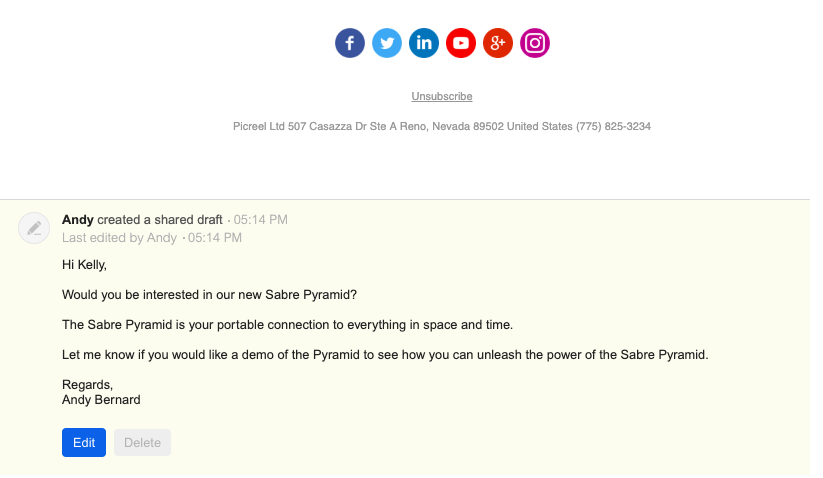 With Shared Drafts and Email Templates in Hiver, team members can collaborate on email drafts in real-time. This way you can ensure that your team members are sending out the perfect email responses to your customers.
You may also find yourself in a situation where your team needs to send standard, templatized email responses to customers. So instead of having your team spending time on sending repetitive emails, you can create templates using Hiver.
Never miss an email again with Email Assignments
If you're not sitting next to each other, it can be difficult to keep track of who is working on what.
With Email Assignment in Hiver, you can easily assign an email to a teammate without Ccing a teammate or forwarding the email. This way, every email gets an owner and nothing slips through the cracks.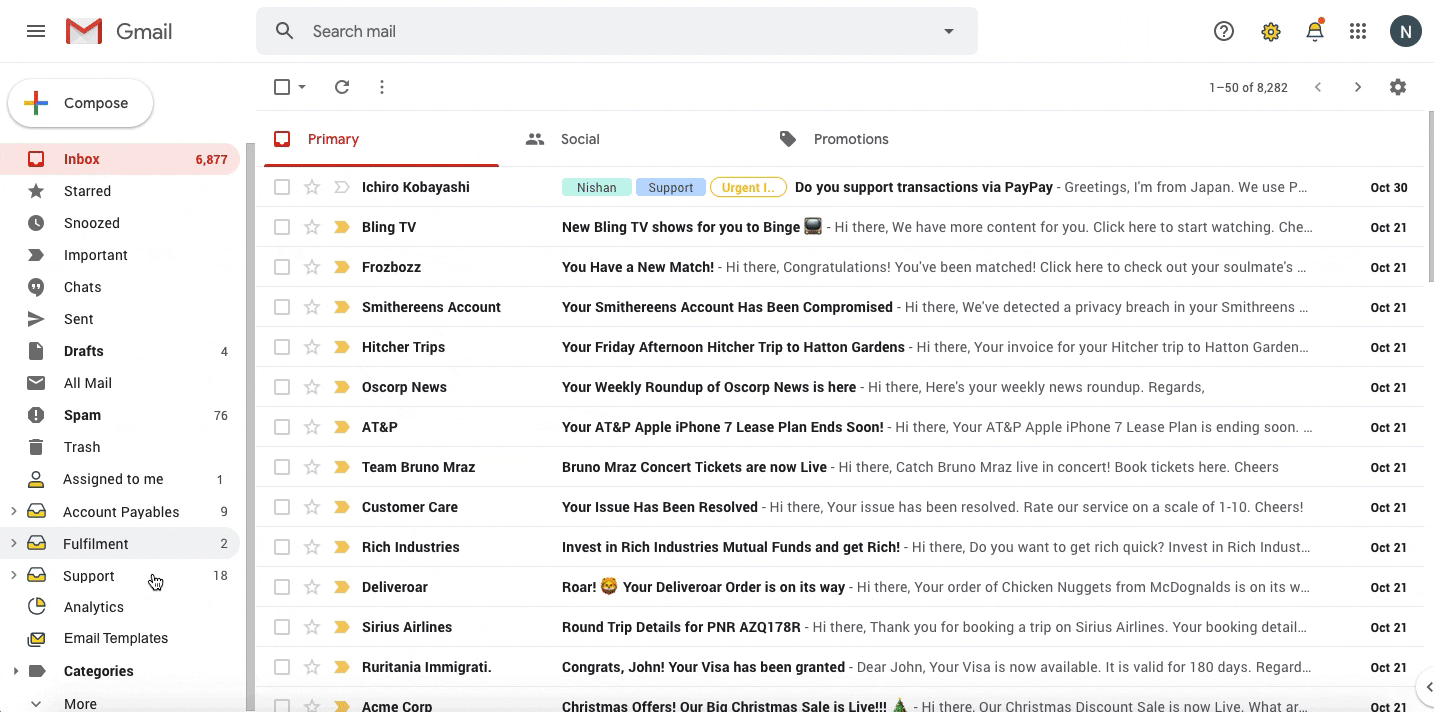 Avoid duplicate (and conflicting email responses) with Collision Alerts
In the off-chance that two or more team members end up working on the same email, Hiver's Collision Alerts come into play providing visual cues to help teammates detect email collisions. These Collision Alerts also automatically disable the option to edit an email draft when another user is working on it.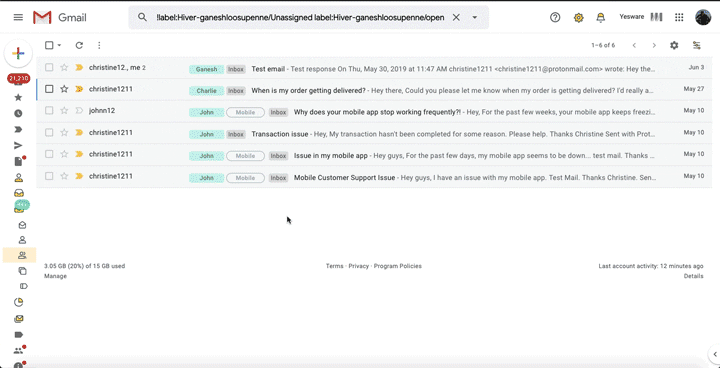 This way, you prevent duplication of effort and also prevent multiple (and sometimes even conflicting) email responses from going out.
Put email assignment on autopilot
With Hiver, you can even put your email assignments on autopilot. For remote teams that handle a high volume of emails, Hiver's Auto Assignment feature helps assign emails to team members in a Round-Robin manner.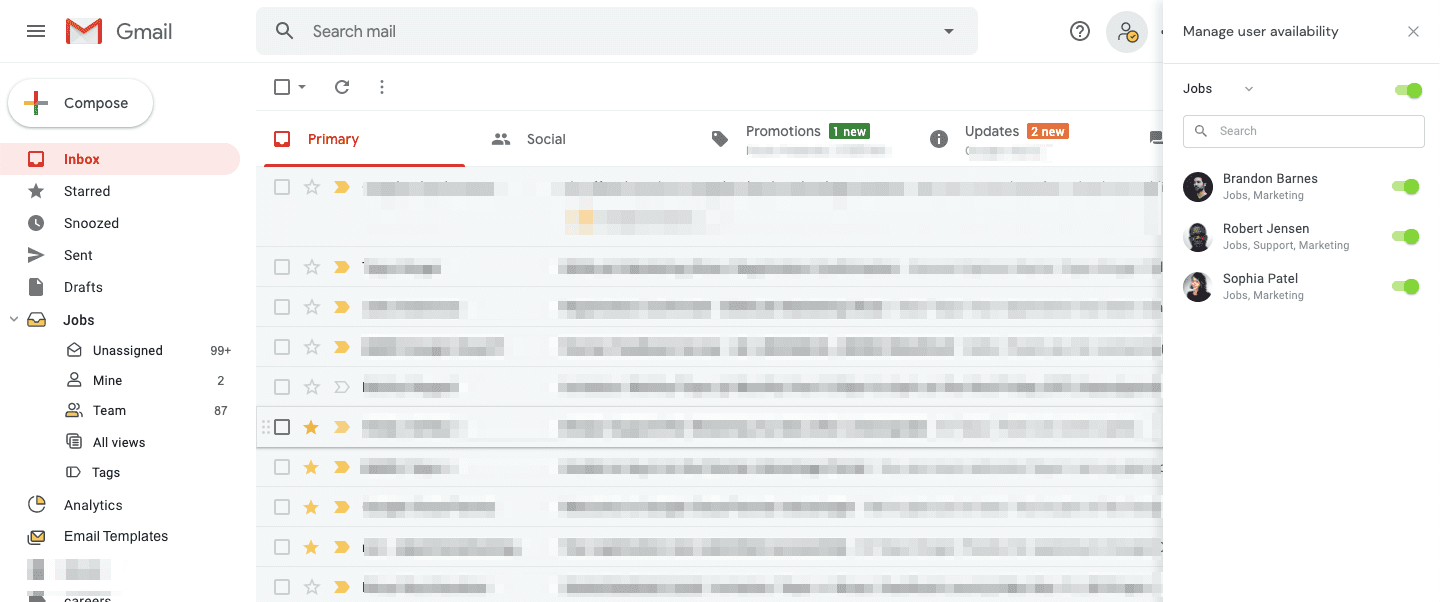 Remote work and flexible schedules go hand in hand. In fact, 32% of the respondents of AngelList and Buffer's State of Remote Work 2020 report find the ability to build a flexible schedule as the biggest advantage of remote work.
The Auto-Assignment feature in Hiver gives your team the flexibility to control their availability so that they can control when they are available for email assignment. So team members who aren't available won't be assigned any emails.
Keep a pulse on the team's workload
As a manager, team meetings are perhaps the best way to keep a tab on what everyone in your team is working on. While there are a dime-a-dozen video conferencing tools to help you stay connected and have meetings with your remote team, it might still be difficult for you to get an accurate picture of your team's email workload.
With Views in Hiver, you can see your team's entire email workload at a glance. Simply put, views are a combination of Gmail filters, but without the complexity.
As a manager, you can easily create a view to see all unassigned emails, all emails assigned to you, filter emails by assignees and tags and save yourself the trouble of asking your team members to walk you through their tasks.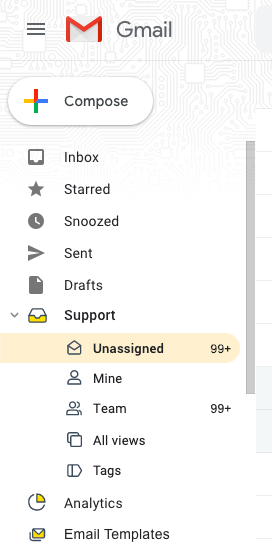 You can also save views and share them with your team. This way if you need to monitor a specific set of emails, you won't have to spend time on creating a new view every single time.
Measure what matters
Data is the backbone of any successful team, more so when you go remote. With Analytics in Hiver, you can track all your key email metrics for your remote team in one place and always keep a pulse on your team's activities.
Hiver's in-depth visual Analytics help you track key metrics, and identify areas of improvement so that your team is always on top of their game – whether you get to see them in-person or not.
With Hiver, you can bring your remote teams closer
Staying organized and keeping everyone in the loop is key to running a successful remote team. This can sometimes be overwhelming and complicated, but it doesn't have to be if you use an email collaboration platform like Hiver for your team. Click here to learn more about how remote teams can make the most out of Hiver.