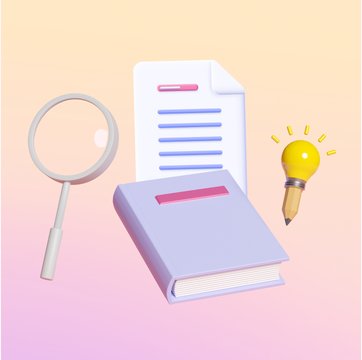 Table of contents
8000+ teams use Hiver to delight their customers!
Hiver Updates: Help Customers Self-Serve with Hiver's Knowledge Base Feature
Mar 30, 2023
|
6 min read
|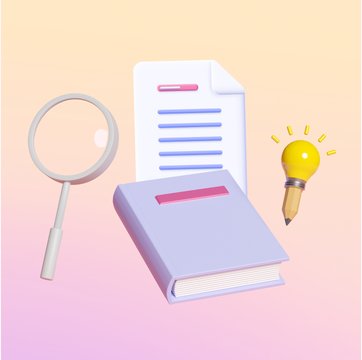 Table of contents
Learn how Hiver's Knowledge Base can help you help your customers and reduce your team's workload.
Let's face it – Nobody likes to wait. Especially customers. Or prospects on your website – evaluating whether to do business with you.
70% of customers prefer to use a company's website to get answers to their questions rather than use phone or email. [Forrester]
Customers today want instant fixes as they juggle multiple everyday tasks. Due to that, customers increasingly opt for self or DIY service instead of contacting customer support teams via chat, emails, or phone calls and waiting for agents to cater to them.
40% of customers prefer self-service over human contact. (Forbes)
Customers want to easily access and navigate your repository of FAQs, guides, or troubleshooting articles at their own pace without relying on anyone else for support.
That is where a Knowledge Base comes into play, allowing customers the freedom and flexibility to self-serve.
Table of Contents
What is a Knowledge Base?
A knowledge base is a centralized online library of all relevant information about your business and offerings. It is a one-stop shop for all the answers you want. When we talk of a knowledge base, we essentially give voice to the idea of sharing the collective information of the product and the business processes in one place.
Businesses update the knowledge base with product and feature information, FAQs, troubleshooting, and onboarding information.
Instead of having the information scattered, the knowledge base helps you collate it in one place.
Why do you need a Knowledge Base for your business?
Consider a customer using one of your products or services. At some point, they face an issue or have a question about it. They might reach out to your support team via one of your support channels.
What if your customer service team isn't available on their helpdesk at the time? They might be catering to other customers, or you might be reaching them outside business hours.
In such a scenario, would you want your customer to go back disappointed and wait for your agents to respond? Or, would you offer a reliable self-help option that they can use to find all the answers they're looking for without having to wait?
That's where a Knowledge Base comes in!
91% of customers would use an online knowledge base functionality if made available and tailored to their needs (Social Media Today).
The best Knowledge Base enhances customer experience and helps customers access more answers in less time. Such a low-effort customer service tool can significantly optimize customer support. Here's how: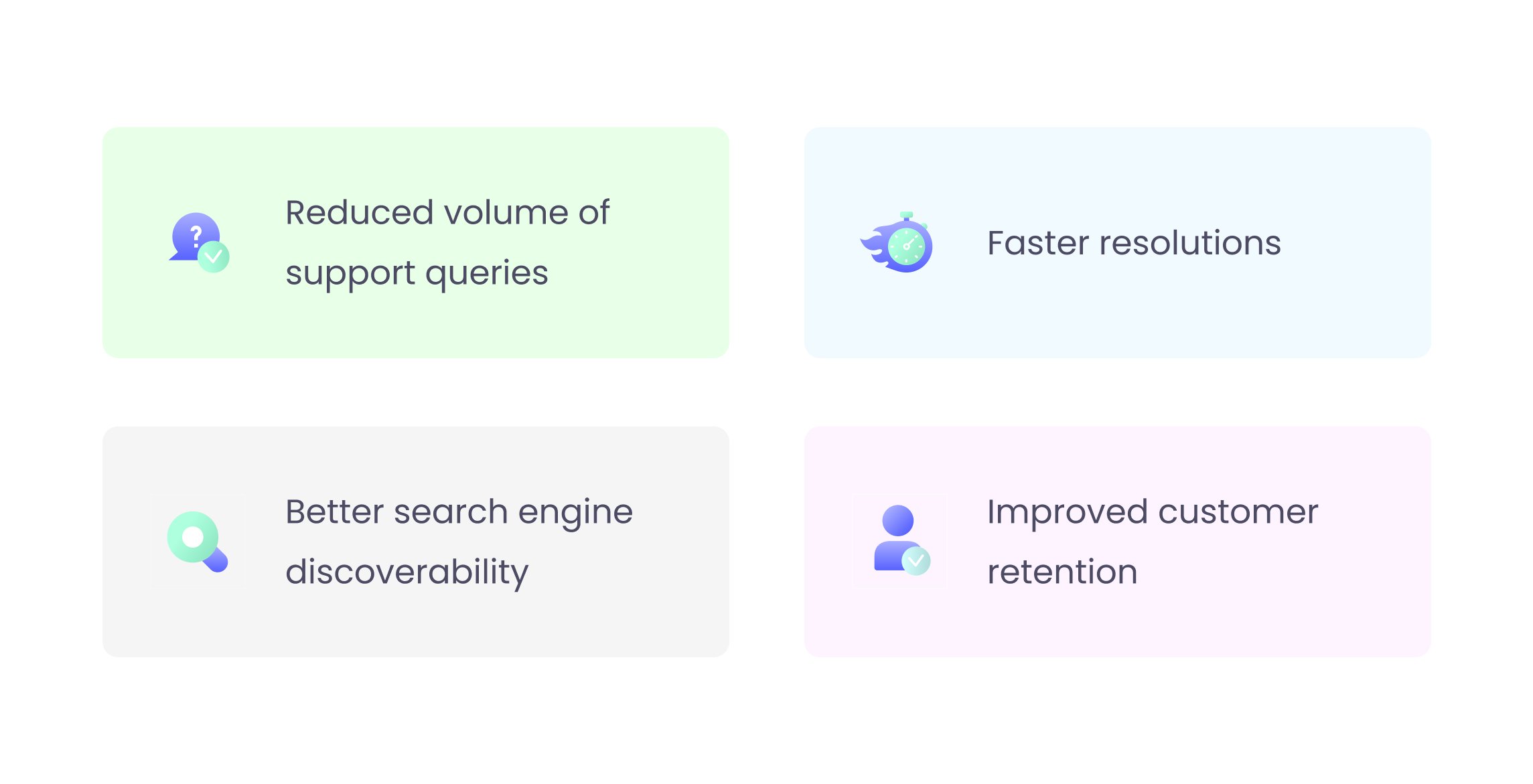 Reduced volume of support queries
A customer-facing knowledge base contains solutions to common customer questions. It may be designed in the form of FAQ pages, in-depth user guides, tutorials, google drive docs, or other resources. A well-documented repository of relevant help articles would eliminate the need to reach out to customer support for assistance.
Simply improving your Help section by answering common questions can reduce the number of calls by 5% (Harvard Business Review).
Faster resolutions
For customers who reach out to support agents with their queries, the agents can direct them to the relevant knowledge base article. The right knowledge-base software would not only ensure faster query resolution but would also significantly reduce the volume of follow-up queries.
Better search engine discoverability
Existing and potential customers can automatically discover you online with an SEO-optimized knowledge base. That, in turn, would boost your brand awareness and customer engagement with your brand.
54% of companies offering web or mobile self-service have seen an increase in their website traffic (Destination CRM)
Enhanced customer retention
Customers want to trust the companies they do business with. Companies that can ensure customer trust have higher customer retention rates. Trust increases when customers can rely on prompt and easy access to resources that can help resolve their queries. A good knowledge base helps you do just that.
Key Knowledge Base Use Cases
Customer self-service – Customers can look up and navigate relevant help articles on an external knowledge base and get answers to their questions 24X7.
Internal knowledge management – Teams can manage and access an internal knowledge base for – training, onboarding, or staying updated on company policies.
Centralization of business information – Knowledge base management helps businesses ensure complete visibility of information and accountability with a central knowledge library.
How businesses fare with and without Knowledge Base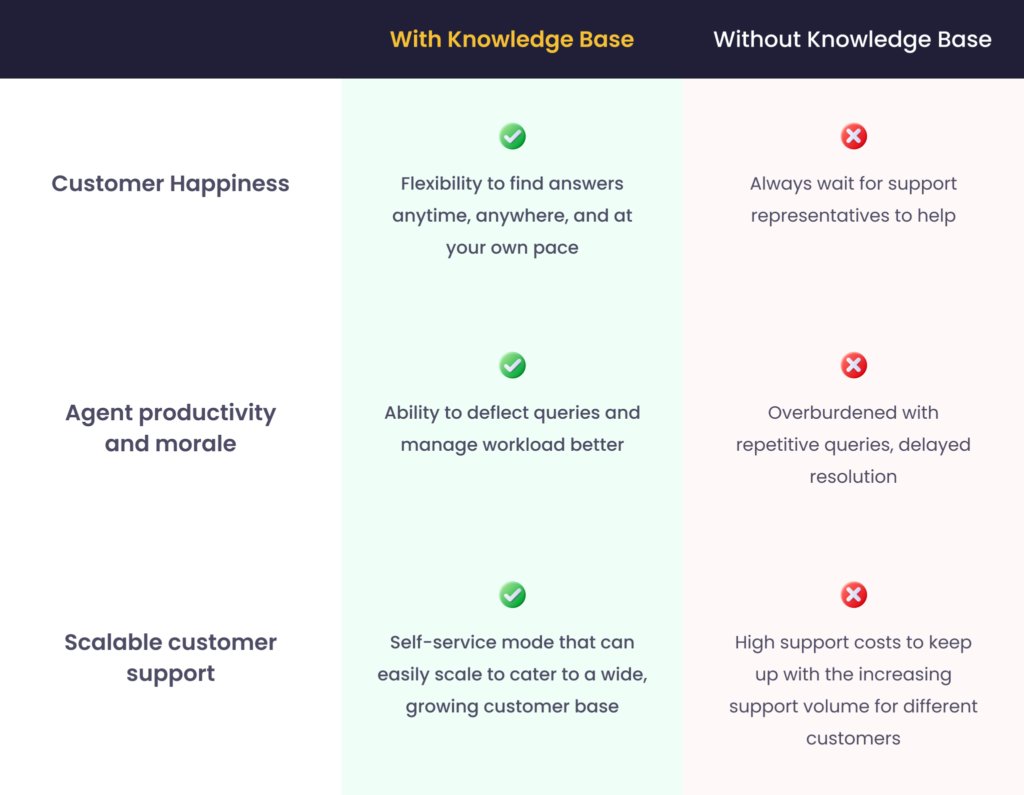 Empower customers to self-serve with Hiver's Knowledge Base feature
At Hiver, we firmly believe that customer perception of your brand is shaped by how easily, quickly, and effectively you can help them with what they need.
With that in mind, we've launched Hiver's Knowledge Base so you can offer your customers the flexibility of 24/7 DIY service while empowering your teams to deflect common queries and focus on the more critical issues.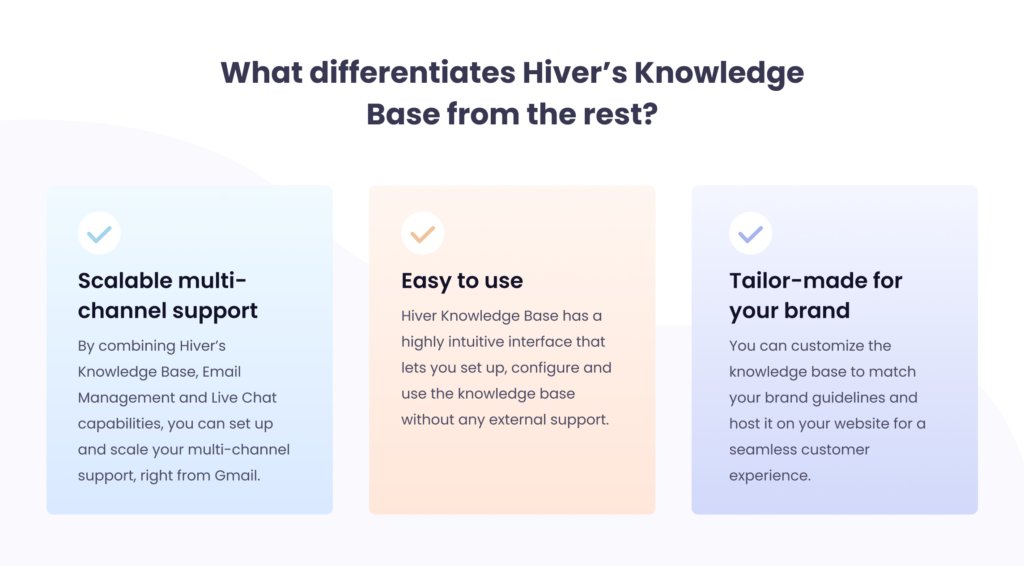 Sneak a peek into Hiver's Knowledge Base capabilities
Custom domain
With Hiver's Knowledge Base, you can maintain a consistent brand experience for all your website visitors by hosting the knowledge base on your custom domain website. The intuitive and practical user interface makes it an easy process to set up your custom domain.
SSL certification
Hiver takes data privacy and security seriously. Hence, Hiver's Knowledge Base is SSL certified. It means you can promote trust among your website visitors by protecting them and their data from bad actors while they use the knowledge base.
Code snippets
Hiver's Knowledge Base caters effectively to different user requirements. You can add apps of your choice, such as – chat widgets to provide additional help that the visitors require or website analytics to track visitor engagement.
Search Engine Optimization
Creating a knowledge base is not enough. All relevant information must be easily accessible when someone searches for it. With Hiver's search engine optimization, navigating and looking for answers becomes effortless.
Ticket submission
There could be topics where the readers require more clarity than what the knowledge base offers. In such instances, your customers can submit their questions directly from inside the knowledge base. The questions get converted to support tickets and are then directed to the Hiver shared inbox of your choice. Post that, the agents can address them.
Search bar
Hiver's Knowledge Base offers a search function to your website visitors. Queries can be keyed into the search bar which is embedded in the knowledge base, by default. Hiver prioritizes searches based on keywords to ensure that customers land in the right place when searching for something.
Conclusion
Your current and prospective customers are more likely to look for self-help options when using or evaluating your product/service offering. An effective knowledge base helps reduce your overall customer effort and increases customer satisfaction and trust in your brand. With Hiver's Knowledge Base, you can empower your customers to help themselves – anytime, anywhere!