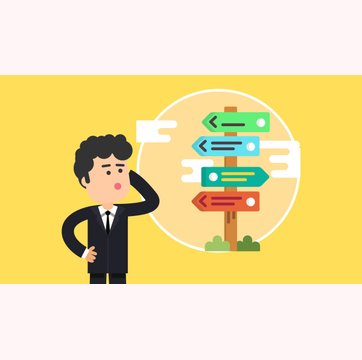 Table of contents
8000+ teams use Hiver to delight their customers!
G Suite Pricing: Which Plan Should I Choose?
Jun 21, 2023
|
11 min read
|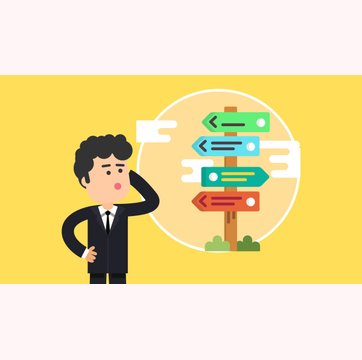 Table of contents
G Suite is one of the best online business tools out there. It's no surprise given its top-notch reputation and competitive pricing.
The value it gives off for its price is unmatched by any other brand providing the same services. It works as an integrated collection of several cloud-based tools; apps created by Google AI and popular among them are Gmail, Docs, and Drive.
G Suite makes it easy to do business efficiently and maintain a resonating professional online presence. One of the highlights of the suite is its flexibility in pricing. There is always something for your budget.
The suite has three plans you can choose from. Besides them, there are some freebie packages too.
In this post, we will help you decide which plan works best for you.
Table of Contents
Which G Suite plan is right for me?
G Suite offers three plans: Basic, Business, and Enterprise.
The Basic plan, as the name suggests, is the most fundamental plan. You still get access to all the core features, like Gmail, Docs, Sheets, and Slides.
It costs $6/user/month and comes with 30GB of Google Drive storage. The major limitation here is limited storage. Most companies hit that limit easily, and that's where the Business plan comes in.
The Business plan costs twice as much — $12/user/month. And, it comes with unlimited storage. This is also the most popular package.
And then comes the Enterprise Plan. It offers unlimited storage and advanced controls at a $25/user/month cost.
The Similarities
Here's a list of features that are common to all the G Suite editions:
Access to applications such as Docs, Sheets, Slides, Gmail, Drive, Drawing, Keep, and more

An ad-free experience

Access G Suite apps on your mobile device

Access to a huge library of add-ons

Ability to access and edit Microsoft Office files

Access to a centralized admin console

The ability to work offline

24/7 customer support by phone and online

99.9% Uptime guarantee

The ability to whitelist apps

Password monitoring and strength control

The ability to enforce user-managed security keys
The Differences
The similarities make you think if it's worth paying more for the premium editions. We'll clear up this confusion by analyzing the differences between the three G Suite editions.
Pricing structure
The pricing structure is fairly simple and attractive:
Basic – $6/user / month

Business – $12/user/month

Enterprise – $25/user/month
If you want to pay by the year, you will have to go with the Basic edition – the only edition with an annual billing option. It is priced at $50/license/year.
The snag with annual plans is that you can only remove users at the time of renewal of licenses. Moreover, you won't get any refunds for cancellations during the billing cycle.
There are also a few special G Suite editions available – G Suite for Education (Free), G Suite Enterprise for Education ($4/user/month for faculty, staff, and students),and G Suite for nonprofits (it is free, but there is a set of eligibility guidelines your organization needs to pass).
Storage space
Most of you must be accustomed to seeing a progress bar at the end of your Gmail inbox indicating the space remaining out of a maximum of 15 GB. This is when you are a free Gmail user.
It increases when you switch to a paid G Suite edition. The Basic edition users get 30 GB of secure cloud-based storage per user. While Business and Enterprise edition users get unlimited storage.
A G Suite storage feature you should definitely keep an eye on — Team Drive. It is a separate storage space for teams. Unlike your regular Google Drive, the files saved on Team Drive belong to the team and not the individuals. You don't have to worry about data loss when someone leaves your organization.

This 'shared drive' feature is available only for Business and Enterprise edition users.
Google Vault
Vault is Google's archiving and eDiscovery tool for G Suite. Use it to easily retain, access, track, and manage your domain's corporate data saved on G Suite products – from Gmail to on-record chats.
With Google vault you can:
Outline and implement a data retention policy for your organization.
Protect your organization's data from accidental deletions.
Place legal holds on certain users' email and chat messages.
Easily find and retrieve files, emails, and chat messages to meet your organization's eDiscovery and compliance audit needs.
Export your organization's data for additional processing and review.
Without Vault, every time a G Suite admin deletes an employee's account from the Admin console, their data will be lost forever.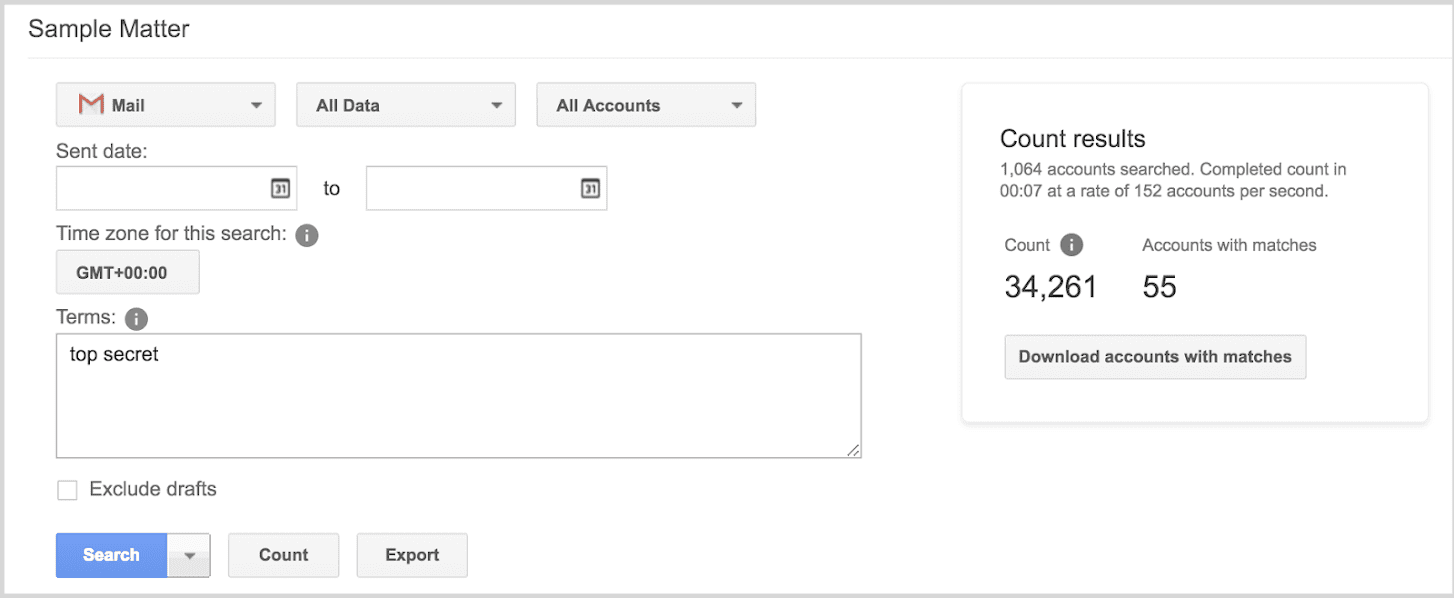 This tool is available only to Enterprise and Business edition users. Basic edition users are not protected by Vault. They will have to get the license separately. This costs an extra $5/user/month.
Data loss prevention (DLP)
Lately, we've all seen how dangerous information leaks are for businesses. With DLP for Google Drive, G Suite admins can prevent leaks to a great extent.
They can set up rules to scan files for sensitive content and assign what actions to be taken if someone tries to share those files with external parties.

For instance, an admin can set up a rule to detect files containing credit card numbers and stop the external sharing of such files.
This feature is only available for Enterprise and Business edition users.
Analyze Gmail logs in BigQuery
BigQuery is a web service that processes large read-only datasets. Now, G Suite Enterprise edition users can analyze their organization's Gmail logs using BigQuery.
Admins can run Gmail log queries to gain insights into employee behavior and activity. Queries could be based on parameters such as subject line, recipient name, marked as spam, emails that triggered a particular rule, and more.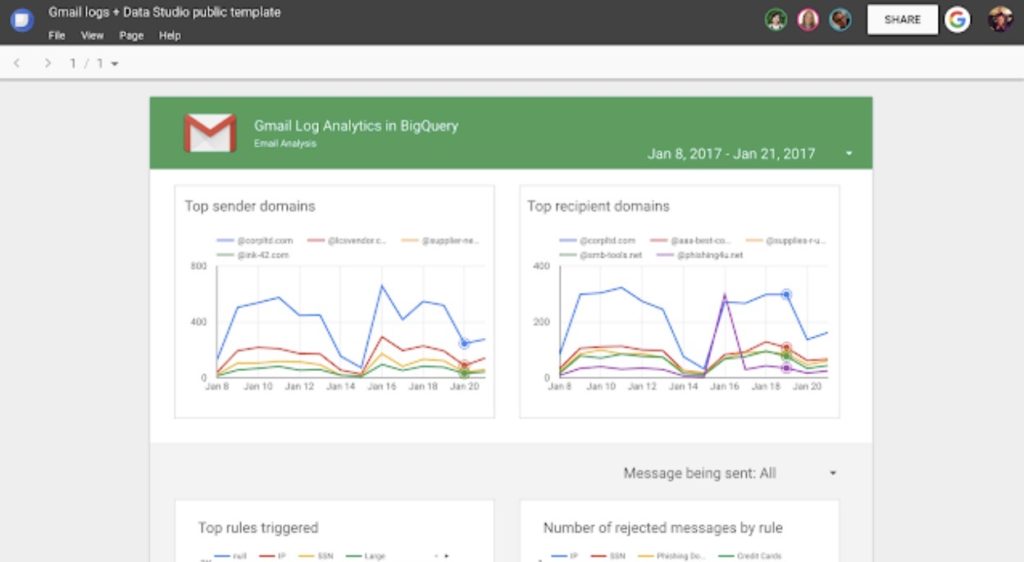 Like most other Google products, BigQuery too has a library of third-party integrations. These integrations can be used to gain more insights from the data you have.
This is a premium G Suite feature and is available only to Enterprise users.
Security Center
Employees tend to spend a lot of time on online suites such as G Suite. Lots of information is passed, exchanged, and stored on G Suite apps. This means it becomes a high-value target for hacking, phishing, malware attacks, and more.
As a G Suite admin, it is up to you to keep a track of all the potential security threats. You can monitor this easily with Google's new Security Center for G Suite.
Two major parts of this Security Center are:
Security dashboard: A central hub from where you can track all the metrics spread across different Google products.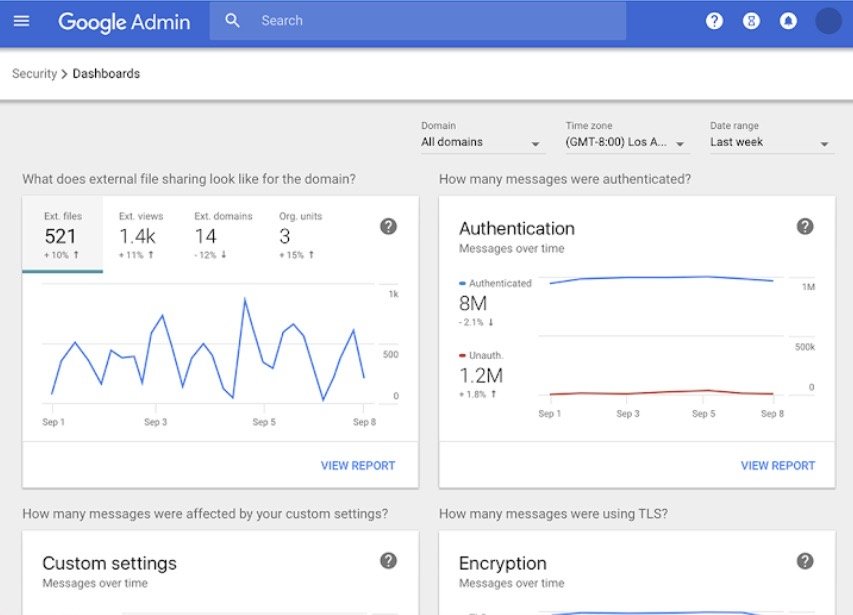 You can get an overview of external file sharing and spam/malware targeting your organization. Along with that, you can view metrics that demonstrate your security effectiveness, flag suspicious activity, and more.
Security Health: Here you can get a review of the current security settings and also, customized advice/recommendations for potential improvements – on data storage, sharing policies, communications settings, and so on.
The Security Center is only available to G Suite Enterprise edition users.
Hangouts Meet
Hangouts Meet is Google's all-new designated video conferencing solution for businesses. It is lightweight, fast, and supports multi-person video calls.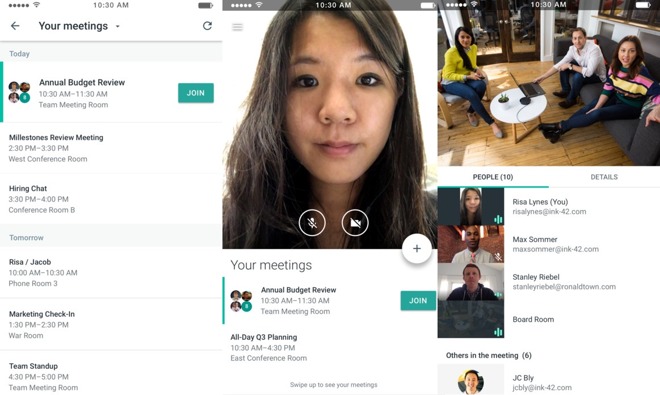 However, what makes it stand out is its interoperability — your teammates can join on a call irrespective of the conferencing tool they're using.
Hangouts Meet comes with all three G Suite editions, with varying capabilities — enterprise users can add up to 50 users (Basic and Business users can only add 25 users),record meetings and save them to Drive, and dial in from a phone.
Cloud Search
G Suite has a multitude of services and it isn't easy to locate the right piece of information when you need it. You could end up spending a lot of time trying to remember things. This is where Cloud Search comes in.
Once you authorize it, your teammates can search for content across Gmail, Docs, Calendar, Groups, and their other G Suite services. You can even use the same filters and operators that you use on Google Search.
If you have privacy concerns, worry not — your teammates will be able to access only the ones they are allowed to.
It is cross-device compatible. All you have to do is visit cloudsearch.google.com. You'd love the mobile app.
And that's not all, it also gives you personalized and actionable information; and recommendations. This feature is called Assist Cards — they will show up on your Cloud Search homepage based on recent activity and upcoming events, such as your scheduled meetings in Google Calendar.
Cloud Search is only available to G Suite Enterprise and Business edition users.
When should I buy the G Suite Basic Plan?
The G Suite Basic plan will suit the following types of users:
A freelancer or a small business with not more than five members.

A user who only wants an email address for their domain.

A user who wants their office tools to run through Google.

A user who doesn't needs large storage probably because they don't work with large file formats.

A user who doesn't require archiving for emails and chat messages, or advanced admin and security controls.
If you don't fall into these categories, the $6/user/month plan is not for you.
When should I buy the G Suite Business plan?
The G Suite Business plan will suit the following types of users:
A business team ranging from mediumly to largely sized.

A user who needs the email and message archiving feature (Google Vault) in addition to full access to all the features of G Suite Basic.

A team that requires more than the 30GB storage space limit (of the G Suite Basic plan). For instance, a team that has over 5 users will definitely have to need over 30GB of space. The plan offers up to a 1TB storage limit.

Teams that need Google Hangouts feature for video conferencing — for calls that would have less than 50 participants.

Users that don't require data loss prevention, security key management, or other advanced admin and security control features.
When should I buy the G Suite Enterprise plan?
The G Suite Enterprise plan will suit the following types of users:
Organizations that have large teams, and therefore require greater admin and security controls over their G Suite apps.
Teams need advanced security features such as device management rules, security key management, and data loss prevention.

Users need to be able to integrate with third-party archiving tools like Barracuda or Mailstore.

Companies that need Google Hangouts for video conferencing or live streaming — for 100 participants on any call.
It is possible to use different plans for different users within your company. This would help you reduce your monthly cost.
Can I use G Suite for free?
G Suite has a lot of freebies in stock for its users, and even prospective users are not left out. The benefits you can enjoy without payment are:
14-day free use
This freebie is targeted towards prospective users, to help them make up their minds to either settle for it or not. The 14-day trial period hands you two weeks of free use.
Discount and promo codes
Yes, it is possible to get a discount on G Suite packages, and these discounts abound everywhere. There are several G Suite promo codes and deals online. Web hosts sometimes sell off with discounts too. You can always check the web host to see if they are offering discounts before signing up for the G Suite package directly on Google's website.
G Suite for Nonprofits
This freebie is one of the several ways in which G Suite shows its commitment to its users. It is a free program where nonprofit organizations get to use premium services like custom G suite accounts and $10,000 a month in Ads credits, all at no cost.
Organizations that qualify for the freebie are granted the full version of G suite Basic with loads of premium apps that might be too expensive for NPOs if they are left to purchase it on their own.
The only issue with this freebie is the amount of document storage space. On the plan, users are limited to 30 GB of storage space and that might not suffice for an organization that stores all files with Google drive.
The only way out is to use a Dropbox plan for more storage space.
G Suite for Education
This is another freebie, but for educational personnel and organizations. The package is a special edition and it is called G Suite for Education. It is designed specifically for schools and is free for them. The package has two plans. The Standard plan and the Enterprise plan.
Now, the Standard G Suite for Education is the variant of the package that is completely free. The standard plan contains the following awesome features:
Email accounts for the school

Unlimited document storage

Video conferencing

The full package suite
The free, standard G Suite Education plan, is a total plug. You should try it out if you qualify.
The enterprise version of G Suite for Education on the other side is not a completely free plan. It has larger features when compared to the standard plan and that is why the cost is attached.
The plan includes a couple of extra administration features and video conferencing for larger audiences, not like the standard plans. It is a suitable plan for a larger institution, and it is worth your trial. In addition to this, one can access data stored in Google's cloud storage system through the BigQuery client, allowing for large-scale data analysis.
P.S. Have any questions about G Suite for Education? We've answered the most frequent concerns in this post.
Personal Google account
This way, you can use a G suite package for free but only through the use of a personal Google Account.
The downside to the package is that the user will not get a customized email address such as [email protected]. The user's address will have a suffix like @gmail.com.
Another downside is that the user will not have administrative control over the organization's email use.
How do I pay for G Suite?
Users have the choice to pay monthly or annually. These payment plans are called the Flexible and the Annual plan.
The Flexible Plan
This plan allows you to be billed monthly for each user account. In this plan, you have the advantage of adding and removing accounts at any time and only pay for the accounts you use during that month.
The flexible plan allows temporary employees in a company to operate with G Suite and only pay for the service while it is being used.
Basically, what this plan sells is — ease of customization and an exact cost. It is suitable for small-sized organizations where the size of the workforce changes frequently.
The Annual Plan
The Annual Plan is the second and final G suite payment plan. It is a commitment for the purchase of a G suite package for a full year.
If during the year, you have a need for extra purchases, all you need to do is purchase more licenses and then your monthly rate goes up.
But, you can not reduce your licenses or monthly payments during the year. That can only be changed when you are renewing your plan at the end of the year. It is advisable for use only for organizations that have a constant or growing workforce.
Switch between Plans
It is always possible to switch between payment plans.
A switch from an Annual Plan to a Flexible Plan can be done during your free trial or at the time of subscription renewal.
While a switch from a Flexible Plan to an Annual Plan can be done at any time without restrictions.
G Suite pricing v/s Microsoft Office 365 pricing
From time immemorial, G Suite has always been considered a better option in comparison to the Microsoft office 365 package, which happens to be its biggest competition in the market.
The conclusion on the superiority of G Suite over Microsoft office 365 was premised on several considerable factors.
In terms of its price, it was seen as a cheaper option for business productivity tools, and this is not minding the new pricing scheme. For instance, the G Suite Basic and Business plans are very much affordable when compared to equivalent plans in Microsoft Office 365.
Another upside for G Suite is in the area of cloud storage. G Suite Business and Enterprise plans come with unlimited cloud storage for companies with more than 5 users. Microsoft Office 365, on the other hand, offers a total of 1 TB of cloud storage for all their available plans.
G Suite also offers free local calls to users via their Google Hangouts and Google Voice feature while Microsoft Office 365 uses Skype for only some of their plans which range from Business Premium plans to plans above. And even with this, users will also need to purchase Skype credits to make their local calls.
And in the sense of usability of available apps, G suite apps can be categorized as being better than those of Microsoft office 365. G Suite apps can be used on all operating systems including IOS, Android, and desktops.
There are even offline versions of some of these G suite apps that would work in your browser. As for Office 365 business, it also gives users access to the Microsoft Office apps that can be used on PCs like Word, Excel, and Powerpoint
Generally, G suite packages also enjoy higher ratings in terms of user satisfaction scores than Microsoft Office 365 does.
Conclusion
G suite is your best bet for your online business tools. It has a friendly and flexible pricing scheme.
But then, I should warn you to take heed whenever it looks like your bill is running out of proportion, take out time to do an audit on your G suite account every once in a while.
Do a careful check to know if there are cases of access that was wrongly granted to contractors, or if your developers at any point in time, created for projects that are expired.
Check if there are situations where admin officers or operations users can be consolidated into fewer accounts. This can help your bill get lessened.