Table of contents
Turn Gmail into a collaborative hub
Everything we do with our G Suite apps requires a cloud connection. But what happens when you can't access the internet and you need to access your G Suite?
Not to worry, G Suite now comes with offline functionality. This means you can use Gmail, Google Drive, and Google Calendar even when you are not connected to the internet.
Setting up G Suite to work offline is super simple, and with a few easy steps, you can use most of G Suite features when you are, say, on the move, and don't have uninterrupted access to the net.
So how do we go about setting up G Suite offline? Let's dive right in.
Table of Contents
Set up your Google Chrome first
Since you'll need your Google Chrome to access your drive files offline, it is essential that you set it up first. But remember that all the data that is to be synced with your Google Chrome for offline use will be stored on the device used.
This is why the general recommendation is to use a personal or trusted device, to make sure that your files are completely safe.
Enable Access: Your G Suite administrator has to enable offline access before you can use the offline feature. The administrator grants access through the admin console dashboard. It is completely legal to do so.
Enable Set Up while Connected: After the G Suite administrator has enabled offline access, you can log on to Google Drive by clicking here. A webpage will pop up. Mark the option which reads thus: "Sync Google Docs, Sheets, Slides & Drawings files to this computer so that you can edit offline." That's all you need to do.
Test run the sync: You can test run the sync you just enabled to ensure it is up and running.
You can actually use Gmail offline
Prior to the May 2018 update released by Google, it was impossible to use Gmail offline. However, you can now use the Gmail offline function in the in-built Google Chrome browser.
Here are some things you can do with your Gmail while offline:
Access emails and attachments sent or received within 90 days or less
With this offline functionality, you can now access the emails and attachments you have sent to other email ids or even received as long as they are 90 days or less old.
The default number of days on the app is 30, but you can change it in the 'Settings' pane.
Compose new emails
You can now compose emails that you intend sending to different people even when you don't have an internet connection. This is to make sure you do not forget any information you think you need to send to someone else when you are not connected to the net.
When you write an email with offline capability on, it is saved in your 'Outbox' and sent the next time you are online.
But remember, the app requires an internet connection to deliver the email to the recipient.
Read and reply to emails
When offline, you can now read emails that were sent to your Gmail. This is opposed to before when Gmail required an internet connection to open your email.
Now, all the app needs to do is automatically download the email contents while connected to the internet.
Similar to composing new emails, you can also reply to emails which will be saved in your outbox and would be sent the next time the device is connected to the internet.
Search for emails
You can search for emails when you are offline. Just click on the 'search' panel at the top of the application and type your desired keyword. If your search query matches any content in the email, it will pop up.
Add labels to emails
Labels ease the identification of emails. They provide first-hand information about the kind of email you are about to access. Now, you can add such labeling to emails even when offline. The information syncs once there is an internet connection.
How do I enable offline Gmail?
Before you enable the offline functionality of Gmail, there are 2 things you need to know:
Ensure you have switched to the latest Gmail interface.
DO NOT enable the offline mode on a shared device.
Here are the steps you'll have to take
Click on the 'Settings' button.
Tap the 'Offline' tab.
Tick the 'Enable Offline' option and select your desired settings.
Tap on 'Save Settings' > 'Got it'.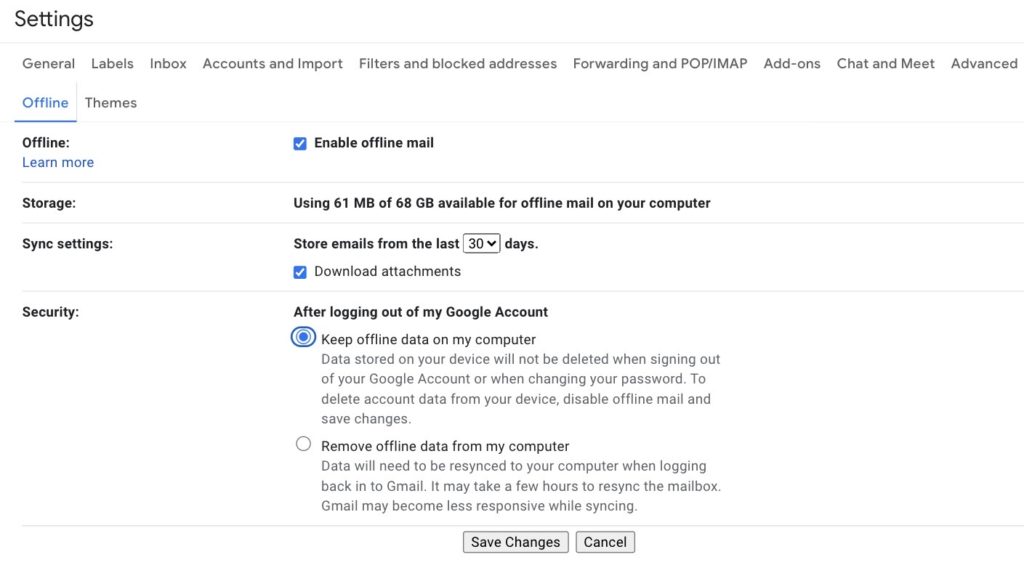 To access your Gmail offline without stress, just launch the Google Chrome app and then use a bookmark or shortcut for Gmail. If no shortcut or bookmark exists, click here.
P.S: The spell checker is not available offline. Therefore, take extra note of your spelling and grammar usage in your email.
Can I use my Gmail App offline on Android and iOS?
Yes. You can read, compose and label your emails on mobile. However, you cannot access all your emails while offline on mobile.
The recommendation is that you go to the app and refresh the label you plan to access offline so the app automatically downloads its contents to make it available offline.
Recommended Reading
How do I use Google Drive offline?
You can use the Google Drive web interface offline only after you have enabled the offline functionality.
It has its limits though. It can only provide offline access to Google Docs, Slides, Sheets and Drawings. Google Forms and My Maps do not have offline functionality yet.
Also, if you need access to non-Google files which you have stored on your Drive (e.g. PDFs and Microsoft Office files),you can use either Google Backup & Sync which is available to the basic Gmail user or Drive File Stream which is available to G Suite accounts. You shall learn more about Drive File Stream later on.
Using Google Docs, Sheets, Slides, and Drawings offline
In Google Drive's offline mode, you can view, edit and create Google Docs, Slides, Sheets and Drawings via My Drive, Team Drives and Shared with Me.
If you make any changes to these documents, it will be automatically synced to the cloud when you're back online.
If you are editing a shared file which other people also have access to, the changes would not take effect until you are back online.
A conflict might arise if the other parties are also making changes. You can avoid this by creating a copy of the file and making your changes in the file.
Before you can access these files offline, you need to ensure the offline functionality is enabled in the Chrome Browser. DO NOT attempt to enable offline mode on shared devices.
Open Google Drive in Chrome.
Click the 'Settings' icon>Settings
Mark the option to Sync Google Docs, Sheets, Slides, and Drawings files to the preferred PC so that you can edit these documents offline.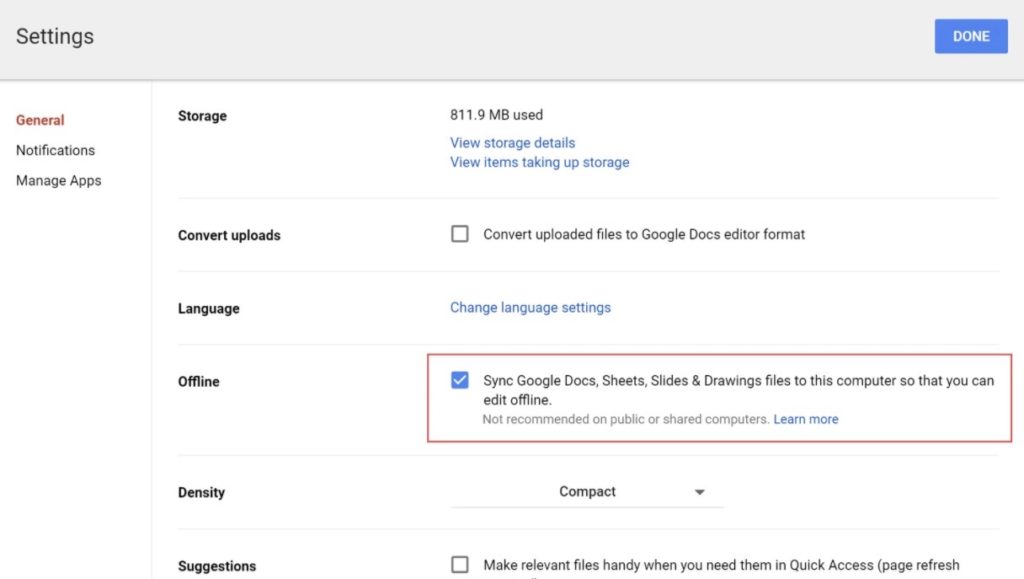 When you have completed this process, your files shall synchronize to your Chrome Browser. You can now use Google Drive offline.
To do so, open your Google Chrome and click on your bookmark or shortcut to access Google Drive. If you do not have a bookmark or shortcut, click here.
Recommended Reading
How do I access non-Google files offline?
If you want to access non-Google files offline, you have to install and configure either Google Backup and Sync (for basic Google accounts) or Drive File Stream (for G Suite accounts).
Google Backup and Sync can automatically download the files and folders you select while you're installing it and make them available offline afterward.
However, you should note that you can only access the contents of 'My Drive' via Google Backup and Sync.
On the other hand, Drive File Stream can access My Drive and Team Drives. It is now up to you to make these files available offline.
Can I use Google Drive for mobile offline?
Yes. You can use Google Drive and access its files (Google and non-Google) offline on Google Drive for Android and iOS. Here's how to do so:
Look for the file you want to access offline and click on the three dots button on the right. Please note that at the moment, you cannot make folders available offline.
Enable the 'Available offline' option.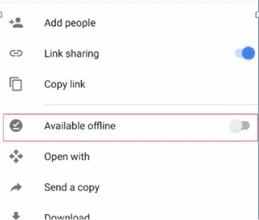 These files will appear in the Offline section of the Google Drive app. Click on the menu button with the three lines to access them.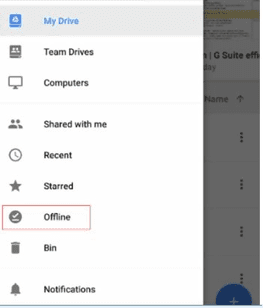 How do I enable Google Calendar offline?
You can use your Google Calendar offline without any hassle. With the offline functionality, you can view dates without the need for an internet connection. Also, you can view your upcoming events or get reminded of special occasions.
In the same vein, you can create new events, edit existing ones and respond to pending invitations.
To gain access to the Google Calendar on your mobile device:
Launch the app. If you do not have the app, download from Google Playstore or Apple Appstore.
Tap the gear and select 'Offline'.
After this, look for 'Enable Google Calendar Offline'. Choose 'Enable' after.
The app automatically syncs to enable you to access the app when you're offline. You can view the sync status in the Status pane.
When the sync is complete, the status will alert you of its success.
Note that you can add more than one calendar to be synchronized for offline access. To enable new calendar sync:
Tap the offline settings.
Click on the additional calendars to sync offline.
Tap the 'Save' button to save your changes.
Also, it is important to know that using Google Calendar offline on PCs has limited functionalities. However, you can view your saved events and reminders. To access Google Calendar on PC, you must:
Launch the Google Chrome app.
Click on your Google Calendar shortcut or bookmark. If none exists, click here.
Choose the gear icon and click on 'Offline' from the menu displayed.
A prompt will request that you download and install the Google Calendar web application from the in-built Chrome Web Store.
Click 'Install from web store'.
You will be redirected to the Chrome web store page to download the Google Calendar web application.
Choose the 'Install' button.
The Google Calendar Web App download will launch in a different window.
Immediately after the download is completed successfully, a different Chrome tab will launch automatically and a message indicating that your download was successful will appear. This means that your Google Calendar can sync with the downloaded app automatically.
You can also access your Google Calendar offline via the web app.
Launch the Google Chrome app.

Click on your Google Calendar shortcut or bookmark. If none exists, click here.
You can download the Google Calendar app for PC and enable the offline access on the app.
You've got to know about 'Drive File Stream'
Drive File Stream launched by Google proffers a different solution to the issue of using G Suite offline. The app offers users the opportunity to access their Google Drive files directly from their PC's local storage folder.
This is reminiscent of Dropbox. Users can use the Drive File Stream by opening the shortcut links which are made available in their local storage folders.
These shortcut links will pave the way to the Google Drive files. This means that only a small portion of the hard drive space is made use of. Also, it is time-saving because you do not have to wait for the sync to happen before you can access your files.
When the need arises for you to be able to access G Suite offline, Drive File Stream will launch a download for files or the whole of Google Drive folders depending on the option you use. This will afford you the opportunity to access the files everywhere you go.
Conclusion
Now that you have learned how to use your G Suite apps offline, you can start the various processes without hassles. We hope this article was of help.
Recommended Reading