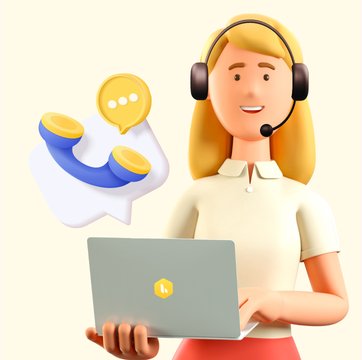 Table of contents
Transform Your Gmail Into A Helpdesk
Finding the Right Ecommerce Help Desk: A Guide for Online Retailers + 5 Top Help Desks for 2023
Nov 24, 2023
|
9 min read
|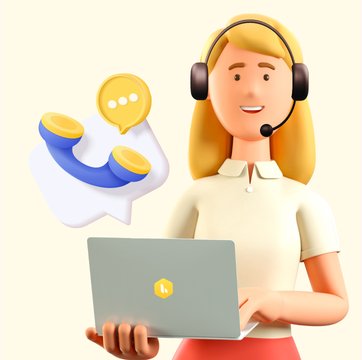 Table of contents
In ecommerce, delivering timely and proactive customer service is important. But what makes this tricky is the volume of queries and requests that come in on a daily basis.
This is where an ecommerce help desk comes into play.
By automating routine tasks and ensuring that customer issues are addressed promptly and effectively, an ecommerce helpdesk ensures that no query goes unanswered. It helps support agents manage and respond to customer queries, track user interactions across channels, and so much more.
In this blog, we'll look at the benefits of using an ecommerce helpdesk, cover best practices to keep in mind, and also suggest some tool recommendations.
You Might Also Like: How to Provide Great Ecommerce Customer Service
Table of Contents
What is An Ecommerce Help Desk?
An ecommerce help desk is a centralized customer support platform that helps online retail businesses manage and respond to customer inquiries, complaints, and issues across various communication channels, like email, chat, and social media, in a unified and organized manner.
An ecommerce help desk helps with tracking the status of tickets, categorizing incoming queries, and providing a holistic view of all customer interactions.
Why Does Your Business Need An Ecommerce Help Desk?
An ecommerce help desk offers several benefits that help streamline customer support processes, enhance user satisfaction, and indirectly contribute to the overall success and growth of online retail businesses.
Here's a brief overview of some key benefits:
1. Offer Customer Support Across Various Channels
Unified Experience: Provide a seamless customer support experience across various platforms such as live chat, social media, and email.
Omnichannel Presence: Ensure your brand is accessible and consistent in communication across all your customer service channels.
2. Improve Customer Satisfaction
Quick Responses: Automate initial responses and route inquiries to the right personnel to ensure swift customer support.
24/7 Support: Most ecommerce help desks offer AI-powered chatbots that can help you provide round-the-clock assistance and information. You can also enable customer self-service through knowledge bases. It empowers customers to resolve basic queries by themselves. This in turn improves customer satisfaction.
3. Increase Operational Efficiency
Automated Workflows: Implement automated ticketing, tagging, and routing to boost team efficiency.
Reduce Manual Tasks: Allow agents to focus on complex queries by automating responses to frequently asked questions.
4. Get Actionable Insights
Analyze Support Performance: Utilize analytics to gauge response time, resolution time, and customer satisfaction score.
Improve Strategically: Leverage data insights to continually refine and optimize your customer support strategy.
5. Scale Your Support As Your Business Grows
Adapt to Growth: Easily scale customer support operations as your ecommerce business grows.
Flexible Customizations: Adjust workflows and automation as per evolving business and customer needs.
6. Better Cost Efficiency
Optimized Resources: Utilize support team resources more effectively by automating routine tasks.
Reduced Overheads: Lessen the need for extensive support teams with organized workflows and automation.
Key Features of An Ecommerce Help Desk
Choosing the right ecommerce help desk software is critical for enhancing customer satisfaction and streamlining your customer service operations.
Here are some critical features to look for when considering an customer service software for your ecommerce business.
Multichannel support: Ensure that your ecommerce helpdesk supports integration with various communication channels like email, live chat, social media, and phone – offering customers multiple touchpoints to interact with your business.
Automation and AI capabilities: Look for robust automation features that can streamline workflows, route tickets efficiently, and reduce repetitive tasks. It is also important to look for an ecommerce help desk that offers AI chatbots that can help your customer service team provide automated responses to common queries.
Ticket management: Your help desk needs to have a comprehensive ticketing system that categorizes, prioritizes, and tracks customer queries effectively, ensuring no issue is overlooked.
Knowledge base: A well-structured knowledge base that assists customers in finding answers to common queries by themselves.
Collaboration features: Choose a help desk that offers collaboration functionalities to facilitate teamwork among agents, allowing them to discuss, share notes, or transfer tickets, ensuring that complex issues receive the required expertise.
Robust analytics: Look for a help desk that offers detailed reporting and analytics so that you can gain deep insights into customer data. This will help agents understand purchase history and behaviour patterns, track key metrics, enabling them to offer better and more personalized service.
Scalability: Choose a helpdesk that can grow with your business. Ensure that it can handle increased volume of queries as your customer base expands.
User-friendly interface: An intuitive and easy-to-navigate interface that allows agents to quickly understand and utilize all available features without extensive training.
Integration capabilities: Ensure the helpdesk can be integrated seamlessly with your existing eCommerce, CRM, and other vital systems to reduce back and forth between tools.
5 Ecommerce Help Desks for Your Business in 2023
1. Hiver
Hiver is a powerful multi-channel help desk that enables ecommerce businesses to provide support across email, live chat, knowledge base, WhatsApp, and voice channels.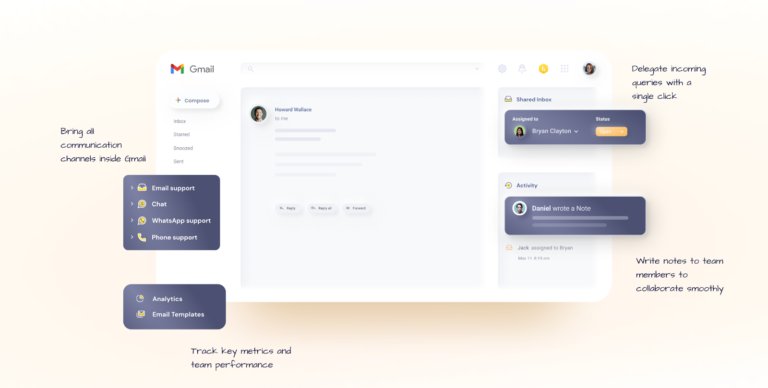 The platform works right inside Gmail and offers several robust features that can help you streamline customer support and ensure that every incoming query is addressed promptly.
Here's what you'd like about Hiver:
Easy to set up and use: Hiver works intuitively within Gmail's native user interface. This means agents can get started with it right away without the need for rigorous training.
Efficient email management: Hiver's Email Management feature turns every customer query into actionable tasks and helps you assign them to support agents from the comfort of Gmail. This way you can ensure that every customer query is accounted for.
Ease of collaboration: Hiver offers internal collaboration capabilities that allow you to seamlessly discuss customer queries with your team members without relying on CCs and forwards. This helps your agents to resolve customer queries with their collective expertise resulting in more effective solutions
Smart automations: In ecommerce, automations are key to ensuring swift responses and seamlessly managing internal workflows. Hiver's Automations take care of routine and repetitive tasks such as ticket assignment, workload distribution, and more, so that your agents can focus on resolving more complex customer queries.
Live Chat: With ecommerce businesses, delivering real-time, personalized customer service is critical and live chat helps you do just that. In fact, Hiver's Live Chat widget allows customers to effortlessly reach out to you from your website.
Timely vendor support: Hiver offers 24/7 support and onboarding assistance across all of its pricing plans. This enables support teams in e-commerce companies to quickly get assistance when they have a query on how to use Hiver.
Pricing:
Hiver offers three pricing plans.
Lite: $15/agent/month
Pro: $39/agent/month
Elite: $59/agent/month
Free trial: 7 days
2. Freshdesk
Freshdesk is an ecommerce help desk that allows you to provide fast, personalized, and contextual support to your customers.
The platform offers a forever free plan that supports up to 10 agents and offers basic support features such as ticket management across email and social media, knowledge base, analytics, and team collaboration features.
Here's what you'd like about Freshdesk:
Multichannel support: Freshdesk allows you to offer customer support across phone, live chat, FB Messenger, and WhatsApp.
Omnichannel queue management: You can get an overview of all the customer conversations that are either in progress or waiting in queue across channels. This enables you to assign available agents to different channels as required, ensuring that every query is addressed promptly.
AI-powered chatbots: Freddy, Freshdesk's AI powered chatbot, helps automate responses to customers. The bot can also pull information from your knowledge base to answer customer queries that do not require a human agent to intervene.
Parent child ticketing: Tickets in Freshdesk are follow the parent child system where a single complex query is broken into multiple smaller (child) tickets. The smaller tickets can then be easily handled by expert agents, enabling faster resolution of queries.
You Might Also Like: Freshdesk vs Hiver: A Detailed Comparison Guide
Pricing:
Freshdesk offers four pricing plans.
Free: Starter plan for unlimited agents but with limited features
Growth: $15 per agent per month billed annually
Pro: $49 per agent per month billed annually
Enterprise: $69 per agent per month billed annually
Free trial: 21 days
3. Zoho Desk
Zoho Desk is an affordable ecommerce helpdesk, especially for small and medium businesses.
Zoho Desk offers several features that make it easy for ecommerce businesses to deliver seamless customer support.
Here's what you'd like about Zoho Desk:
Multichannel support: Zoho Desk enables you to offer customer support across email, telephone, live chat, and social media.
Social media integration: Every post or message that is sent by customers to your social media handles is converted into a ticket. This allows support teams to respond quickly to any critical customer messages.
AI based chatbot: Zoho Desk's Zia is an AI powered chatbot that allows customers to find solutions to their queries round the clock. It can offer helpful suggestions to customers from your knowledge base and in case of complex queries, Zia loops in a human agent effortlessly.
Advanced process automation: You can design custom workflows for your customer service processes by defining specific conditions. For instance, you can define a workflow for the set of actions to be triggered whenever a customer raises a return request. This can look something like this –

Customer initiates return
System automatically approves or denies the return request based on certain criteria
Once return is initiated, inventory gets updated automatically to refresh the stock levels of the item
When the return is received and approved, a refund is triggered by the system.
The customer is automatically notified of the progress of their request, whether their return has been received, and if their refund has been processed
Pricing:
Zoho Desk offers five different pricing options
Free: Up to 3 agents
Express: $7/agent/month up to 5 agents
Standard: $14/agent/month
Professional: $23/agent/month
Enterprise: $40/agent/month
You Might Also Like: Zoho Desk Pricing: Does it Offer Value for Money?
4. Happyfox
Happyfox's help desk system offers a number of critical support features that allows ecommerce businesses to streamline customer service.
Happyfox converts incoming customer queries into tickets, automates repetitive queries, and simplifies the retail customer experience.
Here's what you'd like about Happyfox:
Ticket queue management: You can filter incoming tickets based on factors like priority level, customer request type, etc. so that every query gets the appropriate resolution.
Omnichannel ticketing: Deliver customer support across channels such as email, social, chat, and phone.
Canned actions: Create and share templates for common responses so that your agents can respond to frequently asked customer queries.
Reporting and analytics: Leverage Happyfox's robust analytics to review your team's performance, track customer satisfaction, and optimize your support process
Pricing:
Happyfox offers two types of pricing plans.
Agent based pricing
Mighty: $26/agent/month
Fantastic: $39/agent/month
Enterprise: $52/agent/month
Enterprise Plus: $64/agent/month
Unlimited agents.
Starter: $1,149/month
Growth: $1.599/month
Scale: $2,399/month
Scale Plus: $3,999/month
Free trial: 14 days
5. Gorgias
Gorgias's ecommerce help desk offers a range of features that help overcome the common challenges faced by online retailers.
Gorgias enhances customer experiences while also improving operational efficiency of support processes. This is done through features like intelligent automation, integration with ecommerce platforms, and effective use of customer data.
Aside from this Gorgias enables you to offer customer support across various channels such as email, social, live chat, voice, SMS, and WhatsApp
Here's what you'd like about Gorgias:
Gorgias Macros and templated responses: Save responses to common queries. This enables support agents to provide quick and consistent answers to repetitive questions.
Third-party integrations: Gorgias integrates with applications such as BigCommerce, Magento, and Shopify so that you can centralize customer information.
Customer shopping history: You can view the order information and shopping history of a customer right next to their support ticket. This way your agents can get a full overview of the customer's issue and respond to them with context.
Pricing:
Gorgias has five pricing tiers.
Starter: 50 tickets/month at $10/month
Basic: 300 tickets/month at $60/month
Pro: 2000 tickets/month at $360/month
Advanced: 5000 tickets/month at $900/month
Enterprise: Custom ticket volume and pricing
Wrapping Up
Choosing the right e-commerce helpdesk is a pivotal step towards ensuring your online retail business not only meets but exceeds customer expectations.
The ideal platform simplifies support processes, empowers your support team, and enriches customer interactions. It helps in strengthening loyalty and fostering positive brand perceptions.
This is why it is important to select a help desk that aligns with your business needs, scales with your growth, and ensures timely customer interactions.