Table of contents
Deliver faster and delightful customer service with Hiver's automations
We live in an increasingly connected world. With modern technology like smartphones, voice assistants, and connected devices, we can get real-time updates on practically anything under the sun in a matter of seconds.
The result of this hyper-connected world is a change in customer expectations, particularly in customer service.
When your customers have questions about your product or service, or an issue they'd like to resolve, they expect immediate answers. And the maximum time that they'd be willing to wait to have an issue resolved is one hour! In fact, 54% of customers have higher expectations from customer service than they did in 2019.
If you fail to meet these expectations, chances are your customers will gladly flock to your competition.
So how do you prevent that from happening? The simple answer — provide better customer service.
But it isn't as simple as that, is it? It further begs the question — how do you deliver good customer service?
While there are many ways to do this, one way is to automate certain aspects of customer service.
Why automate your customer service? Well, automation solves three critical problems — it improves response times, reduces the workload on your customer service team, and helps cut down on overall costs.
Before we jump into some of the automations you should create for a fast and efficient customer service team, let's quickly take a look at automation in customer service and its benefits.
Table of Contents
What is automation in customer service?
Automation in customer service refers to using technology to understand a customers' needs and providing appropriate solutions or interventions with minimal or no human involvement.
Automation allows companies to provide customer service at scale, saving both time and effort for your support team and customers alike.
What are the benefits of automation in customer service?
1. Reduced wait times
Customers today don't like to wait long, more so when experiencing a problem with a product or service. Long wait times almost always lead to frustration and, eventually, customer churn.
This is where customer service automations come in to save the day.
For example, Czech travel unicorn, Kiwi.com, set up rule-based customer service automations in Hiver, which allowed them to save a precious 167 hours every month.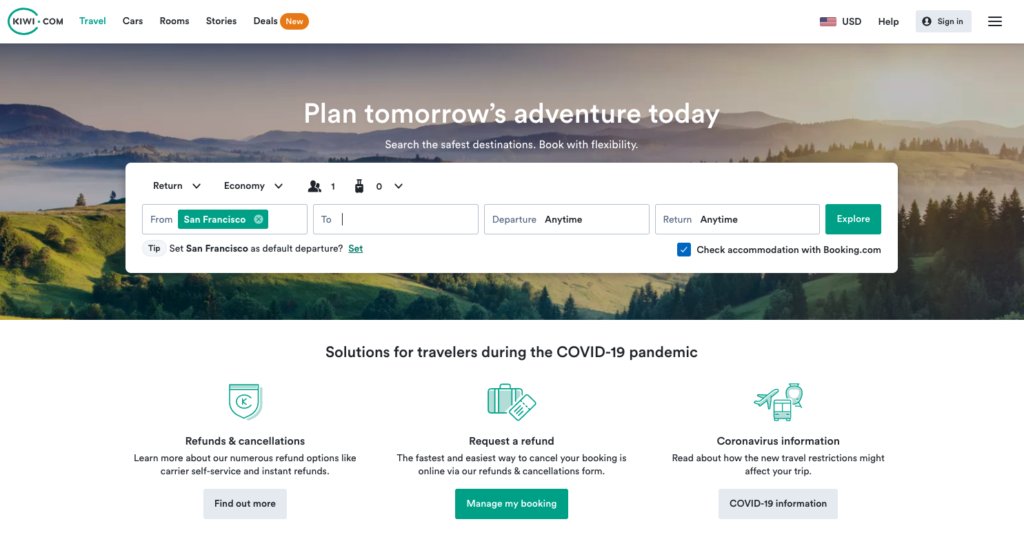 2. Reduce overhead costs
Automations in customer service can go a long way in helping reduce overhead costs. From lean customer service teams to scaling customer service teams at larger organizations, bringing in automations can help teams of all sizes deflect a significant number of customer service requests, save time and money, and reduce hiring costs.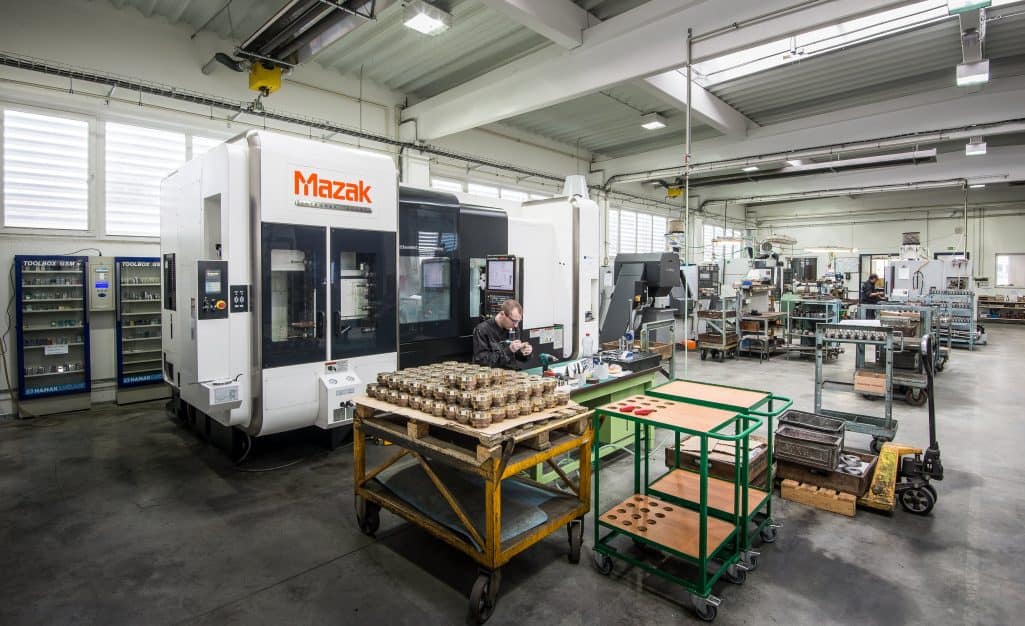 Let's take the example of UK-based Get It Made, a manufacturing-as-a-service firm. By automating their customer service processes, the team effectively kept up with a ten-fold growth in businesses without increasing the size of their team. What's more, they saw their efficiency improve by 250%!
3. Provide uninterrupted customer service
Almost all companies provide customer service during business hours. But with rising expectations from consumers, businesses have started to go beyond traditional business hours to provide customers uninterrupted customer service. For instance, Hiver's latest research report indicates that 76% of companies now offer customer service outside their traditional business hours.
How do they do that? One way is through customer service automations. If we go back to Get It Made's example, we see that despite interruptions caused by Covid-related lockdowns or vacation days, they still have a 100% customer email response rate.
This is because of their efficient use of auto-responders and round-robin assignments, ensuring that no email goes unanswered and no customer is left unsatisfied.
4. Improve team productivity
In customer service, a large part of your team's day-to-day activities involves repetitive, mundane tasks like classifying and assigning emails. Doing these activities day in and day out can drain your team's morale.
You can easily set up simple rule-based automations to handle most of these tasks, freeing up your customer service team's time and reinvesting this time into more productive tasks such as upskilling or handling more complex customer queries.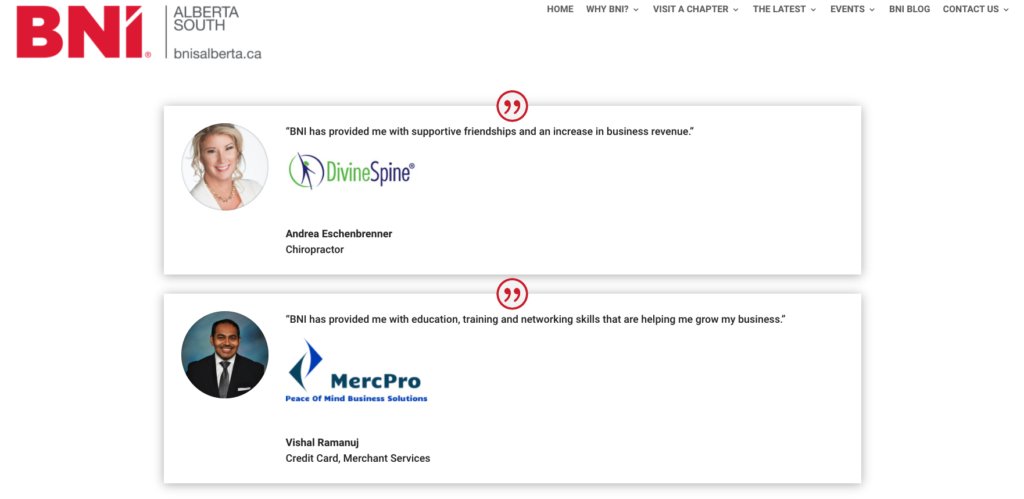 Take the example of BNI Alberta South, an organization that focuses on assisting small business owners in Canada. They help them grow their business through networking opportunities and referrals.
Because of the nature of their work, BNI Alberta typically receives a lot of inquiries and applications from new businesses.
To save time and improve team productivity, they have set up automations in Hiver. For example, any email that contains 'New BNI membership application' in the subject line gets tagged as 'Application' and assigned to the team members in a round-robin manner.
This streamlining has helped them save a whopping 23 hours every month.
5. Improve customer service metrics
From Hiver's Customer Service Benchmark Report 2021, we know that 41% of surveyed businesses are guided by improving CSAT (customer satisfaction score) as their north star.
And from the points made above, we know that automations directly impact your customer service team's response times, productivity, and overall effort needed by your customers (which in turn impacts CSAT).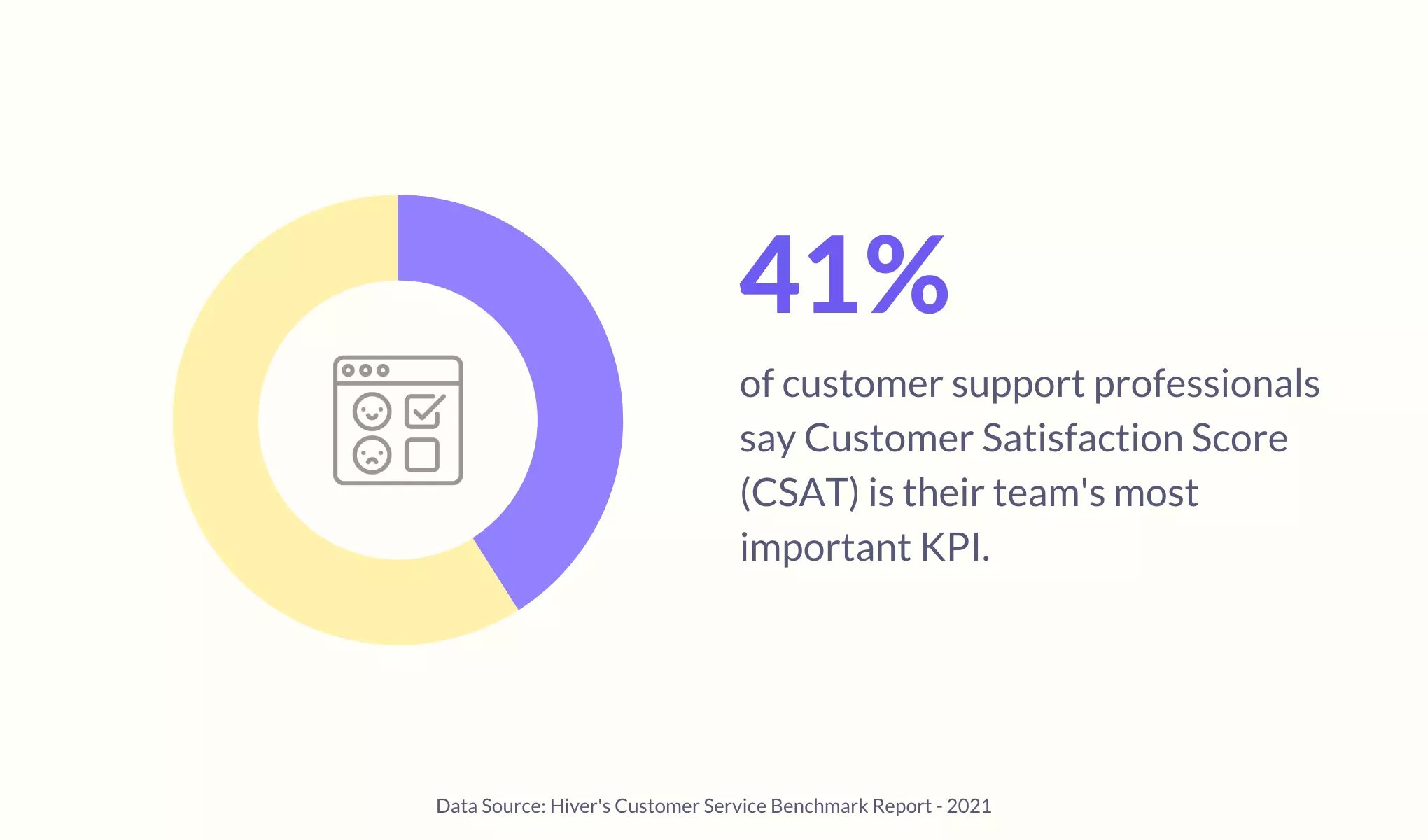 Having the ability to deploy automations and measure the impact that they have had on your business processes can help you make more informed decisions.
Take the example of Appsflyer — a SaaS mobile marketing analytics and attribution platform headquartered in San Francisco, California.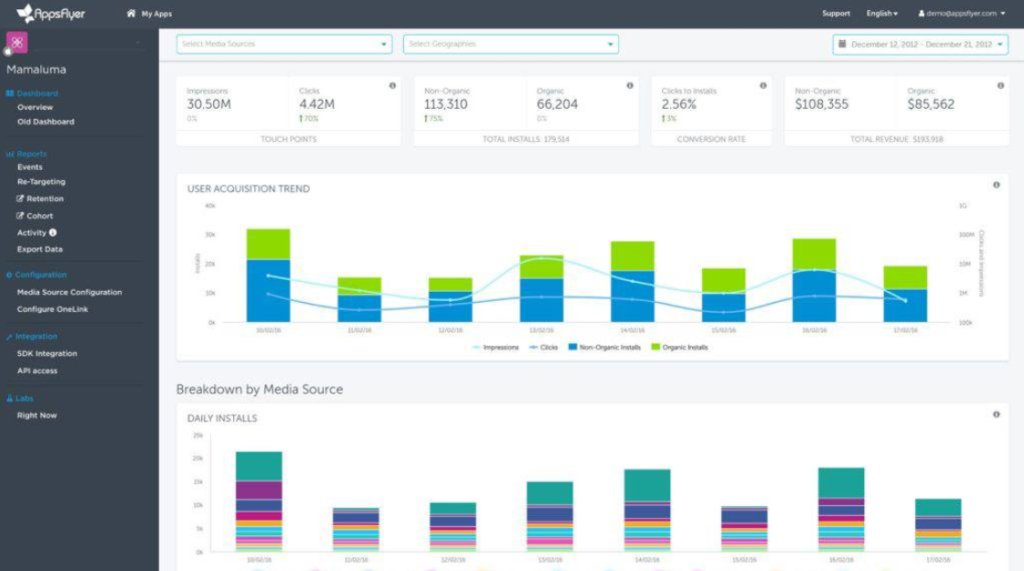 Appsflyer's accounting team receives over 100 finance-related emails in their accounting shared inbox every day. For them, delivering customer happiness means resolving these emails promptly and systematically.
To help deliver customer happiness, the accounting team at Appsflyer set up rule-based automations using Hiver to streamline, assign, and classify incoming emails faster.
They also set up an analytics dashboard that helps them keep track of key performance metrics and continuously improve their processes to achieve the best outcome.
So far, we've looked at some of the benefits that customer service automation can provide. Now, let's look at how you can choose the right software to automate customer service.
Choosing the right type of customer service automation software
Before you even set up your customer service automation, you need to ensure that your team has the right kind of software that comes with customer service automation capabilities.
The right customer service software will offer the right feature set at an appropriate price for your business.
To solve customer service automation-related needs, begin with analyzing your team's daily processes. Identify which processes can be automated and which ones cannot. Then, evaluate all available helpdesk software options to see which ones best fit your requirements.
Look at factors like the general breadth of automation capabilities, ease of set up, ease of modification/deletion of workflow automation, access control, and ability to measure the performance of automations.
These factors are critical in helping you automate your processes. While picking up a helpdesk solution, be mindful of picking one that can not only serve your needs today but also scales with you as you grow.
Types of customer service automation that you can set up using Hiver
If you're using Hiver to set up customer service automation, there are largely three types of automations that you can set up:
1. Auto-assignments (Round-robin assignments)
When the auto-assignment feature is enabled for a Hiver shared inbox, depending on the configuration settings, all incoming emails or specific incoming emails will be assigned to team members in a Round-robin queue.
2. Auto-responders
Auto-responders are automatic emails sent in response to an incoming email in a Hiver shared inbox. Depending on the configuration, you can choose to send auto-responders to all incoming emails, incoming emails within business hours, or incoming emails outside business hours.
3. Rule-based automations
Rule-based automations can be set up in a simple "if-then-else" manner, allowing you to automate basic, repetitive tasks like assigning emails, changing their status, etc.
To set these up in Hiver, the first few steps are the same:
Step 1: Navigate to the Hiver Admin Panel
Step 2: Once you're in the admin panel, choose the shared mailbox you want to set up the automation for.
Step 3: After choosing the shared mailbox, choose between setting up auto-assignments, auto-responders, or rule-based automation.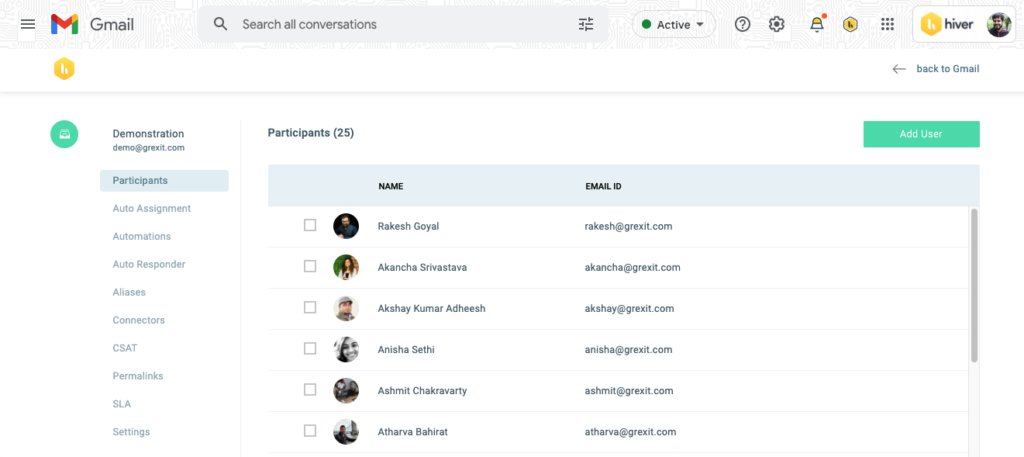 Auto-assignments (Round-robin assignments) in Hiver
To set up an auto-assignment (Round-robin automation),choose auto-assignment from the left-hand side menu. Use the toggle switch to turn on the auto assignments and then choose the condition.

You can also choose the advanced settings options, which allow you to exclude certain users from your assignment queue. If you have a support team manager or a C-level executive who is a part of the shared inbox, you can use this configuration to exclude them from the queue.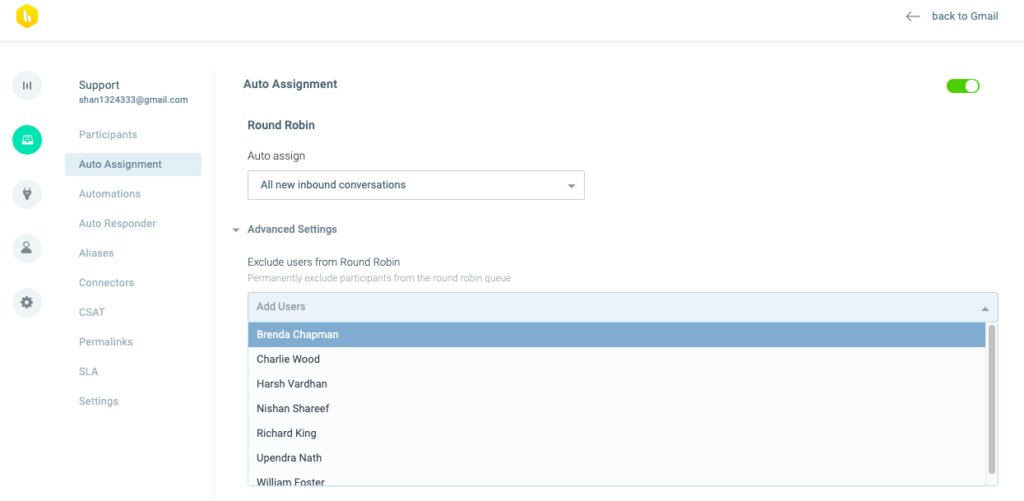 How is this useful?
Round-robin assignments ensure that incoming emails are automatically assigned to owners in a distributed manner.
Here's a visual representation of a round-robin queue in Hiver.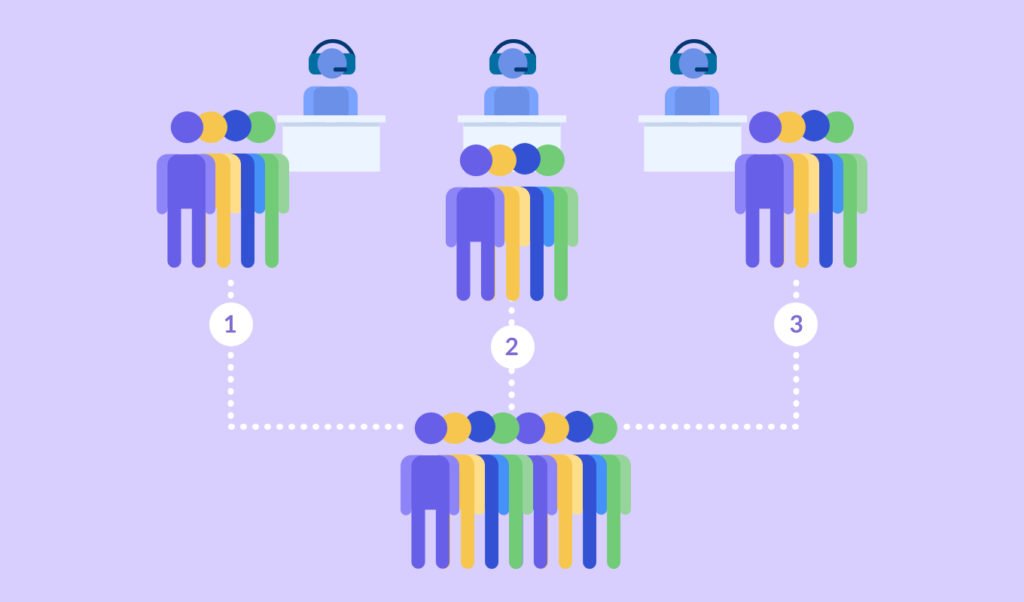 This ensures that:
Emails are assigned to owners without any delays/manual effort.
Emails get dedicated owners, ensuring that customer requests do not slip through the cracks.
Furthermore, the round-robin assignment ensures that not all emails get assigned to the same owner, leading to a more evenly distributed queue.
Auto-responders in Hiver
To set up an auto-responder in Hiver, choose the Auto Responder option from the left-hand side menu in the Hiver admin panel. Use the toggle switch to turn on/off auto-responders and then use the text editor to compose your auto-responder email.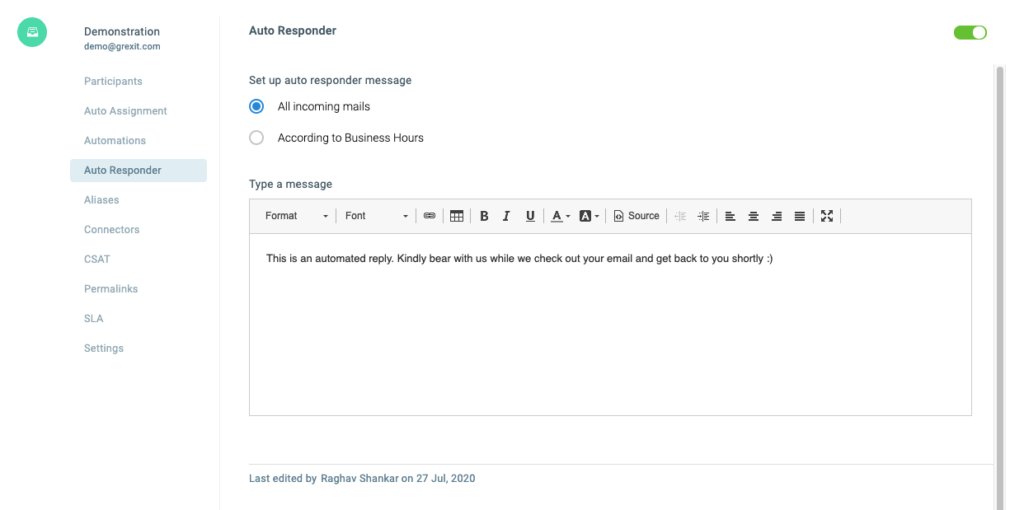 Note: To configure auto-responders according to business hours, you'll have to configure business hours for your shared inbox.
How is this useful?
Auto-responders are great for helping you set customer expectations right or giving them alternate sources of information/ways to reach you.
For instance, you can help your customers by setting up an auto-responder for emails that you receive outside business hours, letting your customers know:
what are your business hours
when they can expect you to respond
how can they find solutions to their problems using your knowledge base
And how they can contact you in case of an emergency
Rule-based automations in Hiver
And finally, coming to the pièce de résistance of automations in Hiver – rule-based automations. Rule-based automations are simple "if-then-else" statements that get triggered when a particular set of conditions are met to execute a set of actions.
For example, you can set up an automation to assign all emails containing the word "payments" in the subject line to a member of the finance team. Additionally, with the new body search functionality in Hiver, you can even set up trigger conditions based on the content in the email body.
Or you can set up an automation to add a "Priority" tag to emails from your most valuable customers.
And to save your team's shared inbox from getting cluttered, you can even change the status of all incoming marketing emails to 'closed.'
For example, here's how you can create an automation in Hiver to add a tag and assign all refund-related emails to a team member.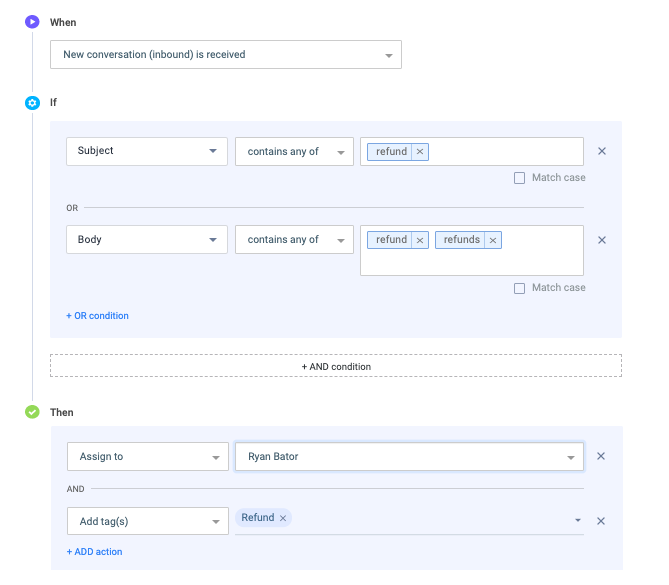 As seen in the example above, any new incoming email with the word "refund" in either the subject line or the email body automatically gets assigned to your teammate Ryan.
How is this useful?
At the risk of repeating ourselves, we're going to tell you again that these rule-based automations can help you automate your basic customer service workflows, save you the trouble of performing routine tasks like classifying emails and adding tasks, assigning them to team members, and changing their statuses.
This gives you more time to serve customers faster and attend to more complex customer queries. Additionally, the time and costs that you save can be put into developing upskilling programs or investing in mindfulness for your team.
Wrapping it all up
Implementing customer service automation is a critical part of your company's customer service journey. Not only does it help you save time and money, but it also helps reduce customer effort. And this is a key factor that goes a long way in establishing you as a customer service champion.
But the bigger picture is that automating parts of your customer service is helping you deliver customer service at scale. Helping you serve 100 customers more effectively than serving ten customers. And that's where the real secret sauce lies.