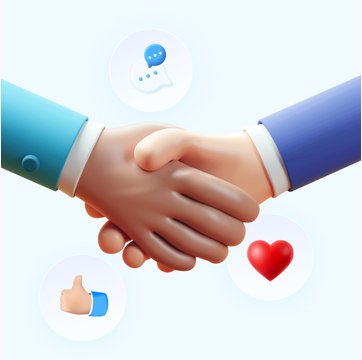 Table of contents
8000+ teams use Hiver to delight their customers!
7 Customer Service Examples to Inspire Lifelong Loyalty
Dec 13, 2022
|
7 min read
|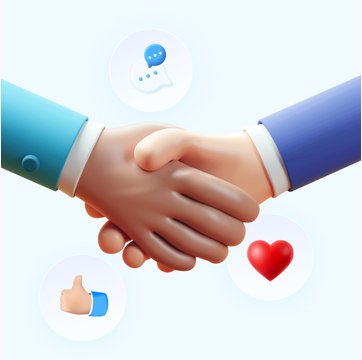 Table of contents
Customers no longer base their brand loyalty on their products or prices alone.
Instead, they are staying loyal based on the customer service they receive.
According to a Statista survey, 34% of customers are willing to pay more for a product or service if it means receiving better customer service.
This presents a huge growth opportunity for your business but comes with a challenge.
You see, it's not you who decides if you're delivering good or bad customer service.
It's your customers.
So, what does great customer service look like?
We've scoured the web to find examples of good customer service experiences they received in which they went out of their way to share the story with their friends, family, and network.
These include real-world examples from brands such as Apple, Chewy, Southwest Airlines, and Domino's Pizza.
Table of Contents
7 real-world examples of outstanding customer service
Are you ready to take your customer service to the next level?
Check out these seven real-life examples of the best customer service provided by companies.
1. Empower your employees as much as your customers
A top-notch customer service environment is just as much about empowering your employees as your customers. Exceptional customer service on the front end of your business is only viable when there's a great work environment backstage – happy employees create happy customers.
Treating employees exceptionally well can bring about a significant return on investment. A news report by Gallup shows that brands that promote employee empowerment are 21% more profitable than those that don't.
So, try to incentivize a customer-first mindset amongst your customer service reps and employees and empower them to practice it.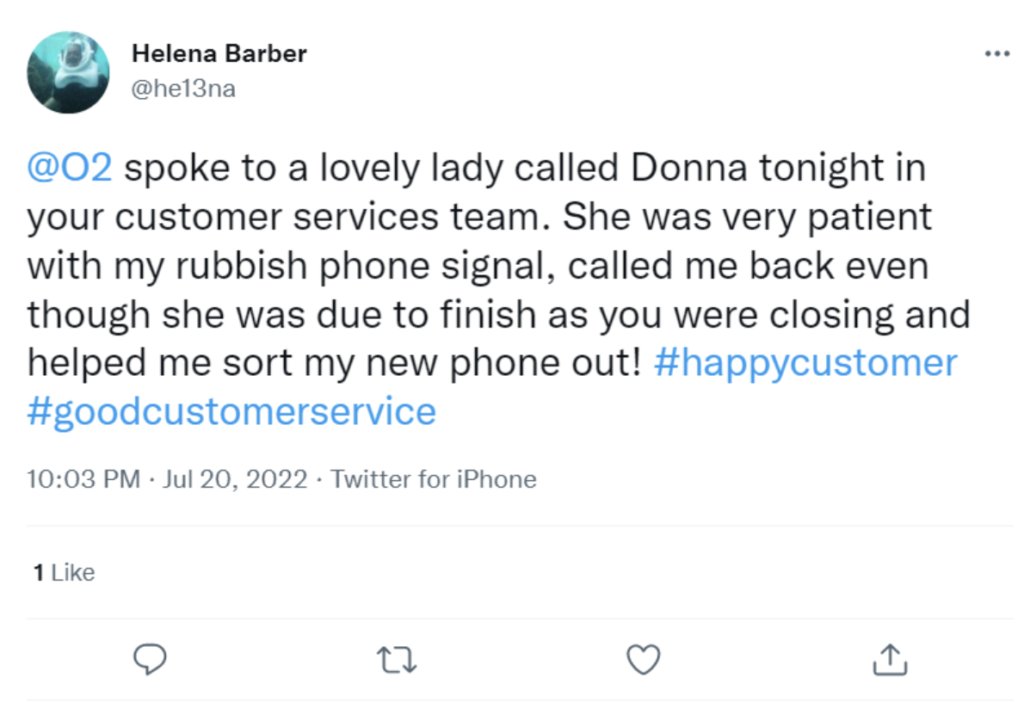 The critical takeaway? Employee experience determines customer experience in many cases. Ensure to empower employees to go the extra mile.
2. Stand out from the crowd
If your business does something unique, it's not too long before your competitors copy it.
Other businesses can replicate, lower your prices, or offer a discount, but providing excellent customer service is difficult to replicate.
Stand out from the crowd by caring about your customers. Empathize and be genuine in your concerns.
Look for ways to make customer interactions just a little bit better. Small gestures, such as walking customers to the door or finding a chair for someone in poor health, show that you care and goes a long way in improving their in-store experience.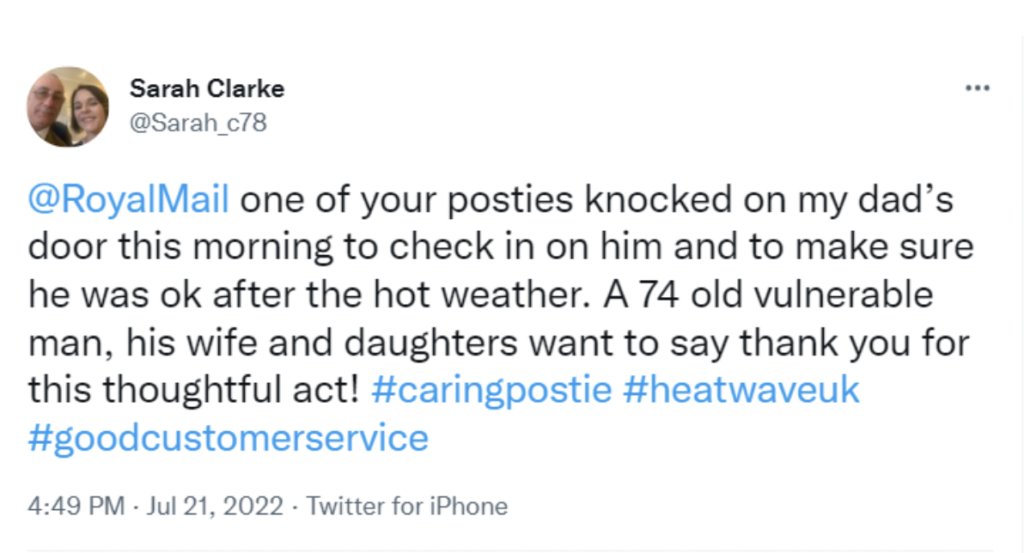 It's a beautiful act of kindness.
This wasn't a ploy to garner attention on social media.
It was genuine. And it helped Royal Mail stand out!
3. Offer proactive customer service
Proactive customer service means forecasting customer expectations by choosing the right customer service software. It is all about fixing issues even before customers know they have them.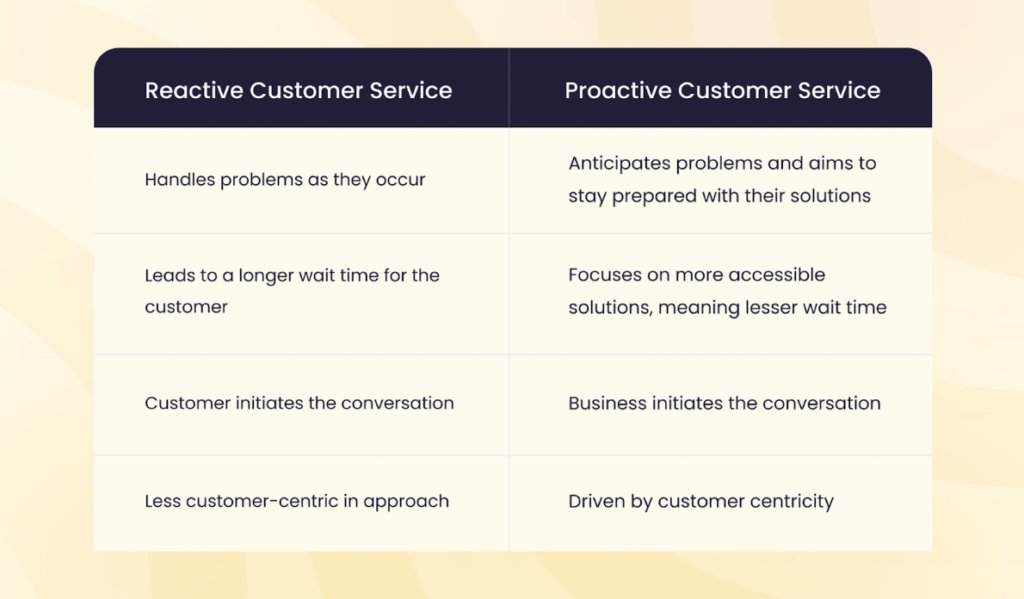 Getting to know your customers better can help you consistently succeed in anticipating their needs. Keep in mind: An exceptional customer experience is only made possible by a proactive customer service strategy.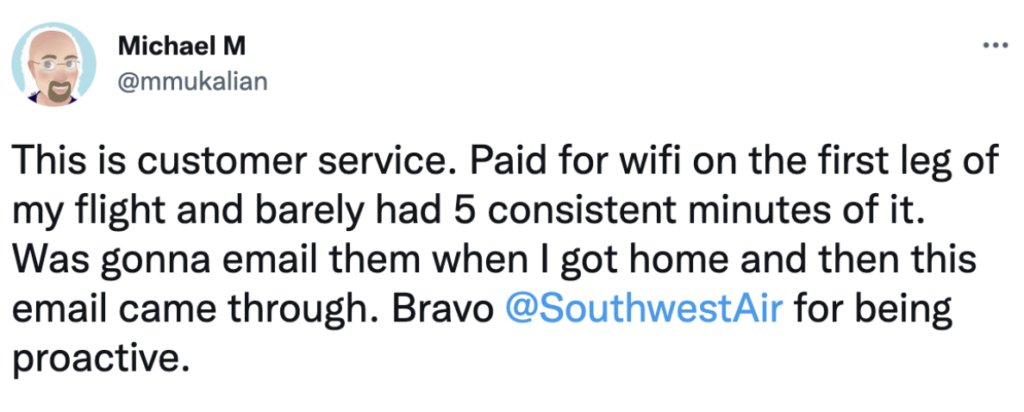 Reach out to your customers before they reach out to you.
Your customers will remember it and keep coming back.
4. Provide quick responses
Customer service response times are getting slower.
Almost 53% of customers want their queries resolved within a day. Yet 3 out of 4 customers get frustrated by long waiting times and having to repeat questions multiple times – as noted in our exclusive report, 'The State of Customer Support.'
Make customer satisfaction a priority and improve customer engagement. The key to successful customer service is acting on customer feedback as swiftly as possible. Customers with poor customer service want issues resolved quickly, ideally in one swift transaction.

Speed is a competitive strategy that separates you from competitors when offering excellent customer service.
5. Use customer complaints as opportunities
Customer complaints are a tremendous learning opportunity for your customer service team.
Of course, some complaints might be unreasonable. But, it's essential to reflect and see what learning (if any) you can have from customer issues.
For example, customer service process meetings can review complaints about slow response times. A solution might be to set up SLAs to ensure faster replies.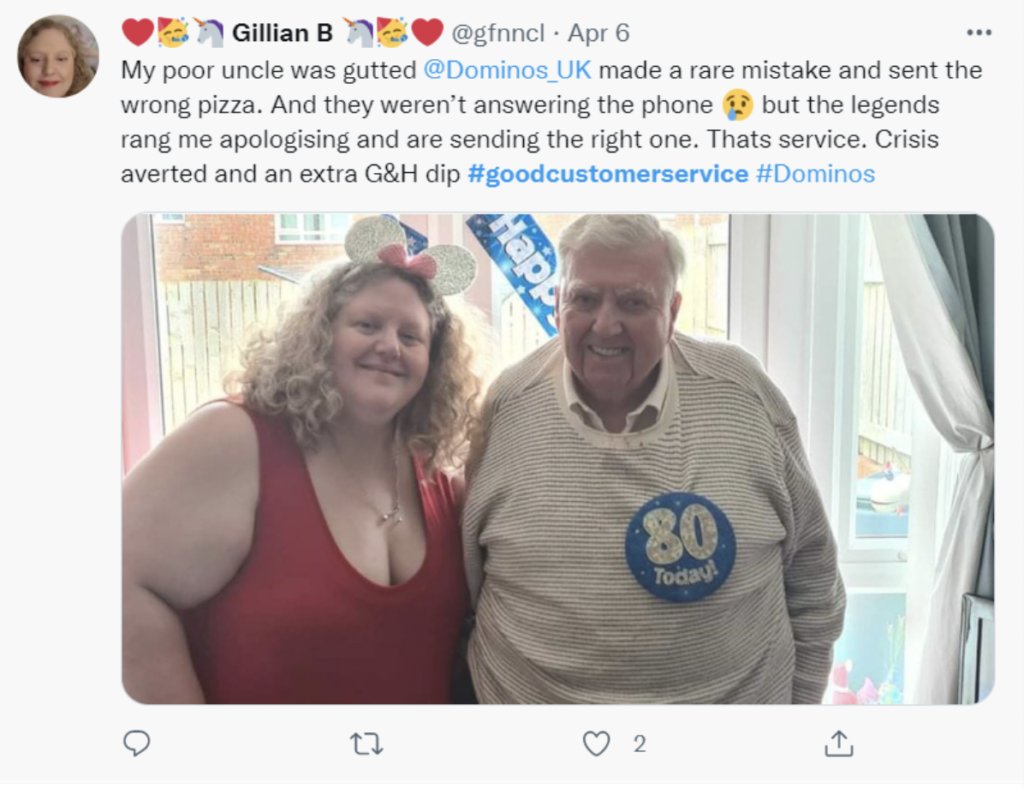 Had Dominos not handled this with care, a poor man would have celebrated his 80th birthday without his favorite pizza. Instead, they ran it quickly, which got the entire family raving about the company online.
6. Admit when you've made a mistake
We all make mistakes.
The good news is that 74% of people are willing to forgive a company for its mistake. Although admitting an error can affect your ego, it is an essential customer service skill that can help strengthen customer relationships.
Customers' expectations are rising, and they prefer brand interactions to feel authentic and personal. Admitting that you have made a mistake and saying "sorry," for example, can build trust.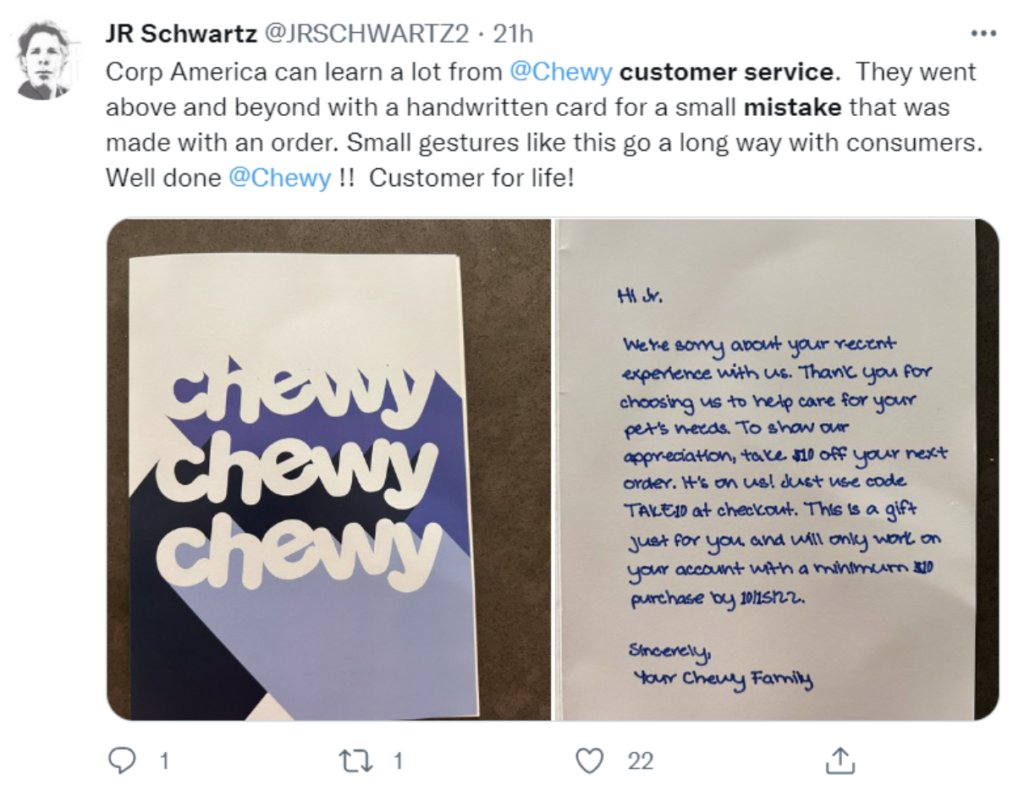 They made a small mistake, fixed it, and sent a letter of apology.
And in JR's own words – he's now a customer for life.
Encourage your customer service agents to recognize and respond to not just the good but also the bad experiences. Taking responsibility is the bottom line to driving loyalty.
7. Do good things when they feel right
Sometimes, the only lesson is to do what you think feels right.
Take, for instance, this example from Apple.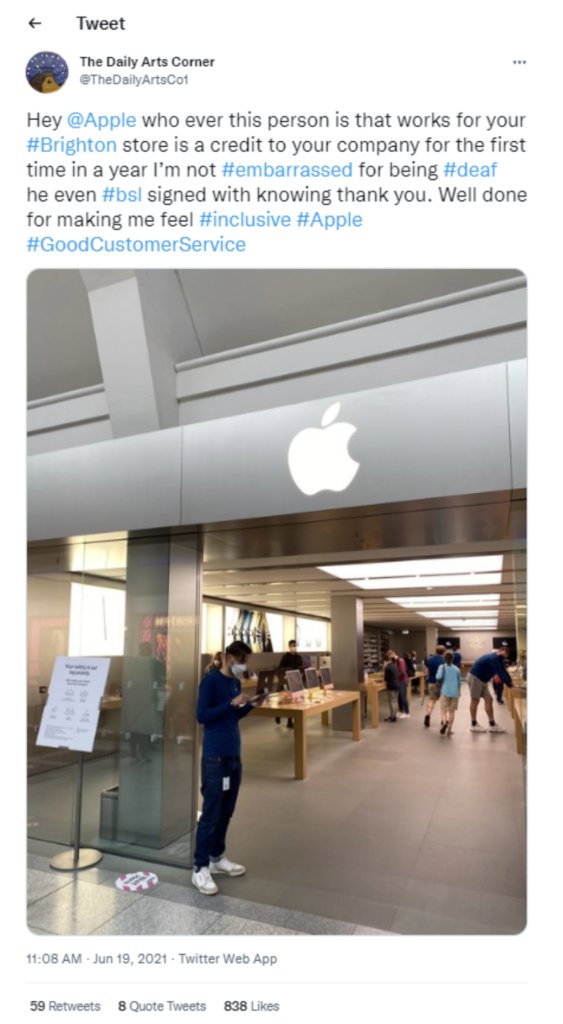 There's no policy or procedure in place at Apple for this kind of gesture. It was authentic and done at the moment. The employee felt it was the right thing to do and made the customer feel special. What more can you ask for?
Ready to create an army of loyal customers?
All these customer service stories have one thing in common:
The customer was happy with the level of service they received.
Provide consistent and good customer service, and you'll be well on building customer loyalty and customer retention. When customers hear such stories of good customer service examples, it can attract new customers to your business in the long run.
Whether you provide in-person or digital support, your customer support team will need a system to capture all customer needs, requests, and feedback. Hiver does just that!
The customer service features in Hiver allow you to respond quickly, handle complaints, be proactive and stand out from the crowd. The best part is that Hiver works inside Gmail's interface. That makes it highly intuitive and super easy to use.
Ready to get started with Hiver? Create a free account today!