Table of contents
8000+ teams use Hiver to delight their customers!
To call 2020 a year like no other would be massively underplaying the effect of these past nine months on the way we live and work. What started off as, "let's work from home for the next two weeks and see where this goes" has gone on for a good 9 months by now.
2020 is a verb now. A fairly dystopian one.
At Hiver, we've been adapting, learning and growing. Just like you.
March and April was a massive wave that shook us off our feet. We stumbled some bit, but soon found ourselves back on our feet. Remote work had a snappy start, but smoothened over time.
We transitioned into a digitally-connected community that went from sharing home workstation pictures, to baking its way to gluttony, to vowing to make "productive use of the pandemic", to also giving into moments of soul-crushing fear and anxiety.
And we had our moments. Fairly big ones. Enough to look back at the year with some strange mixed emotions.
1. We pivoted from shared inbox to a helpdesk solution
We talk to our customers a lot. Phone calls, emails, in-person meetings, you name it.
During these conversations, one thing we noticed was how our customers spoke about using Hiver to interact with their own customers. How it was a far more effective alternative to a conventional helpdesk.
The customer service message, however, had little mention in our positioning.
So, the marketing folks at Hiver got to work and executed one of our biggest initiatives so far — which is rebranding Hiver from a shared inbox solution to a customer service solution.
With that move, we announced our entry into the helpdesk market, and launched an upgraded analytics suite (more on that later) along with it.
It was several months of hard, collaborative effort between design, content, and development teams. But it was all worth the effort at the end when we saw Hiver trending on ProductHunt (an online community to find new products),racking up over 600 upvotes.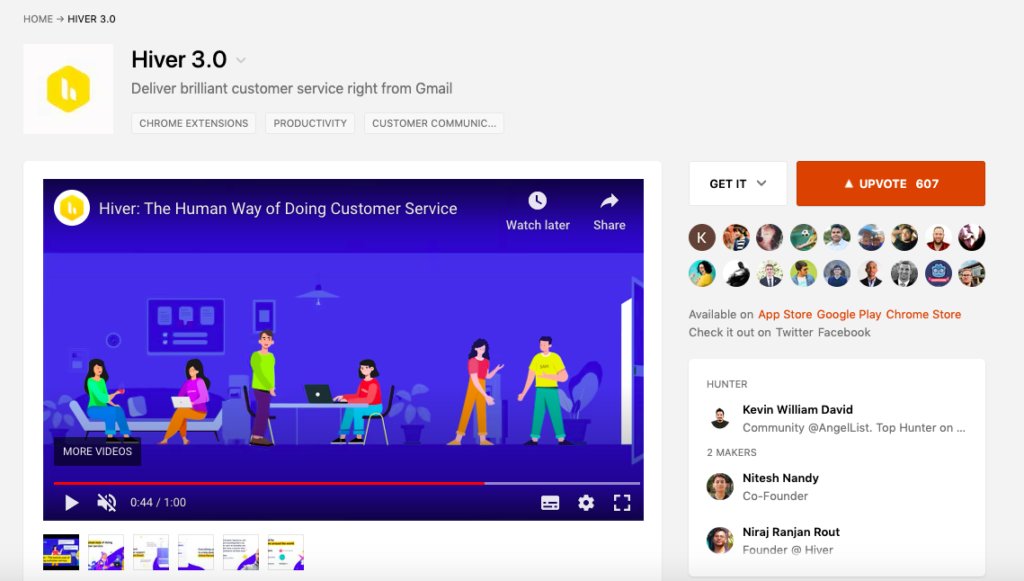 The cherry on the cake was the slick animation video that got a ton of positive feedback from both our customers and folks in the startup community. Check it here:
2. Started working with some fabulous companies
2020, despite the ups and downs, was a pretty significant year in terms of growth.
We started working with some pretty big names. Netflix, Software Advice, Capterra, Hello Fresh, Black Lives Matter — all came onboard and are now using Hiver to collaborate faster and deliver on-time support.
With companies being forced to go remote this year, we also saw how Hiver facilitated remote teams to collaborate smoothly and get work done.
For instance, New Hope Fertility Center, one of our customers, made a super smooth transition to remote work

"If our remote staff have a specific question for their teammates, they utilize the Notes function in Hiver to leave messages or ask questions if they can't get a team member via phone or text," said Jennifer Nguyen, Operations Associate at the fertility center.
3. Launched the most in-depth analytics suite for Gmail
At Hiver, we believe that delivering great support experiences isn't just about replying to customer queries. It's about building an efficient team that can engage in humanized, contextual interactions with customers.
But you can't improve efficiency without knowing how the team is performing, what they're doing right, and where they need some help. And so, we set out to revamp our analytics platform.
We wanted to give managers and supervisors the ability to deep dive into very specific aspects of their team's performance. This is why we built the Default and Custom Reports functionality. The really cool thing about this update is that you can now build your own reports from scratch.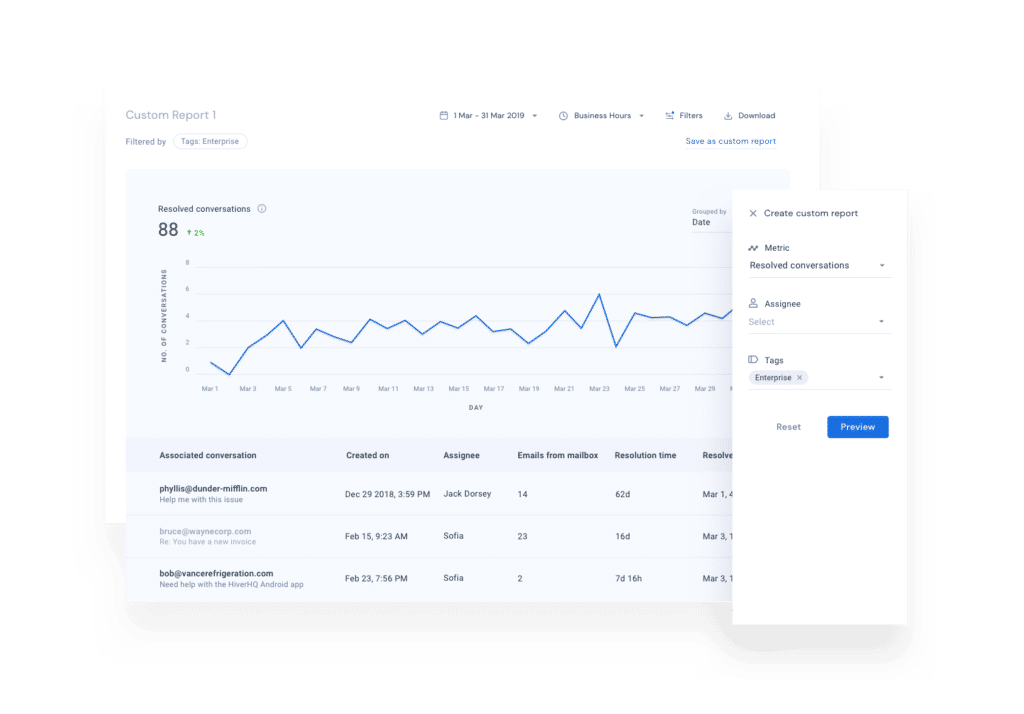 But that's not all. We also launched a bunch of other really powerful functionalities this year. Here's a quick overview:
→ Improved Automations: Building fully automated workflows with minimal manual intervention is now possible. Teams can set up multiple automations within the same trigger. Say adios to tasks that are a timesuck!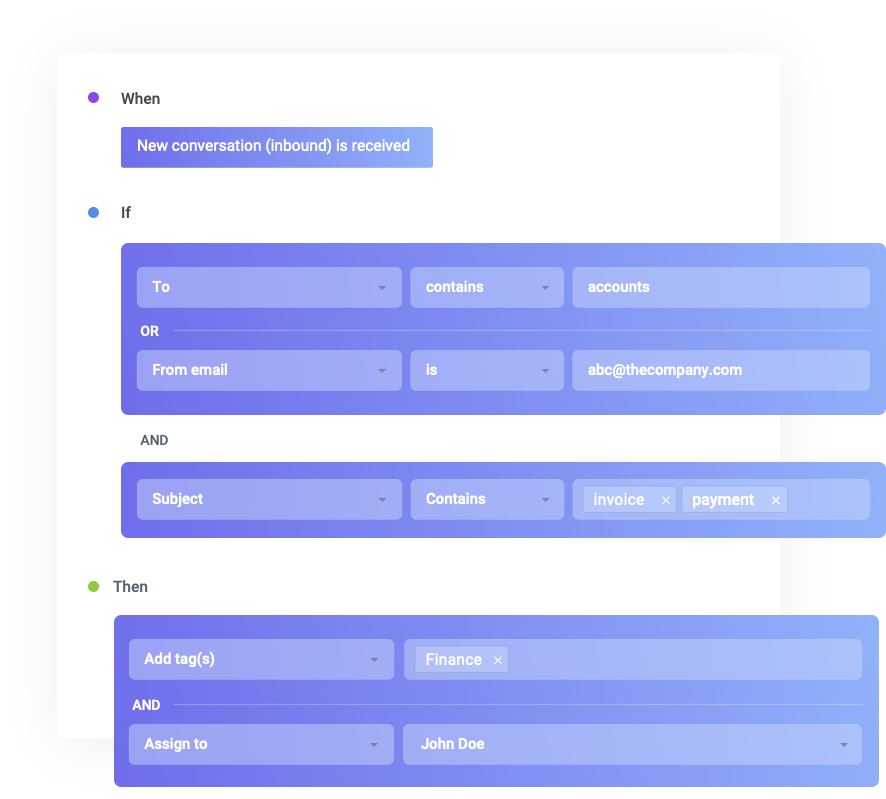 → Workload distribution: Great customer service teams are ones that have highly productive team members. But, how do you ensure agents work at their optimal efficiency?
This is why we built the Workload Distribution functionality. It allows you to keep tabs on how incoming work is distributed within your team. You'll know if someone is being overburdened or if someone doesn't have much work. It gives you a bird's eye view of how much work everyone is doing and this in turn, helps you delegate queries in a smarter way. Here's an example: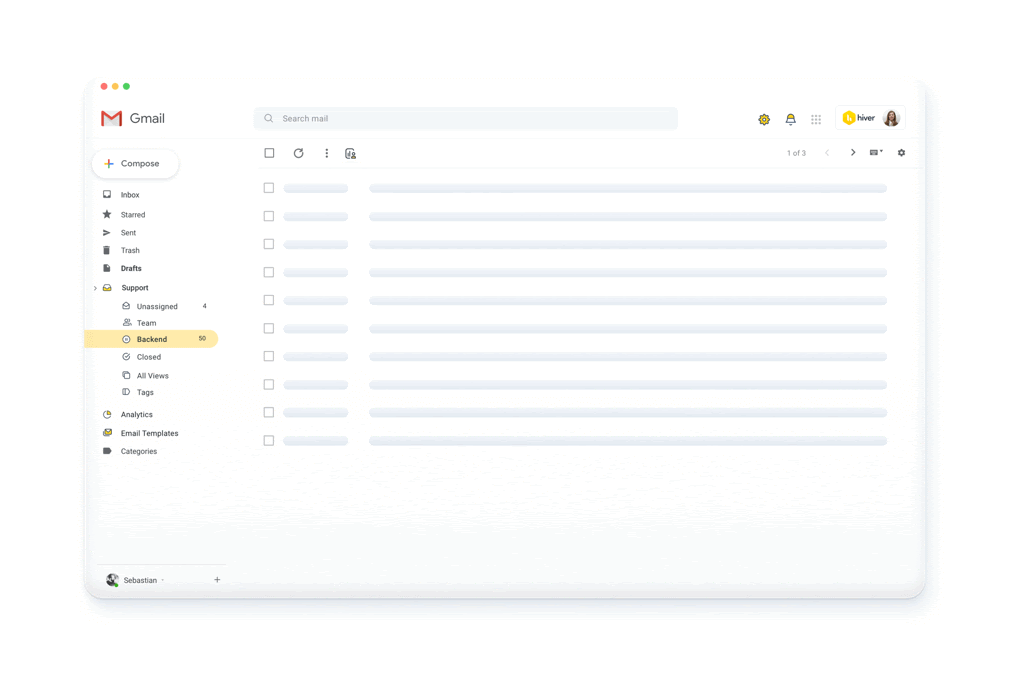 → Mobile app: Managing customer queries using Hiver is a lot easier now – all you need is a phone and the new Hiver mobile app. It's simple to use, easy to navigate, and packed with useful features that help you delegate queries, collaborate with team members, add tags, and more!
That's not all! We released several other important updates and enhancements. You can read about them in this 2020 Product Updates Blog.
4. We kinda democratized shared inboxes
Hiver is built in a way that it's a versatile product. It can cater to teams of multiple sizes and can serve various business use cases.
But we realized that for many small companies and early-stage startups, even a cost-effective solution such as Hiver can be cost-prohibitive.
And so, after numerous brainstorming discussions, we launched Hiver LITE – the most cost-effective helpdesk solution in the market, at $7/user/month.
Hiver LITE ensures cost isn't a roadblock for smaller companies when it comes to delivering great customer service. It comes with all the core functionalities of a collaborative shared inbox needed to do great customer support – right from the ability to assign emails and write quick notes to colleagues, to create email templates and track team performance.
Read more about Hiver LITE here.
5. Received unbridled customer love
Nothing beats that feeling you get when you see customers heap genuine praise on your product.
So, it's no surprise then that we were over the moon to find out that Hiver recently crossed 500 reviews on G2 (a website where businesses can find suitable software solutions).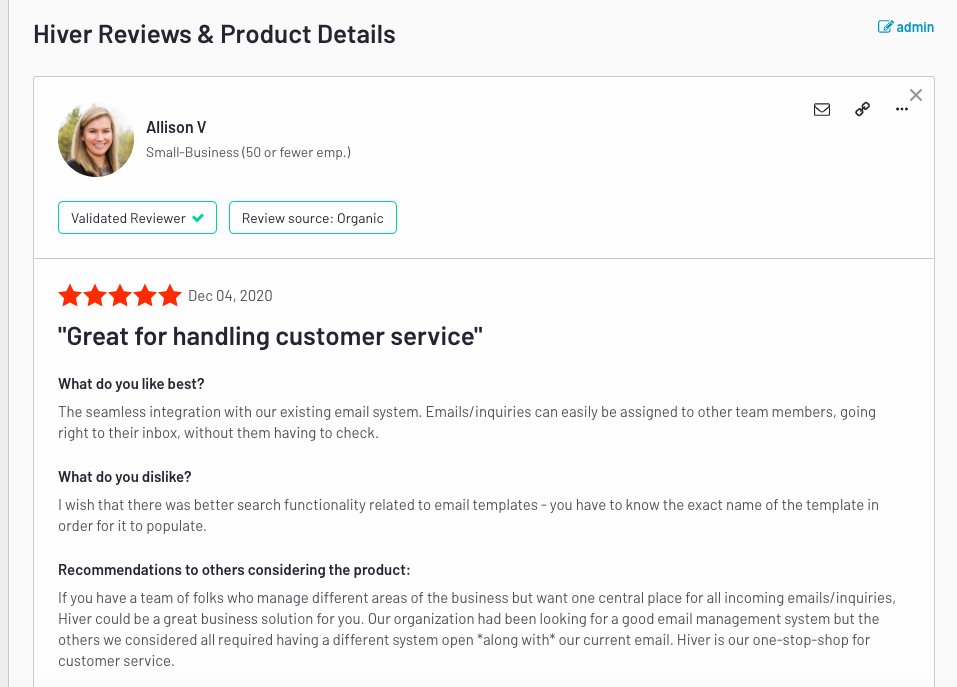 The best part about this is that most of the reviews have been overwhelmingly positive.
We can't thank our customers enough for taking some time out and sharing their experience using Hiver. They've always been a huge support system and played an integral role in shaping the product to what it is today!
There's been no shortage of customer love this year. In fact, one of the most memorable customer interactions we had this year was when we visited San Diego (before s$%# went down in 2020) to catch up with the amazing folks at WS Display.
In case you haven't heard about WS Display, they're known for their work in printing trade show displays and have quite the reputation for providing exceptional customer service! We got to chat with their customer support team and this turned into our first ever video case study!
6. Conducted a first-of-its-kind customer research
Customer experience changed a lot this year. With social distancing norms and lockdown orders being prevalent, there's been a visible shift in how customers interact with companies, and we wanted to study this in detail.
So, we conducted a first-of-its kind research where we surveyed over 1000 consumers in the US to understand how customer expectations have changed due to COVID-19.
We asked consumers what kind of service they expect from companies, what they consider to be a 'good customer experience', what pisses them off the most when dealing with support teams, amongst other things.
Here are a few interesting trends we discovered:
80% of consumers want customer support to be more empathetic or responsive during COVID-19.
More than 50% of consumers consider 'resolution time' as one of the most critical factors to decide whether a customer support experience qualifies as good.
In case you want to check out the entire report 'Customer service through the Eyes of Consumers in 2020', you can access it for free below!

7. Saw the Hiver Bees gain popularity
One of the more fun things to happen in 2020 was seeing the Hiver Bees gain popularity on social media. They first caught everyone's attention for perfectly practicing social distancing norms and obeying the lockdown orders.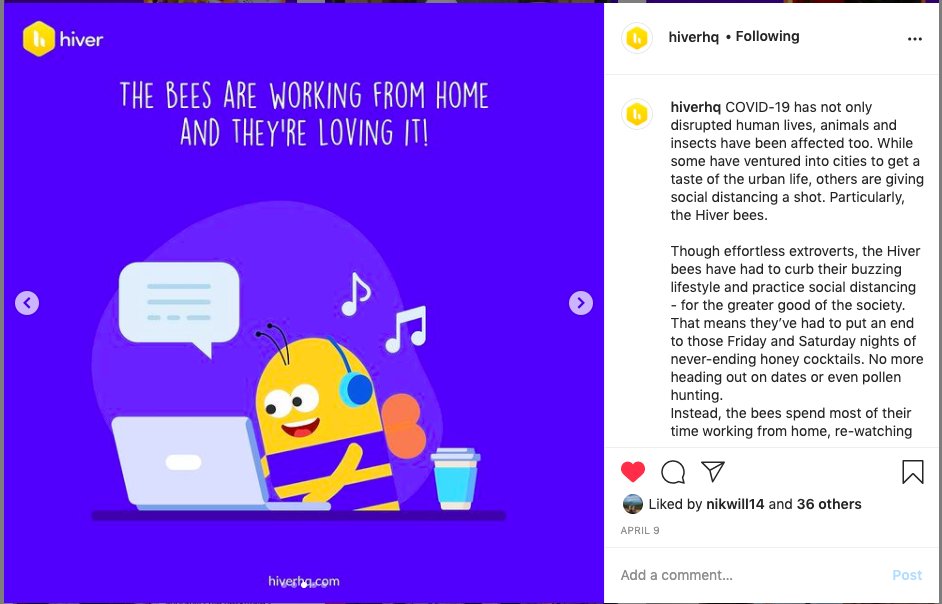 And then on World Bee Day, we decided to highlight what makes our Hiver Bees special. What makes them heroes in their own right.
If you're falling in love with them by now, you ought not to miss their Thanksgiving celebrations.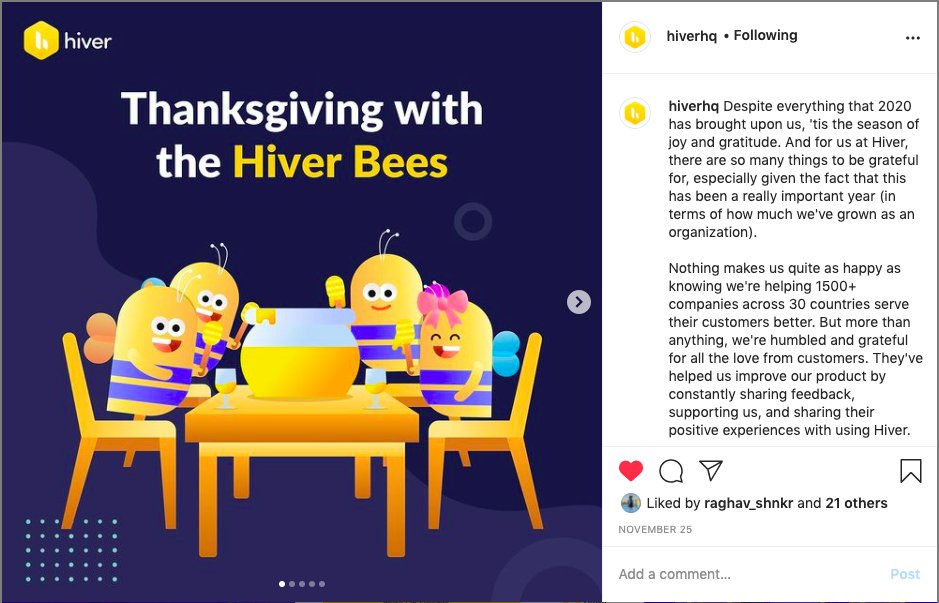 8. Worked with amazing customer experience heroes
We got the chance to connect and interact with some amazing customer experience practitioners and thought leaders this year. We found out that these folks aren't just incredibly passionate about what they do but come with a wealth of wisdom and knowledge.
From customer journey mapping to VoC programs to customer support strategies, there's so much to learn from them!
So, we wanted to champion and celebrate these CX heroes. We wanted to tell the world about their journey, ideologies, wisdom and make it all widely accessible.
That's how we came up with the CX Spotlight interview series. If you're someone who is passionate about customer experience or customer support, these interviews are a treasure trove of information. They're inspiring, insightful, and are packed with resource recommendations that will help you become more knowledgeable.
Here's a good place to start: CX Spotlight with Nate Brown
9. Helped thousands of teams transition to remote work
Though we are all getting used to it, we know remote collaboration can be quite a pain. There are chances of miscommunication, too much back and forth, deadlines getting missed, and that's just us scraping the surface.
That said, we pride ourselves in knowing that Hiver has been quite integral in helping teams go remote with much ease. Teams using Hiver have been able to bridge the communication gap, collaborate faster, and ensure everyday work never gets disrupted.
The proof for that is in the numbers.

Adios 2020. Here's to an exciting 2021!
Looking back at this year, it's fair to say that it had its high and its lows, some great memorable moments and some difficult periods. But all in all, 2020 has been quite the unforgettable ride. And as we come out the other side of it, we're super grateful for all the love, support, and appreciation.
We can't wait to see you all in 2021, and do more exciting stuff and keep pushing that bar higher!
Till then, Wishing everyone a Merry Christmas and a Happy New Year! 🙂