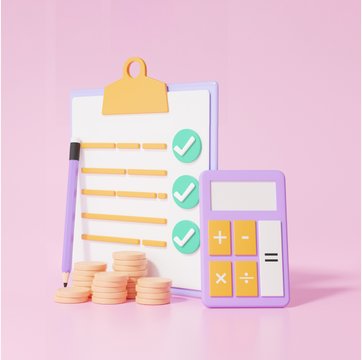 Table of contents
Run finance operations from Gmail
10 Reasons You Need an Accounts Payable Helpdesk
Aug 07, 2023
|
8 min read
|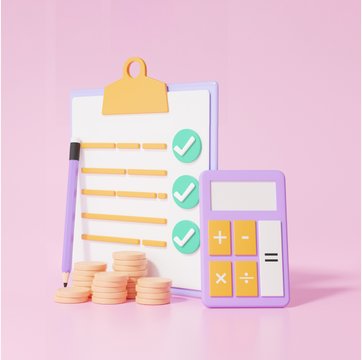 Table of contents
A streamlined accounts payable process is important for businesses to keep track of cash flow, manage invoices, and sustain vendor relationships.
The challenge however, is that the accounts payable or AP process is complex in nature and has a number of manual touchpoints that can lead to a lot of back and forth. Aside from this, errors in payments, invoicing, and data entry can slow down business operations.
This is where an accounts payable helpdesk can help you.
Table of Contents
What is an accounts payable helpdesk?
An AP helpdesk can help your business optimize workflows, automate repetitive tasks, and manage vendor communications with ease. It can also give you complete visibility into your supplier data and enable you to manage escalations of any kind with utmost ease.
It helps your accounts payable department to centrally manage and automate processes such as invoice management, vendor transactions, purchase order processing, and reporting from a single platform.
In other words, it can help you keep track of all vendor payments, communications, and pending invoices.
13 best accounts payable and receivable software
Why your business needs an accounts payable helpdesk?
1. Streamlined support for vendor and supplier queries
If your accounting team deals with a high volume of vendor or supplies queries, they need a means to streamline this communication.
Using a manual approach in this case won't be ideal because it would lead to a lot of delays with regards to payments.
This is where an accounts payable helpdesk can help. An AP platform allows you to convert every incoming vendor query into a ticket. This way your team can ensure that critical vendor queries are tracked properly and attended to on time.
For instance, Hiver allows you to manage incoming vendor communication effortlessly. You can assign a query to a team member and even add tags to prioritize conversations. This way your team can attend to the most critical queries in a timely manner.
Aside from this, you can also set up alerts so that relevant stakeholders are notified if a query is not attended to within a specific period of time.
DecksDirect handles finance emails 60% faster with Hiver
2. Better invoice management
A streamlined invoice management system is essential to avoid errors and to ensure vendor payments go out in a timely manner.
Say a vendor sends you an invoice over email as well as a hard copy of the same by post.
Jack from your accounting team receives the email and enters the invoice number into the system. Mary, another employee from the accounting team, receives the hard copy of the invoice and enters it into the system as well. However, she makes a typo while entering the invoice number, resulting in an error that generates two invoices for the same order.
The worst case scenario here is that a double payment is made to the vendor. One of two things can happen when this error is discovered during an audit – either the payment cannot be recovered or your team has to spend an unnecessary amount of time and effort in recovering the duplicate payment.
An accounts payable helpdesk with a built-in vendor payment system helps you avoid such situations by streamlining invoice processing. It eliminates the need for manually entering invoices by automating the invoicing process and by digitizing paper invoices. This reduces the risk of duplicate payments and other invoice related errors.
5 effective ways to use Gmail labels for finance
3. Run all your accounting operations from a single platform
The accounting team uses a number of applications in their workflow and switching between these applications can be time-consuming.
An accounts payable helpdesk that integrates with other accounting applications can save you from having to switch between multiple tabs to get your work done. Instead, the helpdesk acts as a centralized platform for all your accounting operations,helping your team save time and effort in moving between apps.
A good example is Hiver's integration with QuickBooks. The integration allows you to seamlessly manage all invoice related tasks from right inside Gmail.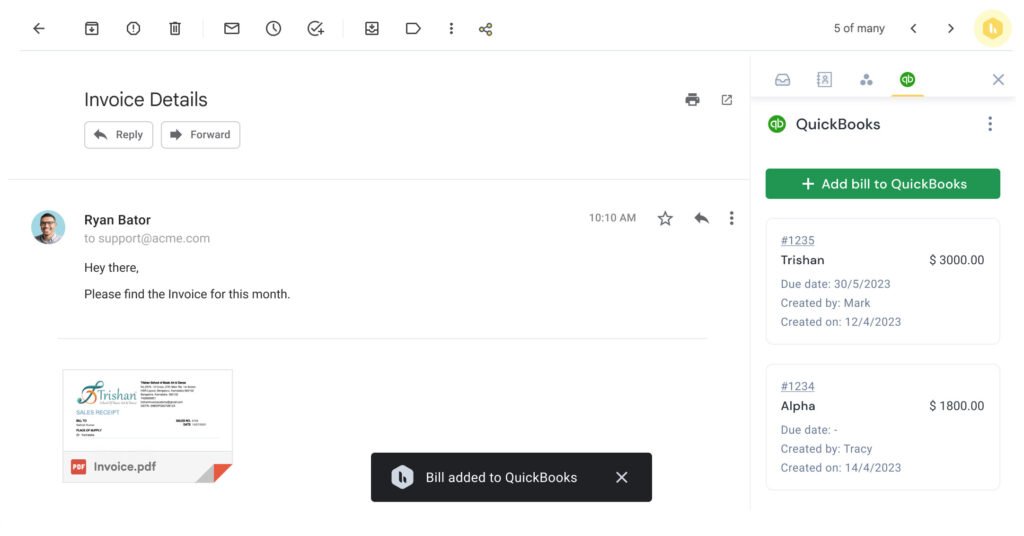 4. Automate repetitive tasks
Automating routine tasks can improve your team's productivity and enable them to focus on more complex tasks.
A number of accounts payable processes, while important, are repetitive in nature and can take up a lot of your accounting department's time and effort. Some examples of such tasks include sourcing invoices from other departments, scheduling payments, accounts reconciliation, and more.
Here's an example of how Hiver automates manual work for your accounting team. Say all pending payments are scheduled to be sent out on the last business day of every month. This would include collecting and consolidating invoices from teams such as marketing, sales, and IT.
Instead of having your accounting team spend time sifting through their inbox trying to find all invoice-related emails, you can use Hiver's advanced automations to route specific emails to the right team members. You can also use tags to categorize emails to make it easier for your team to find them.
For instance, all emails with the phrase 'Payment' or 'Payment due' can be tagged as 'Payables'. Emails with the term 'Invoice' in the subject line can be assigned to a specific member of the accounting team.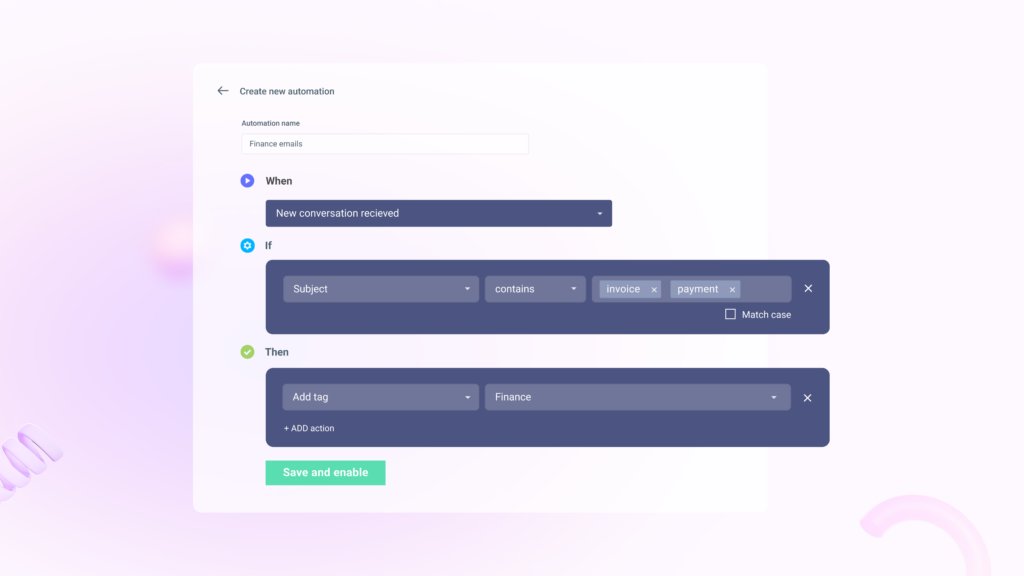 5. Store vendor/supplier information with ease
Your business deals with a large number of vendors and suppliers regularly. Maintaining and consolidating vendor information, especially when dealing with several vendors can be a difficult task.
An accounts payable helpdesk can help you bring all of your vendor and supplier contact information under one roof. Aside from this, the platform also stores information on vendor contracts, past invoices, and other critical information so that you can find it without hassle.
6. Faster internal collaboration
Effortless internal collaboration is important in enabling prompt resolution of queries and also in getting real-time updates on finance projects that are in the pipeline.
The accounting team deals with invoices from departments across the organization. While processing these invoices, it's likely that they'd want to clarify things – in case of an invoice error or inaccuracy – or seek more information from the respective teams.
Now, instead of relying on emails and endless CCs and forwards, you can choose to leverage an accounts payable platform's internal collaboration features. With these features, teams can collaborate on billing issues and share all necessary details without complicating communication.
For instance, say Thomas from the accounting team receives an email about a pending payment for a software subscription for the marketing team. However, Thomas is unable to track the invoice related to this payment.
Thomas can use Hiver's Notes, present right alongside the email thread to tag Lauren, the head of the marketing team, and ask her to help him with the invoice that she received from the software vendor.
This way Thomas gets hold of the invoice in no time and does not have to rely back and forth emails.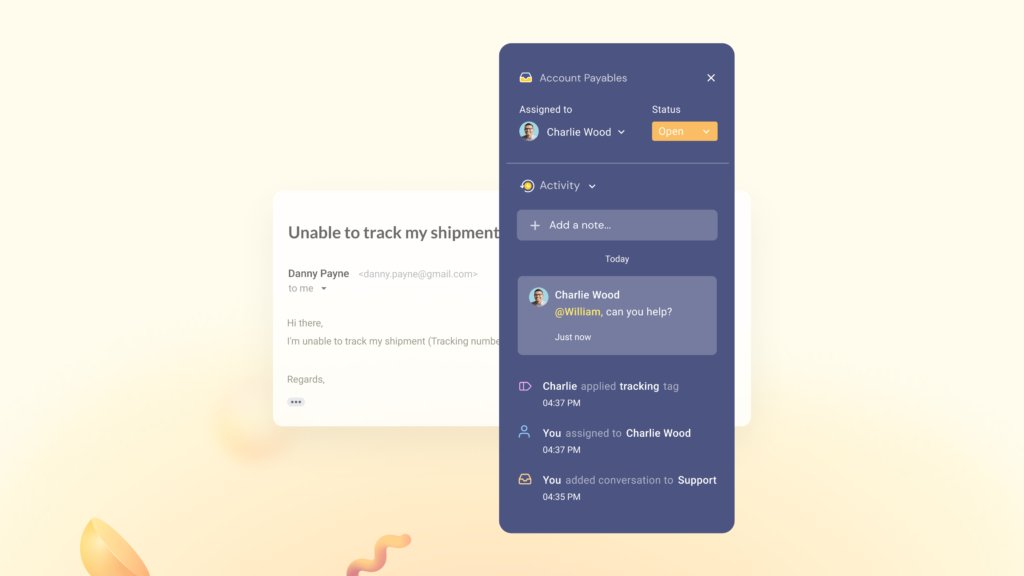 7. Better task management
Getting a complete overview of your team's workload is quite important in ensuring that your team is working efficiently and without being overburdened.
An accounts payable helpdesk can give you a complete overview into your team's workload. This can help you understand who is doing what and redistribute tasks if necessary – ultimately improving your team's efficiency.
For instance, Hiver's Workload Distribution feature gives you a bird's eye view of all the tasks that are being handled by your accounting team. It gives you this information on an individual level, which makes it easy for you to re-assign some of the tasks to other members if needed.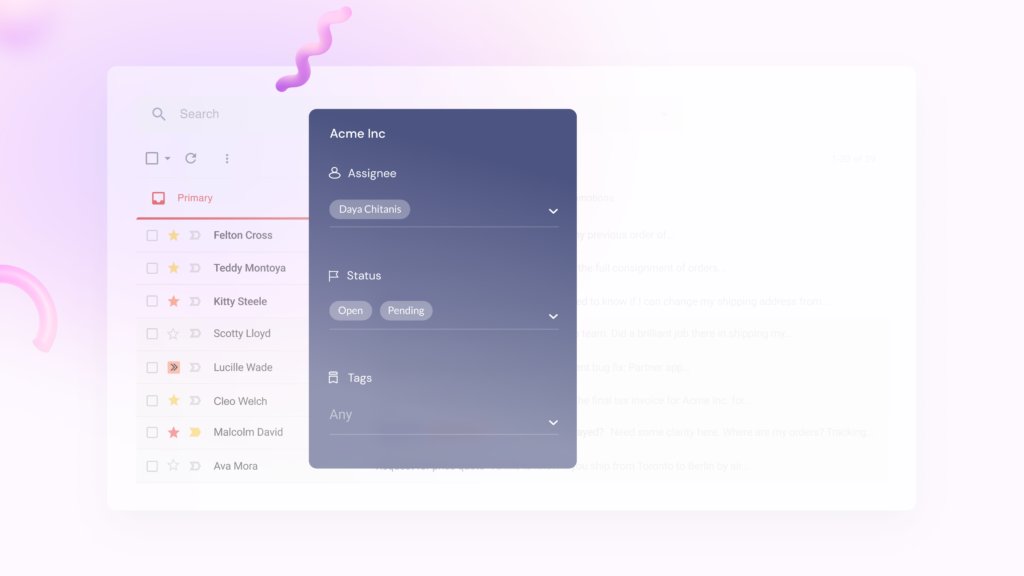 8. Faster approvals for invoice processing
The accounting team requires approvals from multiple stakeholders, especially in cases where large payments are required. Faster approvals are key to ensure vendor payments are processed in time.
Some invoices need multiple approvals. There's usually a manager approving it first and foremost, before it goes to the department head for the same.
In such a situation, doing this manually can be quite time-consuming.
This is where Hiver's Approvals can help you. It helps you configure multi-step approval workflows and add approvers across teams.
Let's take an example. Say Matthew from the event marketing team requires a payment of $30,000 to be made to an event vendor. He sets up an approval workflow in which the request is first passed on to the head of event marketing for approval.
The request is then sent to the head of marketing, followed by the CMO. By setting up such a workflow, Matthew is able to get all the required approvals quickly and the finance team can process the payment in time.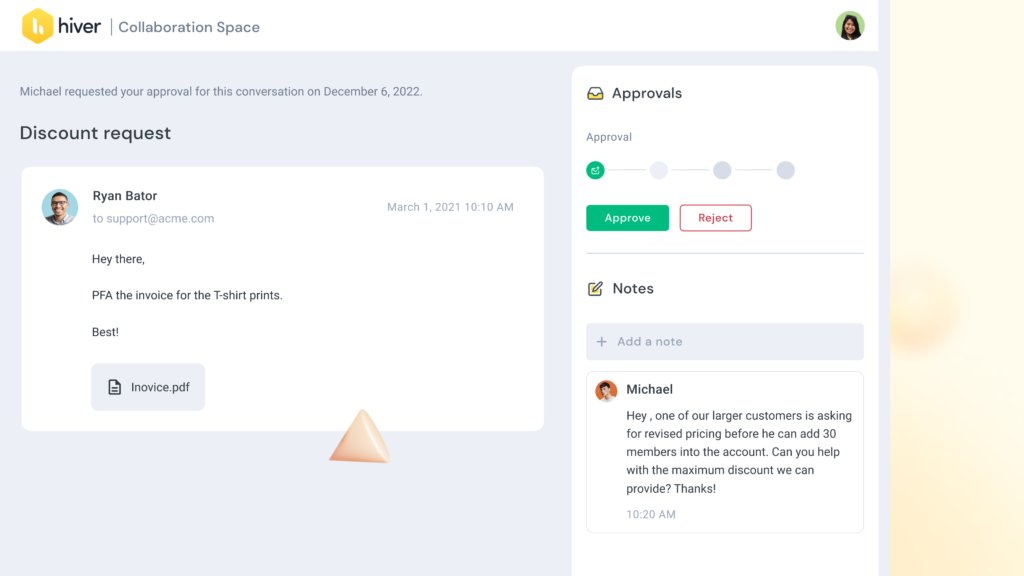 9. Schedule reminders for timely payments
Clearing pending payments on time is a very important step in maintaining robust relationships with your vendors.
Defaulting on vendor payments can result in withdrawal of critical services, legal claims, and other issues.
An accounts payable tool is useful for setting reminders and alerts whenever a payment due date is approaching. This allows you to consolidate all the necessary approvals and information in advance and ensure that vendor payments go out in a timely manner.
10. Enable vendor self-service
Enabling vendors to self-serve can help them find answers to their queries faster without relying on your accounting team. This way your team members can focus on more complex tasks.
Vendors queries are often related to pending invoices, invoice formats, payment terms, and more. It is important to
Answering all these questions one by one can be time consuming and overwhelming for your team. Especially in situations where vendors can find the answers to queries themselves instead of relying on a human agent.
An accounts payable platform with self-serve options such as a knowledge base, help center, or FAQs can help you address simple vendor queries without looping in your support team.
For instance, Hiver's Knowledge Base allows your accounting team to build a central repository of help articles to common vendor queries. You can include how-to guides, best practices, and more – that your vendors can locate easily.
It is quite easy to set up and use, and in case vendors are not able to find an answer to a query, they can simply raise a ticket for further assistance – right from the FAQ section.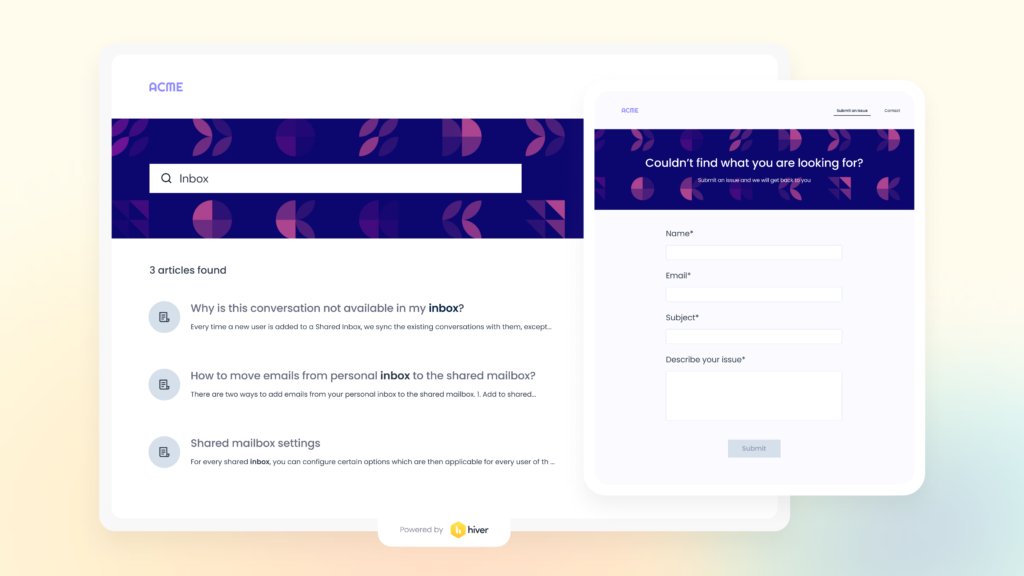 Streamline your accounts payable process with Hiver
Implementing an accounts payable helpdesk is a worthwhile effort, especially considering how it can enable your accounting team to be more productive and efficient.
A multi-channel helpdesk like Hiver works intuitively within Gmail and serves as the perfect solution to streamline your accounts payable workflow. The platform allows you to automate routine tasks, collaborate with ease, and get complete visibility into your team's workload and performance.
To know more about how Hiver can help your business, take it for a test run with our free 7 day trial.