Turn Gmail into a collaborative
inbox with Hiver
Create and manage collaborative inboxes easily and efficiently
right from your Gmail account.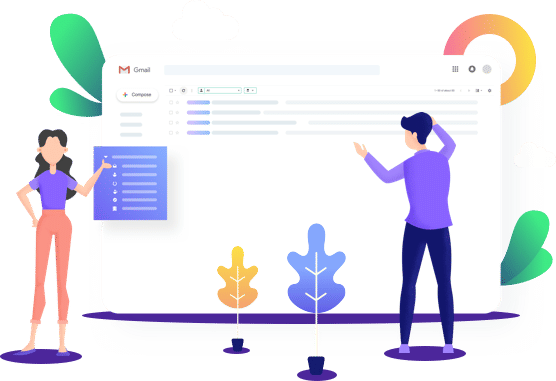 Loved by over 1500 companies
Gmail was designed keeping in mind one-to-one communication and not for
collaboration with multiple people on your team. A collaborative inbox like Hiver
on the other hand has been designed from the ground up to enable your team to
deal with email conversations much more efficiently.
Say Goodbye to Ccs/Bccs/Forwards. Scale communication easily and effectively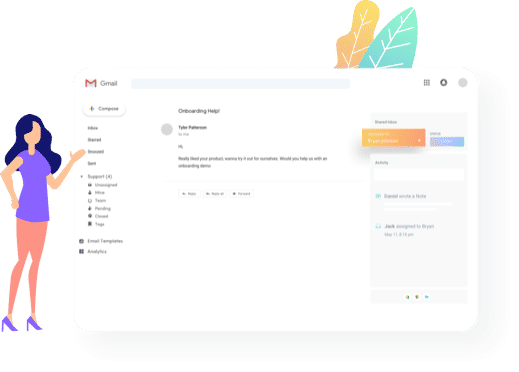 Make email delegation effortless
Hiver converts emails into actionable tasks assigned to specific
owners in two clicks, eliminating the need to constantly Cc/Bcc/
forward emails and create confusing, meandering email threads.
Stay on top of every email
Hiver assigns every email a status — Open, Pending, or Closed.
These statuses are visible to the entire team so that you have
complete visibility into what needs immediate action.
Provide context instantly. Collaborate where you work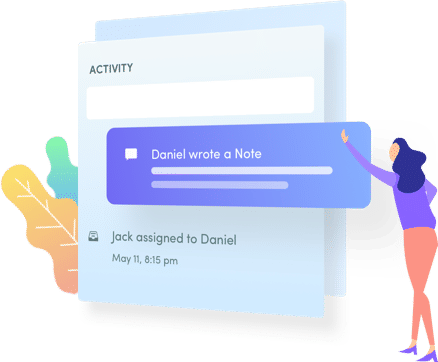 Provide context with notes
Eliminate Ccs/Bccs/forwards for team collaboration. Simply
collaborate by adding notes which live alongside your emails
and give the necessary context right when and where needed.
@mention colleagues and have them receive real time
notifications to bring notes and tasks to their attention.
Get a bird's-eye view of email activities
Get in-depth insights by getting a chronological view of all the
actions that have been taken on an email received in your
collaborative inbox with the activity timeline.
Reply faster, send better emails, all without the confusion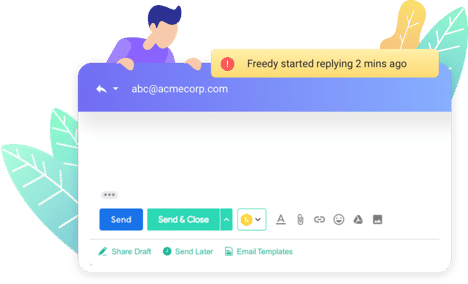 Avoid stepping on one another's toes
Put an end to embarrassing duplicate replies forever. Start using
Hiver to manage your collaborative inboxes and get collision alerts
which notify you every time a colleague starts responding to an
email.
Write better emails, together
Sometimes, you may need help from your colleagues with writing
an email. You may need them to proofread an email, or add
missing information. With Hiver, you can write an email draft and
share it with your colleagues for review/reuse.
Everything you need in a reliable and secured shared inbox solution
Hiver is the only shared inbox solution that does not store your emails. We are obsessed with keeping your data safe. We've especially developed processes, technologies, and policies that ensure we deliver on our data security promise. And that is why more than 1500 businesses count on us to keep their data safe and secure.
EU - US Privacy Shield
SOC 2 Type II Attested
ISO 27001 Certified
Do all of this and more with Hiver
Intelligent automations
Automate repetitive tasks with quick,
easy to set up automation rules.
Distribute workload evenly with
Round-Robin assignment.
Visual reports
Measure and improve efficiency by
easily identifying problems and
planning proactively based on metrics.
Power up your inbox
Supercharge your collaborative inbox
with Hiver's connectors for Zapier and
Slack and connect them to all the
business apps you love.
Ready to manage Google Groups better? Sign up for a free trial today. No credit card required.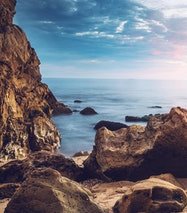 CASE STUDY
Vacasa handles support tickets
80% faster with Hiver
Great software without changing systems.
We have a lot of emails coming in daily that would otherwise hit each team member's personal inbox. With Hiver, we've sped up our email responses and our inboxes are clutter-free.