Table of contents
Turn Gmail into a collaborative hub
With the advancement of technology around the world, it has become surprisingly easy to sync G Suite with Microsoft Outlook. I know you were thinking it is fairly impossible because they are two different systems.
It is apparent they do not belong to the same umbrella. That's obvious.
Syncing G Suite with Google Calendar is as easy as Microsoft Outlook with Office 365. They belong to the same bodies so it isn't an issue.
But what if you want to sync G Suite with Microsoft Outlook? Not to worry, this is totally possible.
This sync is essential for organizations that have decided to make a switch to Google accounts. However, these organizations have decided to continue using Microsoft Outlook, hence, the need for the sync.
After the sync, you can access any information that was part of the synchronization on all devices where you have your Google accounts signed in. You will launch the Outlook app or sign in on your browser as always.
Want to learn how to sync G Suite with Microsoft Outlook? Let's get started!
You need to have a G Suite account first
It is essential you own a G Suite Account first or the sync won't be possible.
A G Suite Sync for Microsoft Outlook (also known as GSSMO) enables people to create a community that allows users to make use of Microsoft Outlook via PCs.
There's a catch: users can only connect with data in G Suite but not on Microsoft Exchange.
You should note that you do not need to be part of a community before you can use GSSMO. An individual can use it but such an individual has to upgrade to a paid G Suite account.
The synchronization process
How to Install G-Suite Sync for Microsoft Outlook
First, you need to download the updated version of the Google sync tool for outlook. 

Here

is a direct link for you.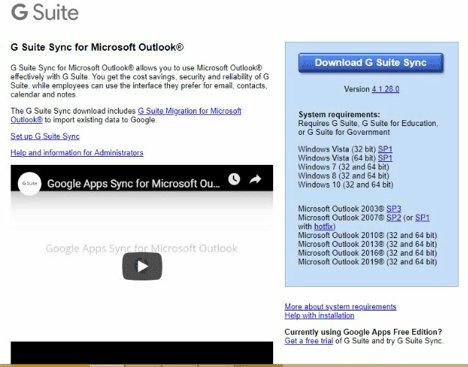 After the download is complete, run the installation file. You need to be connected to the internet because a series of automatic downloads will follow suit. 

Immediately after the installation process is completed, a pop-up window would require you to sign in. You have to input your G Suite email and click 'continue'. 

Once you sign in successfully, you will be asked to grant the G Suite sync tool permission to manage your email as well as other tasks which include but not limited to contacts and calendars. 

Next, a pop-up window will require you to create your Outlook profile. You'll see an 'Import data' box. Click on it if you are ready to import data. This will enable your G Suite sync tool to import your outlook data. 

That's it! You can run your Microsoft Outlook and your data will sync automatically. 
When you're ready to import data
These are the steps you need to take if you are ready to import data:
Mark the '

Import data from an existing profile

' option.  After this, you'll be required to choose from the following options: 
If the option lists your exchange profile, click on the profile name to enable a direct import from the profile.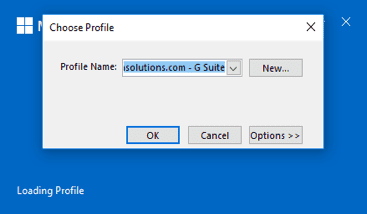 If you have enabled a data export from Outlook to a Personal Storage (PST) file, click on the desired PST file.
P.S: If none of these options are available for you, you'll need a different tool for the import. Checkhere for suggestions by Google.
Click on the options that fit what you want to import. 

Tap on the '

Show advanced settings

' option.

Click the '

Turn AutoArchive off

' option in order to keep your archived messages. This means that your archived messages will now appear in a different archived folder that has been synced with your Google account. 

Tap on 'Create Profile' and you are good to go. 
What data can you synchronize between G Suite and Outlook?
Email

Notes

Tasks

Journal entries

Global contacts

Calendar events 

Personal contacts
A few things to note
Your emails will sync automatically. However other data including your contacts, calendar, and other tools won't sync automatically. You need to enable that. If you want to sync your calendar, find your Google Calendar link. After this, subscribe to the link via Outlook.
Also, you need to note that you need a full G Suite account before you can sync your contacts. For those who don't have a full G Suite account, the best thing to do is exporting your contacts and importing them into your Outlook afterward.
Recommended Reading
How to import Gmail contacts to Outlook
This is especially for those who do not have a full G Suite account. Fret not. This post has come to the rescue.
Export Gmail contacts
Go over to your Gmail account. Select

Gmail > Contacts

.

Click

More > Export.

Click on the contact group you're looking to export. 

Click on the export type

Outlook CSV

. This is to import into Outlook or other applications. 

Click on '

Export

'.

A pop-up will require you to select '

Save As

'. Choose your preferred location to save the file. 
Import Gmail contacts to your Outlook
Click on the file. Then choose '

Open & Export > Import'.

Click on '

Import from another program or file > Next

'.

Click on '

Comma Separated Values

>

Next.

When the '

Import a File

' option appears, go through your PC to click on the desired .csv file that contains your Gmail contacts. 

When the '

Select a destination

' folder pops up, choose the '

Contacts

' folder >

Next

.

Click on '

Finish

'. 
When all these are done, Outlook automatically imports your contacts to Outlook.
You can now view your contacts by choosing 'Address Book', then clicking on your mailbox name and choosing 'Contacts'. This will enable you to view every contact in the Address Book.
That's something yeah?
I hope you find this article helpful. Make the best use of it and sync away!
Are you also looking for an alternative to Outlook's Public Folders? If yes, we've got something for you.