Table of contents
8000+ teams use Hiver to delight their customers!
"Customer service and support leaders are optimistic about the value AI can provide and plan to substantially increase their adoption of AI capabilities over the next two years."– Emily Potosky, Senior Research Principal in the Gartner Customer Service & Support practice.
It's common knowledge that AI is here to stay. What's really intriguing is how AI is revolutionizing customer support – from streamlining support processes and automating manual tasks to generating insights about customer behavior.
At Hiver, we too believe in the transformative potential of AI and how it can drastically improve customer support efficacy. For months, we've been working towards identifying ways to empower customer support teams with AI. And that's how we came up with Harvey – Hiver's AI Bot.
So, what is Harvey and what does it do?
In the life of a support agent, most of their everyday distractions might seem trivial. But when they add up over time, the loss in productivity turns out to be quite significant. This is why we built Harvey, to help combat these distractions.
Harvey has been created with the vision to drive operational excellence and augment support agents' productivity (and eventually transform the agent experience) by eliminating repetitive work from their to-do lists.
Harvey aims to empower support teams to focus on value-added tasks while taking up their tactical grunt work. Using sentiment analysis, it can intelligently detect and close conversations that reopen due to non-actionable "Thank you" customer responses. Harvey also offers intelligent email template suggestions that enable teams to quickly identify the most relevant template to use while responding to any email.
Harvey functionalities
Here is a sneak-peek of everything Harvey's Thank You Detection functionality can do to enhance agent productivity:
Intelligently identify customer responses that have an underlying "thank you" sentiment
Automatically close such conversations without requiring human intervention
Automatically tag such conversations with a "Harvey-Thank-You" tag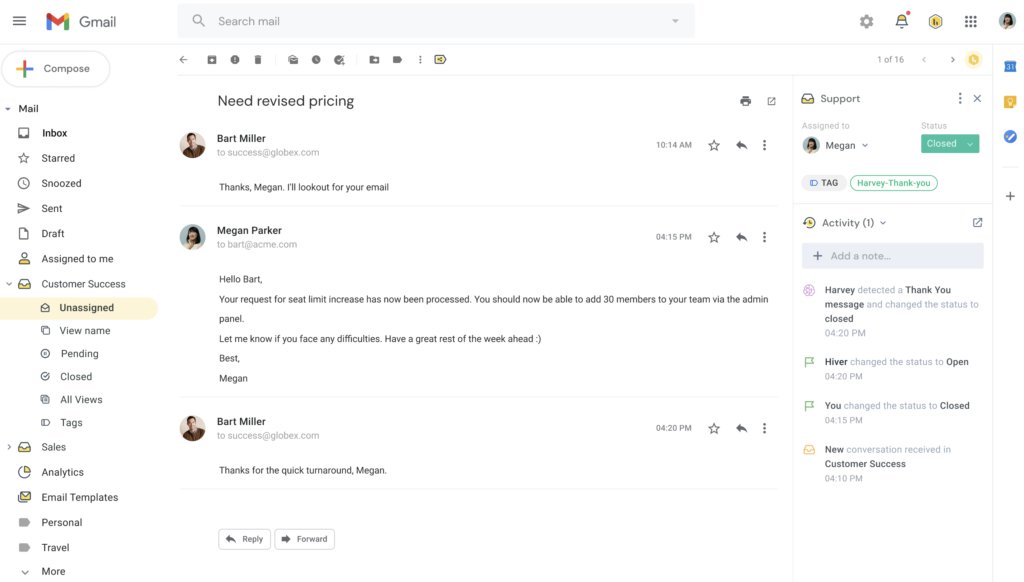 Harvey Suggestions help teams draft better quality emails and respond faster to customers. Here's how:
Harvey analyzes the content of the email you're responding to. Based on the email content, it suggests the top four most relevant templates to choose from
Agents can use one or more of the email templates recommended by Harvey to customize their responses and draft better responses

That's not all, folks!
Harvey has been designed as a human assistant, which means that it would never override any action performed by support agents. Additionally, it is extremely easy for users to enable/disable Harvey, track Harvey's actions and keep it accountable at all times.
And, right now, we've barely scratched the surface of what more we plan to achieve with Harvey. As Harvey matures further, it will become better equipped to proactively offer intelligent assistance to teams. This, in turn, would enable them not only to enhance their productivity but would also help them maximize customer delight with faster, improved, and personalized support.
Watch this space for more updates!
To follow all Hiver releases, bookmark our release changelog. Alternatively, find 'Product Updates' under Hiver settings inside your Gmail account.