Table of contents
Turn Gmail into a collaborative hub
When choosing what to build next, a great source of inspiration is the voice of our customers. The conversations we have with our customers go a long way in shaping a feature or improving a workflow. Everyone in a team – from the agent to the supervisor and the manager – has unique goals they want to achieve. Their goals help shape our roadmap to drive the team towards greater collective performance.
The first quarter of 2021 has been a great testimony of how customer feedback helps shape our roadmap. We have a mix of brand new features plus a lot of thoughtful improvements on current features that will drive your team forward.
Here are the highlights:
Dark mode on mobile & workflow improvements 📱
Automations based on keywords of interest in the email body ⚙️
Get the latest email on top when you open a conversation 📧
Track down missing conversations 🕵️
Send conversation alerts to private Slack channels 💬
1. Dark mode on mobile and workflow improvements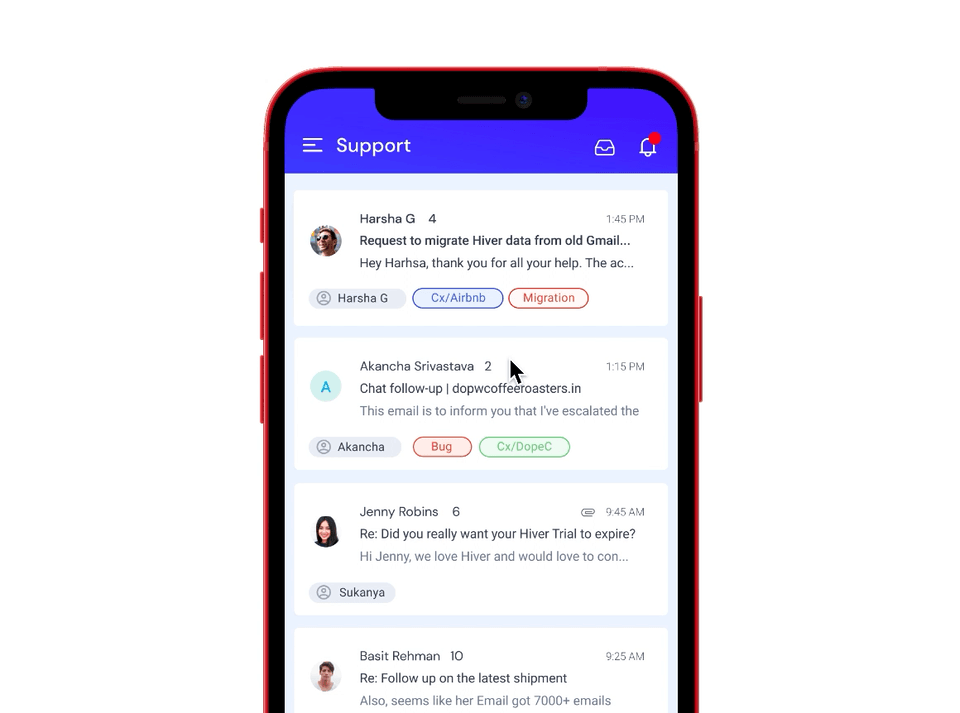 If you find yourself attending to emails late into the evening or if you're someone who just prefers darker tones, Hiver's new Dark Mode on mobile is your go-to setting. With the flick of a switch, your entire experience on mobile shifts from light to dark. Every element has been perfectly redesigned to ensure that your experience on Hiver mobile is pleasant, even on the dark side.
We have also shipped a few nifty workflow boosts on mobile. You no longer have to scroll to find the view you want to get to or the person you need to assign a conversation to. With the new search options, any view and assignee you want to get to is only a few taps away.
2. Automate based on keywords of interest in the email body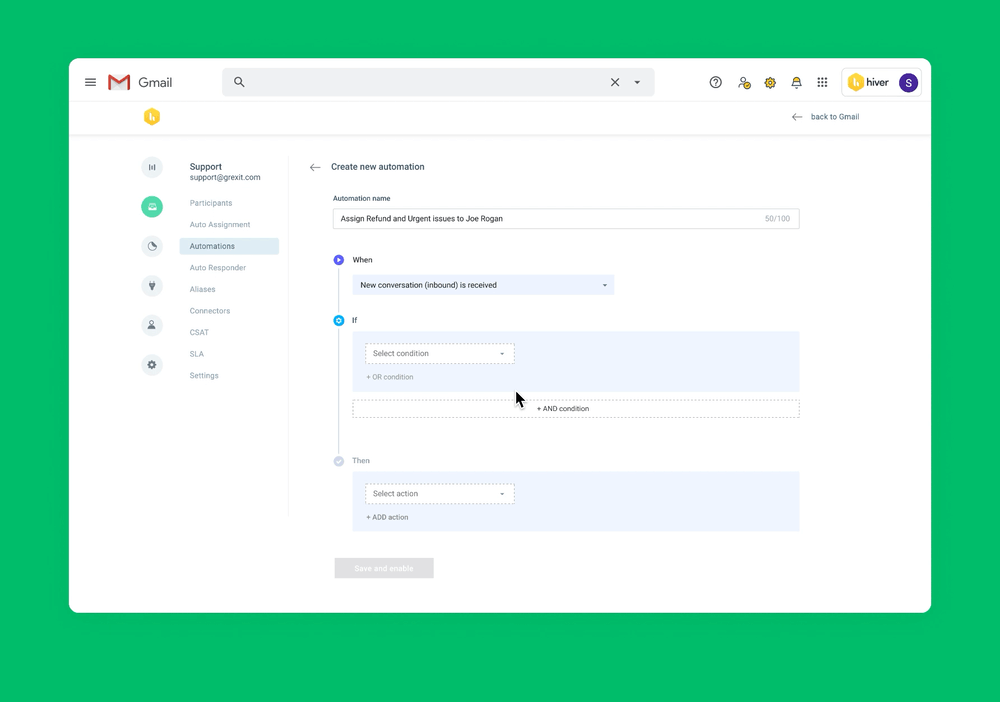 Most organizations have processes that involve using standardized email templates, for example shipping information or invoice emails. And based on what's in these emails, you'll have follow-on Hiver actions that you would like to automate. For example, if you are shipping to California, it'd be helpful to add the tag "California" and assign it to an agent who works out of California.
With the new condition called 'Body' in Automations, you'll be able to do exactly just that. This option searches a new conversation's body for keywords of interest. When a match is found, Hiver will automatically perform the follow-on actions you've set up. You can learn more about this feature here.
Note: We are rolling this option out in batches for Pro and Elite plans. If you don't see it yet, don't worry. You'll have it soon!
3. Get the latest email on top when you open a conversation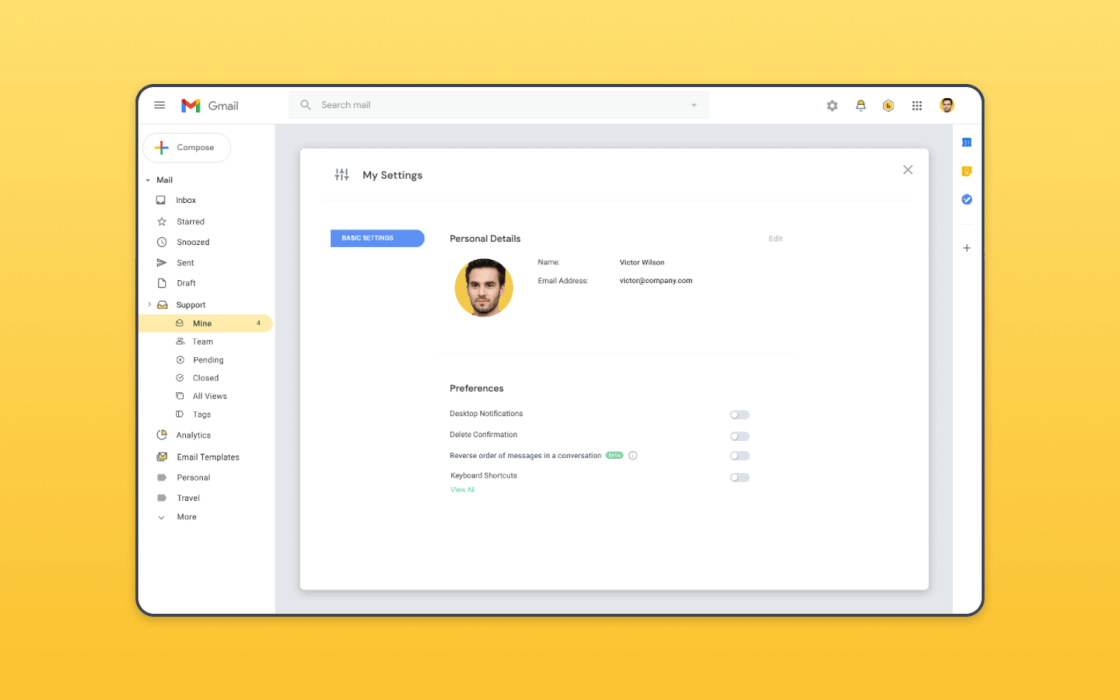 In Gmail, when you open a conversation, the latest message in the conversation is all the way at the bottom of the thread. If you're coming to Gmail from an alternative email solution, you'll find scrolling through the messages that you've already been through a bit of an annoyance.
You can now alleviate this pain on Gmail by going to My Settings and enabling the option to 'Reverse the order of messages in a conversation.' Once enabled, you'll always find the latest message for a conversation right at the top when you open the conversation.
Note: This setting will even apply to conversations in your personal inbox.
4. Track down missing conversations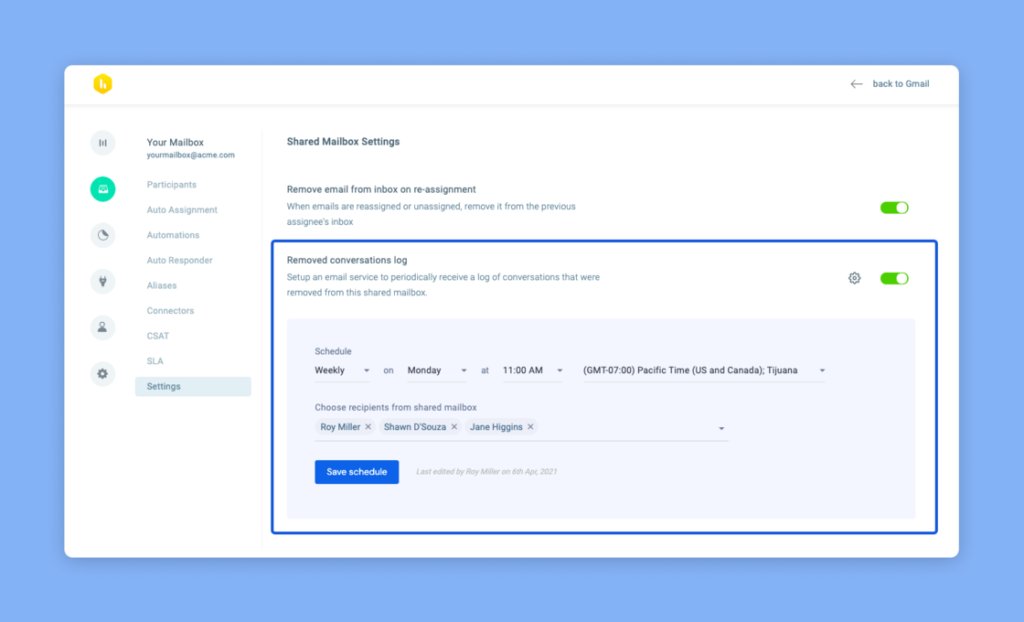 As a manager, you will sometimes notice that there were conversations that were supposed to be part of a shared mailbox but aren't any more! And there's no way for you to find out why it was removed, who removed it, and how it was removed. You could ask around, but it's almost always a hopeless chase.
This wild goose chase stops now. With 'Removed conversations log,' you'll be able to schedule an email that sends you a log of all conversations that were removed, when they were removed, by whom and how. The schedule can be set on a daily, weekly, or monthly basis. You will find this service under the Settings section in any shared mailbox's Admin panel page. Learn how to set it up here.
A conversation can either be removed from the shared mailbox by trashing the conversation, marking it as Spam or using Hiver's 'remove email from shared mailbox' option. You'll find that the log contains which of these three reasons caused the removal.
Apart from finding the removal action in the logs, you'll also find them in the conversation's activity history.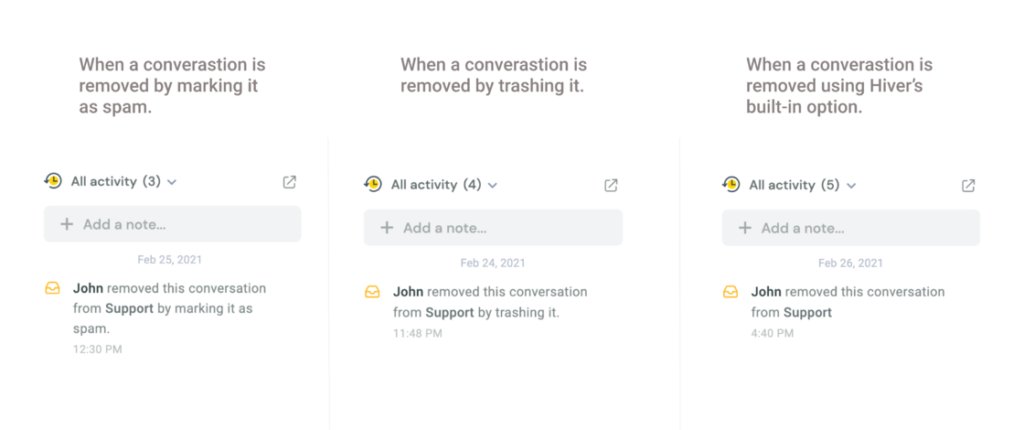 5. Send conversation alerts to private Slack channels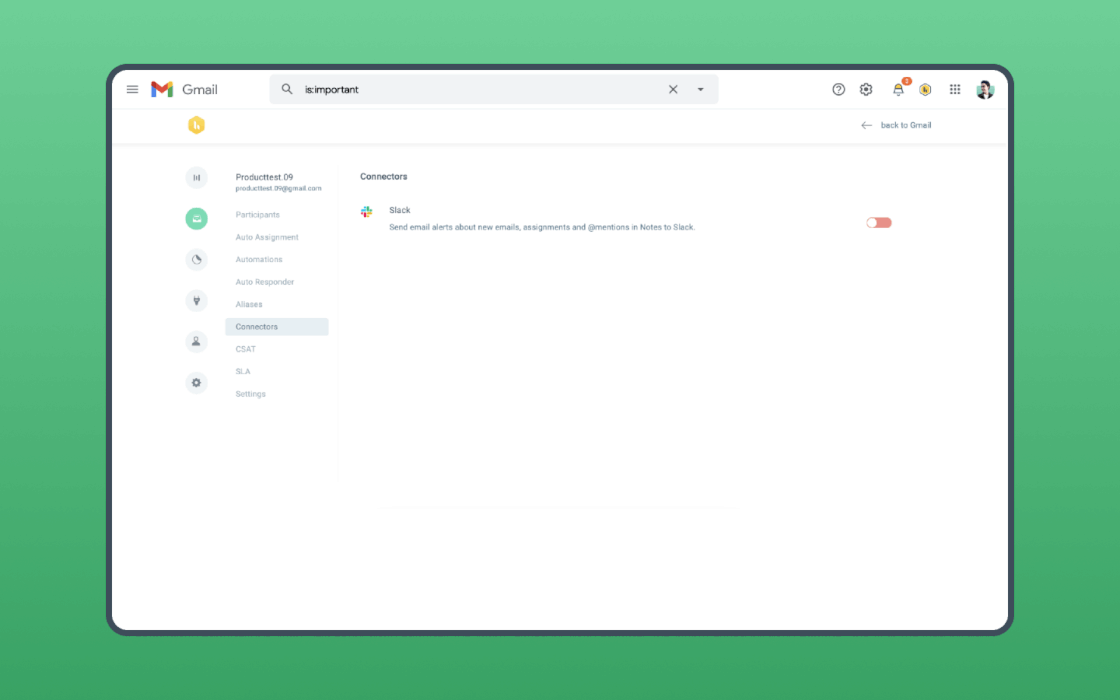 Most of the teams who work on Slack almost inevitably have private channels that they actively use. If they wanted to receive shared conversation alerts on Slack, the only option from Hiver was to send these alerts to public channels. But this is not conducive for teams who prefer to work with private channels.
With the new enhancement, you can now send conversation alerts to private Slack channels as well. So feel free to integrate Hiver with your private Slack channels and get to the productivity zen you've been after. You can learn more about how the integration works here.
To follow all our releases, bookmark our release changelog. Alternatively, find 'Product Updates' under Hiver settings inside your Gmail account.