Table of contents
8000+ teams use Hiver to delight their customers!
We're back with some exciting product updates from the Hiver town!
The last quarter has been focused on introducing nifty timesavers and efficiency hacks for you and your team. We've also sprinkled some fun elements across the product, so give us a shoutout if you like them.
Here's what's new:
Notifications enhancements to help you prioritize your tasks 🔔
New and improved conversation Permalinks 🔗
Emojis in notes 😄
New calendar shortcuts in Analytics 📆
Custom reports for CSAT feedback 📊
Ability to open conversations directly from your Analytics exports 📧
Ability to create new tags during bulk categorization 🏷
Private Permalinks on the Hiver mobile app 📱
Notification enhancements to help you prioritize your tasks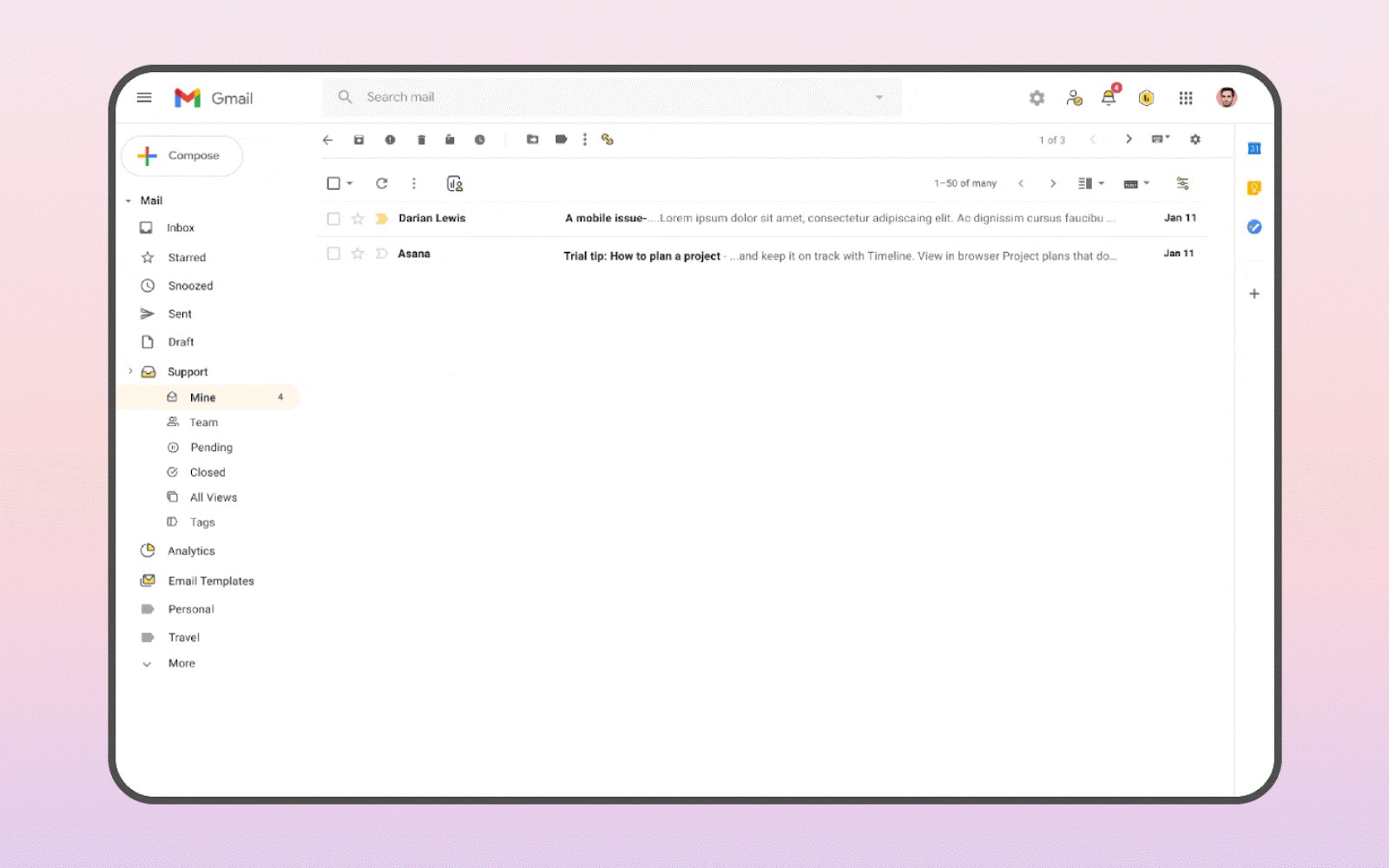 Hiver notifications often double up as a task list. As a shared inbox user, you might receive a lot of notifications throughout the day, but some tasks tend to be more important than others.
For example, admins would consider SLA notifications a high-priority task, whereas a member might find @mentions or CSATs equally important.
But amidst all the different notifications, your priority tasks take a hit and get lost in the vast pile of to-dos. With this enhancement, we're helping you cut the noise and filter your priority notifications with ease.
You can select your 'Priority' notifications from Settings and even configure them to see the count of only those notifications on the bell icon. Maximize productivity by easily focusing on what matters to you!
New and improved conversation Permalinks
Private and public Permalinks can be used to share conversations with team members or external stakeholders with a single click. This update for Permalinks brings in added functionality that will take your productivity a notch higher!
Private links redirect mailbox members to the conversation within Gmail. With this update, private links are auto-generated for every shared conversation resulting in a constantly available shortcut to jump right into a conversation.
A public link redirects anyone on the internet to a webpage containing emails exchanged in the shared conversation. Previously, the public link only contained emails until the point of generation. You can now update the link to reflect the latest emails in that conversation.
For added security, mailbox managers can now selectively choose to enable or disable public links across every shared mailbox.
Emojis in Notes
Emojis are better substitutes for expression than plain text. Using ✅ drives the point home more than "done/okay" or using 😂 is far better than typing "hahaha!" And now, this power of expression is available on Hiver notes. You can search and insert emojis into a note by clicking on the emoji picker found on the note composer. You can also quickly add an emoji at the cursor with shorthand notation; just type ':' followed by your preferred emoji.
It's time to get creative with your notes!
New calendar shortcuts in Analytics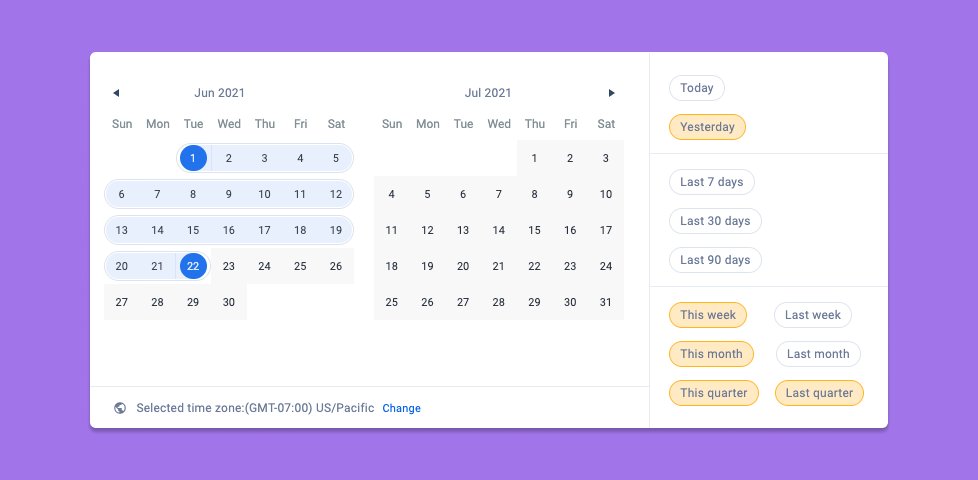 We've introduced five more nifty calendar shortcuts in Hiver Analytics for you to hop across different time periods quickly. They are:
Yesterday
This week
This month
This quarter
Last quarter
These shortcuts are also available for creating a new export.
Note:
The calendar week starts from Monday
The quarters in order are: Jan to Mar, Apr to Jun, Jul to Sep, and Oct to Dec
Custom reports for CSAT feedback
Since the launch of Customer Satisfaction feedback surveys in Hiver, our customers have had an added edge in honing their support resolution. Mailbox managers also have the ability to analyze CSAT feedback summaries in Hiver Analytics, thus ensuring plans for improvement are backed by data.
Custom reports in Analytics allow you to create pre-filtered metric reports ensuring you are only a click away from the context you work within. And now, if it's a pre-filtered CSAT feedback summary that tickles your fancy, we have you covered. With this enhancement, you can create custom reports on CSAT feedback received. We've also added a new 'Status' filter for CSAT feedback summaries that helps you filter CSAT feedback based on the status of the conversation.
Ability to open conversations directly from your Analytics exports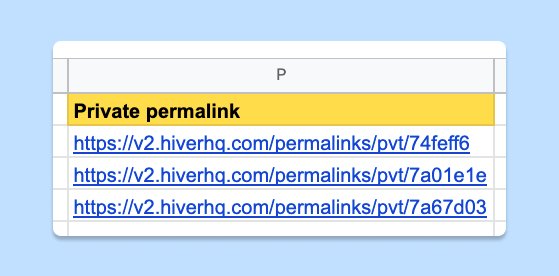 While analyzing Analytics export data, you will often find conversations of interest that you want to investigate on Gmail further. However, locating this conversation in Gmail isn't easy. Your best bet is to copy and search for the subject in Gmail, which becomes cumbersome if the subject line is based on a template.
To alleviate this pain, we have introduced a new column called Private permalink for all reports in Hiver Analytics. You can simply click on a conversation's private permalink to jump right to the conversation in Gmail. No more endless searches for your conversation!
You can read more about what a private permalink is here.
Ability to create new Tags during bulk categorization
Existing Hiver bulk actions enable you to add or remove tags on multiple conversations. However, while doing so, you might come across a new category of customer emails and might want to create a new tag.
This enhancement lets you do exactly that, helping you stay focused on the task. No more back and forth; easily create new tags while you're categorizing conversations in bulk.
Private Permalinks on the Hiver mobile app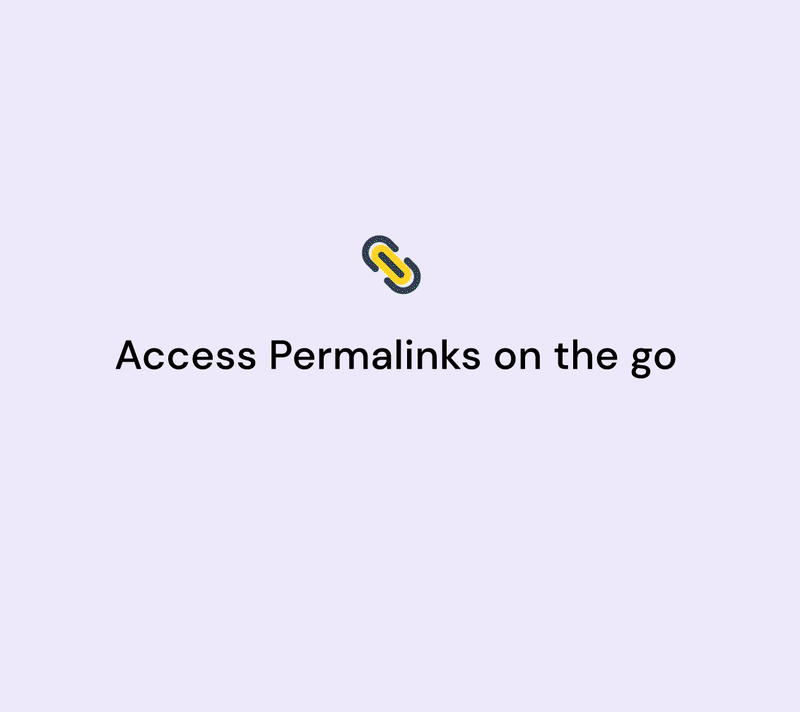 Private Permalinks let you share links to conversations outside Hiver to collaborate with your teammates on different communication channels like Slack, Google Chat, etc.
Previously, permalinks would only work on the web as they were designed to redirect to Gmail. With this enhancement, you can also open private permalinks on the Hiver mobile app while collaborating with teammates on your mobile device.
To follow all our releases, bookmark our release changelog. Alternatively, find 'Product Updates' under Hiver settings inside your Gmail account.