Table of contents
8000+ teams use Hiver to delight their customers!
At Hiver, we've always looked at ourselves as being in the business of improving email and making it better (and more collaborative) for teams. We've been around for quite some time and have made some significant changes to our product over the years. But across these changes, improving email for teams has been the underlying idea and consistently running theme.
We launched Shared Inboxes in 2017, after having spent some time selling a shared labels product for Gmail. Hiver's Shared Inboxes deliver amazingly well on the promise of making collaboration inside group email accounts such as support@ and help@ easier for teams.
We now have close to 7000 teams that rely on Hiver to manage and collaborate on emails inside group email accounts. Our customers find it really easy to use, and love the fact that it's deeply integrated with email, not requiring them to move back and forth between multiple tools.
Everyone works for the customer
Over the years, we've taken a customer-first approach to how we approach things – diligently listening to our customers and using their feedback to enhance our Shared Inbox product in very significant ways. Hiver's Shared Inboxes now come with really powerful automations and have a very comprehensive reporting module that help our customers get deep insights very quickly.
Our customers range from one of the largest banks in the world to tonnes of medium and small-sized businesses. They encompass really diverse verticals — from online streaming services to fishing. And they come from just about every corner of the world.
The last year, in particular, has been pretty busy and intense from the standpoint of communicating with our customers. We've engaged with hundreds of them over calls and in-person meetings at their offices.
Our product team has spent enormous hours of time collecting feedback and showing prototypes, while our customer success team has traveled across the US to spend time with our customers. Our marketing team has spent hundreds of hours working on building detailed case studies on our customers. We have also had thousands of conversations with prospective customers, and hundreds of reviews on platforms like G2 and Capterra.
There is a wealth of knowledge in these conversations across platforms and channels. While we did a very good job of closing every conversation and having every customer query answered, the entire process was usually transactional. We felt that there's a lot more to learn if we put a concerted, well-planned effort to identify patterns in how customers describe us, what they like about us, and what they want us to build in the future.
What our customers showed us
We, in fact, did this exercise recently, and among quite a few learnings, one thing stood out — while we described ourselves as an email collaboration product, our customers derived value from our product by managing interactions with their customers over email.
They constantly talked about how Hiver makes it a seamless experience to interact with customers, and how they prefer using it over helpdesks. How Hiver makes customer service personal and collaborative, as opposed to helpdesks being impersonal and clunky – this was a constantly running theme in their conversations about Hiver.
The fact that most of our customers find Hiver invaluable in managing interactions with their customers found very little mention in our positioning and description. While we had made some cursory mentions of this in our pitch, we were not even remotely aligned to this value proposition.
This was a huge disconnect, and it required correction. The value proposition that would find resonance with most prospective customers is being able to manage email interactions with their customers efficiently and from inside Gmail — while we had been describing Hiver as an email collaboration product.
Finding the convergence spot
But then, managing customer interactions is a well recognized problem with an entire industry of helpdesk products and CRMs dedicated to solving this. In such a cluttered environment, why has our product found a fairly decent amount of success with a tiny marketing budget?
We believe that it was again because of our positioning and product. Quite contrary to the narrative followed by almost every comparable product, everything we've said so far has been built around 'email' and 'simplicity'. Most importantly, we've got a product that delivers on this promise.
At the same time, keeping in mind how our customers actually use Hiver, the right positioning for us was most likely at the intersection of how we have been describing ourselves, and what customers find valuable in Hiver.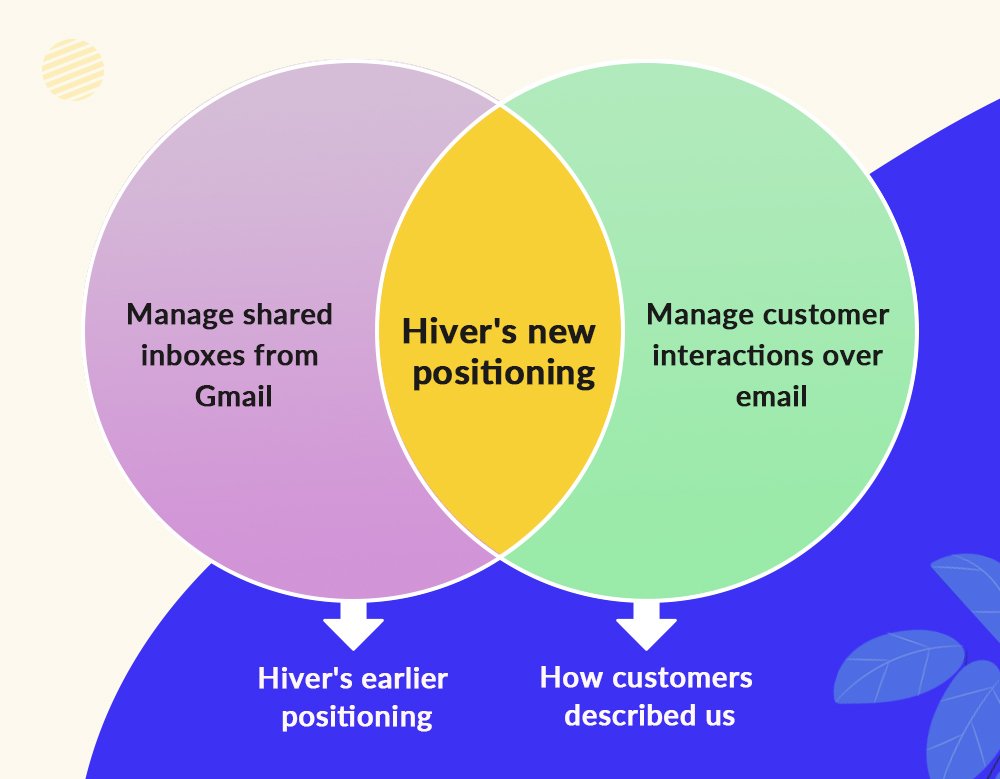 With this understanding, we've decided to make a change in our positioning. This will impact how we fundamentally describe ourselves, how we pitch to customers, and our product roadmap in the medium to long term.
Our new positioning
Hiver is a product that helps teams do brilliant customer service right from Gmail.
For a large number of businesses, email is the primary mode of communication with their customers. Most of them manage such communication from their email accounts, which can lead to a lot of problems – lack of ownership of customer emails, no means to keep track of who is working on what customer issue, too much email clutter as any and all internal collaboration would depend on forwards/Ccs, and more.
Hiver helps these businesses continue using the familiar Gmail interface to manage and collaborate on customer communication, while adding a lot of efficiency, automation, and a 'human' touch to the process.
Using Hiver has some distinct advantages when compared to using a helpdesk. Here's why:
Helpdesks are silos: While helpdesks are known for containing customer interactions within the support team, there's a massive downside to this. It cuts off the rest of the organization from key customer learnings and insights. There's no easy, direct way for non-customer facing teams to access and learn from customer communications.

Helpdesks hamper collaboration: By cutting off everyone other than support agents from customer communication, helpdesks make cross-team collaboration on customer problems very difficult. It involves a lot of back and forth as non-customer facing employees don't have complete customer context, further delaying the support you provide customers.

A familiar interface and user experience: Using Gmail to manage customer service is natural for teams, not just because they're used to the Gmail interface, but also because it's very intuitive. Support staff can deal with an email as an email, rather than as a ticket on an alien interface.
We feel extremely confident about our new positioning because we believe Hiver bridges a huge gap in the current helpdesk market. We want to empower more businesses to deliver human and empathetic experiences via email and live chat. And we want to help foster an organization-wide commitment to serving the customer.
Read our open letter on helpdesks and why they come in the way of great customer service.