Table of contents
Try Hiver to ditch the complexity of Zendesk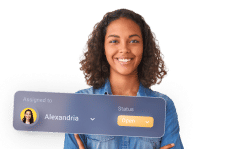 If you've been on the lookout for a helpdesk solution, chances are, that the name Zendesk must have come up – a lot!
But what many fail to see is that Zendesk is a bulky and overwhelming tool that your customer support team is going to have a hard time wrapping their head around.
Delivering great customer support is hard enough – why would you want to complicate it further by investing in customer support software that is complex?
When you choose software solutions like Zendesk, you're forced to go through an endless list of guides and implementations just to be able to use the tool.
Then comes a slew of features that you're never going to use. In addition to that, the Zendesk interface can become slightly cluttered – multiple integrations, macros, among other things. There are always too many things fighting for your attention.
And that is why I'd urge you to take a look at Hiver – the world's first help desk software designed exclusively for Google Workspace users. What makes Hiver the best alternative to Zendesk is the fact that it simplifies the process of offering support.
Hiver lets you manage your [email protected] email address right from your Gmail inbox.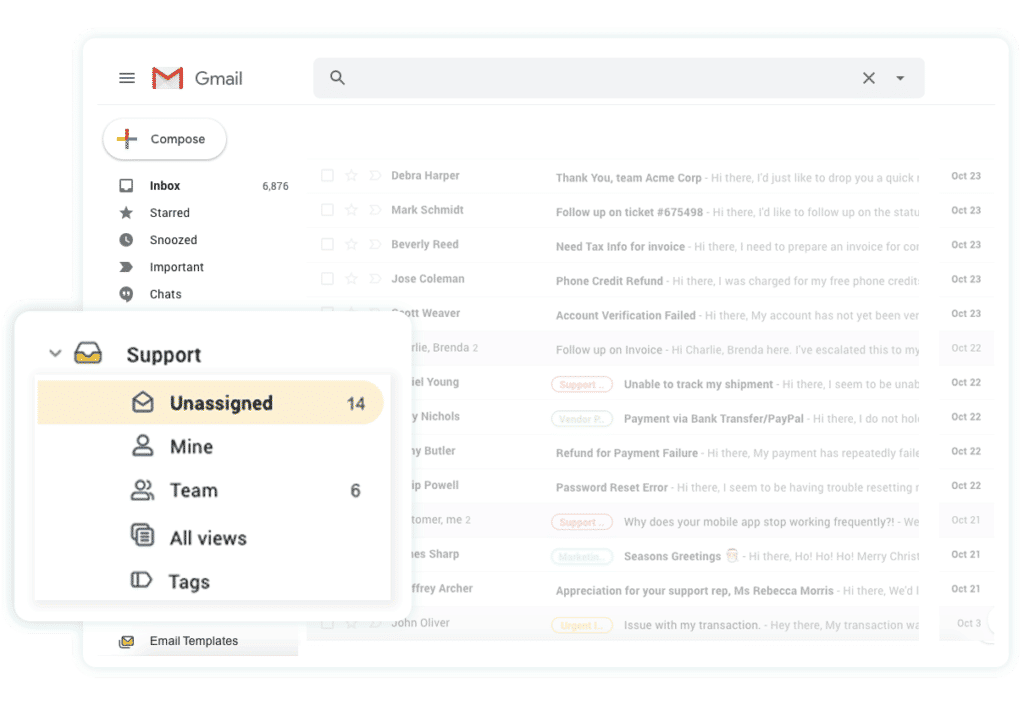 And the really cool part – your support emails will still be neatly separated from your personal emails.
Table of Contents
Why choose Hiver over Zendesk?
Hiver is feature-rich despite being extremely lightweight – the complete opposite of Zendesk which is meant for a more complicated use case. Here are the reasons why you're going to love using Hiver:
1. You work from a familiar place
Zendesk forces you to work from an alien interface which is an overkill of buttons and features. Working from it gets frustrating quickly. Finding anything is almost like solving a puzzle. You'll have to keep going back to the instruction manuals to figure things.
But, we're all super comfortable working from our Gmail inboxes, aren't we? Well, Hiver is a natural extension to that. It fits neatly inside your inbox (without disrupting anything). You will never have to leave the comfort of your inbox to manage emails.
2. It's really easy to use
Zendesk can get clunky at times. The dashboard is loaded with macros, triggers, and a host of other features you are never going to use. You will have to spend a lot of energy just getting used to the interface.
Hiver's ease of use is what sets it apart. Anyone who's used to the basic Gmail functionalities is going to have a pretty easy time using it.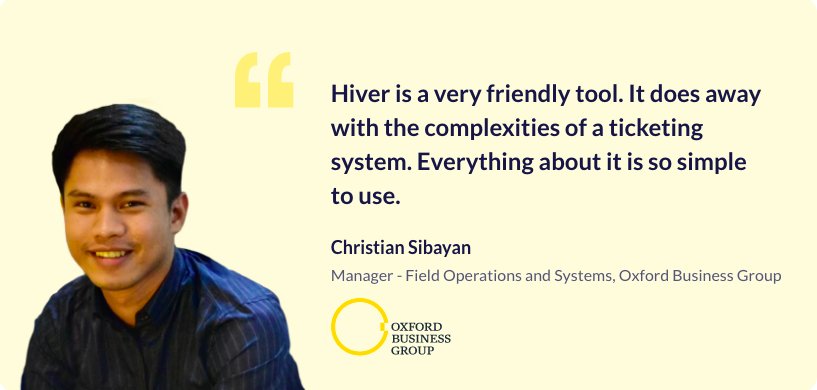 3. Setting it up takes just minutes
Setting up Zendesk's ticketing system requires a whirlwind of guides, training manuals, and implementation plans – it takes ages to get things up and running.
On the other hand, setting up Hiver is ridiculously simple. It will not take more than a few minutes. There are no guides or pieces of training involved. Your team can start offering great customer experiences instantly.
4. It makes customer service more personalized
Zendesk complicates the support process by turning incoming customer emails to support tickets. Your customers are forced to go through a login portal to get help. And then, they are forced to dig through emails to find that ticket number. All of this is only going to make your customers' lives difficult.
With Hiver, customer communication remains personal. There are no portals to deal with – all your customers need to do is send you an email. And those emails are never turned into impersonal tickets. Your team sends personalized emails and treats customers like people, and not tickets. Hiver helps you enhance customer relationships!
More reasons to love Hiver
Several companies including leading enterprises, startups and small businesses around the globe trust Hiver to help them offer the best customer experiences.
Here are some more reasons why you too should consider Hiver:
1. Easy email and chat routing
Streamline customer service workflows by assigning emails and chats to your teammate in just a couple of clicks, and that too right from your Gmail inbox. On top of that, you get to track email status by using filters and tags. SLAs ensure your support agents never drop the ball on emails.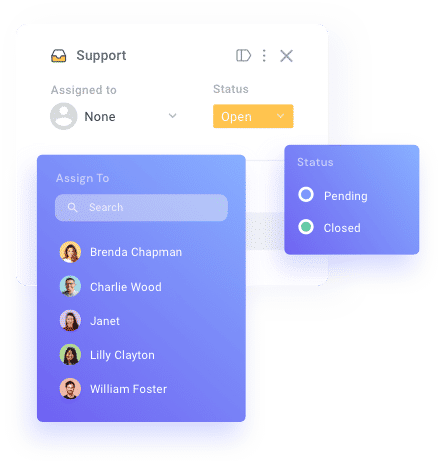 2. Smart automations
You can automate emails to be assigned to your team based on easy-to-set-up rules, or set up round-robin assignments.
3. Effortless agent collaboration
Your team members don't need to rely on external tools like Slack to collaborate. They can add private internal notes to ask questions or make suggestions when solving a customer problem – right next to that email thread. While working on email replies, agents can even share drafts and edit them together in real-time.
4. Collision detection
With collision alerts, agents won't ever step on each other's toes. Each time a support agent starts replying to a customer request that someone in the team is already working on, they get a notification about it. No more duplicate or conflicting email or chat responses.
5. Customer satisfaction surveys
You can send out a customer satisfaction survey at the end of every customer interaction to find out what customers think of your brand. These surveys give you access to important customer data that you can use to improve your product and service quality. It's also a proactive way to show your customers that you care.
6. Analytics Dashboard
Track and improve upon metrics that are the life and blood of a support team – response time and average resolution time. Know how your support reps are performing and identify areas of improvement.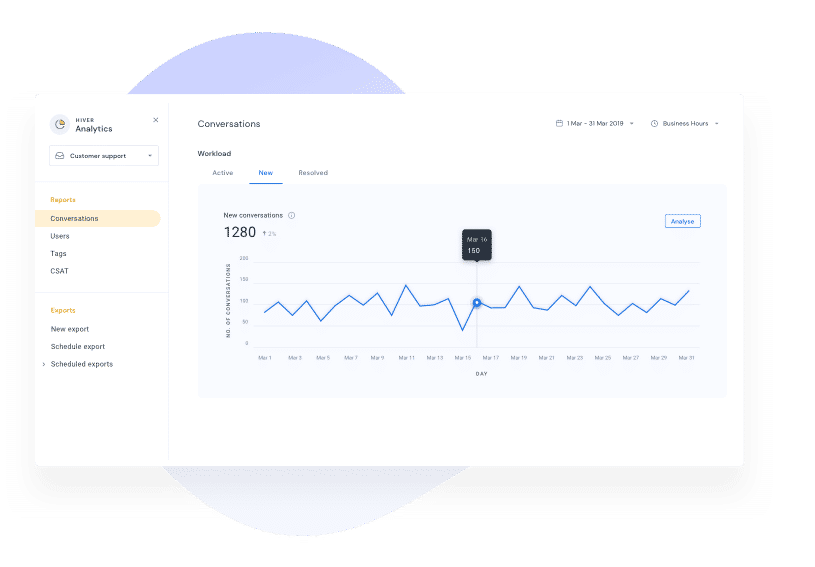 7. Self-serve with Hiver's Knowledge Base:
Hiver's Knowledge Base feature allows you to create and maintain a repository of FAQs, troubleshooting guides, and other help articles that empower customers to resolve issues whenever they want, without waiting for help. By enabling Hiver's Knowledge Base, support reps can deflect common customer queries and focus on the more urgent activities.
8. Deliver real-time support with Hiver Chat, Voice Channel & WhatsApp messaging:
With Hiver Chat, you can offer instant support to your existing and potential customers, right from Gmail. Create long-term customer relationships by offering personalized, real-time support. You can offer customized chat solutions, inline with your branding, and close customer query loops faster.
Create 'Voice Inboxes' with Hiver's Voice Channel. Hiver lets you initiate, receive, and manage calls, voicemails, or missed calls directly from Gmail. Add context to conversations and ensure accountability by tracking the resolution status of conversations.
Be where your customers are, with Hiver's WhatsApp channel. Engage with customers in real-time and offer faster responses to their queries. Create 'WhatsApp inboxes' within Gmail to manage customer conversations directly from within Gmail.
9. Have Great Conversations With Your Customers:
Hiver's Contacts feature helps you understand customers better, and allows you to craft more personalized responses. It provides you with a view of the most recent conversations that customers have had with your teams, along with relevant context (CSAT rating, resolution status and more).
10. Integrate with your favorite apps:
You can now integrate your favorite apps with Hiver. Hiver integrations (with apps like Jira, Salesforce and more) let you manage all internal communication and collaboration workflows efficiently right inside Gmail. And, the best part: it just takes a few clicks to enable any integration!

11. Intelligent support with Harvey – The AI Bot:
Hiver's AI Bot has been designed to offer intelligent support to reps by taking up their grunt work. It helps boost team productivity by intelligently identifying and handling non-actionable customer responses.
You can check out all of Hiver's other amazing features like shared inboxes, live chat, templates and workload distribution, here.
Try Hiver today
Hiver is loved by more than 8000 teams from all over the world – including the likes of Harvard University, Vacasa, Canva, and Oxford Business Group.
It is one of the top-rated customer service software across leading marketplaces like Capterra, G2 and Chrome Web Store.
Try Hiver for free today (7-day free trial, no credit card required). If you want to see how Hiver can empower you to deliver an enjoyable support experience, you can schedule a call with us!