Table of contents
Finance Made Easy with Hiver!
10 Best Accounts Receivable Software for Businesses
Nov 17, 2023
|
9 min read
|
Table of contents
Managing money matters is crucial for any business. One important part of this is keeping track of the money that flows into a business, known as accounts receivable.
But imagine sending out a bill to a customer and forgetting about it – it's easy to see how money could get lost! That's where an accounts receivable software comes in. It helps businesses extensively track the money that they're owed, making sure nothing slips through the cracks.
In this blog, we will explore the 10 best accounts receivable software options for businesses. These tools help make sure that every penny that is owed to a company is tracked and managed effectively.
Table of Contents
What is Accounts Receivable?
Accounts receivable (AR) is the amount of money that customers owe a company for goods or services they've purchased but haven't paid for yet. Essentially, it's a record of a business's outstanding invoices, representing a line of credit given to the customer. In simpler terms, when a business sells a product or service and allows the customer to pay later, that "promise to pay" is represented as accounts receivable on the balance sheet.
Here's a breakdown:
Sale on Credit: A company sells a product or service to a customer on credit, meaning the customer will pay at a later date. This sale is recorded as an account receivable.
Invoice Issued: The company issues an invoice to the customer, detailing the amount owed.
Payment Due: The customer is expected to pay the invoice by a specified due date.
Payment Received: When the customer pays off their invoice, the amount in accounts receivable decreases.
Accounts receivable is an asset on a company's balance sheet because it represents money that is expected to be received in the near future. Properly managing accounts receivable is crucial for a company's cash flow, as delays in collecting payments can lead to cash shortages.
What is an Accounts Receivable Software?
Accounts Receivable Software is a technological solution that helps businesses track money owed to them by customers. It manages unpaid invoices for goods or services already delivered.
For example, if a publishing company sells books to a retailer, and the retailer agrees to pay for them after 30 days, the amount owed by the retailer for the books is recorded as "accounts receivable" in the publishing company's books.
An accounts receivable tool would help the publishing company track this debt, ensuring that the payment, when received, is properly recorded and that any delays or issues in payment are promptly identified and addressed.
Key Benefits of Accounts Receivable Software
Accounts Receivable Software offers a range of benefits to businesses. Here are some key advantages:
Improved Cash Flow: By efficiently tracking and managing outstanding invoices, businesses can ensure timely collections, leading to a more consistent cash flow.
Time Savings: Automation of repetitive tasks, such as invoice generation and payment reminders, reduces manual work.
Reduced Errors: Automated calculations and data entry minimize the chances of human errors, ensuring accurate financial records.
Enhanced Customer Relationships: With systematic follow-ups and reminders, businesses can maintain professional communication with clients, leading to better relationships and trust.
Real-time Reporting: Businesses can get instant insights into their financial health, understanding which customers owe money and how much.
Scalability: As a business grows, the software can handle an increasing number of transactions without the need for significant changes or upgrades.
10 Best Accounts Receivable Software
1. Hiver
Hiver is a platform that helps teams simplify finance operations, especially accounts receivable. The best thing about Hiver is that it works inside Gmail, and teams can get started without any extensive training.
Hiver helps finance teams streamline communication with customers, track invoices, and manage payments easily.
Key Features:
Centralized Communication: For finance teams working on accounts receivable, Hiver can help them easily manage all conversations around invoices and payments. It helps you centralize all communication, making it simpler to track and respond to payment-related issues.
Collaboration Made Easy: Finance teams can collaborate on invoices, cash collection requests, and bookkeeping queries seamlessly. If there's a query on an invoice term or a compliance issue, team members can simply @mention a colleague and write a note next to the email thread, asking for inputs or assistance.
Automation for Efficiency: Hiver offers automation features that can be tailored to the needs of finance teams. For instance, repetitive tasks, such as sending out invoice reminders or categorizing incoming payment queries, can be automated, ensuring that the AR process is streamlined and error-free.
Pricing:
Hiver offers three types of pricing plans.
Lite plan: $15/user/month
Pro plan: $39/user/month
Elite plan: $59/user/month
Free Trial: 7 days
2. Tesorio
Tesorio is an AI-powered platform tailored for accounts receivable management. It assists businesses in efficiently tracking and managing the money owed to them by their customers. By integrating with various ERP systems, Tesorio ensures every invoice is accurately tracked and followed up on.
Key Features:
Automated Tracking: Tesorio keeps track of bills and payments automatically, making sure businesses know who owes them money.
Checking Credit and Collecting Payments: The tool has features to check a customer's credit and help businesses collect payments that are due.
Matching Invoices: Tesorio makes sure that payments are matched with the right bills, so there's no confusion about what's been paid.
Pricing:
Tesorio provides adaptable and tailored pricing structures to suit businesses, regardless of their size. For a deeper understanding, you'll have to schedule a demo in one of the following ways:
Personalized 1:1 demo
Group demo
Recorded overview
Interactive demo
3. Gaviti
Gaviti is a dedicated platform designed to simplify and enhance the accounts receivable invoice-to-cash process. It offers businesses a clear and organized view of all billing activities, ensuring that every invoice is tracked and acted upon. With Gaviti, businesses can gain immediate insights into the status of their collections, making it easier to understand and act on their financial standing.
Key Features:
Invoice Management: Gaviti allows businesses to efficiently manage and track all their invoices, ensuring that each one is accounted for and followed up on.
Payment Forecasting: Gaviti uses data to predict when payments are likely to come in, helping businesses plan their finances better.
Automated Notices: Gaviti automates the process of sending out reminders and notices for due payments, reducing manual effort and ensuring consistent communication with customers.
Pricing:
Gaviti provides three types of pricing plans.
Standard Edition
Pro Edition
Expert Edition
4. Billtrust
Billtrust is a software solution dedicated to managing end-to-end customer payments. It offers businesses a centralized platform to handle their accounts receivable processes. The software's AI engine offers predictions about when customers are likely to settle their invoices, giving businesses a clearer picture of their expected cash inflows.
Key Features:
Dunning Management: Billtrust aids businesses in managing overdue payments, ensuring timely follow-ups and reducing the chances of bad debts.
Customizable Invoices: Businesses can tailor their invoices to match their branding and specific requirements, ensuring clarity and professionalism in their billing processes.
Billing Portal: Billtrust provides a dedicated portal for billing activities, allowing businesses and their customers to manage and view invoices in one centralized location.
Prioritized Worklists: Billtrust helps businesses prioritize their collection activities, ensuring that high-value or overdue invoices are addressed first.
5. Versapay
Versapay is a suite of solutions designed to enhance and simplify the management of accounts receivable. Its collaborative approach to AR streamlines essential functions, from invoicing to payment processing, matching, and reconciliation. The AR automation platform also promotes real-time data sharing between internal teams and customers, which helps in speeding up the cash collection process.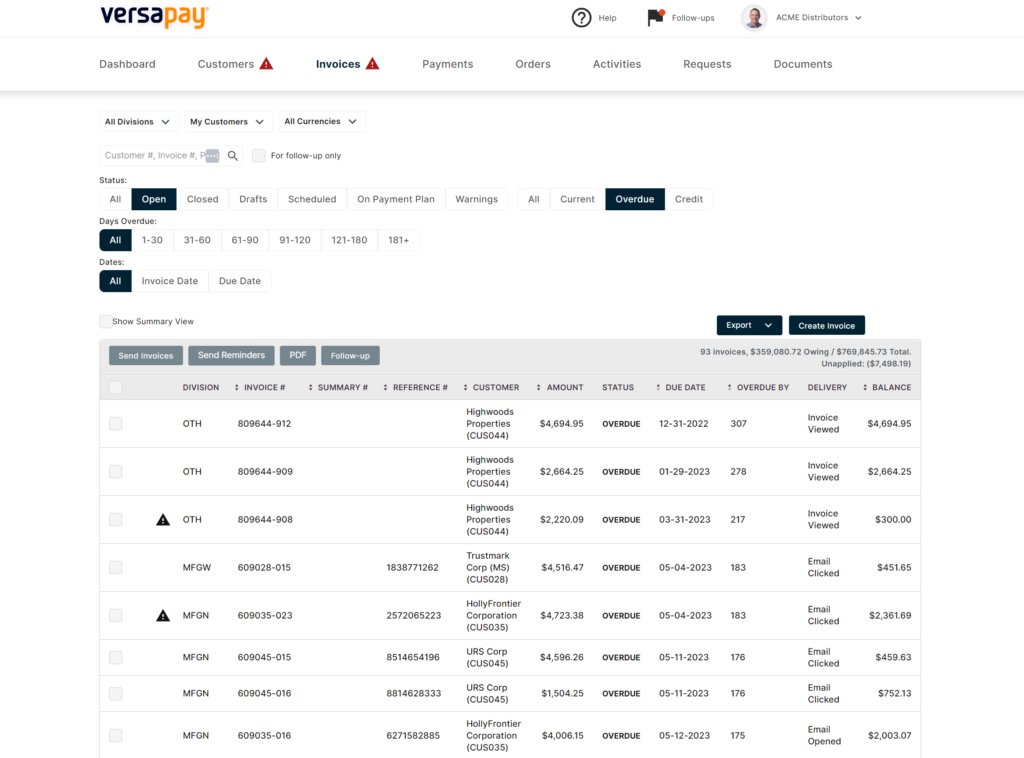 Key Features:
Online Payments: The platform provides a seamless online payment system, making it easier for customers to settle their invoices.
Omni-channel Invoicing: Versapay supports multiple invoicing channels, catering to diverse customer preferences and ensuring that customers can pay invoices using the channel they are most comfortable with.
Cash Application: With its advanced features and AI, Versapay can automatically match invoice numbers with payments, reducing manual effort and potential errors.
6. Quadient AR – by YayPay
Quadient is a specialized platform that simplifies the credit-to-cash process for businesses, focusing on B2B invoicing. The tool not only automates invoicing and collection communications but also offers insights into predicting customer payment behaviors.
By assessing the creditworthiness of customers, businesses can make informed decisions about credit terms.
Key Features:
Collections Management: Quadient AR aids businesses in efficiently managing their collections, ensuring that outstanding invoices are addressed promptly.
Communications History: The platform provides a detailed history of all communication between companies and customers related to invoicing and collections, offering context to finance teams and driving transparency.
Invoice Delivery: Quadient AR ensures that invoices are delivered promptly to the right customers at the right time, streamlining the billing process.
7. BlackLine
BlackLine is a platform that helps boost the efficiency of your accounts receivable function. By focusing on eliminating manual processes and offering actionable insights, Blackline ensures that businesses can manage their receivables more effectively.
Furthermore, Blackline provides valuable recommendations for businesses on how to prioritize their customer invoices for better cash flow management.
Key Features:
Cash Application: Blackline's system is designed to automatically match customer payments with the correct invoices, reducing manual effort and potential errors.
Credit and Risk Management: The platform offers tools to assess the creditworthiness of customers, helping businesses make informed decisions about credit terms and potential risks.
Dispute and Deductions Management: The tool provides features to manage and resolve any disputes or deductions related to invoices, ensuring clarity and transparency throughout.
8. HighRadius
HighRadius offers an AI-enhanced solution, known as Autonomous Receivables, tailored to streamline the accounts receivable process for businesses. This platform focuses on automating tasks like invoicing, credit management, and cash reconciliation, ensuring that businesses can efficiently manage the money owed to them.
Key Features:
Automated Dunning: HighRadius ensures that reminders for due payments are sent out automatically, reducing manual effort and ensuring consistent communication with customers.
Collections Metrics: The platform provides detailed metrics related to collections, helping businesses understand their performance and areas of improvement.
Automated Invoice Status Tracking: HighRadius keeps track of the status of each invoice, ensuring businesses are always updated on pending and settled invoices.
Quick Dispute Resolution: HighRadius offers features to quickly address and resolve any disputes related to invoices.
9. Invoiced
Invoiced is a platform designed to offer a wide range of functionalities to manage accounts receivable processes. With Invoiced, businesses can streamline their invoicing and collection activities, ensuring timely payments and efficient communication with customers.
The platform also integrates seamlessly with popular accounting tools like QuickBooks and Xero, making data synchronization and management easier.
Key Features:
Customer Management: Centralized system to manage customer invoicing details, payment histories, and communication logs, ensuring efficient tracking and follow-up.
Payment Plans: Allows businesses to set up structured payment plans for customers, offering flexibility in payment terms and ensuring consistent cash inflow.
API Access: Enables businesses to integrate and customize their accounts receivable processes, catering to specific invoicing and collection needs.
10. BILL
BILL is a comprehensive financial operations platform that emphasizes simplifying the accounts receivable process for businesses. With BILL, businesses can create professional invoices, offering them flexibility in how they're sent, and receive payments directly to their bank accounts via methods like ACH or credit card.
Key Features:
Invoice Tracking: Monitor the status of each invoice, ensuring businesses are always updated on pending and settled invoices.
Automatic Payment Reminders: With BILL, businesses can set up automated reminders for outstanding invoices, ensuring regular communication with customers.
Auto-Pay: This feature allows customers to set up automatic payments for their invoices, offering them convenience and ensuring businesses receive payments on schedule.
How to Select an Efficient Accounts Receivable Software
Selecting an efficient accounts receivable software is a critical decision that can significantly impact your business's financial operations. Here's an end-to-end guide that can help you:
Business Process Mapping: Begin by mapping out your current accounts receivable process. Identify bottlenecks, pain points, and areas that need automation. This will give you clarity on the specific features you need.
Integration Capabilities: Beyond just integrating with standard tools, consider how the software can fit into your broader tech ecosystem. For instance, can it pull data from your sales platform to auto-generate invoices?
Data Analysis and Forecasting: Advanced software solutions offer predictive analytics, helping businesses forecast cash flow based on historical data. This can be invaluable for financial planning.
Multi-Currency and Language Support: If you operate internationally, ensure the software can handle multiple currencies and languages, adjusting for exchange rates and local tax regulations.
Mobile Access: In today's digital age, having mobile access can be a game-changer. Check if the software has a functional mobile app or a mobile-responsive interface for on-the-go access.
Document Management: Some advanced solutions offer integrated document management systems, allowing you to attach relevant documents (like purchase orders) directly to invoices.
Communication Tools: Look for software that facilitates communication internally and also with customers. Such features help you discuss invoices (internally) faster, and also communicate with customers in a streamlined manner.
Cloud vs. On-Premises: Decide whether you want a cloud-based solution, which offers flexibility and remote access, or an on-premises solution that might give you more control over data.
Cost of Ownership: Beyond the initial purchase cost or subscription cost, consider other expenses like training, integration, potential upgrades, and maintenance.
By delving deeper into these considerations and aligning them with your business's unique needs and goals, you'll be better equipped to select an accounts receivable software that offers not just efficiency but also a competitive advantage.
Way Forward
Choosing the right tool to manage money coming into your business is really important. It can help you keep track of payments and make sure there is a steady inflow of cash.
Hiver is a good example of one such tool. It has all the powerful features to help you manage accounts receivable processes. But the best part is that it works inside Gmail. Because of this, the setup is extremely simple, and there's nothing complicated about the interface.
You can, therefore, start managing cash flows more efficiently without learning a whole new system!