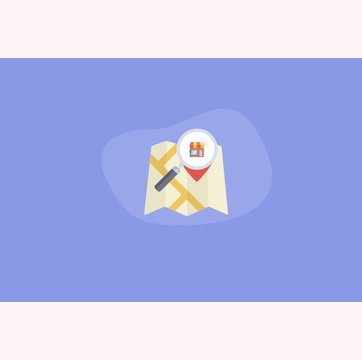 Table of contents
8000+ teams use Hiver to delight their customers!
A Beginner's Guide to Google My Business
Jun 09, 2023
|
8 min read
|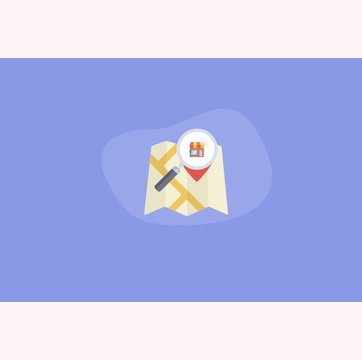 Table of contents
When you're a small business owner, you just can't afford to overlook Google My Business.
Why? 92 percent of customers compare businesses online before making a purchase decision, the majority of which relies solely on Google Search.
How do you ensure you are visible on Google Search?
According to Moz's local search ranking factors survey, getting listed on Google My Business is one of the biggest drivers of local SEO success. It guarantees you more visibility on both Google Search and Google Maps.
Moreover, it allows potential customers to get in touch with you directly, know the opinions of past customers, plan their visit effectively, navigate directly to your business location, and more.
In this post, we will learn how businesses can get started with Google My Business — from creating their listing to scheduling Google My Business posts.
Table of Contents
1. What is Google My Business?
Google My Business is an online platform that lets businesses manage their online presence across the Google ecosystem. This includes the likes of Google Maps, Google Plus, Knowledge Graph, and Google Search.
2. Is Google business listing free?
Yes, you can get your business listed on Google My Business for free. To sign-up for the service, all you need is a Google account.
If you use Gmail for business, Hiver can help convert your inbox into a help desk. Manage email conversations effectively, assign emails as tasks and track their status effortlessly, share email templates with teammates, and more.
3. What kind of business information can you add to your Google business listing?
Google My Business allows businesses to add the following information to their profile:
Business name, address, and phone number

Link to their official website

Working hours and holidays

Their business category

Google Map pin on their location

Social media handles

Photos and 30-second videos of your business

Links to specific actions like online orders or reservations

Additional details like outdoor seating, WiFi facility, child-friendliness, and more.
4. What is a Google Knowledge Panel?
It is the box that shows up on search result pages consisting of information relevant to the search query. In case someone is searching for your business or a related query, the knowledge panel will display your business address, phone number, reviews, peak times, and more.
However, there is no way to guarantee your business will show up in the Knowledge Panel. Google's Algorithm looks at a variety of factors, notably relevance, distance, and the prominence of your business. To give you a greater chance, make sure to add as much information as possible to your My Business profile.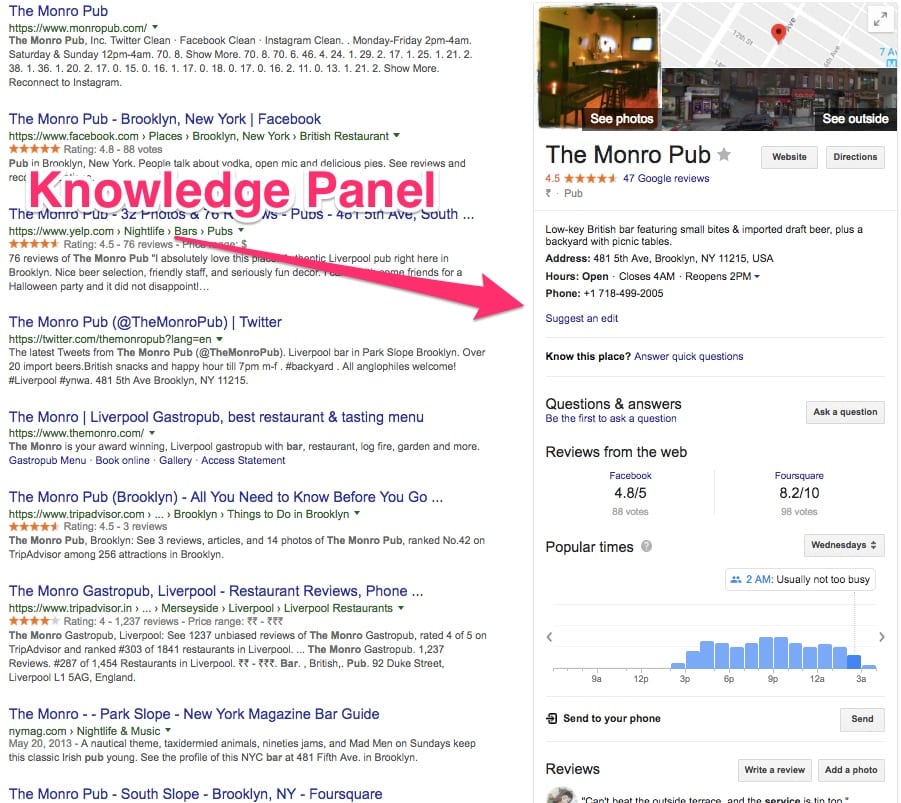 5. What are the major features and benefits of Google My Business?
Google My Business is a feature-rich platform, and like most other Google products, it too gets new updates and features on a regular basis.
Here are some of its stand-out features and benefits:
Collect and respond to reviews: Once your business is listed on Google My Business, customers (with a Google account) can review and rate your business right from the search results page. It also lets you respond to these reviews publicly. The same will appear in your Google Maps listing too.
Tip: In case people are spamming or posting inappropriate reviews, you can always flag them.
Post and answer frequently asked questions: GMB allows people who are curious about your business to post questions on the Knowledge Panel. They can be answered by anyone who is familiar with your business. It will appear under 'Questions & answers'.
Besides this, there is another list of automated questions for people to answer like 'Is there a wheelchair accessible entrance here', 'Is this place easy to notice from a vehicle in normal traffic', and more. They can be answered by clicking on 'Answer quick questions'.
Provides additional information: GMB helps customers to plan their visit by displaying information like busy hours, average visit duration, and wait time estimates on search results pages. Google uses aggregated and anonymized data from users who have opted for Location History to generate this information.
Chat directly with your customers: Google My Business lets customers and potential customers communicate directly to businesses with its Direct Messaging feature. Both parties can receive and respond to messages from their registered mobile phone or Allo app.
Make sure you add a mobile number that is always accessible. By default, you will receive these messages on your registered mobile number. You can always edit it if you want to use a different one.
Pass on important information with Google Posts: Businesses can publish posts intimating customers about upcoming events, offers, and more. These posts will appear on the Knowledge Panel along with the business information, giving them greater visibility than your regular website pages.
Learn more about your target audience with Google My Business Insights: It lets you access off-site data points like click-to-calls, visits to your website, requests for driving directions, and more.
Create a free website all by yourself: GMB lets you create a free mobile-optimized website to represent your business. It automatically sets up everything using the information and photos from your listing. The website will automatically update whenever you change your business information or post new photos. You can also make changes to the content manually if needed.
Highlight your attributes: The platform also lets businesses highlight certain attributes that people would search for. You can choose these attributes based on your business category. If you run a restaurant, you can always highlight attributes like vegan, outdoor seating, disabled-friendly, child-friendly, and more.
Bonus Tip: To make your tasks easy, you can use a social media aggregator. It will help you to collect, curate and use Google reviews wherever you want.
6. How to set up your Google My Business account?
Setting up your Google My Business listing is a rather simple process. Here are the steps involved:
1. Go to https://business.google.com/create and log in using your Google account. If you don't have one, create a new account, it is mandatory.

2. Enter the name of your business. If your business is already there on the list, you will have to claim its ownership. Duplicate listings are harmful to SEO.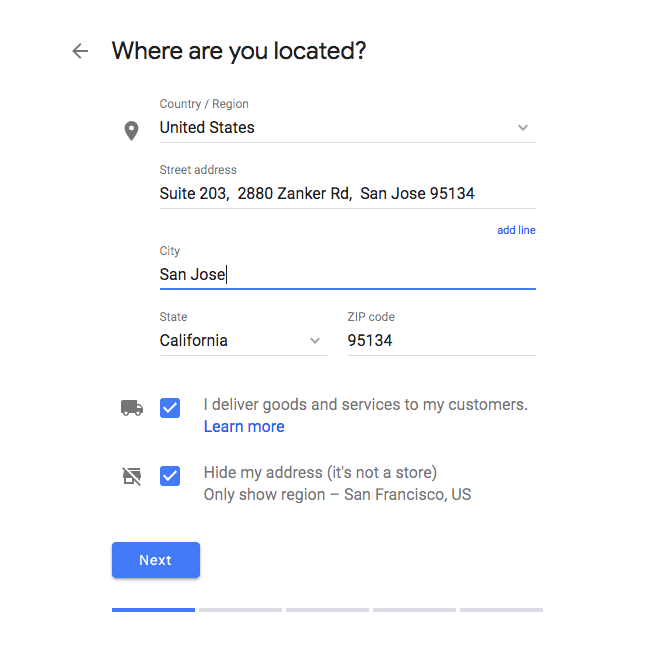 3. Enter the details of your business – name, type of business, URL, phone number, Google Map location, mode of delivery, and more.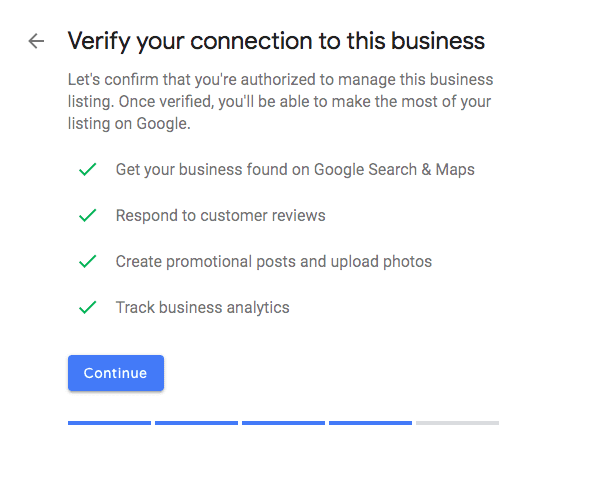 4. Review the details you have entered, press 'Continue'.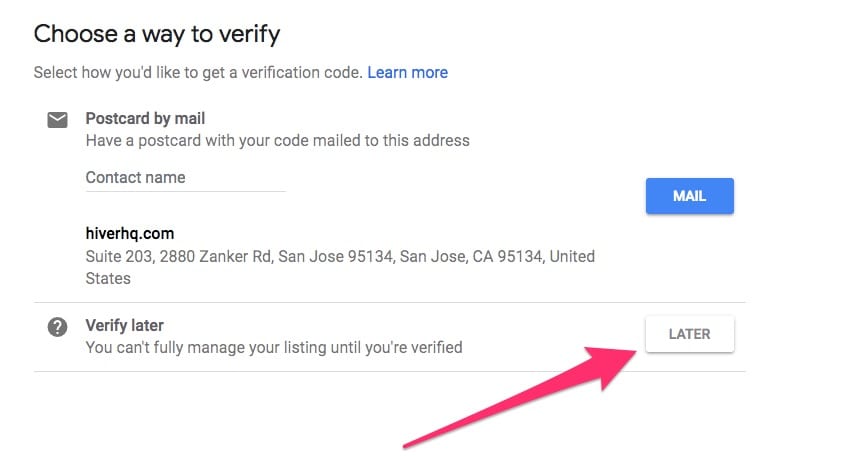 5. You will be taken to 'Choose a way to verify' screen where you'd have to select how to receive your verification code. Click 'verify later' as it is always better to complete your listing first.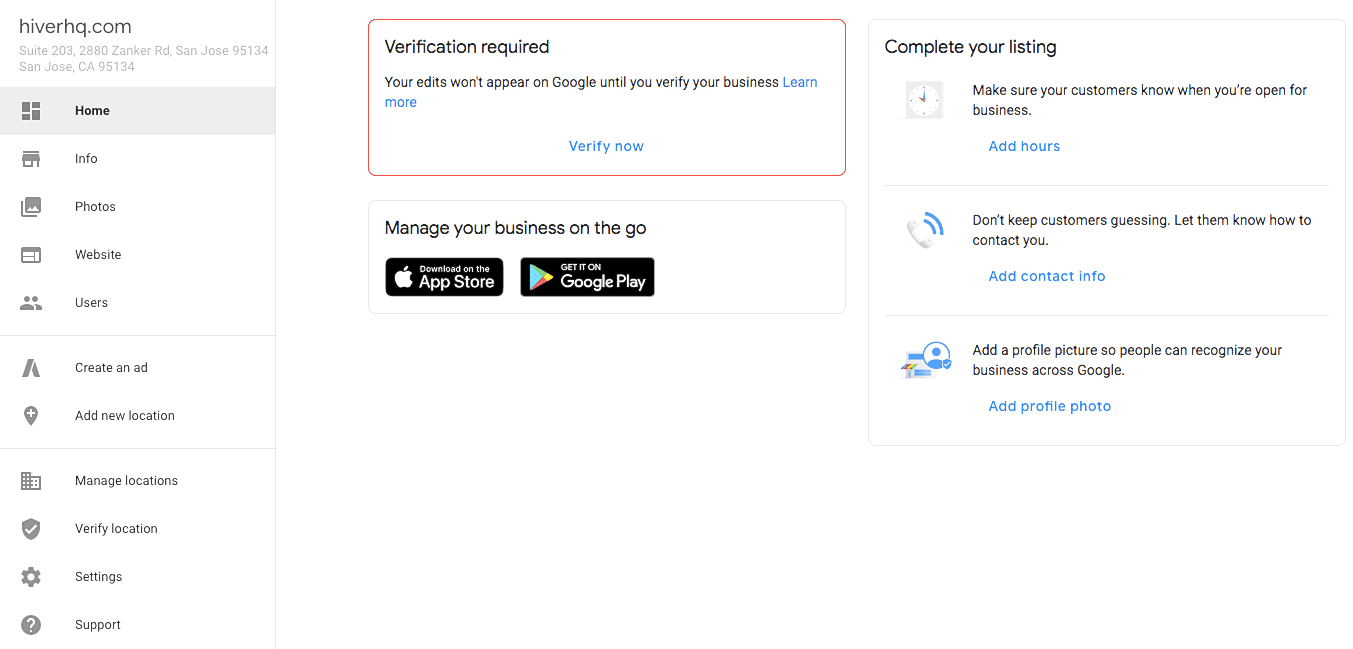 6. You will be taken to the Google My Business dashboard, complete your listing by adding videos and photos, your working hours, other contact information, your locations, new users, other attributes relevant to your business, and more.
7. Review everything and then, click 'verify now'.
8. You will be taken back to the 'Choose a way to verify' screen, most businesses will have to go with the 'postcard by mail' option. Only a select few have the option of verifying by email or phone.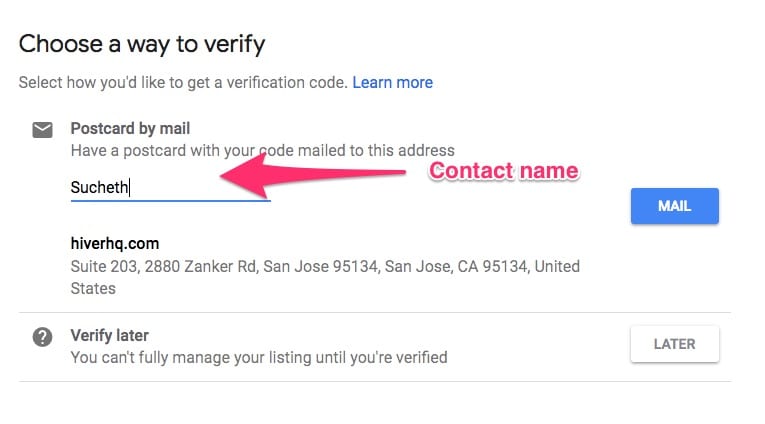 9. Review the mailing address, add your contact name, and click on 'Mail'.
10. You will receive the PIN postcard in 3-5 days. Once you get it, sign into your Google My Business profile, press 'Enter Code', enter the 5 digit PIN into the field, and click 'Submit'.
Note: Don't edit your listing after requesting the postcard. Edits during this period are considered invalid and you will be forced to redo the whole process.
7. How to claim your business listing on Google?
In case your business is already listed on the platform, you will have to claim its ownership. Otherwise, you won't be able to control the way your listing appears.
Here's how you should go about claiming your listing:
Log in to

https://www.google.com/business/

with your Google business account.

Enter the name of your business under 'what's the name of your business'. If your business is already listed, then it will show up below. Select it.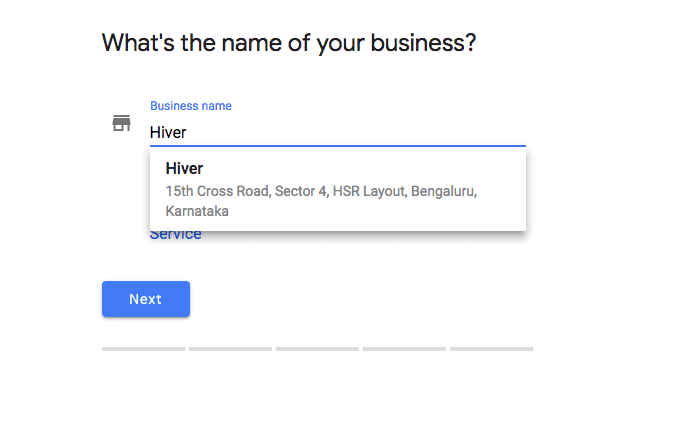 Enter other details like country, region, address, postal code, and more, then click on 'Continue'.

A pop-up will appear informing your business is already verified by somebody else. To claim it, click on 'Request ownership'.

You will be taken to 'Request Admin Rights' menu, enter details like 'Share your info with the current owner to continue', 'What level of access would you like', and more.

Click on 'Submit' once you are done.

The current owner will receive the request almost instantly. You will get the admin privileges once they approve it.
Note: If the current owner rejects your request, you can appeal against this decision. In case they choose to ignore it, you should contact Google My Business support.
8. How to go about asking customers to leave you reviews on Google Business?
Google Reviews is one of the most important local ranking signals. So, good reviews and ratings are bound to get you more clicks and visits.
You should start requesting customers for reviews as soon as your listing is verified. Unlike other review platforms, Google encourages businesses to ask customers for reviews.
It also offers a program called Google Local Guides to encourage users to write reviews, share photos, and answer questions about businesses in return for points and rewards.
Here's how you should go about asking customers:
Search for your business on Google.

Click on 'Write A Review' button in the Knowledge Panel.

A pop-up will appear, copy its URL, it will look something like this:

google.co.in/searchq=hiver&oq=hiver&aqs=chrome..69i57j69i60l3j69i61j69i60.1681j1j9&sourceid=chrome&ie=UTF-8#lrd=0x3bae148545a13bd7:0xedcf809003f2aaec,3,,,

Use a link shortener like

bit.ly

to shorten it.

Send out review requests via email, text message, or DM on social media. Make sure to include the shortened URL and instructions on how to leave a review.

Keep checking your Google Reviews page regularly, be sure to reply to new reviews as they come in, irrespective of whether they are positive or negative.
Note: Don't be too late or too eager to ask for reviews. Give customers enough time to understand and use the product to its full potential.
Wrapping up
Getting listed on Google My Business is only half the battle, if you want to get more out of it, you have to keep optimizing it. You have to collect more customer reviews, get more people to answer questions, keep adding new attributes, update your listings in case there are any changes, and keep an eye out for newly released Google My Business features. Also consider using GMB management software.
If you run a small business and use Gmail, Hiver can help you scale and manage teams without breaking a sweat. It lets you set up shared mailboxes and delegate emails to teammates with just two clicks. Click here to know more.