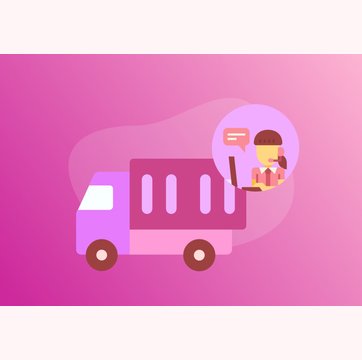 Table of contents
8000+ teams use Hiver to delight their customers!
Customer Service in Logistics: How to Improve it Using Tech
Aug 22, 2023
|
9 min read
|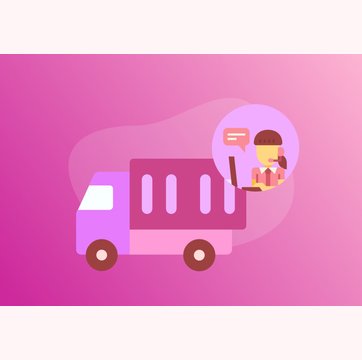 Table of contents
Logistics is largely a level playing field. All players tackle similar challenges: bad weather, global regulations, trade wars, and recently, even a pandemic.
They also enjoy much the same advantages such as speed of vehicles, growing demand, and fuel prices.
What separates established logistics companies from their not-so-successful counterparts — is a longstanding reputation for reliable and trustworthy customer care.
Table of Contents
The Importance of Customer Service in Logistics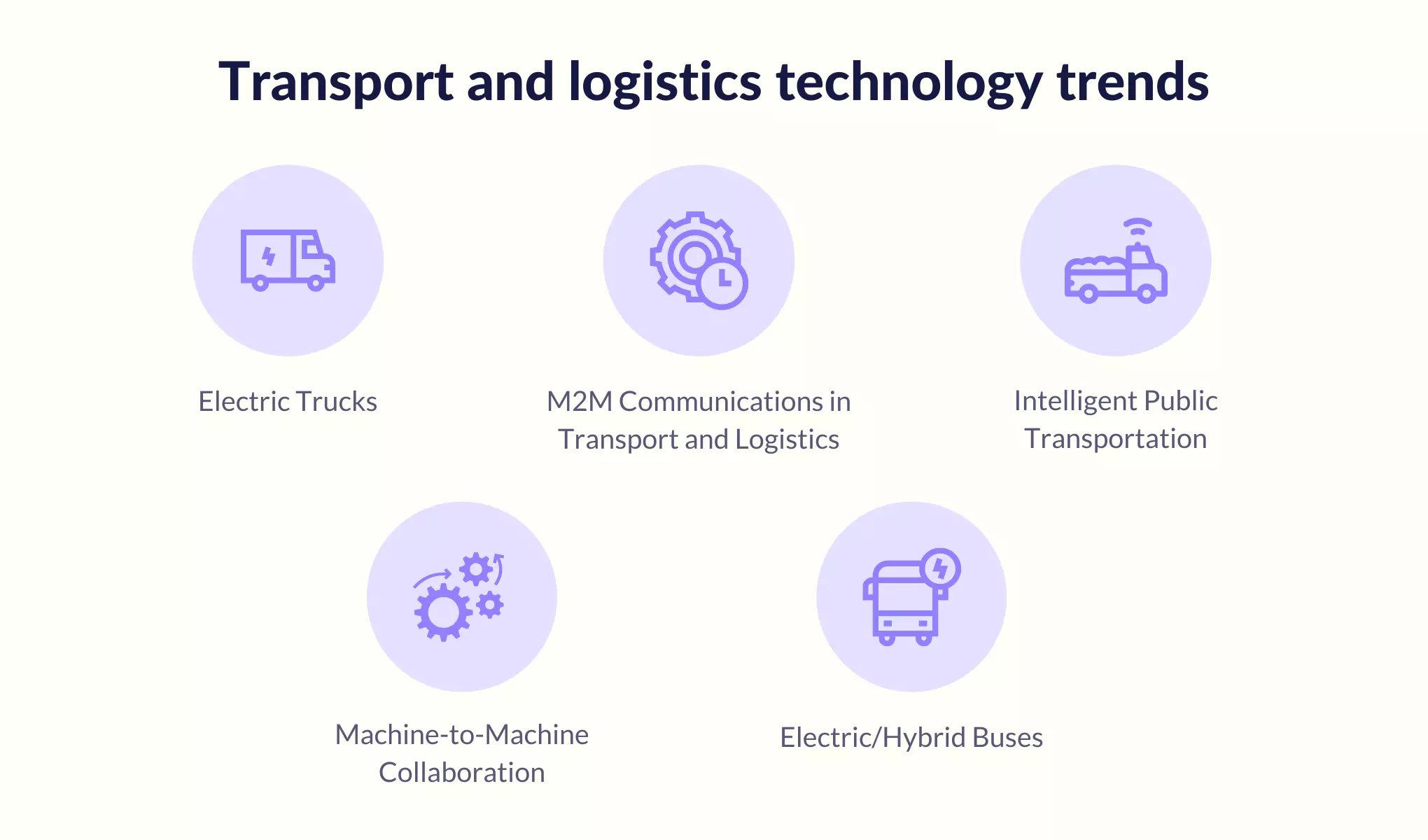 While this creates lucrative opportunities for logistics companies worldwide, it also has added challenges. Increase in online shopping has also led to an increased focus on reverse logistics, which possesses a different set of challenges.
The logistics industry is also seeing an increase in players providing last-mile delivery. As competition increases, great customer service serves as a powerful differentiator, with retailers and suppliers likely to opt for providers going the extra mile to satisfy end customers' needs. For companies looking to expand globally, excellent customer service accelerates their growth manifold.
What does great customer service in logistics look like in 2022?
Let's say you're a logistics company specializing in furniture and home improvement items.
Here's what a seamless customer service experience should look like: from the moment you pick an order from sellers – to the time it is delivered to the end customer – both the seller and buyer receive prompt updates.
They're informed of the location of their shipment (using a service such as My Package Tracking),estimated time of arrival, and if there's an unexpected delay, they're not left guessing why.
Most companies aspire to provide such seamless services that boost their customer satisfaction. But it takes a combination of processes and tools like multi-carrier shipping software to make them a reality.
Integrating logistics app development into your customer service strategy can significantly improve the efficiency of your supply chain and elevate the overall customer experience.
In this post, we'll delve into how companies can improve customer communication, internal processes, and deliveries with the help of technology.
How to Improve Customer Service in Logistics Using Technology
You've probably bantered a bit with Siri. But did you know that artificial intelligence tools can do a lot more than book tables for dinner? With the help of modern logistic software development and international freight system, logistics companies can communicate better with customers, predict delivery conditions, and better manage packaging and inventory.
Here are some ways logistics companies can harness technology to improve their customer service:
Streamline customer communication
Communication is a cornerstone of great customer service. Here are some ways to simplify communication with your customers:
Improve processes
In a study by Toister Solutions, customers stated they expect companies to reply to their email within an hour.
This can be a tall order for teams that don't have a system in place to manage customer emails.
Often, such teams forward emails from one inbox to another and manually sort through customer requests.
This is where a smart email help desk would help – to categorize and assign emails to team members – and track the status of emails. All of this without sending a single email.
Send updates
Ecommerce companies have mastered the art of keeping customers in the loop about their orders every step of the way. There's no reason why logistics companies cannot adopt a similar tactic for every step of the supply chain. This will help build customer confidence, and reduce the need for them to reach out to customer support.
Around 40% of retail respondents in a survey stated that their end consumers demanded specific delivery slot selection, delivery options, and real-time visibility.
Thus, those companies providing last-mile delivery should also allow consumers to update their delivery preferences in real-time. They should also inform providers if they will be available to collect a parcel.
Companies can employ multiple channels such as email, web, push notifications, and SMS to send real-time updates to their customers. Various tools such as Intercom, CleverTap, and Amazon SNS allow you to send push notifications to users. On the other hand, tools like TextMagic and SimpleTexting can be used for sending SMS updates.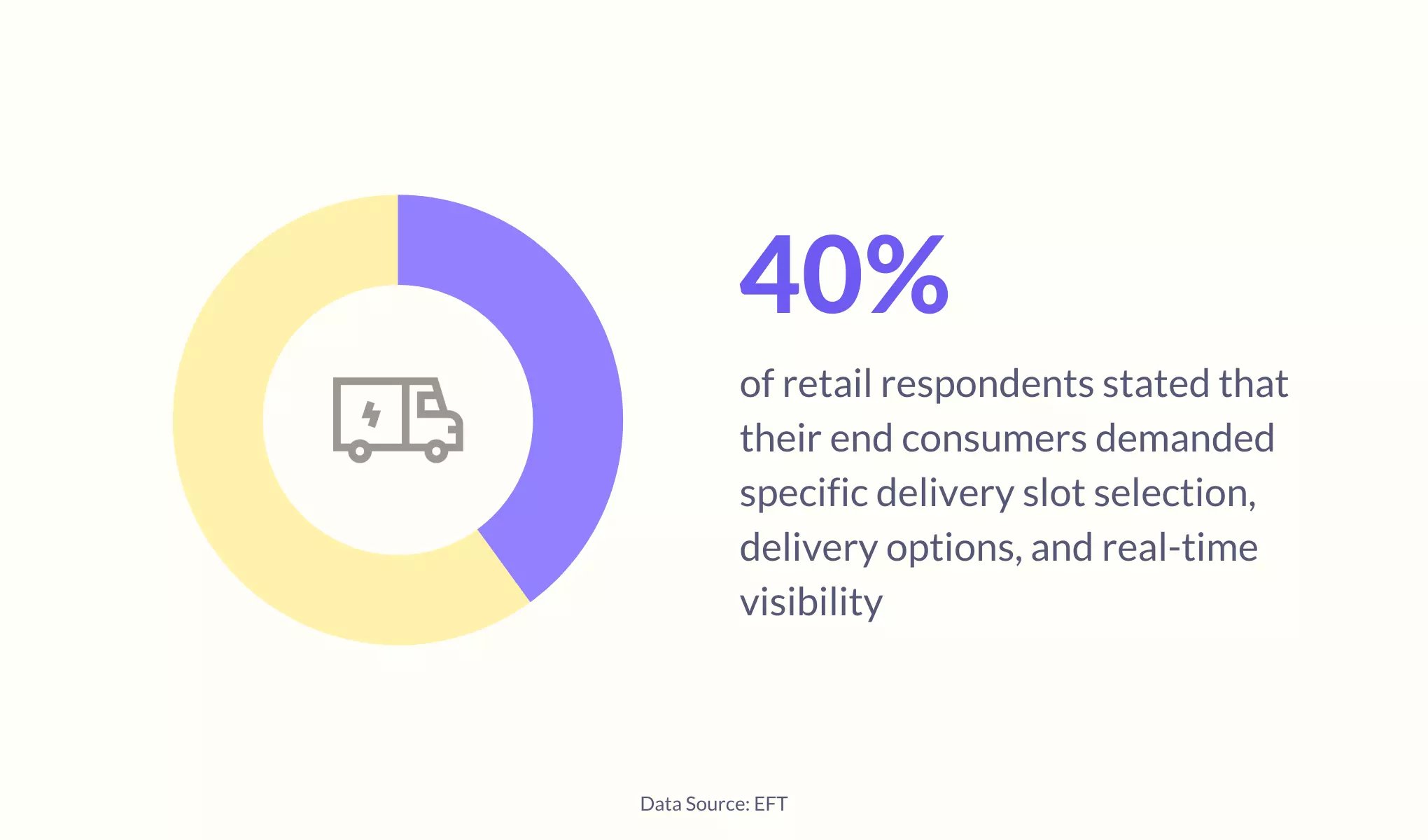 Optimize internal operations
Companies with simplified internal communication, collaboration, and operations are better equipped to handle customers' requests.
Fleet and fuel management, material handling, warehousing, stock control, each forms a crucial link in delivering an overall superior customer experience.
Here are some ideas for optimization of internal operations for your team:
Simplify collaboration
Customer service representatives often need input on matters such as warehousing capacity, arrival and departure times, and inventory management. For lack of a better option, teams juggle multiple external chat apps or lengthy email threads to collaborate with other team members and departments.
Managing multiple communication apps is not only a hassle but also leads to higher response times and subpar experiences for customers.
Luckily, shared inboxes provide a simple solution for logistics teams to collaborate without leaving their inbox. Customer service teams have the ability to discuss queries internally, and rope in other departments with a simple "@" message.
They get a complete overview of actions taken on an email, whether it has been resolved or not, and comments from other team members. This eliminates miscommunication and helps teams move faster.
Ultimately, smooth internal collaboration facilitates better customer interactions.
Use prediction software
Prediction software helps companies anticipate demand and better manage internal operations. How many fleets would you need to add to keep up with demand? Is your fleet ELD compliant and ready to take to the road? How do you best utilize your warehousing capacity? How should you schedule deliveries, given the weather and traffic conditions? These are some questions prediction software such as Transmetrics can help you answer.
Improve supply chain visibility
At a logistics fair in Munich, Hapag-Lloyd revealed its new program, Hapag-Lloyd Live. The service offers real-time GPS locations, temperature information, and power alerts to its customers. The tool, and various other startups, are now pushing the frontiers of supply chain management and visibility.
Says Juan Carlos Duk, Managing Director Global Commercial Development at Hapag-Lloyd, "Customers need more reliable supply chains, and the industry needs to change and invest sufficiently." Gartner reports that supply chain visibility is among the top 3 funded initiatives in logistics, with 46% of leaders considering it a priority. This is why you see investment in tools like Transportation Management Software that provide improved insights.
How can more companies promote transparency and visibility at every stage of the supply chain? The solution comes in the form of IoT sensors and trackers.
IoT trackers are physical devices that monitor and transfer real-time GPS location data. These can be attached to parcels or fitted inside cargo vehicles. As a result, customers are always in the know about the position of vehicles, weather and traffic conditions, as well as the temperature of the vehicle. This reassures them their cargo will be delivered in the best quality.
Camcode lists AIRcable Gateway, Aruba BLE, and AT&T Shipping Container as a few of the top IoT devices for tracking inventory.
With the advancements in logistics app development, companies can further enhance supply chain visibility and streamline their operations. By leveraging logistics apps, organizations can achieve real-time tracking of shipments, optimize routes, manage inventory, and improve overall efficiency in the logistics process. These apps provide intuitive interfaces for monitoring and managing various aspects of logistics operations, empowering teams to make informed decisions and respond promptly to customer demands.
Take advantage of data
Delayed deliveries, half-filled containers, and empty trucks on return journeys are a result of poor planning and prediction. SaaS companies can help logistics companies overcome these hurdles using data and analytics.
End customer expectations around delivery have soared in the past few years. Referred to as the Amazon effect, retail respondents in a survey stated that 48% of their end consumers demand next-day delivery, while 23% of consumers want same-day deliveries. Most of this demand comes from the B2C e-commerce sector.
Analyzing historical voyage data helps companies solve the dual conundrum of forecasting demand as well as efficient delivery planning.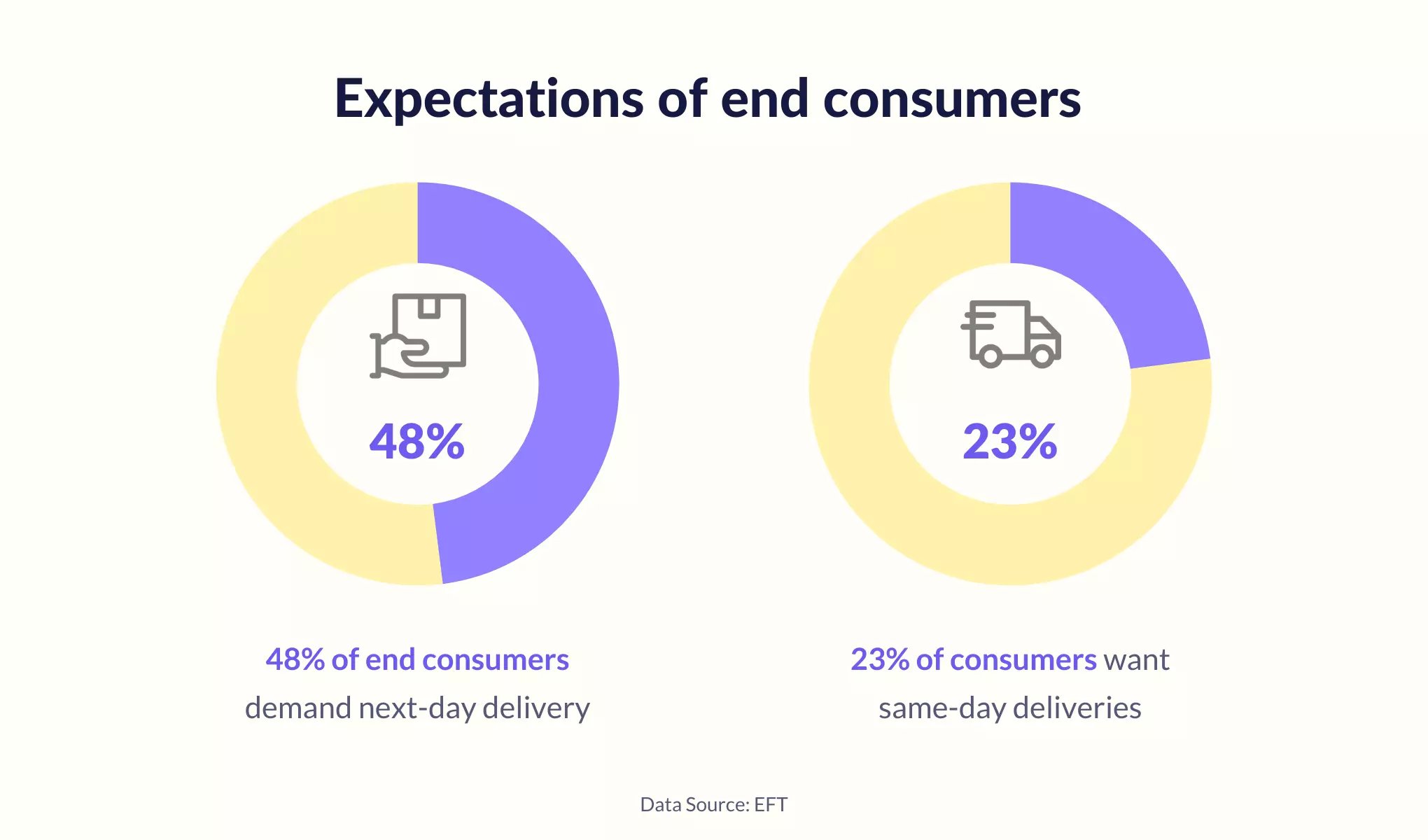 There are two types of forecasts companies rely on. Medium to long-range forecasts is used for budgeting, planning new purchases, and building storage facilities.
Short-term demand forecasts help plan day-to-day operations. For instance, with the help of tools such as Vanguard Software, companies can analyze data from various sources such as weather conditions, warehouse data, and on-the-road data to better plan routes, last-mile deliveries, and pick-ups.
Tools such as Infoplus also help companies track metrics such as delivery times, pickup times, warehouse capacity, and more. This helps them increase efficiency across all areas of their logistics business.
Increase efficiency with automation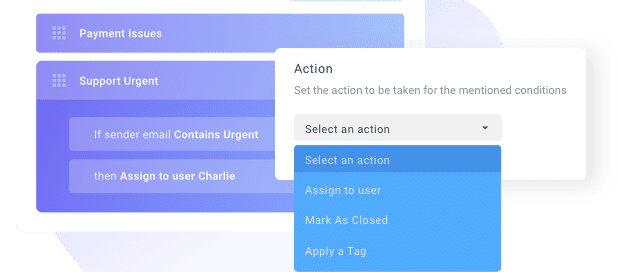 Essentially, automation in logistics customer service helps reduce the manual effort for your customer support representatives, allows them to focus on more complex issues, and provides quicker resolutions for your customers.
A good customer support software can help you automate the following tasks:
Categorizing and assigning customer emails
Depending on the size of your logistics operation, you may serve a few different types of businesses in different locations. You might also offer different types of services such as end-to-end deliveries, last-mile deliveries, and so on. In this case, it helps to have specific agents deal with customer emails based on their content.
Manually sorting and filtering through emails can be a cumbersome process. Using Hiver, you can set up rules to automatically tag emailswith customer names or the location (or anything all – to categorize them).
And then: you can have emails assigned to your team based on the above tags – or the subject line, and more. For instance, emails containing the words "ETA" or "pickup" may be routed to one agent, while those containing the words, "inquiry" or "feedback" may be routed to another.
Setting up auto-responders
To begin with, set up an auto-responder that lets customers know you've received their request and an agent will get back to them as soon as possible.
You can also set up automated replies for common customer queries such as transit times, prices, location inquiries, and pick-up scheduling. This saves your reps' time, and ensures customers receive speedy responses.
Automated replies are not only useful for acknowledging customer service emails, but they are also handy in a few other situations. For example, you can set up auto-responders to inform customers when their cargo has left your warehouse, when it reaches its destination, and if the weather conditions turn unfavorable along the way.
Similarly, you can also send automated emails asking for feedback after they've used your services or after they've interacted with customer support.
Recommended Reading
Wrapping Up
Exceptional customer service should be a priority, not an afterthought. Those looking to provide superior customer services should take advantage of innovations such as collaboration software, artificial intelligence, robotics, and data analytics.
Remember, your reputation as a dependable and customer-friendly logistics provider travels faster than any of your fleets. Focus on it before any other aspect of your business.