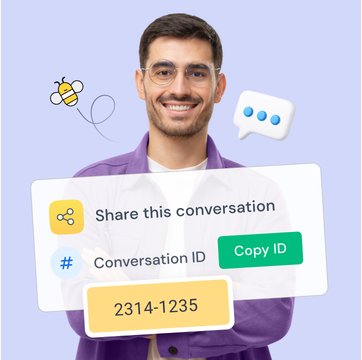 Table of contents
Turn Gmail into a collaborative hub
Hiver Product Update: Hiver launches Conversation ID for a more organized and efficient way to communicate
Jul 20, 2023
|
2 min read
|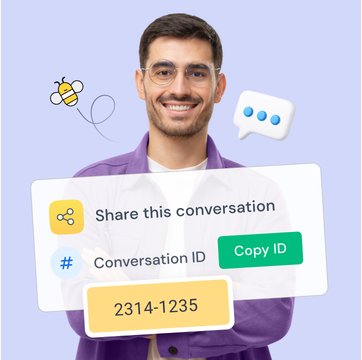 Table of contents
Searching through numerous email threads to locate the specific conversation you need can be exhausting and time-consuming. Efficient teams should have a faster, more effective way to track and organize queries. That would ensure clear communication and maintain essential context, allowing for more efficient and productive collaboration.
Table of Contents
Introducing Conversation ID by Hiver
Hiver has launched Conversation ID – a powerful feature to assign a unique ID (similar to a ticket number) to each new email. The conversation ID helps you and your team locate the desired conversation effortlessly without wasting time searching through a cluttered inbox. High email volumes can no longer hold you back from finding what you need and sharing it with customers or colleagues for future reference.
How will it benefit you and your customers?
Improved email organization
Email overload can be overwhelming, making it difficult to keep track of individual conversations. With Hiver Conversation IDs, you can regain control and stay organized. Every conversation is assigned a unique ID based on its creation date, providing a clear and structured system for organizing your communications.
Say hello to organized collaboration
Collaboration is the key to success in any business. You can share the relevant conversation IDs with customers or colleagues to ensure everyone is on the same page. They will have valuable context into past communication, making it easier to resolve issues faster and provide better customer service.
Email search & tracking made easier
Looking for a specific conversation in a sea of emails can be like finding a needle in a haystack. However, with Hiver's Conversation IDs, endless scrolling and searching for emails using subject lines aren't needed. Simply enter the conversation ID in the search bar, and voila! The desired conversation will appear – no more scrolling through endless emails or relying on vague keywords.
How does it work?
Hiver automatically assigns a unique conversation ID to every new email you receive or send. This ID is mapped to all subsequent emails within the same thread, making it easier to locate conversations. It means you can simply share the conversation ID with the email sender – manually or through auto-responders, enabling them to refer back to the conversation hassle-free.
You can also share the conversation ID with your colleagues, allowing for smoother collaboration on ongoing conversations—no more confusion or searching for context. Everyone involved will have access to the conversation's history and can jump right in with the necessary information at hand.
Get started today
Conversation ID by Hiver is designed to streamline communication with customers, vendors, and colleagues. To get started, head to the Conversation ID help article!
If you're new to Hiver, set up a free trial of our platform to discover how Conversation IDs and Hiver's other powerful features can supercharge your team's efficiency.