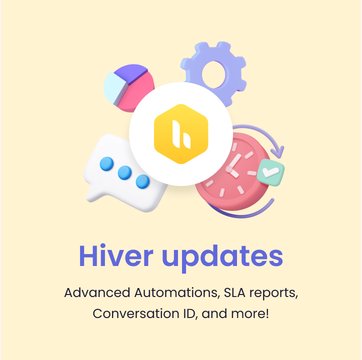 Table of contents
Turn Gmail into a collaborative hub
Hiver Updates: Advanced automations, Conversation ID, SLA reports, and more!
Jul 19, 2023
|
5 min read
|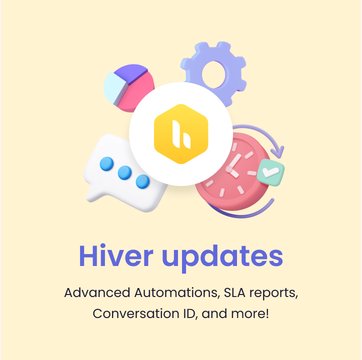 Table of contents
We constantly strive to add value for our customers and expand what they can achieve on Hiver. The previous quarter was focused on three major goals for our customers- enhanced automated operations, elevated reporting, and improved collaboration.

With these new features at your disposal, you will be able to follow up smartly on emails to ensure nothing slips through the cracks, assign emails based on employees' shifts, track your team's SLA performance, and collaborate faster with your colleagues within Gmail!
Seems exciting? Well, this is just the tip of the iceberg, keep reading to discover other delightful updates, ranging from our mobile app enhancements to newer integrations! 🙂
Here's everything that's new:
Automate follow-ups, manage shifts, and more, using Advanced automations
Reference email conversations better with dedicated Conversation IDs (ticket numbers)
Keep track of SLA violations and compliances using SLA reports
Get stakeholder Approvals right next to your email thread
Manage invoicing within Gmail using the Hiver–QuickBooks integration
(Mobile) See your Gmail Signatures automatically added to mobile replies
(Mobile) Automate selection of 'from' ID on replies using Reply settings
Table of Contents
1. Automate follow-ups, manage shifts, and more, using Advanced automations
Hiver Automations now come equipped with a range of new triggers, enhanced filters, and useful actions to unlock an abundance of automated workflows. Here are a few highlights from this power-packed release
The new triggers allow automations to be triggered on subsequent emails within a conversation, both from mailbox members and customers.
With the 'Hours passed since' filter, you can wait for external replies or changes in assignee/status/tags, within or outside business hours and take an appropriate action
Additionally, the 'Creation Time' filter allows for actions based on the arrival time of new emails, facilitating shift management.
The new 'Send reply' action enables automated responses. When coupled with the 'Hours passed since no external reply' filter, it enables you to send automated follow-up emails to customers.
Learn more about Hiver's Advanced automations from this help article.
2. Reference email conversations better with dedicated Conversation IDs (ticket numbers)
While working with customers, it's important for support representatives to swiftly locate and reference the customer's existing issues and requests.

Previously, these conversations were primarily referenced by subject lines or Hiver permalinks, which were effective for internal collaboration. However, when it comes to communicating with end customers and acknowledging their emails, dedicated Conversation IDs (ticket IDs) prove to be more beneficial.

With this release, you can effortlessly view, copy, search, and share conversation IDs with both colleagues and customers. Furthermore, you can configure an auto-responder that includes the conversation ID, ensuring prompt acknowledgment of customer emails. Learn more about this feature over here.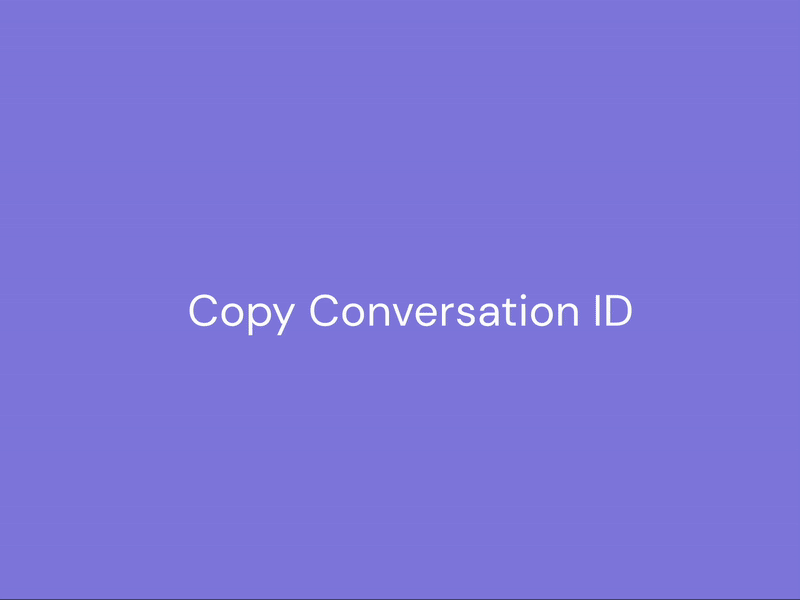 3. Keep track of SLA violations and compliances using SLA reports
With the new SLA Reports available in Hiver Analytics, you can now track SLA metrics for your shared inboxes. These reports enable you to monitor team performance and ensure service level agreement compliance. Key metrics, such as First Response Violations, Resolution Violations, First Response Compliance, and Resolution Compliance, are graphically represented for intuitive visualization. The reports can be filtered and downloaded, providing comprehensive insights into your team operations. Learn how to consume these reports over here.
4. Get stakeholder approvals right next to your email thread
Hiver is used by Customer Service, Finance Operations, ITSM, and more such teams. A common thread among most teams is the need for approvals or confirmations from multiple stakeholders, which is usually time-consuming. Hiver has streamlined this process by introducing Approval Flows.

Now, work with approval workflows right next to email conversations, eliminating the need to switch between applications. Admins can create multi-step approval flows, and specify relevant approvers Team members can then initiate approval requests within the email thread using the appropriate approval flow. Approvers can easily review and respond based on predefined criteria, expediting decision-making and enhancing productivity.
Get started on setting up Approvals using this help article.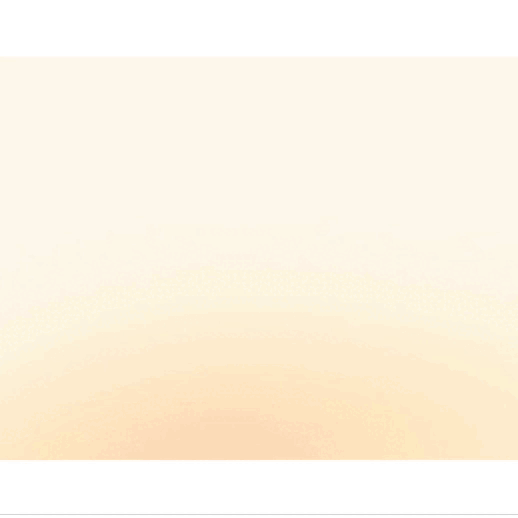 5. Manage invoicing within Gmail using the Hiver–QuickBooks integration
Managing financial functions seamlessly alongside email conversations is now possible with Hiver's integration with QuickBooks. This integration allows you to add bills directly within Hiver and track them alongside relevant email threads. By bringing together email and financial data, you can ensure accurate and comprehensive record-keeping, improving overall efficiency. Learn more about the integration over here.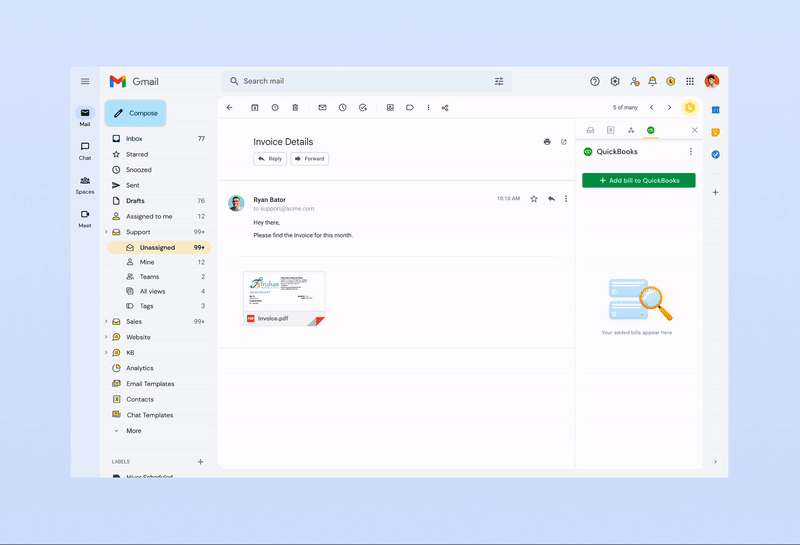 6. (Mobile) See your Gmail signatures automatically added to mobile replies
Signatures at the bottom of emails help you highlight important contact information to your customers. Hiver now automatically fetches your default email signature, including images and links, from your Gmail settings. This eliminates the need to manually add signatures repeatedly when replying from the Hiver mobile app. Enjoy a seamless experience while composing replies and focus on delivering exceptional customer support.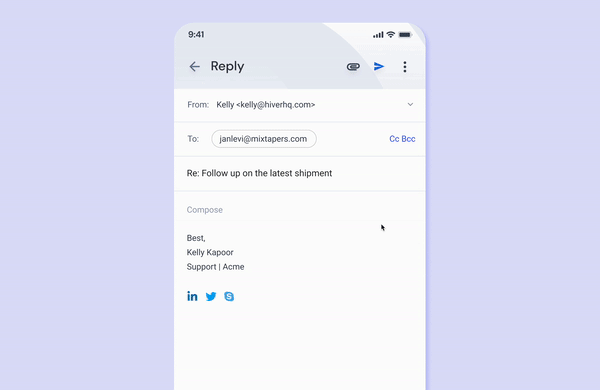 7. (Mobile) Automate selection of 'from ID' on replies using reply settings
Managing your preferred reply ID has been simplified with Hiver's Reply Settings in the mobile app. Instead of manually updating the 'from' ID for each reply, you can now select your preferred reply ID within the app's dedicated settings. This would be super useful if you generally prefer to reply from the same email ID to which the email was sent. Simply define your reply preferences once, and let Hiver handle the rest.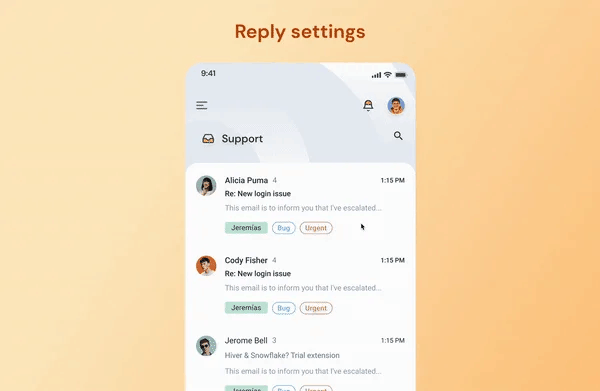 We're excited to introduce these power-packed features designed to bring simplicity, efficiency, and transparency to your everyday operations. To get started, head to the relevant help article or reach out to us at [email protected] if you need any help!
That's all for now, folks. Stay tuned for more updates.
To follow all Hiver releases, bookmark our release changelog. Alternatively, find 'Product Updates' under Hiver settings inside your Gmail account.