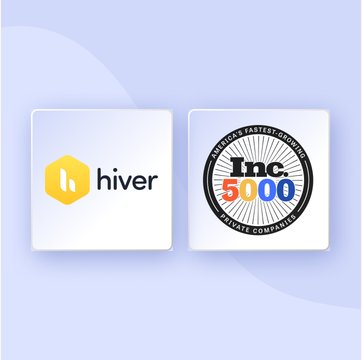 Table of contents
8000+ teams use Hiver to delight their customers!
Hiver Makes it to Inc. 5000
Inc. 5000's annual list recognized Hiver as one of the fastest-growing private companies in the United States in 2022.
Sep 21, 2022
|
2 min read
|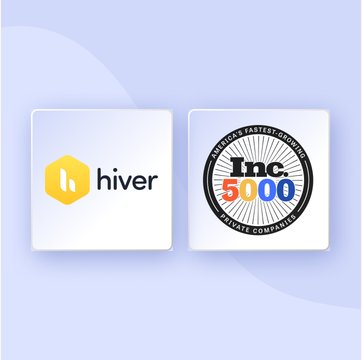 Table of contents
Hiver, the world's first customer service platform built for Google Workspace, has been recognized on Inc. 5000's annual list of the fastest-growing privately held companies in the United States. This prestigious list of the nation's most successful private companies has become the hallmark of entrepreneurial success., where future household names first made their mark – including the likes of Facebook, Microsoft, Under Armour, and many others.

Over the last three years, Hiver has achieved a record growth rate of 399% – credit to the persistent efforts to expand and improve the team behind the scenes. "I'm delighted to see that Hiver has made it to the prestigious Inc. 5000 list, along with other well-known names," said Niraj Ranjan Rout, CEO, and Co-Founder at Hiver. "We're on an exciting journey to build a truly world-class product in the space of customer service and this recognition strengthens our commitment towards the same."
This year's Inc. 5000 list reflects not only the achievements of a number of businesses, but also their resilience in the face of supply chain issues, labor shortages, and the ongoing effects of Covid-19.
"The accomplishment of building one of the fastest-growing companies in the U.S., in light of recent economic roadblocks, cannot be overstated," says Scott Omelianuk, editor-in-chief of Inc. "Inc. is thrilled to honor the companies that have established themselves through innovation, hard work, and rising to the challenges of today."
About Hiver
Hiver is the world's first customer service platform built for Google Workspace. The platform enables teams to assign, track, and collaborate on customer queries, as well as run the most advanced analytics and automation from the Gmail interface, without sacrificing any time on learning new software or switching tabs.
Hiver helps over 1800 companies worldwide — ranging from new-age unicorns to traditional enterprises — deliver a better experience to their customers. Companies like Flexport, Pluralsight, Harvard University, Appsflyer, Oxford Business Group, and Upwork, among others, are powered by Hiver.
About Inc. 5000
The world's most trusted business-media brand, Inc. offers entrepreneurs the knowledge, tools, connections, and community to build great companies. Its award-winning multiplatform content reaches more than 50 million people each month across a variety of channels including websites, newsletters, social media, podcasts, and print. Its prestigious Inc. 5000 list, produced every year since 1982, analyzes company data to recognize the fastest-growing privately held businesses in the United States. The global recognition that comes with inclusion in the 5000 gives the founders of the best businesses an opportunity to engage with an exclusive community of their peers and the credibility that helps them drive sales and recruit talent. The associated Inc. 5000 Conference & Gala is part of a highly acclaimed portfolio of bespoke events produced by Inc. For more information, visit www.inc.com.