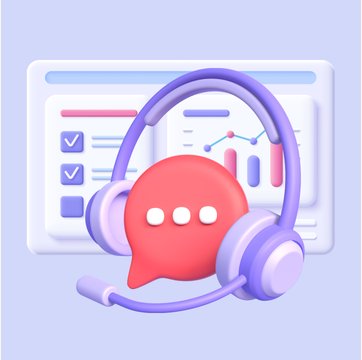 Table of contents
Turn Gmail into a collaborative hub
Mastering Customer Service: 7 Effective Strategies for Successful Management
Sep 06, 2023
|
8 min read
|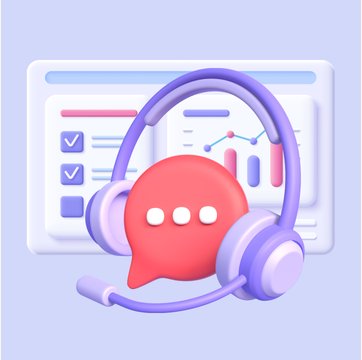 Table of contents
A well crafted customer service management strategy is at the heart of keeping customers happy. It plays an important role in defining what your brand stands for and for building long-term customer relationships.
When your company delivers great customer service on a consistent basis, you're not just meeting customer expectations but ensuring that they come back to you and do repeat business.
All of this ultimately boosts your bottom line – which is, revenue.
But, what goes into creating a fool-proof customer service management strategy? Let's find out.
Top 5 Customer Support Systems for Your Business in 2023
What is Customer Service Management?
Customer service management is the process of planning and implementing processes and technologies that enable your team to deliver outstanding support to your customers.
It involves overseeing every aspect of the customer journey, from the moment they are introduced to your brand to making a purchase to post-sale support.
The ultimate goal of customer service management is to enhance customer satisfaction, increase loyalty and retention, and boost critical business metrics such as revenue.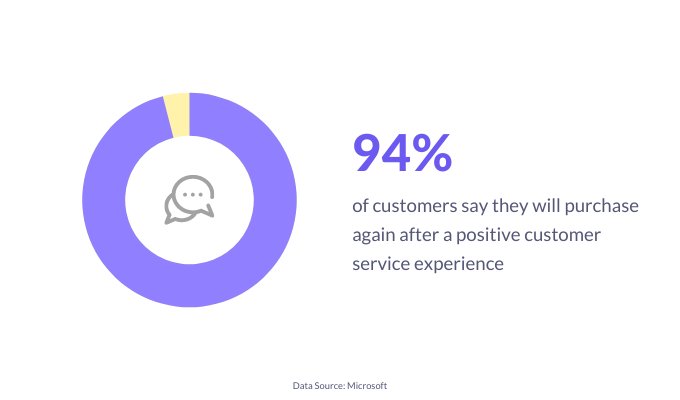 What are the Benefits of Customer Service Management?
Effective customer service management has several benefits:
Reduced customer acquisition costs: When customers are happy, they tell their friends and family about it, which drives positive word-of-mouth marketing. A number of brands rely on this strategy rather than investing thousands of dollars in paid marketing.
Positive brand perception: An effective customer service strategy can help turn negative service experiences into positive ones, creating a favorable brand perception even when issues arise.
Competitive differentiation: Outstanding customer service can set your business apart in a competitive market, becoming a key differentiator that attracts new customers. Think about it as one of your USPs.
Increased customer lifetime value: When customers are happy and satisfied with a brand, they tend to stick with that specific brand. This means they keep coming back to you and help drive repeat purchases.
Proactive customer service: An effective customer service team can identify and address potential issues before they escalate, helping your business tackle negative sentiment and reviews.
Customer-centricity: A strong customer service management strategy sets the tone for everyone in the company to be customer-centric. Because ultimately, what you stand for goes top-to-bottom. If your core values and ethics enforce the need to delight customers, it's easier to implement that mindset throughout the organization.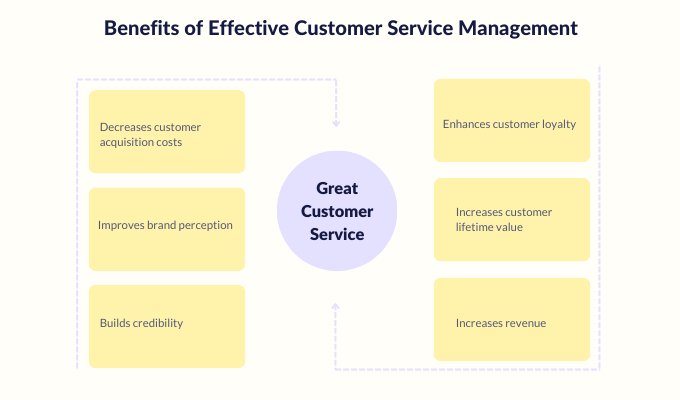 11 Customer Retention Strategies You Shouldn't Overlook in 2023
How to Develop An Effective Customer Service Management Strategy?
Developing an effective customer service management strategy requires a thoughtful approach that aligns with your business goals and customer needs. Here's a step-by-step guide for the same:
1. Build A Detailed Customer Profile
One of the most critical aspects of building an effective customer service strategy is to first understand your customer.
It starts with defining your target persona and by identifying their pain points, interests, and expectations.
For instance, do you know what your customers' likes and dislikes are? Where do they interact with your brands the most? What is their motivation in reaching out to you?
Collecting feedback is one of the easiest and most powerful ways to understand your customer. It helps you gather actionable insights and information into who your ideal customer is. Aside from this, you can also leverage analytics to gather real-time insights into your customers' behavior. This helps you make better business decisions – ones that work FOR the customer.
You might also like: What is Customer Happiness? 10 Practical Ways to Keep Customers Happy
2. Set Clear Objectives
The next step in building your customer service management strategy is to identify the specific goals you want to achieve.
For instance,do you want to specifically improve response times? Are you looking to hit an average customer satisfaction rating of 4/5?
Define these goals as clearly and specifically as possible.
Most importantly, ensure that your objectives are measurable and clearly aligned with your business needs.
3. Choose Your Customer Communication Channels
Once you have a clear idea on customer expectations and objectives that you want your service management strategy to meet, identify the relevant communication channels that your customers are most likely to use in your customer service management strategy.
For instance, where are your customers present? Do they prefer to interact with you via email or are they mostly present on social media platforms like Twitter, LinkedIn, or Facebook?
Having this insight will help you figure out where resources need to be channeled.
For example, if 80% of your customer base reaches out to you via email, then delivering quick, efficient email support should be your top most priority.
Also, keep in mind that you will need to set up your customer service strategy in such a way that there is seamless integration between all your relevant channels. This ensures that you are able to deliver a consistent support experience across all channels.
For instance, say a customer initiates a support interaction via live chat. But during the next interaction, the same customer switches to email. In such scenarios you need to ensure that your customers don't have to keep repeating themselves.
A good example is how Hiver brings together email, live chat, knowledge base, and voice communication right inside Gmail. This enables your agents to offer multichannel support without having to switch between multiple applications at a time.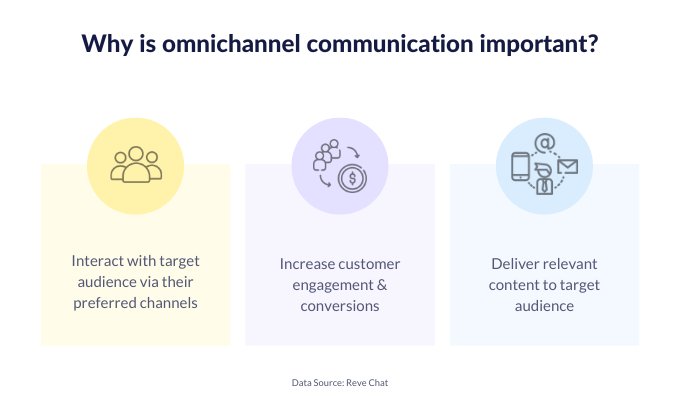 4. Build A Skilled Team
Your customer service agents are at the frontline of your business, which is why it's essential that you hire the right people for the job.
This requires a combination of strategic planning, recruitment, training, and ongoing support.
You will need to define clear roles and expectations for each team member. This includes performance expectations that encompasses response time, issue resolution targets, and customer satisfaction goals
While recruiting customer service representatives, it is important to look for these skills, qualities, and traits.
Excellent verbal and written communication
Active listening to understand customer needs and concerns
Patience and ability to remain calm under pressure
Critical and analytical thinking to resolve complex problems and find effective solutions
Flexibility and adaptability under different circumstances
Industry knowledge
Time management
Attention to detail
Tech-savviness
Once you find the right fit for your team, you need to develop a comprehensive onboarding program that covers aspects like company values, customer profiles, product insights, communication best practices, and more.
It is also important to give your employees regular training to keep them up to date with your customer service procedures, latest product launches, and industry trends. This is key for consistent and high-quality customer service.
You might also like: How to Build and Organize Customer Support Teams
5. Implement the Right Tech Stack
Support tools are important in enhancing the efficiency, effectiveness, and quality of your customer service management strategy.
They help centralize customer communication, route tickets to the right agents, drive faster internal collaboration on tickets, track team performance, and ultimately – provide more efficient support.
This is precisely why it is important to invest in the right customer support tools for your teams.
When choosing one, you need to evaluate your current customer service pain points and inefficiencies and see how implementing it can make a difference.
For instance, your support team may be dealing with a huge volume of customer inquiries and having a hard time ensuring that all incoming queries are assigned to relevant team members.
Or maybe you need a tool to help you provide live chat support and self-service options.
By considering these factors, you can narrow down on the specific features and functionalities you want your customer support tool to have. Here's what you should take note of when choosing a customer support tool.
Ease of use
Accessibility
Multichannel customer support
Integration capabilities
Customization and scalability
Robust reporting and analytics
Security and data privacy
Cost and pricing structure
User reviews and vendor reputation
You will also need to define the objectives you hope to achieve with the implementation of a customer service tool. They can include:
Improved response times
Efficient ticket management
Enhanced customer satisfaction
Personalized support
A tool like Hiver for instance, is super easy to set up and allows you to offer seamless support without any extensive training. You can easily assign incoming queries to support agents, use Hiver's smart automations to take care of repetitive tasks, and track critical customer service metrics with the platform's robust reporting and analytics feature.

Simply speaking, Hiver can do everything a help desk does – right from Gmail.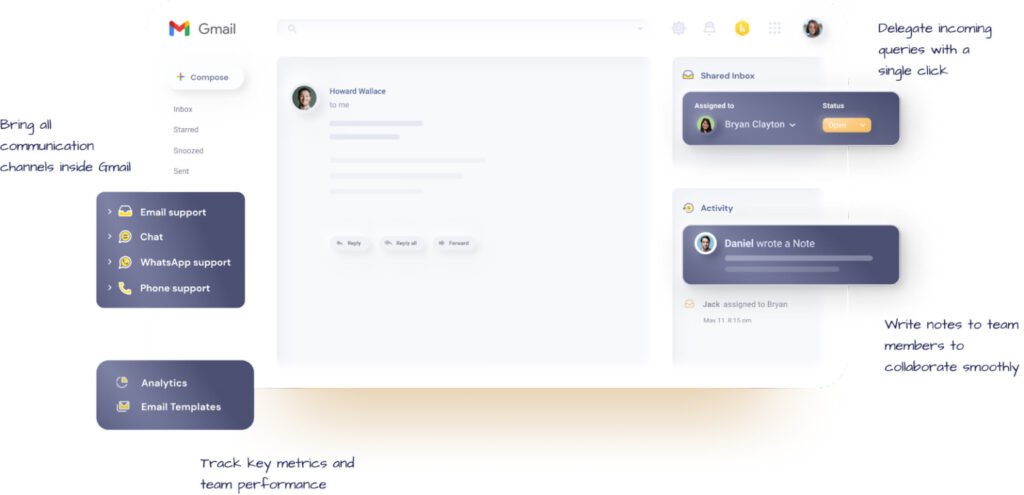 You might also lie: 9 Must-Have Customer Support Tools to Integrate Into Your Tech Stack in 2023
6. Define Metrics to Track Success
Tracking metrics is a key part of data-driven decision making in your customer service management strategy. It allows you to identify bottlenecks in your customer service processes. Aside from this, metrics are an important way to keep track of customer behavior, preferences, and challenges.
It can also help you with allocating resources more efficiently, setting realistic goals, and optimizing customer journeys.
In order to define meaningful metrics, you will need to first identify your critical customer service objectives like we discussed earlier. You will also need to understand what constitutes a great support experience for your customers. For instance, quick responses, accurate resolutions, personalized interactions, self-service, etc.
Based on these insights you need to identify relevant metrics that align with your goals while also helping you determine the quality of customer service.
Here are some important metrics that define the success of your customer service operations:
Customer Satisfaction (CSAT): A direct measure of customer happiness. Customers are asked to rate their satisfaction with a recent interaction on a scale (e.g., 1-5). High CSAT scores indicate positive experiences.
Net Promoter Score (NPS): Measures customer loyalty by asking, "On a scale of 0-10, how likely are you to recommend our company to a friend?" Based on responses, customers are classified as promoters, passives, or detractors.
Customer Effort Score (CES): Measures how easy it was for customers to resolve their issue. The question might be, "How easy was it to get the help you needed?" Lower scores indicate higher ease.
First Response Time (FRT): Measures how quickly the first response is provided after a customer submits a query. A shorter FRT indicates faster initial engagement.
Average Resolution Time (ART): Tracks the average time it takes to fully resolve customer issues. Lower ART demonstrates efficient problem-solving.
Ticket Volume: The total number of customer inquiries or tickets received. Tracking ticket volume helps manage resource allocation.
Escalation Rate: Measures how often tickets need to be escalated to higher-level support or management. Lower escalation rates indicate that most issues are resolved by frontline support.
Customer Churn Rate: Tracks the rate at which customers stop using your product or service. High churn rates may indicate dissatisfaction with support or overall experience
Regularly analyzing and interpreting these metrics helps you understand where improvements are needed and where you're excelling, ultimately guiding your efforts to provide exceptional customer support.
You might also like: 18 Key Customer Service Metrics + How to Use Them
7. Personalize Customer Interactions
A customer service management strategy is only effective if it can strengthen the relationship you have with your customers. Personalizing interactions do just that. It allows you to build emotional connections with customers, enhance customer satisfaction, increase engagement, improves retention, and brings about a positive brand perception. All of which has a direct impact on the bottom line of your business.
Here are some ways you can deliver personalized support.
Constantly review and analyze customer history to get better context during support interactions
Send customers a gift coupon or a card with a personalized message on occasions such as birthdays or anniversaries
Greet them by their first name whenever you address them
Show empathy by acknowledging the customer's emotions and concerns
Communicate with the customer through their preferred channel (email, chat, phone) whenever possible.
Anticipate the customer's needs and provide information or assistance before they ask. For example, if they're using your app, offer tips on new features.
After resolving an issue, follow up with the customer to ensure their satisfaction, collect customer feedback, or to provide additional assistance.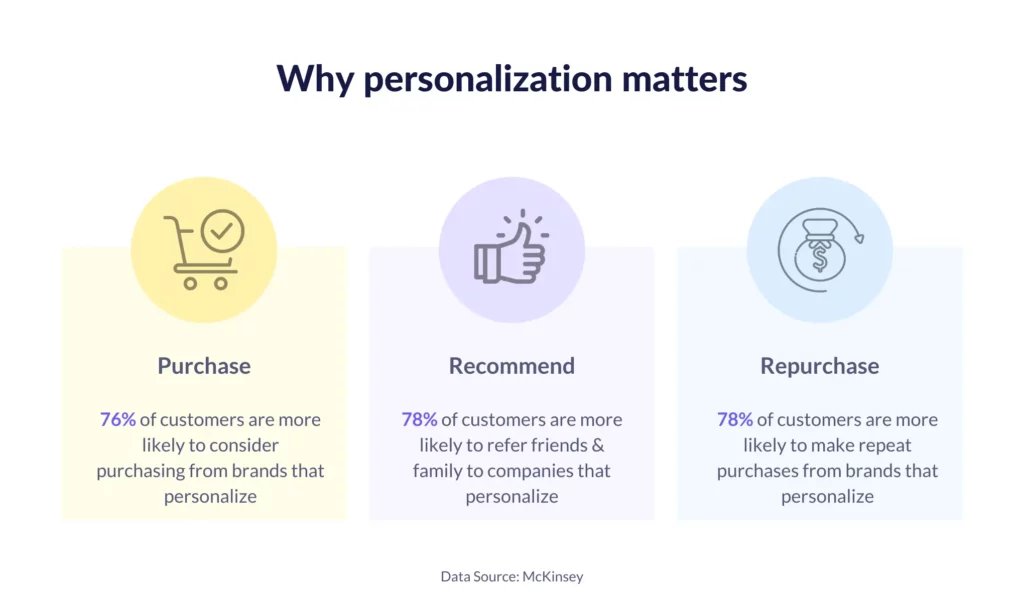 You might also like: Delivering Personalized Customer Service: 5 Tips You Should Try
Conclusion
Building an effective customer service management strategy elevates the customer experience, boosts brand loyalty, and drives growth.
By defining clear cut support objectives, assembling skilled teams, implementing the right tools, tracking success metrics, and personalizing customer interactions, businesses can create a service management strategy that truly sets them apart in this era of endless choices.