Table of contents
Turn Gmail into a collaborative hub
Most of the time, emailing is a burden. Incoming mail floods into your inbox and after a while, you feel swamped by the sheer volume of mail you get every day. Every time you sit down to focus on a task, every time you're in a meeting or even when you just turn your head, the unread email count just grows and grows.
We've all been there, dreading to open the mail tab, afraid to see what's waiting for us there – but here's the good news, you don't have to drown in an email. By applying the advanced Gmail tips I am about to introduce in this post, you will have everything in-hand to make sure you're using your Gmail inbox efficiently.
There are two great methods for handling your Gmail account; the Zero Inbox Approach and the GTD (Getting Things Done) method.
Zero Inbox approach
The core of the zero inbox is that you keep your inbox empty as far as possible by handling all email that comes in. Of course, this is not rocket science, but how is it possible? This is where it becomes difficult; we have to react efficiently, following an efficient process for every single email:
An email comes into your inbox
Handle those you can instantly by reacting to it or archiving it
If you find an email you don't want to deal with immediately, mark as "to do", "awaiting reply", "info" or any other label that you can easily follow up
Archive all your emails or sort into a folder
Your inbox on the left is empty again
And all the important ones are in the special boxes ones the right
The goal is that you should sort out your incoming mail in folders rather than keep them in your inbox. With this method, you only need to log in to your email account just a couple times a day, but when you do you have to handle all incoming mail – and that includes answering, marking and sorting them.
For a detailed instruction on how to apply this to your own inbox, read this great article from Andreas Klinger. With his step by step instructions, you'll be able to reorganize your mailbox in no time.
Bonus tip: Hiver allows you to share Gmail labels to assign tasks, without having to forward emails.
Getting things done
The GTD or Getting Things Done method rests on the idea of moving planned tasks and projects out of the mind by recording them externally and then breaking them down into actionable work items.
This allows you to focus your attention on performing tasks, instead of simply recalling them. Also, by getting smaller actionable tasks you can significantly increase your efficiency as you won't postpone simple tasks when you can see an endpoint.
Better still, why not combining these two methods, giving you a good base to help you get through your email easily.
OK. Now you have an organized inbox – but what other hacks can help you bring your email usage to the next level?
Here are some extra tips and tools that you can apply to your Gmail account:
Gmail tips #1: Canned Answers
This feature can be very useful when you need to write a lot of emails but don't want to use an email automation tool. You can create templates in your Gmail account and use them later by typing in a keyword.
You can set up the feature like this:
In your Gmail settings go to the 'Labs' tab
Enable the 'canned response' lab
Save changes
Use the templates when you are writing an email

If you don't want to bother with the setup there are more expert solutions. For example, Hiver has a built-in template function, which you can even share with your co-workers. This can prove incredibly useful when you are managing your client base from your Gmail.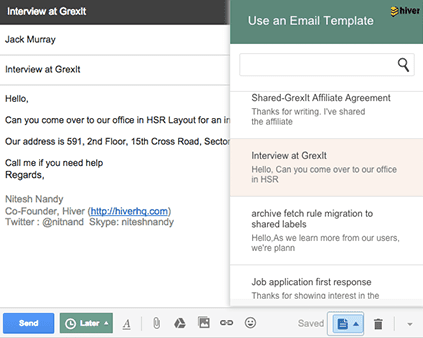 Gmail tips #2: Custom keywords
This may sound trivial but many still don't use this valuable feature of Gmail, which is a shame considering how extremely useful it can be. The principle is the same as with any other shortcut feature; you can set up custom shortcuts to custom actions to reduce time when managing your emails.
To enable this:
In the Gmail settings page go to 'Labs' tab
Enable 'Custom shortcuts' lab
Save settings
In the settings page go to 'Keyboard shortcuts' tab you can define any custom shortcut you like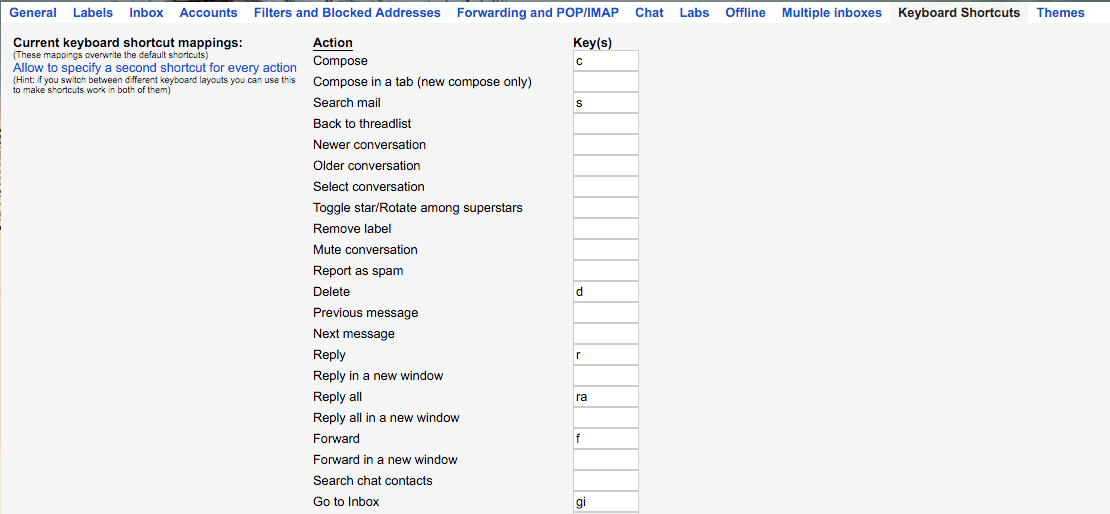 Now you can reply, delete, archive and much more at the click of a button. It's definitely a feature worth setting up.
Gmail tips #3: Unsubscribe from lists
I have a confession to make; I am an addicted subscriber. I basically subscribe to anything, sometimes several times. When I see an ebook, a whitepaper or some content I find interesting, I won't even think about whether I should give me email address in return, I just type it in and hit subscribe.
You can imagine what my inbox can look like, and yes it was a total chaos until I started to unsubscribe from lists that didn't provide value to me. It can sound like overkill, to subscribe then unsubscribe to lists, but be honest; we have all subscribed to a list just to get that one free ebook. Haven't we?
So how can you sort through your subscriptions in the fastest way possible? There's a fantastic tool called UnRoll.me, which (after sign-up) scans your inbox for subscriptions. For me, it found 124 – I told you I was a subscriber junkie!
Then it creates a dashboard where you can manage all your lists using functions such as unsubscribe, keep in inbox and so on.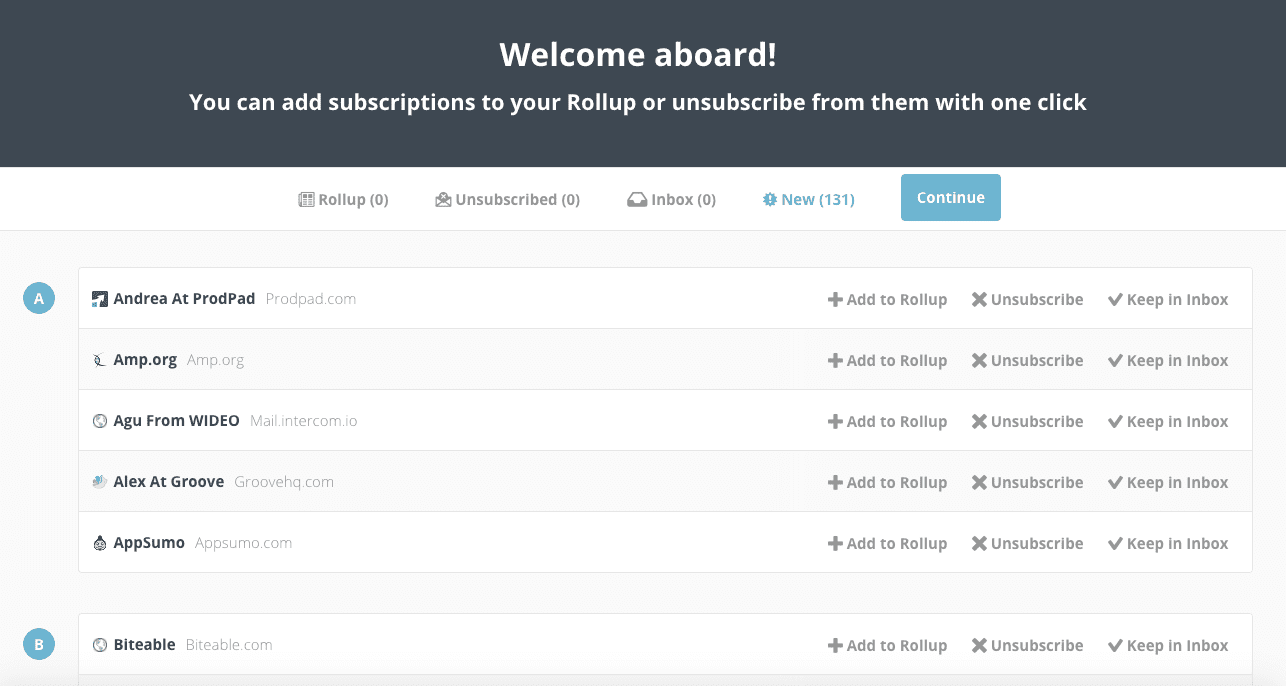 Gmail tips #4: Undo sending
This is also a basic feature but I think I don't have to explain the benefits of this. How many times have you hit 'send' and then in the next second you saw that you sent it to the wrong address or simply forgot to attach the file you were supposed to send. With this feature, this will never happen again.
To set it up:
Go to settings in Gmail
On the 'General' tab, find 'Undo Send' option
Check the box to enable it
Set the time for the cancellation period (between 10-20 seconds is fine)
Save settings

If the setup doesn't work you should:
Go to settings
Choose 'Labs' tab
Enable ' Undo Send' option, save
Then go to the 'General tab' and do the first 5 steps
To use it you just have to click on the undo option in the yellow box that now appears after you hit send (it will appear at the top of your Gmail inbox).
Gmail tips #5: Offline Gmail
You can use Gmail in offline mode also. It has limited functionality and it will send any emails you write when you are next online, but it is really useful when you prefer to fully focus on a task and don't want email notifications interrupting you.
If you want to use Gmail offline for avoiding distractions, here's a tool for you. Pause is a plugin you can activate in Gmail which adds a nice blue 'Pause' button next to the Compose button of your inbox. Clicking this button effectively pauses emails coming in.
This plugin allows you to focus 100% on your work, and you can deal with those other emails whenever you decide to.
Gmail tips #6: Follow up sent emails
When sending out emails I believe you should be just as conscious about metrics and analytics as when sending out an email campaign or starting a social media ad. So before you hit send, you should plan how you intend to keep track of the email; and you can do this by tracking and follow up.
By tracking your email you will be able to see if your message was opened, and after that, you can send the appropriate follow-up email. For example, if you don't get an answer you can send a reminder email with the right tone.
To get this in motion you will need a tool that's able to track emails. Hiver has a great feature that allows you to snooze emails away and get reminders at the time you choose.
Gmail tips #7: Forbidding email follow-ups
If your goal is to avoid being tracked and forbid others to monitor your email habits there are options for that too. You can disable these follow-up tools or at least get a notification when a tool is trying to monitor you. Try Ugly Email or Pixelblock.
Gmail tips #8: Identify sender via email address
Finally, this is one of my favourite extensions that you can use to pimp up your Gmail. Let's say you get an email from a sender and you have no idea who is. It would take precious time to research the sender, but not if you have Clearbit Connect in your Gmail.
Using this plugin will gather all the information available from both the sender (mainly from social sites) and the company they work for, and show it on the right side of your inbox.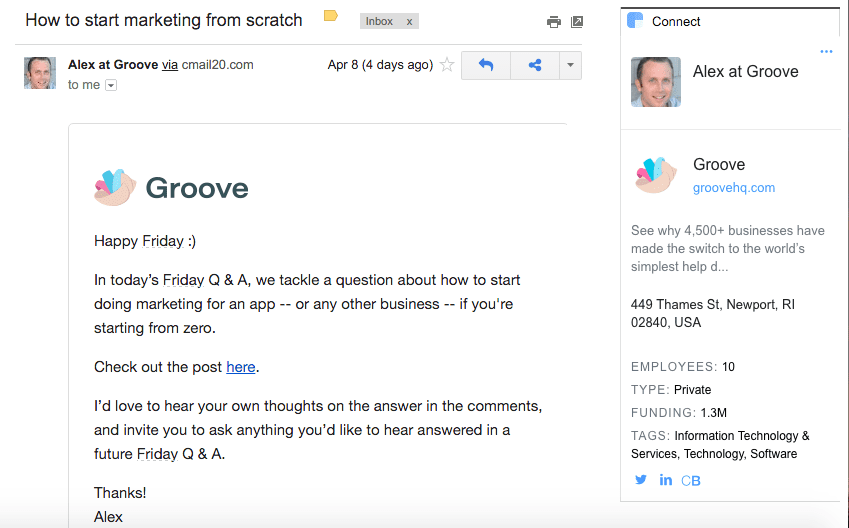 And if that's not enough you can search for a specific email from a specific company you want to connect with. Just type in the company name in the search bar and the list of email addresses will appear.
—