Table of contents
Turn Gmail into a collaborative hub
What is the most commonly used team mailbox?
Being an organization that has an uncanny love for email and is a maker of a shared mailbox solution, it was only imperative that one day this harmless question would lead to a seriously heated debate.
Shared mailboxes, if you are coming across this term for the first time, is a generic group email id like [email protected] or [email protected] where multiple people can access emails received on the particular mailbox.
We at Hiver have shared mailbox camps. Everyone has a favorite team inbox which they think (and sometimes insist) is most widely used.
So, to put an end to this debate, we decided to look at publicly available data of over 30,000 US companies that use G Suite.
Here's what we found:
Info@ takes the top honor
Info@ is the most commonly used team inbox whereas support@ is a distant second. It wasn't really a surprise considering info@ is an industry-agnostic term. In fact, for most of the industry verticals we studied, the number of info@ inboxes was more than double of support@.
Around 42% of the companies we studied have an info@ mailbox whereas support@ was used by roughly 18% of the companies in the sample set.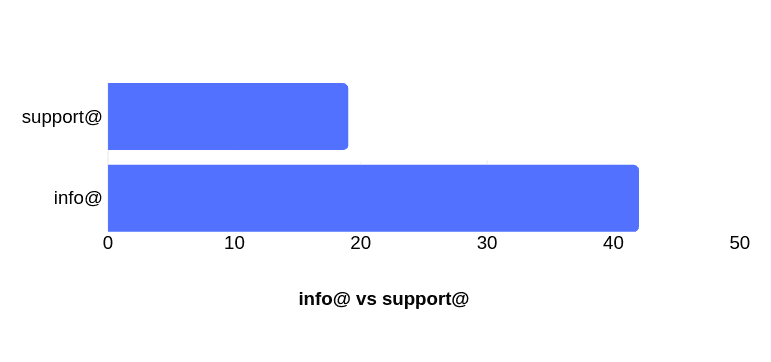 Strong contenders in sales@ and hello@
Although info@ and support@ led the charts, generic inboxes like sales@, hello@, and contact@ were quite popular as well.
Nearly 10% of all the companies had a sales@ shared inbox, making it the third on our list of most-used-shared-inboxes. In the automotive vertical, sales@ was even more widely used than the support@ shared inbox.
6% of all the companies we looked at had a hello@ shared inbox, making it 4th on our list. More companies from the Finance and F & B verticals used hello@ over sales@.
contact@ – Only 5% of the companies use this shared inbox. This statistic came as a surprise to us since we expected contact@ to be higher up on the list. More companies in the finance, technology and education verticals used contact@ over hello@.
privacy@ – A lot of companies took privacy seriously, making it the 6th most popular shared inbox, accounting for close to 3% of all the shared inboxes. Companies in the technology, finance, and education verticals use privacy@ more than other shared inboxes such as service@ and sales@.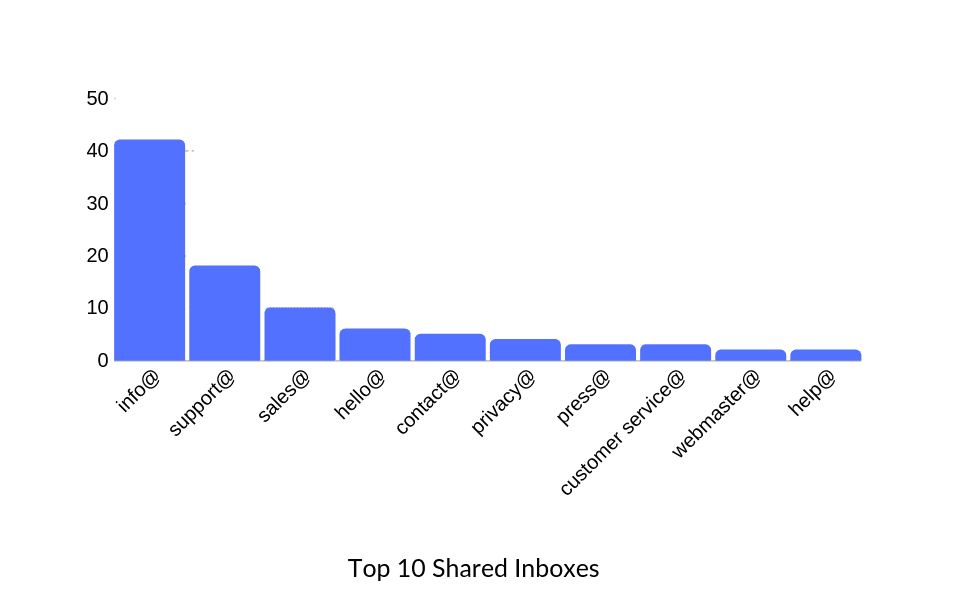 Education bucks the trend
The Education vertical threw up a few surprises which we feel deserve a special mention.
admissions@ – Given the nature of this vertical, it was not a surprise that admissions@ became the third most popular shared inbox among this set of companies. There were also a lot more institutes which used admission@ over sales@.
webmaster@ – Of all the other verticals, education had the most number of companies using webmaster@ as an inbox.
There were more educational institutions using alumni@ and privacy@ shared inboxes than sales@, showing where their priorities lie.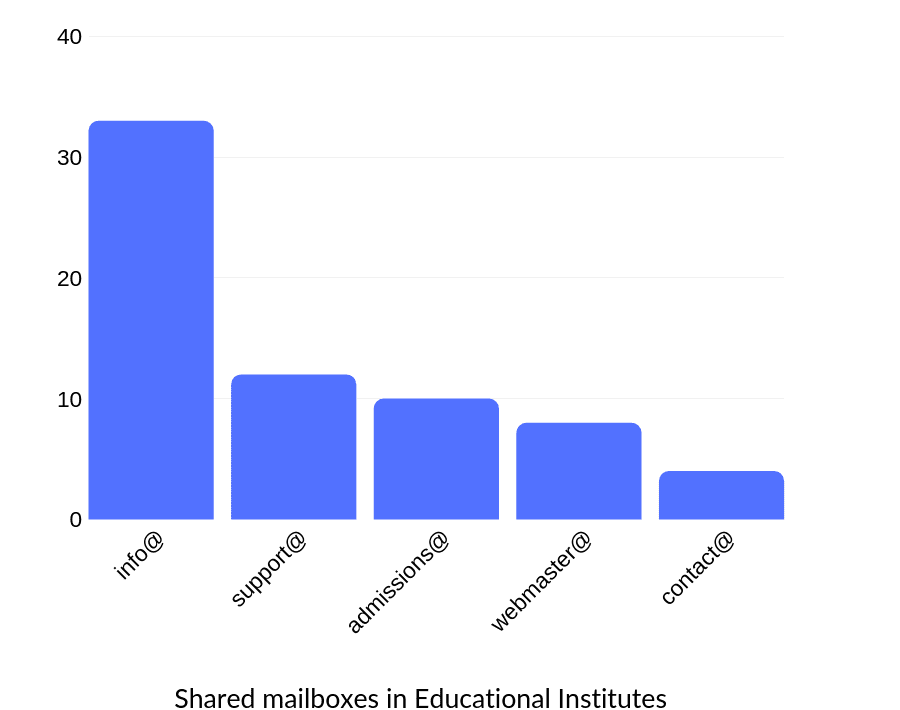 Love@, joy@, and smile@
There were a few shared inboxes names that really stood out from the rest, not so much for being popular but for being super creative.
happy@ – There were 9 companies that were overflowing with joy, and that is why we guess they used a happy@ shared inbox. Also, 14 companies used the joy@ shared inbox.
investigators@ – If you need to hire a spook, you know where to go.
love@ and customerlove@ – Four companies in the business vertical spread love using a love@ shared inbox.
guy@ – We are not even going to analyze what these 11 companies were thinking when they created a "guy@" shared inbox.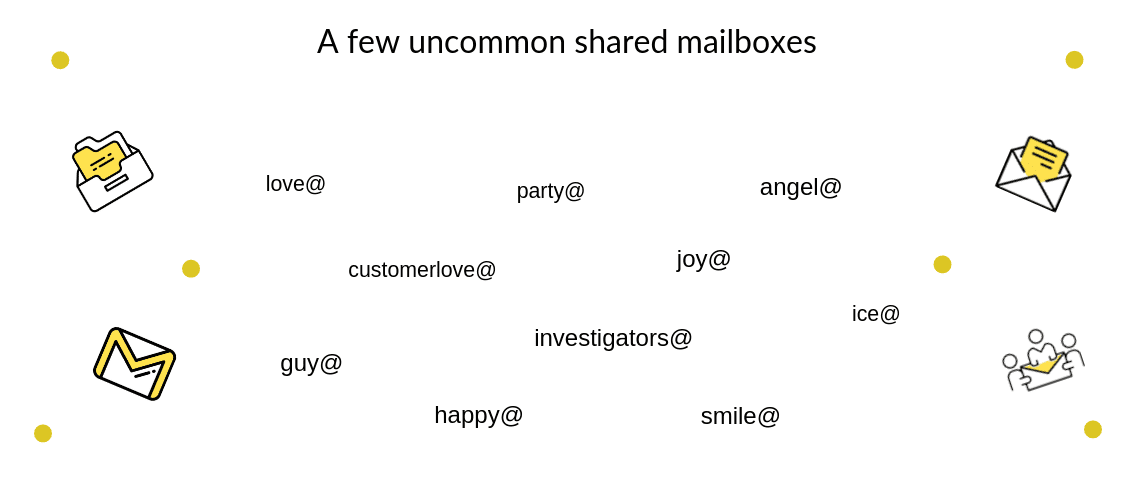 Some of the other noteworthy mentions were joy@, ice@, angel@, smile@ and party@.
Have you come across a fun shared inbox that you feel deserves a mention? Write to us on the comment.