Table of contents
8000+ teams use Hiver to delight their customers!
Google Apps is a subscription-based service that offers email and collaboration tools to take care of the most common tasks you'll find at any business. Google Apps setup is easy, and works well with a lot of other services.
In fact, it's almost regarded as the de facto standard when it comes to email and collaboration tools. So much so that according to Google, over 5 million businesses, including 60 percent of Fortune 500 companies, rely on Google Apps and Gmail.
Migrating your business over to Google Apps and Gmail
Made up your mind about deploying Google Apps at your workplace? We've got a quick, step-by-step guide that should have you up and running in a jiffy. We'll cover all the basics, giving you a fair idea as to what all's involved in migrating to Google Apps. Here are the topics we are planning to cover in this guide:
Table of Contents
This should cover all the basic information you need to get started with Google Apps. Ready to set up Google Apps at your workplace? Let's dive in!
1. Picking the right Google Apps edition
Google Apps comes in three variants that cover businesses and nonprofits of all sizes. Here's a quick guide to which one is best for you:
I. Google Apps for Work
It is a one-size-fits-all version that should work for most people – from self-employed professionals to startups and even larger companies that don't need the advanced features of Google Apps Unlimited.
What do you get with Google Apps for Work
Access to messaging, ad-free Google apps email, custom email addresses using your Google apps domain, contact directories, ability to assign user rights by creating organizational units, sync with Exchange and Outlook, storage, collaboration, document creation and editing, social and multimedia services, 30GB storage per user, mobile access, data import from other apps… You also get a 99.9% uptime guarantee, 24/7 phone support, and priority email support.
Pricing
US$5 per user each month, or USD$ 50 per user annually
II. Google Apps Unlimited
It is aimed at larger businesses and offers a few extra features on top of what you get with Google Apps for Work.
What do you get with Google Apps Unlimited?
It includes all the features of Google Apps for Work, along with Google Vault for email and document search and email retention (available as a paid add-on for Google Apps for Work),unlimited storage, and advanced auditing, reports and administrator controls for Google Drive.
Pricing
US$10 per user each month
III. Google Apps for Education, Nonprofits, or Government
Google also offers Google Apps for Work for free to qualifying education, nonprofit, and government users. Apart from this, Google also offered a free version of Google Apps that has now been discontinued for new users – legacy users can continue to use a reduced set of features at no cost.
2. The Basics – The Admin Console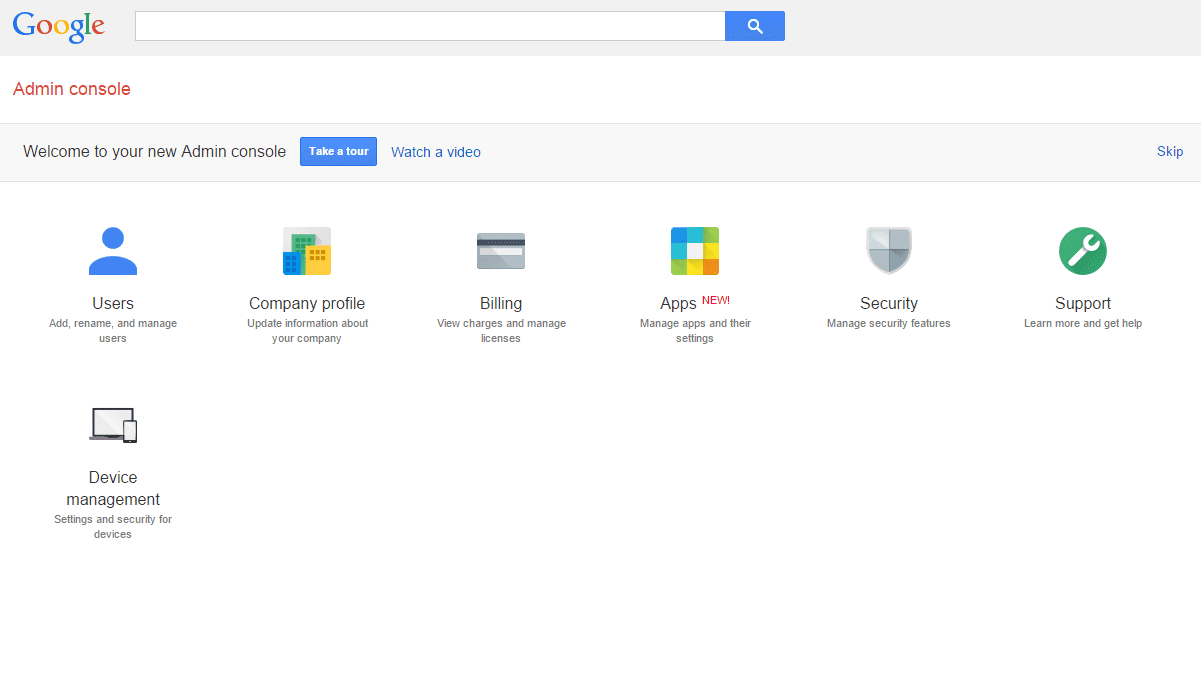 The admin console lets you oversee and manage your deployment. You can add and remove services, modify billing, manage devices, create user accounts, set up Google Apps email, and perform other administrative tasks through this Admin Console.
Note: Some settings might not be visible on the main Admin Console dashboard – just click on the 'More Controls' footer bar and you can then drag any more of your frequently used settings to the main screen.
3. Making your domain a Google Apps Domain
You need to verify ownership of your domain before using it with Google Apps. Google allows up to 21 days to do so; however, some services, such as Gmail, will remain unavailable until you have confirmed ownership of your domain.
You can verify that you're the owner of your domain by either of these methods:
Adding a TXT / CNAME Record to your domain's DNS settings
Uploading a file to your web server
Adding a <meta> tag to your website's home page
4. Starting with Gmail – Adding MX records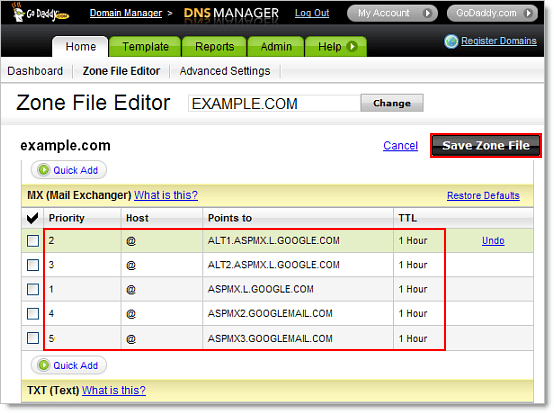 Before you can start receiving mail addressed to [email protected], you need to link your domain Google's Gmail servers. To do this, you'll have to log in to your domain control panel and add new MX records pointing to Google's servers. You can find the MX record values at Google's support site. Alternatively, your domain hosts might offer a preconfigured setting for Google Apps. If that's the case, all you have to do is select the 'Google Apps' option and the MX Records will be set up to work with Gmail.
Note: To check whether your mail system has been set up correctly, head over to MX Toolbox and enter your Google Apps domain name in the MX lookup box.
5. Securing your email: Use DKIM, SPF, and DMARC to protect against spoofing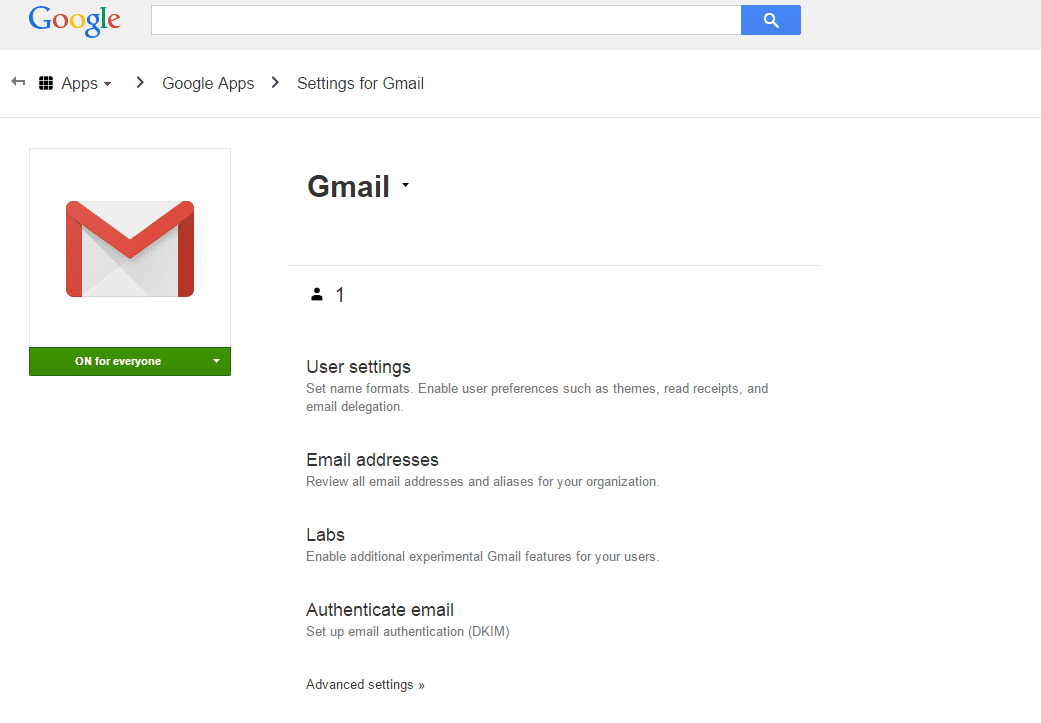 I. Set up DKIM Authentication
Once you've got your email system working, the next step really should be adding DKIM authentication. DKIM adds a digital signature to any outgoing mail, confirming to recipient mail servers that any mail they receive from your Google Apps domain has been sent by an authorized user, not a spammer who's managed to spoof your email ID.
To add DKIM authentication, log in to your Google Apps dashboard to generate your domain's DKIM key. Next, log in to your domain host and create a new TXT record in the DNS settings that includes your key.
How does this help?
DKIM authentication reduces the chances of bonafide email being caught by spam filters that have become used to seeing spam mails being sent from spoofed ID. There's also the chance of a scammer successfully obtaining proprietary information from your employees or clients who
II. Set up SPF Records
SPF records add another layer to making your email secure – they are a list of outgoing mail servers that are authorized to send email from your domain.
To set up SPF records for your domain, log into your domain control panel and add a new TXT record with the value v=spf1 include:_spf.google.com ~all
How does this help?
SPF records let recipient mail servers check whether any mail claiming to be from your organization has actually been sent through your mail servers, or whether it's a spoofed mail sent by a rogue email gateway.
III. Add a DMARC record
DMARC adds yet another step to stopping spammers from sending mail that appears to have come from your domain. Adding a DMARC record will let you decide how other email servers will treat mail from your account
How does this help?
A DMARC record will let you set policies that will guide other domains in decided whether to accept or reject mail that appears to be sent from your domain. You can set DMARC up so that any unauthenticated mail from your account be rejected by other email servers, reducing the chances of phishing attacks that use your Google Apps domain.
TIP: To verify that you've set up DKIM and SPF authentication properly, wait up to 24 hours for the DNS changes to propagate to servers around the world. Then send a blank email to [email protected] and you'll get a reply from the authentication tool, containing a report on your domain's SPF and DKIM status.
6. Adding Google services to your Google Apps account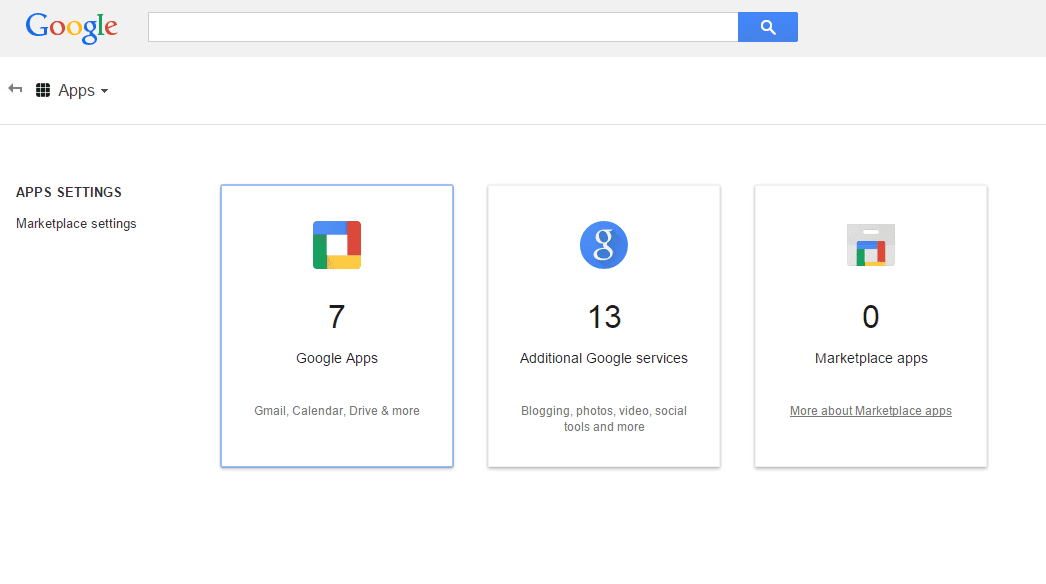 When you sign up, some services are added by default – including Gmail, Calendar, Hangouts, Drive. You can add additional Google services by logging in to your account dashboard and clicking on 'Apps', and then selecting 'Additional Google Services'
You can also enable and disable services for users by selecting a service and then using the drop down menu to choose between 'off', 'on' and 'on for some organizations'.The last option is for when you've divided your users according to Organizational Units.
7. Creating user accounts and assigning privileges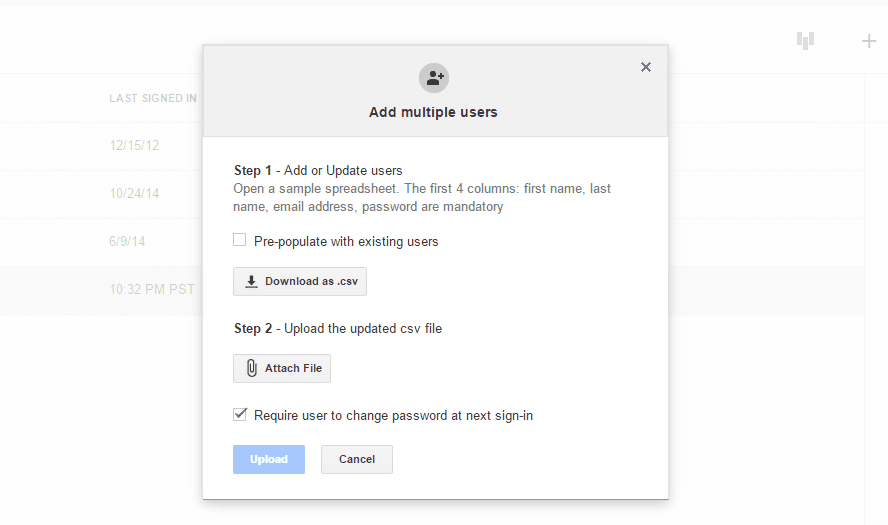 You've got two options when it comes to adding users to your Google App system:
Add them individually using the Admin Console
Add multiple users at once by uploading a CSV file
Note: As administrator, you also get to enforce password strength for your users and add recovery information.
Other features of Google Apps user management bigger businesses will like:
You can sync user data with Microsoft Active Directory or a Lotus Notes server
Password Sync lets admins sync users' Google Apps passwords with Active Directory passwords.
Google Apps setup also gives you the option of assigning your users to separate Organizational Units, allowing you to grant access to services as required. Organizational Units can be added via the Users option in the Apps Dashboard.
Creating admin accounts
Many businesses, especially larger ones, will require many different admin accounts, with specific roles and permissions. Google Apps setup gives you the choice of either assigning Super Administrator status to a user and giving them complete access to the Admin console, or assigning limited admin rights via predefined or custom admin roles. You can find out more about the different admin account options via Google's Administrative Privilege Definitions page.
Managing reports and logs
It also makes reporting and logging easy. Your Admin Console includes an account activity option that will show admins both domain-level and user-level data. Admins can check data on security, apps usage, admin activity, email metadata, and more, and also set up alerts for critical events such as password changes and suspicious logins. Here's a list of reporting and logging options Google Apps provides.
8. Setting up security and two-factor authentication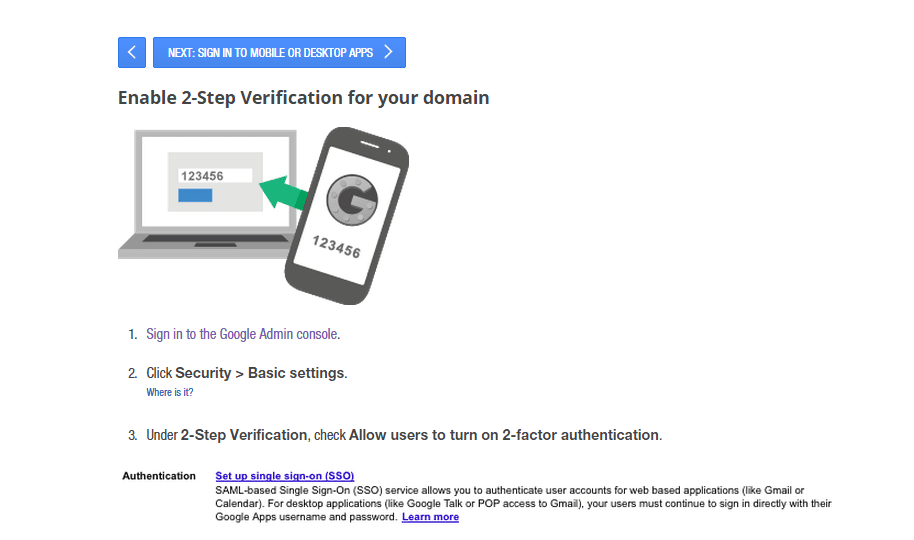 Before going further, take the time out to check the security settings. Here's what you need to look at:
I. Two-step verification
Two-step verification reduces the risk of unauthorized entry to your Google Apps system by making users enter a second password – obtained either through SMS or the Google Authenticator app.
II. Authentication
Check whether you've enabled DKIM and SPF authentication. This reduces chances of mail from your domain being marked as spam. If DKIM and SPF have been configured correctly, you might also want to set up DMARC email verification.
III. Account Recovery
Add recovery options to your admin accounts. While the first administrator is covered against any risk of being locked out (your initial account registration info is used for recovery),you should also create recovery options for other admins to reduce downtime and service disruption should any admin ever get locked out.
IV. Configuring Gmail whitelists and blacklists
There's still more you can do to fight spam, whether it's inbound or outbound. Google Apps setup gives you the option of setting up email whitelists and blacklists block spam from leaving or entering your company's network. You can read more about blocking spam on in our previous blog posts: Busting email spam on Google Apps and killing outbound spam and ensuring email deliverability.
9. Accessing Gmail on your desktop via IMAP and POP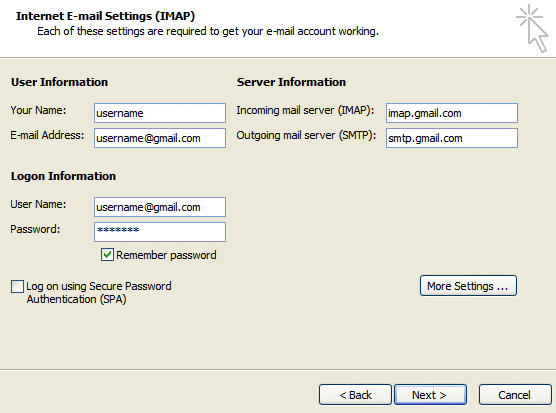 Your users are not limited to using the web interface to access Gmail – but can also use the IMAP or POP email clients they might already be familiar with.
I. Accessing your Google Apps Gmail via IMAP
IMAP provides a two-way link between your desktop email client and the mail server. Any action you take on your messages or folders is instantly synced back to the server. IMAP is well-suited for using email on multiple devices due to this two-way sync ability.
II. Accessing your Google Apps Gmail via POP
POP mail (which has been overtaken in popularity by IMAP) downloads all your messages from your email server. The main disadvantage of POP mail is that it's not suited for use on multiple devices – as all your messages will be pulled down to your email client, you have no way of accessing them on other devices.
III. Setting up Google Apps to work with IMAP and POP
Admins can enable IMAP and POP access for users through the Admin Console (Apps -> Google Apps -> Gmail -> Advanced Settings). You can also restrict access by Organizational Unit. Once enabled, you'll also need to set up access in your users' email client.
IV. Some Popular IMAP and POP clients:
You've got a wide variety of email clients to choose from should you decide to go in for IMAP or POP access:
Microsoft Outlook
Windows Live Mail
Mail App for Windows
eM Client
Thunderbird
Postbox
Opera Mail
Sparrow
Note: Google's labels are a non-standard way or organizing messages, and it's likely that your offline email client will not support them 'completely' – while you'll be able to use Gmail labels to categorize and organize your mail, it'll usually end up in multiple copies being left on your server. While this doesn't really impact usability, it's something your users might appreciate knowing.
10. Google Apps Migration for Outlook and Exchange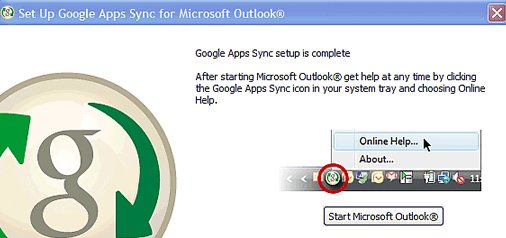 If your company's a long-time Exchange and Outlook user, there's plenty you can do to make Google Apps migration as painless as possible for your users. Here's what your options are:
I. Migration for Exchange
Google provides the Google Apps Migration for Microsoft Exchange utility for admins who want to move their users' mail, calendar, and contacts over from an Exchange or IMAP server.
II. Migration for Microsoft Outlook
Your users can install the Google Apps Sync for Microsoft Outlook utility provided by Google. This client-side app works similarly to the tool for Exchange migration, letting users move email, contacts, and calendar entries over from their Microsoft Outlook installation.
III. Sync Outlook with Google Apps
Admins can also use the Google Apps Sync for Microsoft Outlook utility to allow access to Gmail, contacts and calendar via Outlook. This lets users stick to their old workflow and yet access Gmail, Google Contacts, and Google Calendar via Microsoft Outlook.
IV. Use third-party tools for a seamless migration
A number of third-party services and tools provide Google Apps setup and Google apps migration services. These might be of use to larger organizations or even smaller ones who lack dedicated IT support staff. You can search for such providers on the Google Apps Marketplace. Popular services include SysCloud and ShuttleCloud
V. Setting up Active Directory Sync
If your organization uses Microsoft Active Directory or Lotus Domino, Google Apps migration becomes even easier thanks to the Google Apps Directory Sync tool. Add users, groups, and external contacts from your LDAP server to your Google Apps install. You can even choose to stick with existing organizational hierarchies and sync rich data – profiles, addresses, etc.
Note: To add more email scheduling features to your Gmail account, see our previous blog post Email scheduling for Gmail, Outlook, and Thunderbird.
Note: Want more reasons to switch over to Gmail from Outlook? Here's why Gmail's label system beats Outlook's old-school folder hierarchies and can really boost collaboration at your workplace.
11. Mobile device management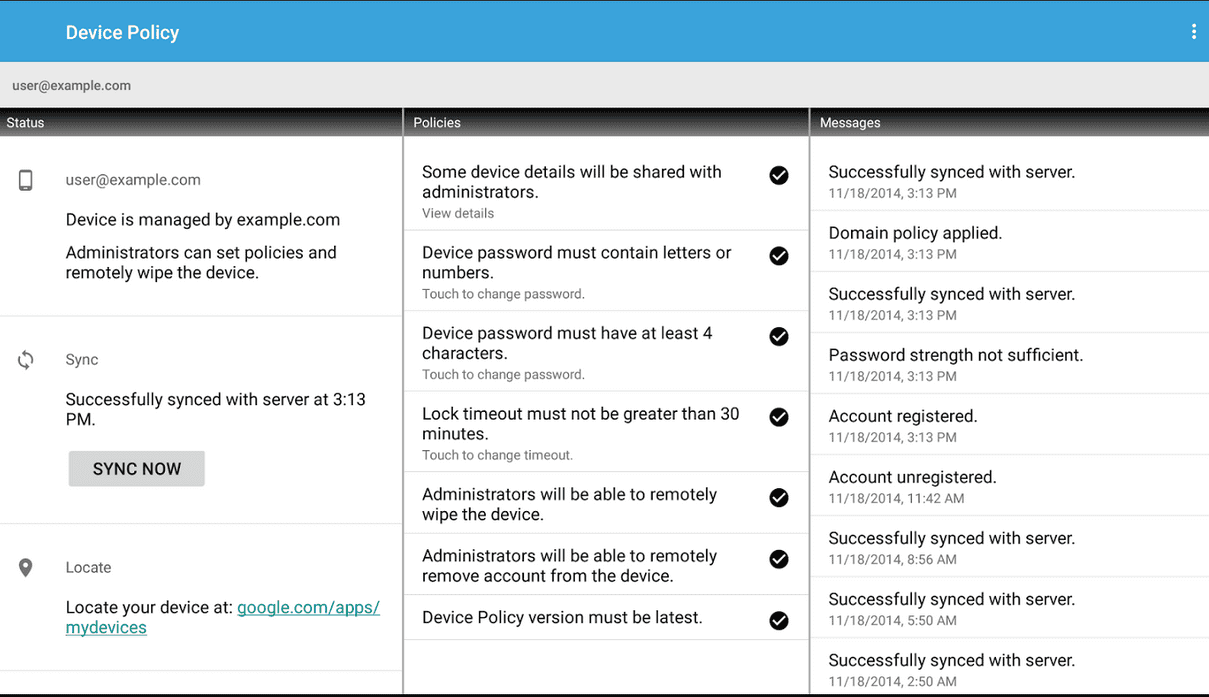 In this era of mobile BYOD, businesses rarely ever insist upon a particular smartphone platform. It also includes tools for ensuring your critical business data and email is safe, no matter what smartphone platforms your employees use.
Mobile Device Management can be accessed via your Google Admin Console. Once enabled, admins can set up and add mobile devices to their Google Apps system, set up security policies (individual or based on organizational units),push Enterprise Wi-Fi EAP certificates, and locate and wipe devices.
Platform Support
While Android devices support Google's mobile management natively, for other platforms (iOS, Windows Phone, Blackberry 10),you need to set up Google Sync, which uses Microsoft Exchange ActiveSync to manage devices.
Note: Some features, such as remote wipe, are available only on Android devices. For a comprehensive list of what mobile management features apply to a platform, head over to Google's support pages.
12. Google Apps Backup and Compliance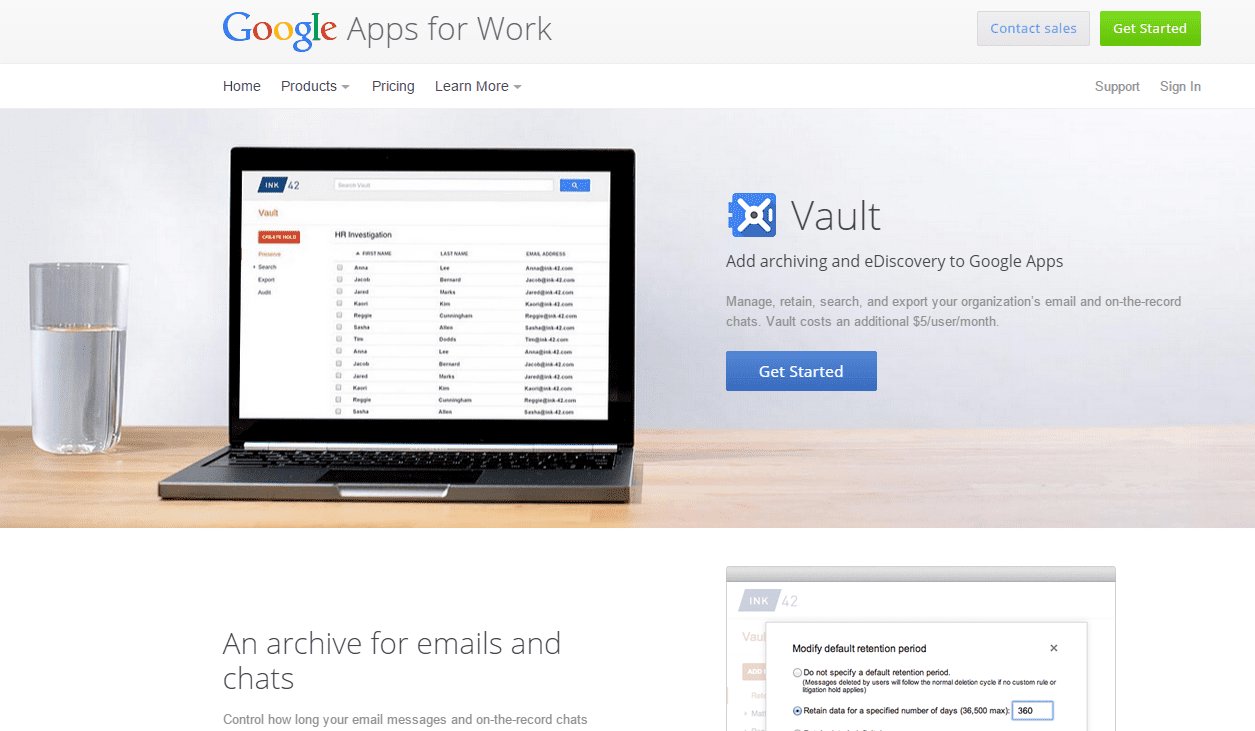 I. Backup your data
If you're really using Google Apps the way it should be, a lot of your critical data probably resides on Google's servers. Backing up this can be critical –Google's servers might be ultra-reliable, but what if any data crashes or losses get synced across your Google Apps install? For a comprehensive list of services and tools that help make your Google Apps install even more robust, read our previous blog post: 7 of the best backup tools for Google Apps and Gmail.
II. Compliance
Google Apps provides a range of compliance and retention oriented features to ensure your business can meet any legal obligations it's under. Here's a quick guide on getting started. But, if you just want to dive in, here are some tools that should be of use:
1.Google Vault – Google's eDiscovery and archiving add-on is a paid service for Google Apps for Work users, although Google Apps Unlimited customers get it as part of their subscription.
2. Backupify – Backupify is a Google Apps backup service that also provides SSAE-16/SOC2 audit compliance.
3. CloudLock – The CloudLock cloud security service provides automated content-based auditing and compliance.
Note: For more information on Google's provision for compliance and other regulatory issues, head over to their FAQs or visit their security site.
13. The best third-party apps for Google Apps users
The true power of Google Apps doesn't lie in the services Google gives you, but in the other services and apps that work alongside Google Apps, giving you productivity and workflow improvements other cloud platforms can't touch. For example, you can use Grexit to enable real-time collaboration via shared email labels, Zoho CRM to run a helpdesk, MailChimp for your sales teams… These third-party services and apps can be added to your Google Apps account from the Google Apps Marketplace.
Here's a short list of some of the best third-party apps for any business Google Apps user:
1. Hiver – Enhance productivity and boost collaboration to higher levels with Hiver's Shared Inboxes.
2. Rapportive – Access LinkedIn and other social media profile information right in your Gmail Inbox.
3. Streak – A CRM app that works from your users' Gmail inbox.
4. CloudMagic –A business-friendly email client that unifies all your cloud accounts and connects them to popular services like Evernote.
5. Boomerang – Schedule emails and setup follow-up reminders in Gmail
6. Zapier – Zapier enables workflow automation by connecting your favourite online services together.
7. IFTTT – Choose 'triggers' and make 'recipes' to automate your workflow and connect your favorite apps and services.
We hope this quick guide to setting up Google Apps has helped you in making the switch to what's one of the best online services for a business. Do follow our blog for quick guides on productivity, collaboration, and using Google Apps and Gmail in a business environment.
Further Reading: