In today's highly competitive real estate market, it is more important than ever for agents/brokers to not lose any time at all when you're scheduling site visits, fixing meetings, sending proposals, or making offers. You delay a response and someone else takes away the deal.
How fast and how well you respond to emails coming to your [email protected], [email protected], [email protected], email addresses from customers and partners will have a big impact on your revenues.
At the same time, how you and your team deal with every email in the inbox will decide how productive you are as a unit.
Unfortunately, email management is not as simple as it sounds. I am sure you can relate to one or more of the below :
I wasted a lot of time in my inbox

I wish I had replied to that customer sooner

I somehow forgot to follow-up with a prospect

I forwarded three emails to my teammate yesterday — wondering what happened to them

I am not able to find the previous email conversation I had with this customer

I am not sure who in my team is working with which customer

I am not able to find out what happened to that email
Knowingly or unknowingly, you're losing out on deals and opportunities — all because you do not manage your emails very well. You need a robust tool to make managing emails easy.
Let's learn how Hiver makes email management extremely simple for you and your team.
When you have Hiver, you will have the ability to access and manage multiple email addresses from your inbox.
Not just you, anyone from your team can manage these email addresses from their inboxes.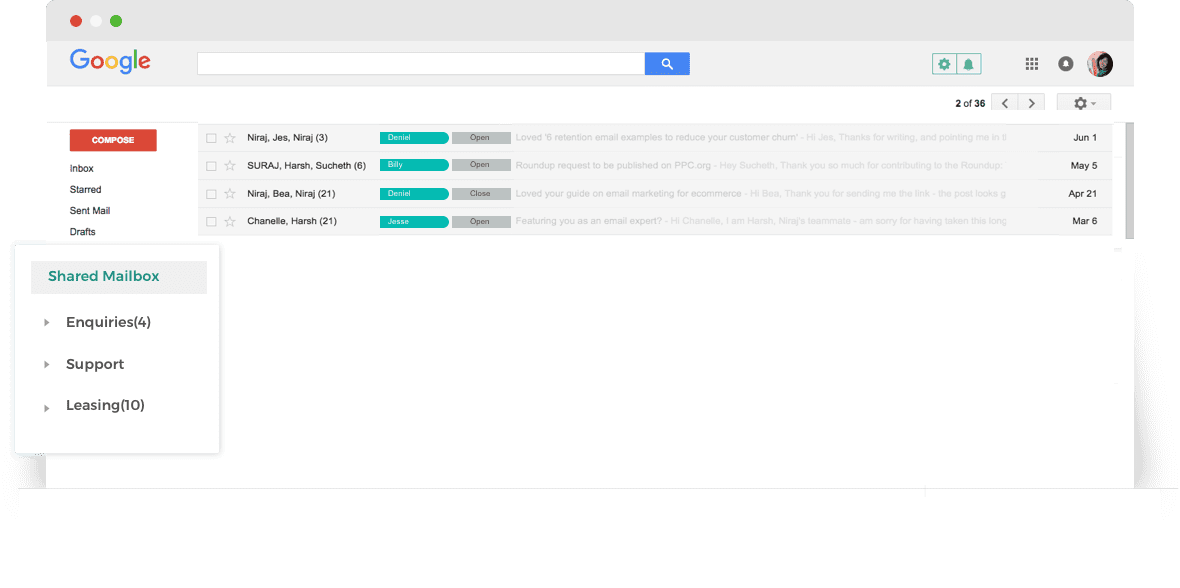 Delegate emails to teammates effortlessly (even automatically)
You receive an email at [email protected] email address and you want someone from your team to work on it.
With Hiver, you get the capability to delegate emails as tasks to your team. All it takes is two clicks. No forwarding.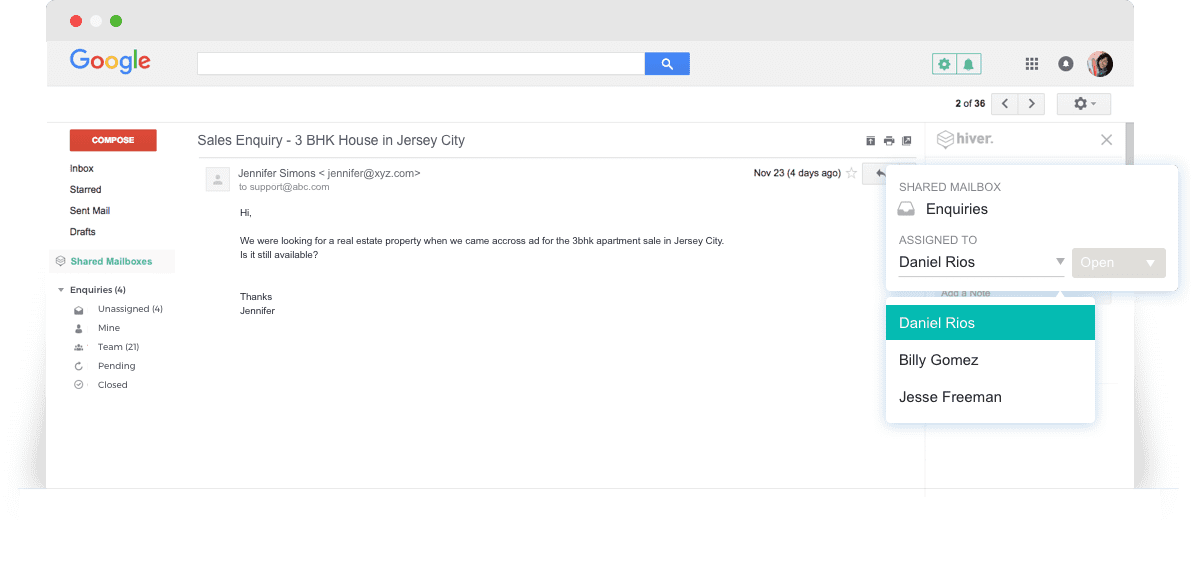 Know the owner and status of tasks quickly
With Hiver, you will always know what happened to emails you had assigned to your teammates. Every email will bear a label that tells you who is working on the task, and its status.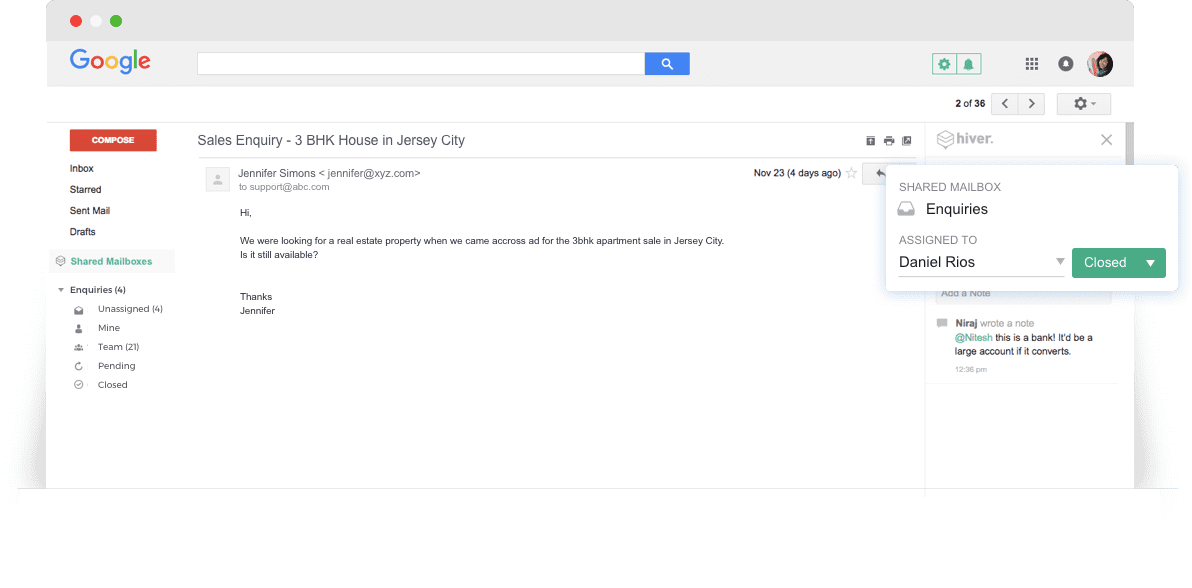 Use email templates for usual responses
You will not have to type in an entire email every time you have to send out a usual response, such as an acknowledgment to a vendor, or a proposal to a customer.
With Hiver, you can save usual responses as email templates which can be accessed by your entire team.
You will never forget to follow up
In real estate, you can never miss out on sending a follow-up email to a customer. Hiver lets you set email reminders to have the same email come back to your inbox at a later time.
The entire team knows the status of deals
Adding a label such as 'active deal' or 'closed deal' is a great way to know the status of an email at a quick glance.
With Hiver, you can share these labels with your entire team. Anyone can click on 'active deals' and they will see the list of active email conversations in a jiffy.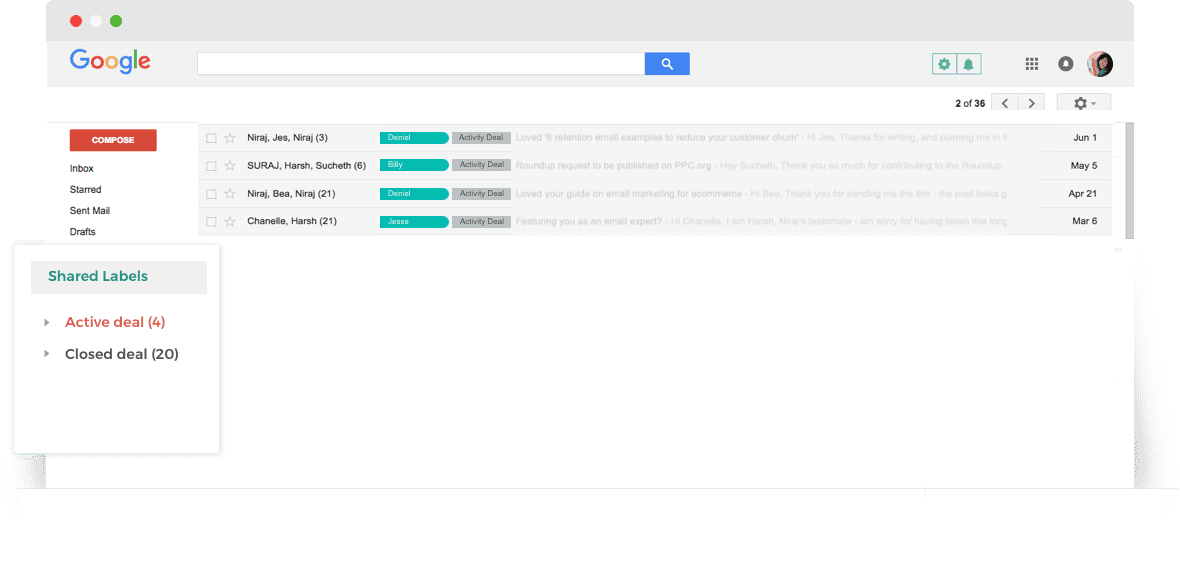 Give instant project access to teammates
Say you have been talking to a client and want John from your team to take it forward from there. You can create a label with the customer's name and apply it to all the emails you've exchanged with the client.
Share that label using Hiver, and John has access to all the email threads under that label. You will not have to build the backstory of the client or forward multiple threads.
Learn more about Hiver