Apart from the fantastic ease of deployment, there are other reasons why Google Apps seems to have become the de facto provider of email (and other business tools). The main ones? Interoperability and Expandability.
You get all the basics with GApps, everything your small-to-midsize business might need to get its IT needs sorted out. But it's also possible to connect other SAAS tools and apps to Google Apps, making it a lot more powerful and capable.
An inbuilt backup feature is one that 's always been missing, but third-party vendors have stepped up to fill this gap. Of course, we don't need to tell you why any business – no matter how small or big – needs a proper backup solution, something that covers all your data, and also offers the extra safety of an offsite backup.
Do you really need to backup your Google Apps account and data?
So you've got your backup system in place. But what about your GApps and Gmail data? For many businesses, Google Apps is such an integral part of their workflow that any loss of data can be a business-killer. If you're in a similar position, you might want to see whether a Google Apps backup service will work for you. This isn't about your data not being safe on Google's servers, but more about protecting against sabotage, malware, system crashes, hardware malfunctions – any data loss and corruption at your end can get synced up to the cloud. Convinced? Want to implement a Google Apps backup solution? Here are seven of the most popular Google Apps and Gmail backup tools around:
Cloudfinder offers multiple cloud connectivity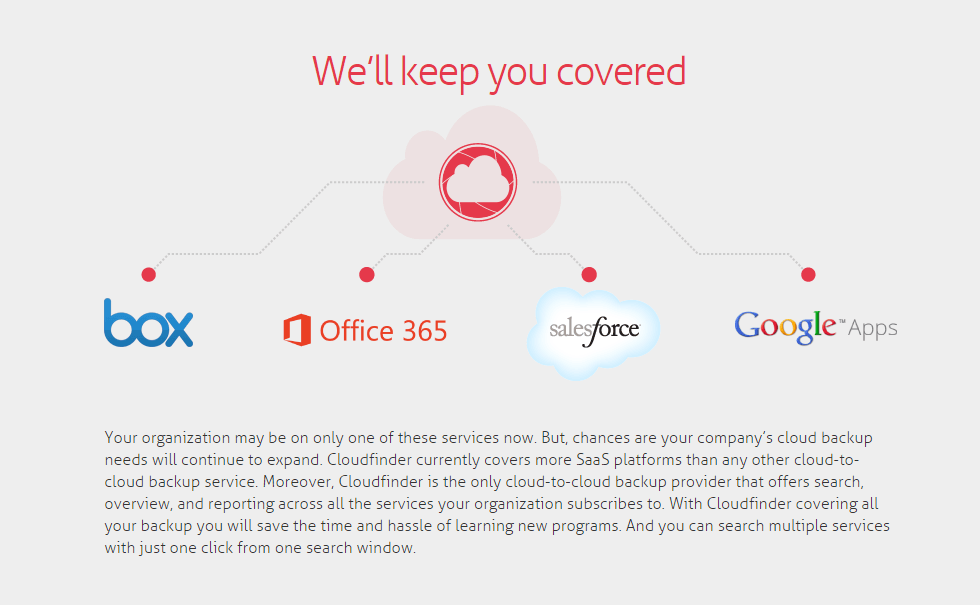 With support for Box, Salesforce, and Office 365, Cloudfinder offers seamless connectivity between your various cloud accounts. Cloudfinder will backup your Google Drive, Docs, Contacts, Gmail, Calendar and Sites, and with a SalesForce option that stores standard and custom objects along with files, it's quite a good backup tool for any business that relies a lot on these two services. Cloudfinder also promises industry-leading security, with SSL transfers to their server, and a 'SafeHaven Vault' based on multiple redundant Amazon S3 cloud storage that uses AES-256 encryption. Pricing starts at $30 a year per user, making it a good choice for small to medium businesses.
SysCloud offers real-time backup of Google Apps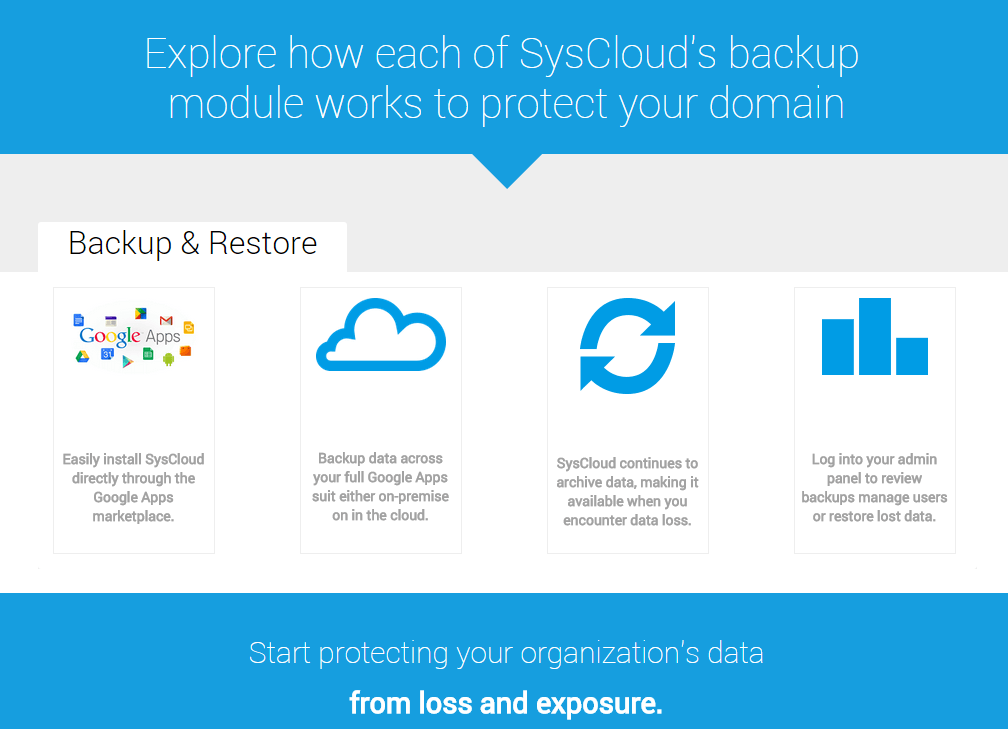 SysCloud, available on the Google Apps marketplace as well, offers a comprehensive Google Apps backup tool. Enterprise-friendly features including, reporting, alerts and notifications, 24×7 support, permission fidelity on restore, organizational unit specific settings, multiple admin roles, support for predefined compliance policies, and full domain coverage. SysCloud also offers an on-premises option that might appeal to larger businesses. A range of plans on offer cover both smaller business and larger enterprises – Pricing starts at $2.25 per user per month, and goes up to $695 per TB per month.
Spanning offers multiple search and restore options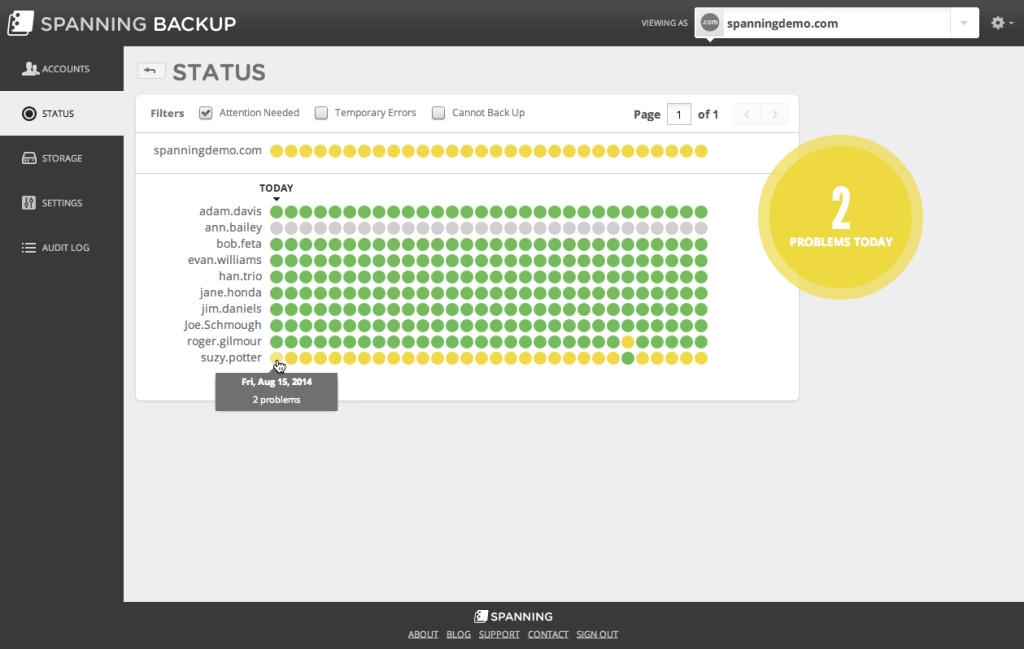 Spanning offers a '100% Restore Guarantee' on it Google Apps backup packages. Features include automated and on-demand backup, support for email retention policies, status monitoring and audit logs. Spanning also offers advanced search and restore options including cross-user restore, account export, email search and filtering, and the ability to restore from a particular point in time. This backup tool appears to be quite popular with a range of large businesses and nonprofits, but with annual pricing starting at $40 per user, should also be a good fit for small businesses.
SpinBackup is aimed at personal users and small businesses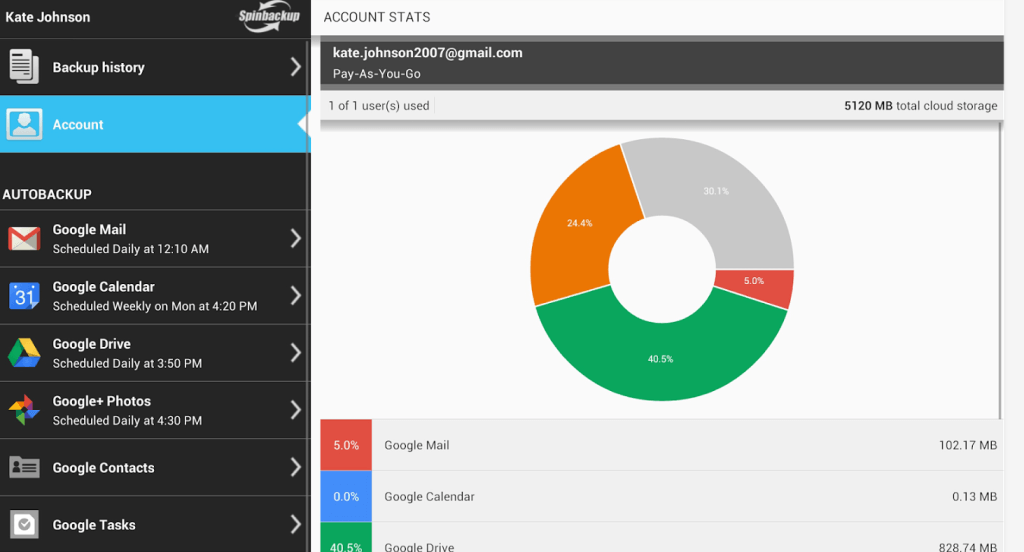 SpinBackup has a standout feature that makes it a great choice for personal users or anyone running a home office – support for Google+ photos. Apart from this, it also backs up your Gmail, Calendar events and Google Drive files. But there's also one more little feature SpinBackup seems to offer – the ability to backup your Google Tasks. The plans on offer – from $1 a user per month, to $9.99 a month for 6 users – are also within reach of the average small business. But don't think that just because SpinBackup seems to aimed more at the smaller business that it ignores security – 256-bit encryption and Amazon S3 storage should put your mind at ease.
Backupify offers Salesforce and Facebook backup as well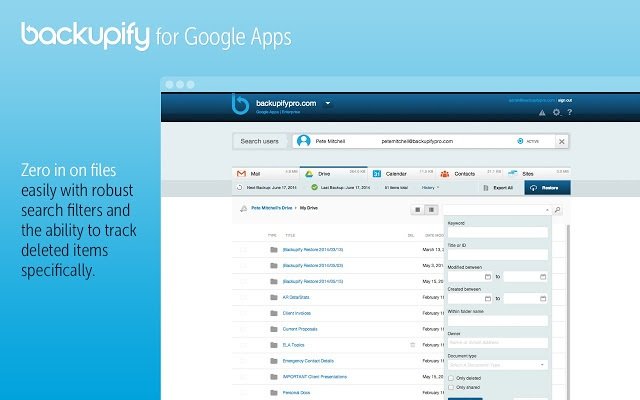 This is one name you're sure to have heard of – Backupify was one of the first providers to offer social media backups. They do have a couple of HIPAA-compliant plans (from $99 a month) for businesses that want to archive and backup their social media presence. Combine that with the Salesforce backup (from $199 a month) and the Google Apps support (starting from $3 per user per month) and you have quite a full-featured solution for any mid-sized or large business.
Vaultize provides GApps backup as part of its admin tools package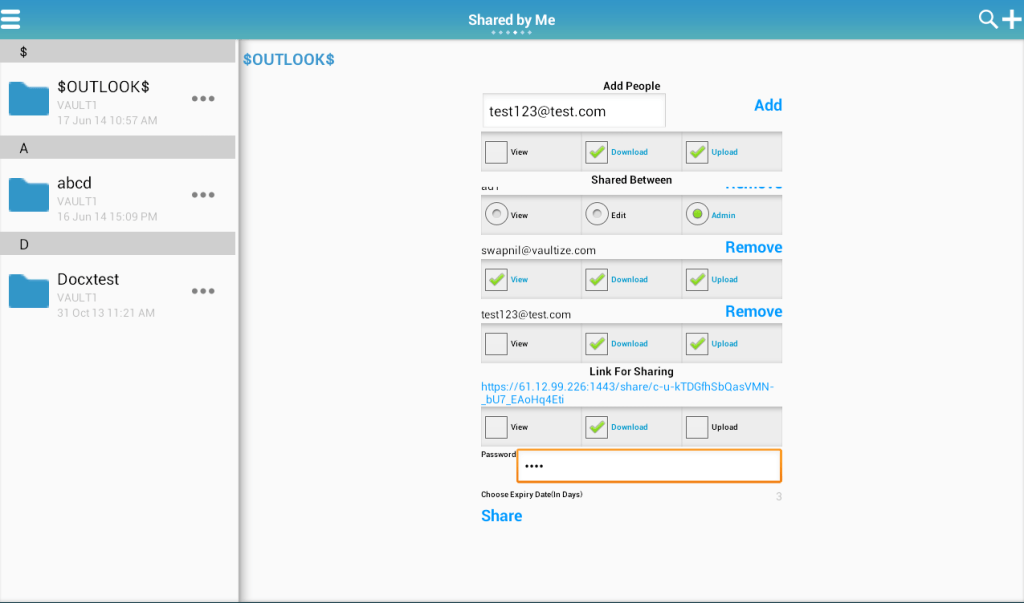 Enterprise data specialist Vaultize also offers Google Apps backup, making their service quite attractive for big businesses who'd prefer a one-stop solution for their backup, protection, and mobility needs. Vaultize's Google Apps backup features data de-dupe and can be set to backup emails and documents on a schedule. When restoring any lost data, admins can either choose entire accounts to restore, or pick-and-choose emails, labels…. There's support for compliance policies built in as well, and if required, account data can be downloaded or backup frozen to maintain integrity.
CloudAlly offers European and Australian servers as well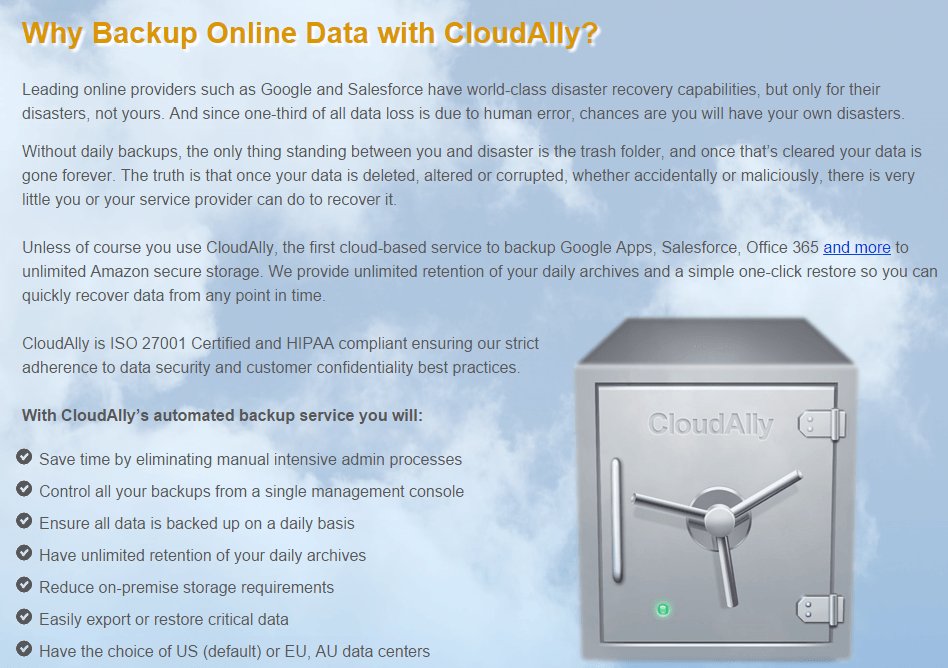 Getting data security laws (or even your own internal security policies) right can be a bit tricky. CloudAlly has US-based servers, but also offers EU and Australia-based datacenters should you require that. CloudAlly also supports quite a wide list of service providers. Apart from Google Apps (with backup support for Google Docs, Drive, Gmail, Contacts, Chat, and Tasks), CloudAlly lets you backup Office 365, Salesforce, Yahoo Mail, Amazon SimpleDB, and DynamoDB). And of course, there's SSL transfers and AES-256 encrypted storage. Pricing starts at $3 a month for each cloud app.
Sure, Google Apps is very, very reliable, and even at your end. crashes can be quite rare, but when they do happen, they can be devastating.
No matter how big your business is, you need a proper backup solution that covers all your data. And if your organization is one of the many that have turned to Google Apps for email, cloud storage and other business tools, you'll probably need to ensure you have a backup plan in place for that as well.
Additional reading: Gmail and Google Apps limits every admin should know