Collaborate
Your team is in sync and confusion-free
Give up the traditional ways to communicate — No FWDs, CCs, and BCCs. Use Email Notes to communicate with your team. Give your inbox a breather.
Work together on email responses by sharing drafts with your team. Write an email and have your colleague review it.
Email Notes
Shared Drafts
Collision Alerts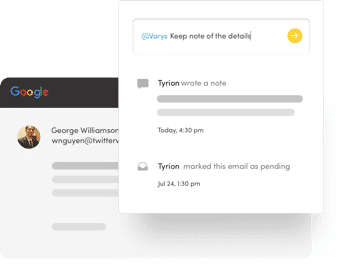 You get alerted when someone is responding to an email you're seeing. Say goodbye to duplicate and conflicting responses
When your team is on the same page, you help customers quickly.